Canva, which started in the year 2012, is a simple drag-and-drop online designing tool for creating and sharing a variety of graphics. Canva has grown from 750,000 customers in its first year to over 15 million active monthly users. Canva has transformed the entrepreneurial mindset and inspired and spurred the rise of do-it-yourself habits since its introduction into the market.
But the million-dollar question is, why is Canva so popular? Why do designers prefer Canva over other designing tools? And why is Canva Pro considered the market's most valuable premium designing tool?
Canva Free Trial — Access To Canva Pro For 30 Days
Canva is offering an exclusive a 30-day free trial on their Pro version. 🔥🔥
This trial gives you access to all the features of Canva Pro.❤️
If you, too, are looking for the answers to these questions, then you are reading just the right post. Let us know more about Canva, Canva Pro, and how you can claim the Canva Pro free trial.
Is Canva Pro Free Trial Available in 2023?
Canva Pro is a premium Canva membership for startups and business teams. The Pro plan includes all of the features of Canva Free in addition to access to 60,000+ free templates, 4+ million free stock photos as well as graphics, 100 GB storage, unlimited uploads, one-click resizing, generating transparent backgrounds, animated GIFs or MP4 videos, creating your brand's identity, and so much more.
Canva Pro Features
Canva Pro has amazing design tools and features that allow anyone to create stunning graphic content regardless of design skills or experience. The most popular features offered by Canva Pro are:
1. Brand Kit Pro
It enables you to organize and customize the components of a business brand image by letting you upload your logos and styles and setting up as many color palettes as you want so that you or your other team members may create designs that perfectly suit your brand.
2. Magic Resize
Resize your images effortlessly into another content format with this feature. You can, for example, convert your Facebook posts into YouTube thumbnails.
3. Canva planner
This tool enables you to schedule content for your social media platforms. All you have to do is create great graphics, schedule them, and let Canva post them automatically according to the date and time you specified. Easy right?
4. Create and invite team members.
Create a team, add unlimited people by email, and grant them access to Canva as a user, template designer, or administrator to start collaborating. It has better collaboration features than the free plan's inviting members.
5. Animator Pro
Use 14 distinct animation styles to create animated images that can be downloaded as GIFs or videos in MP4 format.
How to Claim Canva Pro Free Trial?
Subscribing to Canva Pro free 30-day trial isn't a difficult process; it's straightforward, and if done correctly, you will get a Canva Pro subscription free of cost for 30 days.
Step #1: Visit the Canva premium page
First, visit the Canva premium page and go to the "Canva premium discounted subscription page" from the menu to get the free trial immediately.
Step #2: Click on "Try it free for 30 days"
Now go to the Canva Premium page and click on the "Try Free For 30 Days option."
Step #3: Sign-up using email, Google, or Facebook
Next, you need to sign up to Canva immediately while still on the sign-up page.
Step #4: Click on the "Try it for free for 30 days" tab.
Once you have signed up, click "Try It For Free For 30 Days".
Step #5: Fill in the credit card information.
In the final step, choose the "Monthly" plan and submit your payment details. Fill in your Credit Card information and then click on the "Claim my Free Trial" button.
That's all; you now have free Canva Pro access for the next 30 days.
What's The Difference Between Canva Free Version and Canva Free Trial?
The obvious difference between Canva free version and Canva free trial is that the free trial gives you access to all the features of Canva Pro for 30 days. But on the other hand, you can use the Canva free version forever, and you won't have to pay a single penny. With the free trial, you get complete access to all the features of Canva Pro, such as all the premium templates, stock images, storage of 1TB, and so on.
How Much Does Canva Pro cost?
There are three price options available for Canva:
Canva Free
Canva Pro
Canva Team
Canva Enterprise
The Canva Free plan is appropriate for freelancers who generate 10 to 15 designs monthly. You will get access to over 100 different design kinds, over 8,000 free designs, and thousands of free images and graphics.
Canva Pro is priced at $12.95 per user per month if paid monthly, and $9.95 per user per month if paid yearly. This plan brings to you more than 420,000 templates, over 75 million graphics, stock images, videos, and various other services. You also get access to the Brand Kits to feature for keeping brand assets (logo, color palette, etc.)
The Enterprise plan is perfect for agencies and organizations with many members. You can access unrestricted storage, multiple Brand Kits, and design workflows.
If you subscribe to the Pro plan annually, you can save around 23 percent more than if you subscribe monthly.
Canva Team Plan: If you have a team of more than one person, then the Canva team plan is the best option for you. The pricing of the Canva Team plan depends on the number of members you have in your team. If you have 2-5 team members, then the pricing is $14.99/mo or $149.90/year; for ten team members, the pricing is $87.49/mo or $874.90/year; for 25 team members, the pricing is $304.99/mo or $3049.90/year, and for 50 team members, the pricing is $642.49/mo or $6424.90/year. You can create a custom team plan based on your requirements if you have more requirements.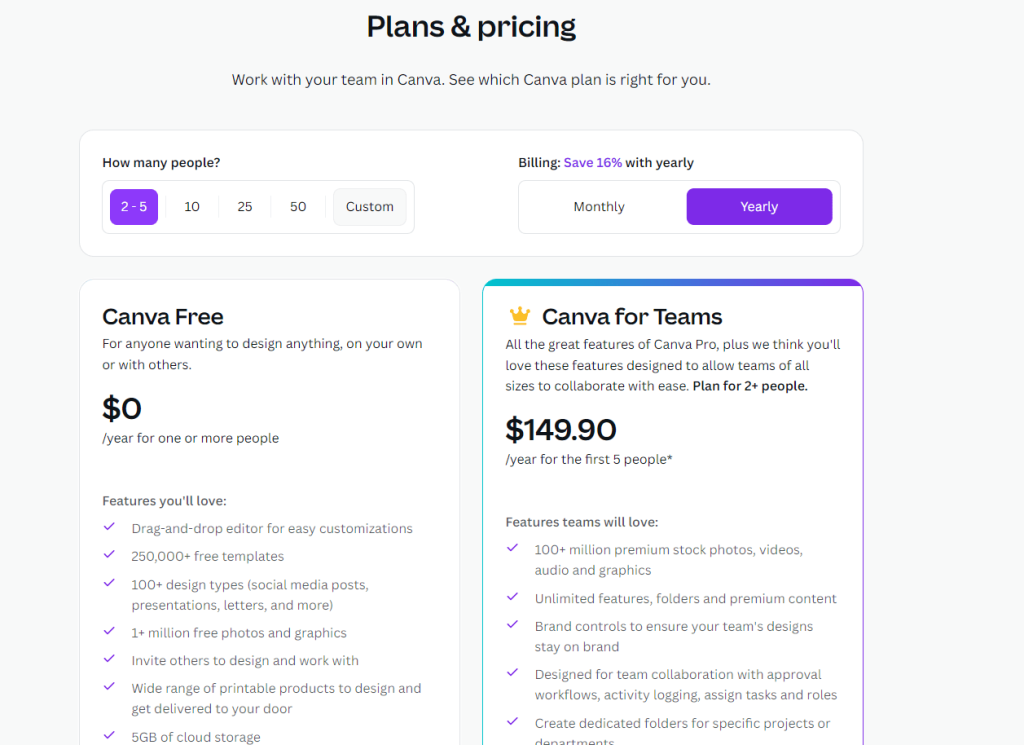 Related Read:
Conclusion: Yes! You can get Canva Pro for free for 30 days!
Canva is one of the most reliable online graphic creation tools. It can be used for everything, including basic picture editing or creating social media images, brochures, and papers. It offers numerous features and is reasonably priced at $12.95 per month. You can also try out their free plan if you are a beginner and low on budget. Its customer service is also excellent. Canva provides an amazing design experience for businesses and marketers.
When you have access to premium design as well as editing features such as 610,000 plus ready-made templates to create beautiful designs quickly, more than 100 million top quality photos, videos, audios, and graphics at no additional cost, over 3000 fonts, 100 GB of storage, 25K plus audio tracks, infinite folders to organize your projects, and the ability to create animated graphics using 14 different animation styles, you can't ask for more.
Canva Pro gives you access to all of this paid material and most of the premium time-saving features.
FAQs On Canva Free Trial
Why should I use Canva Pro?
Canva is a fantastic online graphic creation tool which you may use to create graphics. However, only restricted functions are available with the Canva free plan. Canva Pro is required if you want to use Canva for professional graphic design and require additional pre-designed templates and other elements.
Which format does the exported file get exported to?

Once you are finished creating your design on Canva, you may export your file in PNG, PDF (low-resolution and print quality), JPG, MP4, SVG, and GIF.
Can I edit videos on Canva?
Canva not only allows you to make static' graphics, but also to create videos. The video creation procedure is similar to that of developing static material in that you select a template, modify it, and then add clips to your video as needed.
Is Canva Pro free for students?
If you are a student, then Canva has partnered with GitHub Education to provide their design tools for free to student developers. You'll get a whole year of Canva Pro, which costs $119, for free. Anyone with GitHub's Student Developer Pack can sign up for this offer.
Is Canva Pro better than Photoshop?
It all depends on what you're looking for. Canva is the better value if you want something quick and easy with built-in assets. Photoshop is probably the better value if you want to create professional images, edit out flaws, or create works of art.