It's 2023, and one no longer needs to have extensive knowledge of pure code to build a stellar website. There are plenty of no-code tools that can help you, a WordPress website owner, create a website that is functional, interactive, customer-centric, and can be edited with ease.
Enter Elementor.
A website-building platform built especially for WordPress sites, Elementor helps its users create powerful websites with simple drag-and-drop tools instead of a billion lines of code.
When it comes to Elementor in particular, site owners are often confused about which theme to opt for – a theme that would make their site as attractive and engaging as possible.
Luckily, Elementor is compatible with hundreds of WordPress themes, out of which I will be covering the 10 best ones.
Let's dive right in!
10 Free Elementor Templates That Are As Awesome As The Paid Ones
These themes are shortlisted based on their usability, design, loading speed, as well as level of customizability so that you can pick and choose from multiple well-researched theme options. 
OceanWP
Marketo 
Digiqole 
Neve 
Astra
Customify 
Phlox
GeneratePress
JupiterX
Zakra
1. OceanWP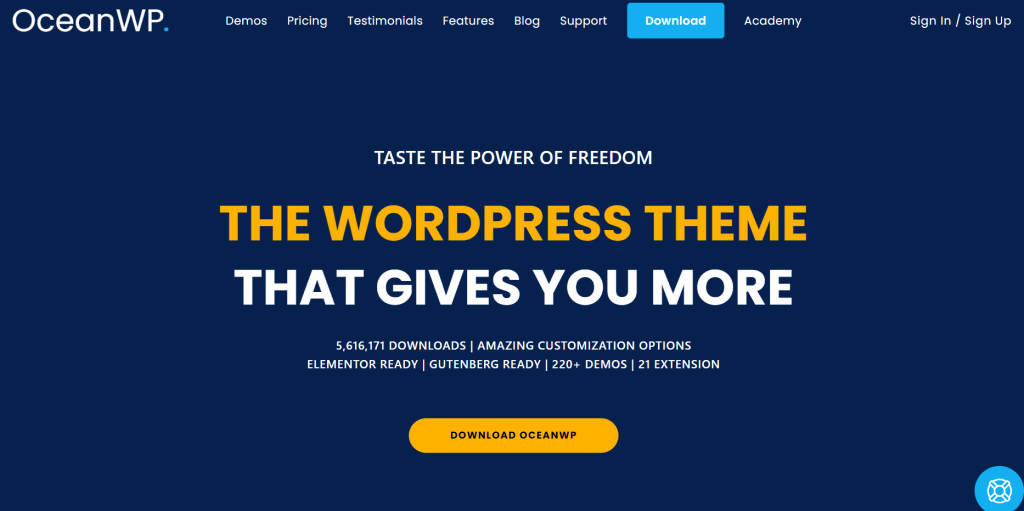 OceanWP – a fast, light theme for all site owners on WordPress, especially e-commerce, is the perfect one to start with while building your website. It is deeply integrated with Elementor, which makes the overall process of designing a website from scratch as seamless as possible.
It has had over 4,000,000 downloads since its release and is perfect for every site owner looking for a beginner-friendly and site developer-friendly theme.
Key Features:
Offers custom page layouts
Multiple font styles for headers, subheaders, and body text
Deep integration with WooCommerce
Optimized for mobile devices, with 3 mobile layouts
Built-in icons and menu options
Pros:
Optimized for SEO
Deeply integrated with Elementor
220+ demos and 20+ extensions
Offers pop-up elements, add-to-cart bar, and quick view options
Cons:
You need a Premium license if you wish to access most of OceanWP's themes. (You could use the 12-13 free themes available if you do not wish to purchase a license)
It involves a bit of code, which can be a hassle for site owners
2. Marketo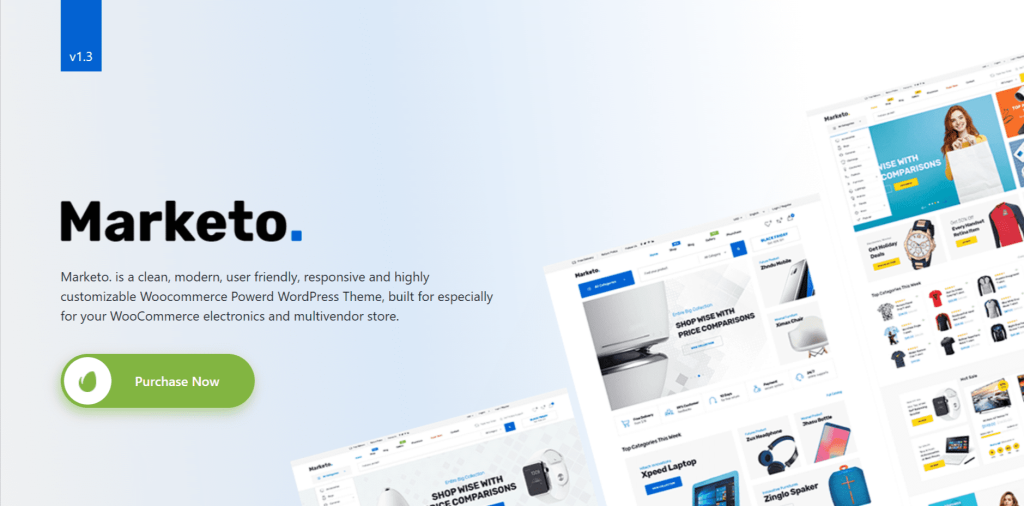 On WordPress, there are hundreds of themes that help you with multivendor sites. However, Marketo is one of the best themes, with multiple layout designs, header options, and fonts, all without making the site-building experience code-heavy. Marketo is an excellent option for e-commerce stores that need to showcase products in a clean, accessible manner without compromising on attractiveness.
Key features:
Customizable homepage with 11+ designs
15+ header styles
User-friendly interface built for easy site-building
One-click import of demo designs
Pros:
Compatible with all major browsers such as Opera, Chrome, Edge, IE11+, Firefox, and Safari
You can choose from 400+ font icons and 200+ line icon styles
Deep integration with WooCommerce
Optimized for speed
SEO-optimized for better organic performance
Mobile-optimized design
Cons:
Customer support may take longer to respond in times of high query volume
3. Digiqole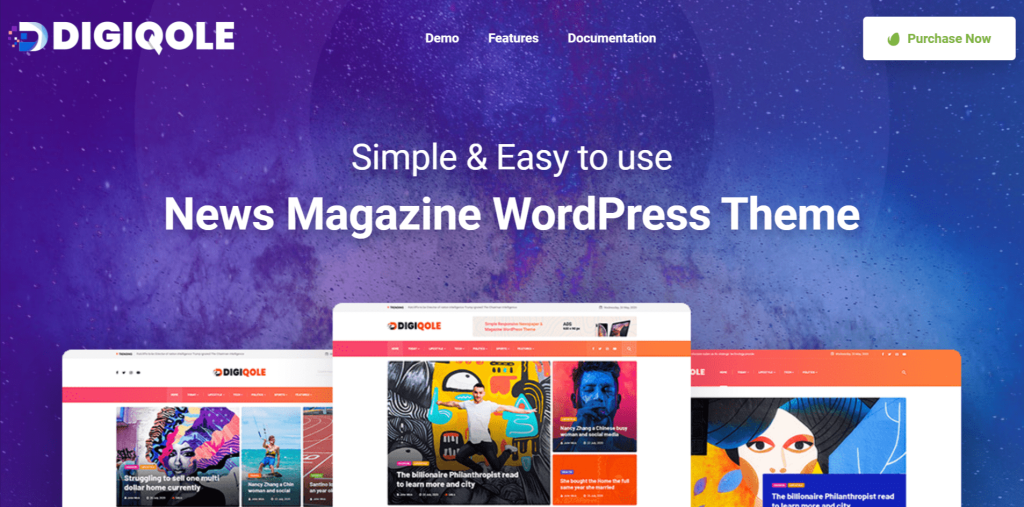 I had been looking for a theme that was easy to use, involved minimal code, and supported my client's marketing efforts, both paid and organic. Digiqole is by far the best theme integrated with both Elementor and WooCommerce. It has received wonderful reviews from its users and offers everything you'd need to create a fast, engaging, and easy-selling website.
Key features:
Drag and drop feature available, thanks to its integration with Elementor
20+ block options built for your product showcase
RTL support for various international languages
Infinite scroll feature to combat churn rate
You can also use the header builder, mega menu builder, progress bar options, dark and light versions, Instagram feed designer, and post slider options
Pros:
Using Elementor, you can easily visualize your site from the frontend
Optimized for speed on multiple devices
Can be used extensively for magazines, tabloids, and blog websites
Also supports the Gutenberg site builder
Unlimited ads feature for added monetization and visibility
Cons:
Not very multipurpose in nature
4. Neve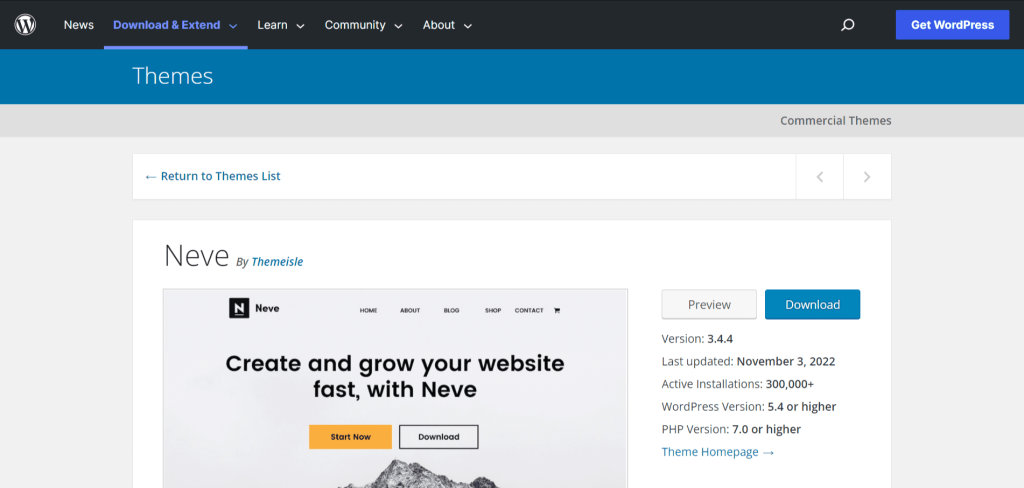 Neve offers the usual site-building features that you and I look for, and comes with an added advantage. With Neve, you can create fast, attractive one-page websites in a matter of hours. No more running into design blocks, or redesigning templates with multiple plages – Neve's easy-to-use one-page template makes it a boon for all small site owners.
Key features:
Header and Footer builders
SEO-optimized site structure and code for an organic boost
One-click demo import from a library of over 70 sample layouts
Integrated with WooCommerce
Pros:
Lightweight and fast-loading
Optimized for mobile and desktop devices
A free core version is available
Not code-heavy and can be used by beginners and pros for all website needs
Responsive design
High customizability
Cons:
Live customer support is not available 24/7 and is only accessible to agency plan users
5. Astra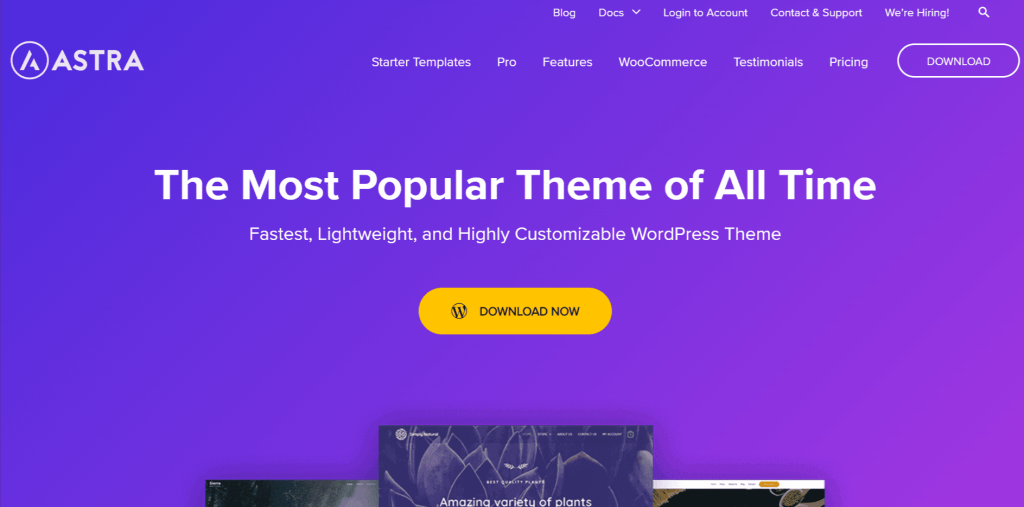 One of the lightest themes available, Astra is a sleek, wonderfully optimized theme for all your site needs. You can choose from 150+ sample site designs, and import them easily with Elementor. Astra comes with unique features that are a boon to site owners everywhere – from full-width templates to LifterLMS and LearnDash integrations. Here are a few key features this template offers.
Key features:
Uses Vanilla JavaScript and less than 50kb of space
Mega menu
Multiple headers – sticky, transparent, and mobile options
You can set page-specific sidebars
Large color palette and typography for peak customizability
Pros:
Infinite scroll, off-canvas sidebar, quick view, and dropdown cart options for E-commerce owners
You can disable and enable elements as per your choice
Live site customization, view your changes on your site as you make them
Speed and SEO-optimized
Cons:
To access most of the premium features, you need to have a paid license that costs $59
6. Customify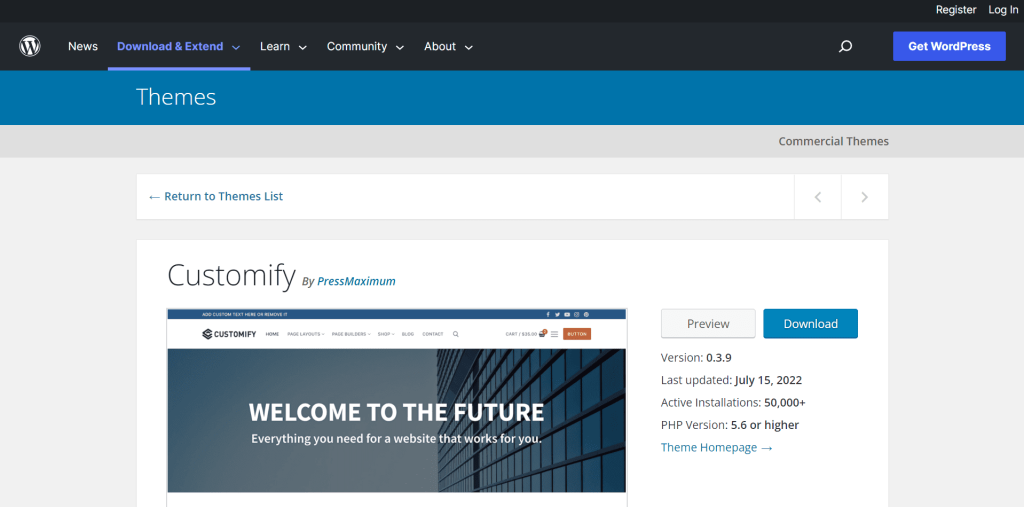 Think customizable, think Customify. If you're looking to create a site that matches your brand identity to the 'T', without relying heavily on pre-made templates, Customify is the theme for you. From color palettes to header styles that can be customized for every page, this theme has received glowing reviews from its users, irrespective of the latter's niche.
Key features:
SEO-optimizing
High-speed loading, no more glitches, and lags
Multiple headers and footer options
Ready-to-import sites for a quick and easy start
Integrates to make visual changes with WordPress's customizer tool
Pros:
Fast-loading
Allows for maximum customization
Excellent customer service
Compatible with WooCommerce, BuddyPress, OrbitFox, Yoast, and bbPress
5 ready-to-import templates created especially for Elementor
Cons:
Templates can seem a little out-of-date and limited in number
7. Phlox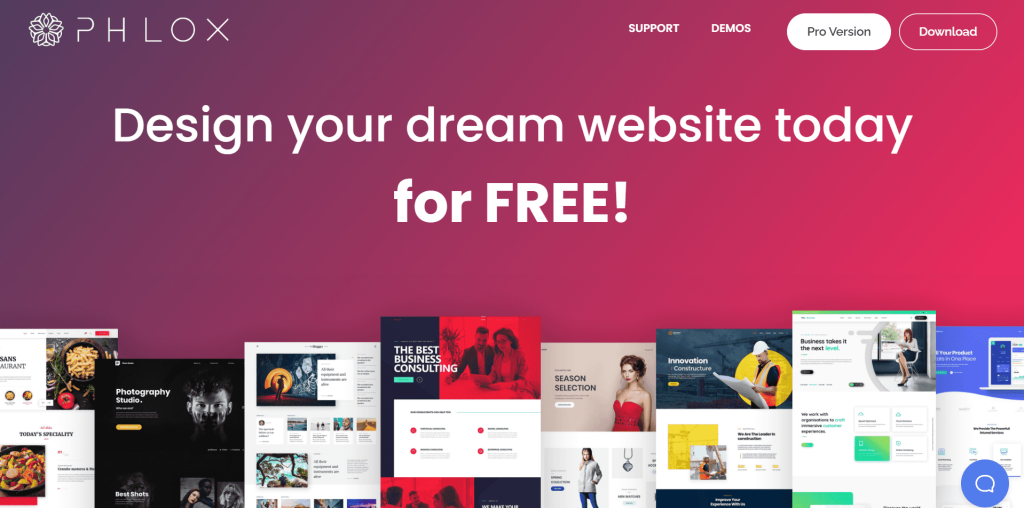 Built specifically for Elementor and its features, Phlox is perfect for anyone looking to create a website, be it from scratch or redesigning the site. Phlox comes with a wide range of templates and layouts, that can be easily imported with the drag-and-drop feature – all thanks to Elementor.
Key features:
Offers 25+ demo site templates with easy import
150+ elements and widgets for easy customization
Header and footer builder with options such as sticky header
Sticky header, header/footer builder
Advanced page templates for your portfolios
Video background and animated site sections
Pros:
Easy site import
Stellar site design
Full integration with WooCommerce
Fully responsive and optimized for speed
Multiple slider options
Cons:
It is not compatible with BuddyPress
Some users say header options are quite limited in number
8. GeneratePress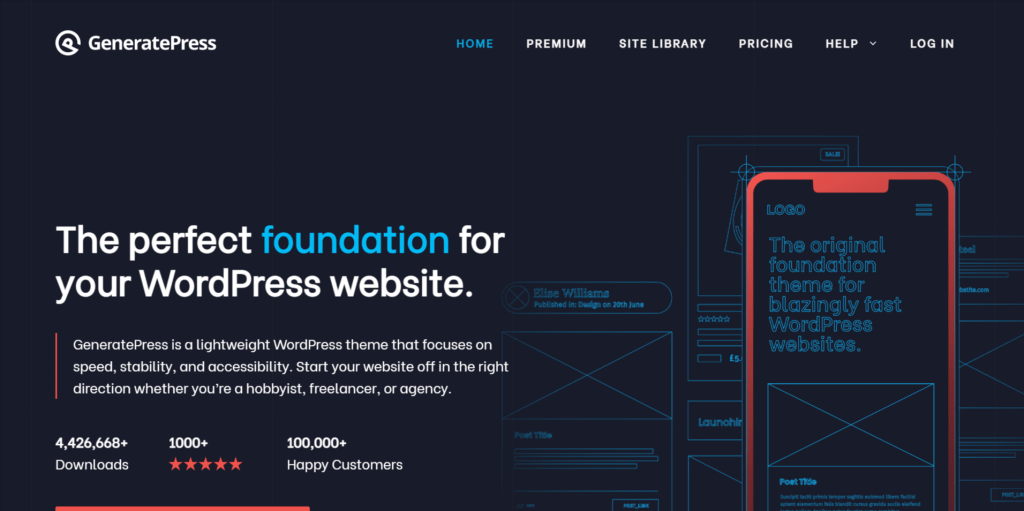 One of the most secure WordPress themes, GeneratePress is widely loved for its speed, clean backend code, multiple fonts, and design options that help you create the website of your dreams. It has received stellar ratings on WordPress, and here are some of its key features that you must utilize alongside its deep Elementor integration.
Key features:
Avoids render-blocking issues by using Vanilla JavaScript
Occupies about 10kb in size, and is optimized for speed
Optimizing for SEO to boost organic reach
Offer accessibility checks to cater to a larger audience
Comes with 14+ sites built especially for Elementor
Helps you customize padding, margins, as well as sidebars
Pros:
Its quick-loading feature ensures a low bounce rate, as well as a solid optimization of site media
Offer multiple widget options
WooCommerce integration
Cons:
Despite being integrated with Elementor, the drag-and-drop feature is missing with this theme
9. JupiterX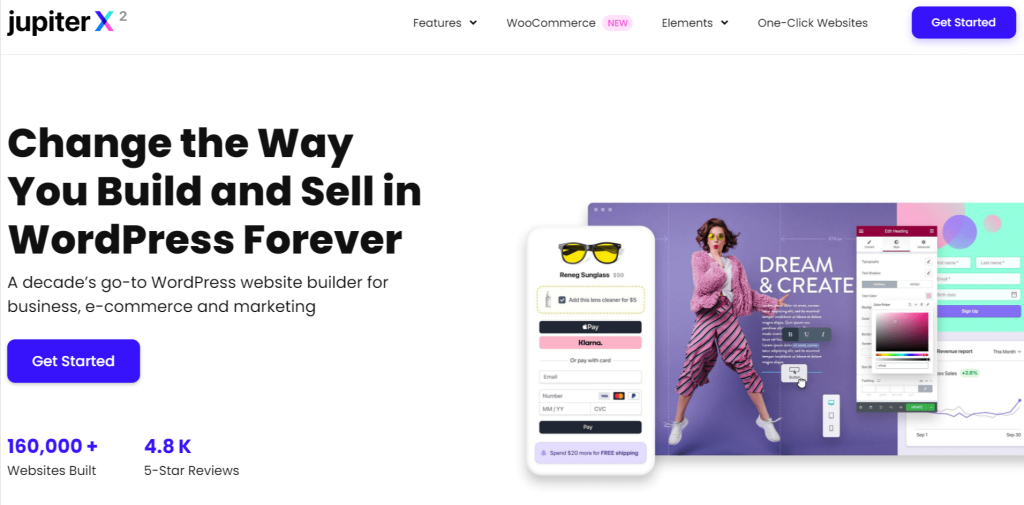 If I had to describe JupiterX in one word, I'd use underrated. JupiterX is an attractive, responsive, easy-to-use theme available on WordPress. And the best part? It's deep integration with Elementor! Apart from just website building, you can also use JupiterX to create forms and customize your title bars, to name a few.
Key features:
You can choose from over 400 site templates while getting started
100+ page block templates available in the JupiterX library
Detailed design options to ensure a perfectly designed website
Integrated with WooCommerce Shop Customizer
Pros:
Detailed style and color options for customization
Integration with WooCommerce makes this the perfect theme for all E-commerce owners
Drag-and-drop building
Page-level customization for element-specific edits
Cons:
If you wish to use any other page builder, JupiterX can be a bit tricky to use because of its deep integration with Elementor
10. Zakra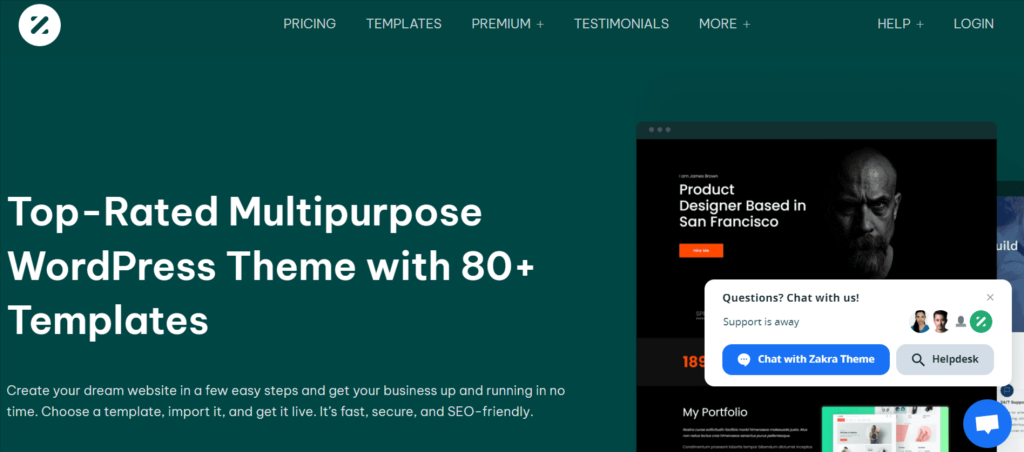 Zakra is one of the best free themes available in the WordPress library, and its integration with Elementor is truly a bonus.
It is extremely functional, yet simple, allowing for a stress-free website-building experience. You can start with one of the 60+ demos it offers, and begin your customization journey with its header, footer, color and typography, and layout options.
Key features:
You can choose from over 80 starter templates, out of which 60 are built especially for Elementor
Integration with WooCommerce, which makes it a great theme option for E-commerce owners
From one-page designs to multiple-page sites, Zakra's got it all
You can use sticky and transparent headers
Pros:
The translation-ready theme makes it perfect for a diverse, multilingual audience
Pre-built demo sites make site-building a speedy, hassle-free process
Features lifetime auto-updates for your site
Optimized for speed
Optimized for mobile devices
Cons:
Does not feature a very visual header builder
Bottom Line
Elementor has made the process of site-building an experience to look forward to, thanks to its drag-and-drop feature, a wide range of integrated themes, and great customer support. If I had to choose the best theme for an Elementor-based building, it would be Digiqole. Digiqole features multiple header options, translation support for an international audience, an infinite scroll option, and best of all, unlimited ads for a boost in revenue. Now that you have a comprehensive list of the best Elementor templates that are completely free, what are you waiting for? Happy site-building!