Do you want to create a website without having to write any code? Hiring a developer would do the trick, but it would be very expensive. WordPress page builders, thankfully, have made it possible to create a professional WordPress site on your own, cheaply and easily, with no coding skills required.
What Is a WordPress Page Builder To Use In 2023?
WordPress page builders are plugins that replace the standard WordPress editor with an interface that allows you to drag and drop elements such as buttons, social icons, galleries, and images onto a template and watch your website come to life right away. You can use these tools to create, edit, and customize your website layout without having to write any code. In this article, we will compare the best WordPress drag-and-drop page, builders.
List Of 8 Best WordPress Page Builders of (2023)
Do you want to customize your website with the best WordPress page builder? Page builders make it simple to design and edit your website. Furthermore, with simple features, you won't need any technical knowledge. In this article, we'll show you the best WordPress page builders for quickly creating a site with no coding.
| | |
| --- | --- |
| Sr. No. | List of 8 Best WordPress Page Builders |
| 1. | Elementor |
| 2. | Divi |
| 3. | Beaver Builder |
| 4. | SeedProd |
| 5. | Themify |
| 6. | Brizy |
| 7. | Oxygen |
| 8. | Visual Composer |
1. Elementor
Elementor is one of the more recent page builders on this list created in 2016. Despite its late start, Elementor has quickly amassed over 3,000,000 active installs on WordPress.org, making it the most popular page builder available, at least according to WordPress.org statistics.

Its claim to fame is a fast, glitch-free visual interface, flexible styling options, and powerful additional features such as full theme building. Though it began as just a page editor, the premium version, Elementor Pro, now allows you to do much more than that. Over 80 design elements, including widgets, are available in Elementor to help you generate more traffic and leads. By simply clicking on it, you can edit and customize every aspect of your site.


It, like the other plugins on this list, comes with ready-to-use templates. You can quickly import a template, customize its content, and publish a page. It saves you a significant amount of time. Because Elementor is a fully responsive plugin, your website will look great on any device. If you want to create your WordPress website from scratch but don't want to do the heavy lifting like installing WordPress and searching for a good hosting provider then simply buy the Elementor Cloud Website plan. This is one of the best plans that Elementor offers because it will not only take care of hosting but also give you everything that a hosting provider offers such as a free SSL certificate, CDN by Cloudflare, 20 GB of storage, and so on.
Elementor Pricing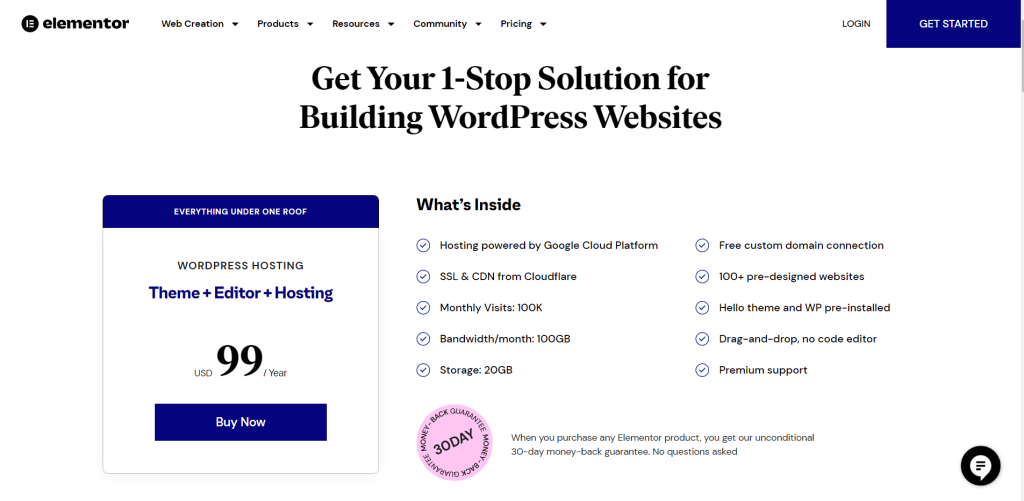 Elementor Offers astonishing services at an affordable pricing. Theme + Editor + Hosting (everything) under $100.
$99 a year with the best quality features.
---
2. Divi
Divi is yet another powerful drag-and-drop WordPress page builder. Divi, like Beaver Builder and Visual Composer, is a true WYSIWYG (what you see is what you get) editor that allows you to preview your design as you build. You can use Divi to customize everything, including fonts, colors, sizing, spacing, and so on, and create unique page layouts.

Divi integrates seamlessly with some of the best small business website builders. It also includes over 20 pre-made layout templates to help you get started quickly. It also allows you to create and save your own Divi layouts, as well as import and export them for use on other Divi sites. Divi comes with 46 content modules that you can place anywhere in your layout by dragging and dropping them. You can arrange them in three section types and twenty-row types, and you can customize each element using its advanced design settings.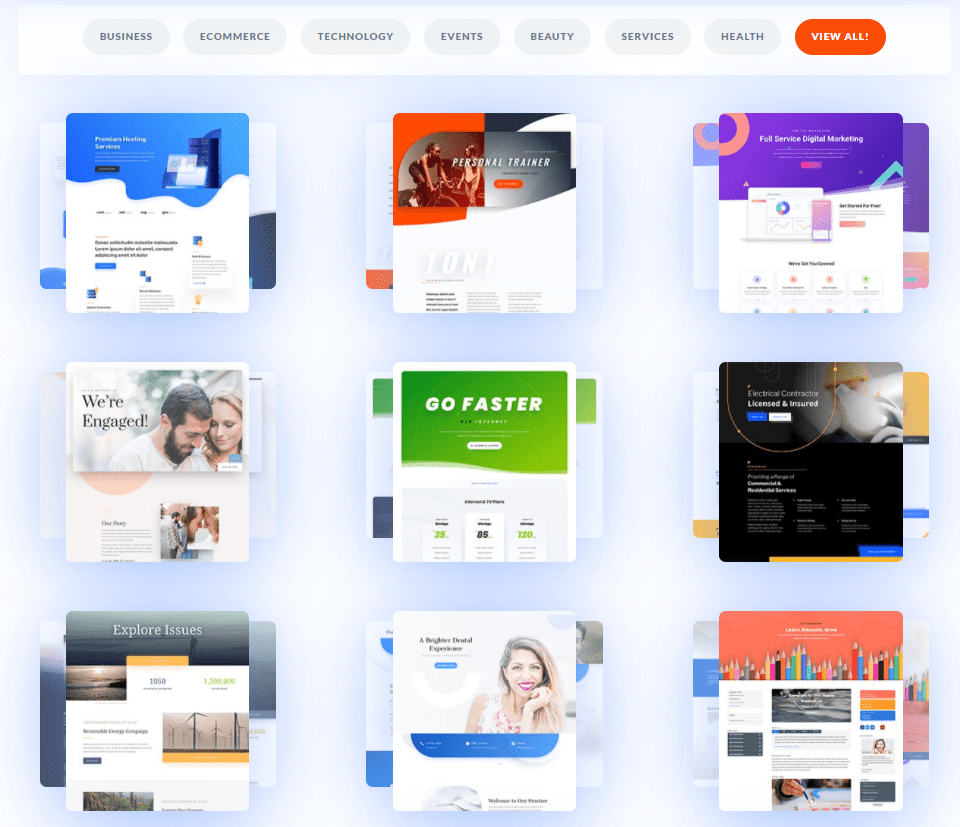 Divi allows you to create any type of custom page layout you want in minutes. You can then save these Divi layouts for use on your site in the future. A layout can also be exported from one Divi installation to another.
Divi Pricing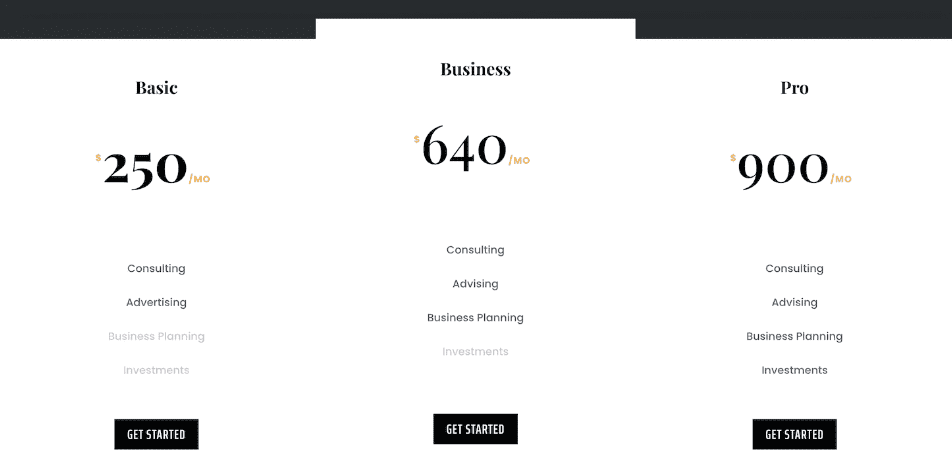 | | | |
| --- | --- | --- |
| Sr. No. | Plans | Pricing |
| 1. | Basic Plan | $250/MO |
| 2. | Business Plan | $640/ MO |
| 3. | Pro Plan | $900 / MO |
---
3. Beaver Builder
Beaver Builder is a popular WordPress drag-and-drop page builder plugin. You can quickly become acquainted with their interface and begin using their built-in onboarding tour. It includes a live drag-and-drop interface. You can see all of your changes as you make them by dragging and dropping elements from the right sidebar onto your page. You can edit the properties of any element on a page by clicking on it.
Modules allow you to add almost anything you want, such as sliders, carousels, backgrounds, content blocks, buttons, and more. There are over 30 professionally-designed templates available if you want to start from scratch. By simply replacing the sample content with your own content and images, you can create a webpage even faster when using a template.
Beaver Builder is also one of the best WordPress landing page plugins, allowing you to drag and drop content modules, edit, and create a landing page in minutes. It is a completely responsive and Gutenberg-compatible plugin. It's available as a free and paid plugin. You can install its free version directly from WordPress.org for simple landing pages.
Beaver Builder Pricing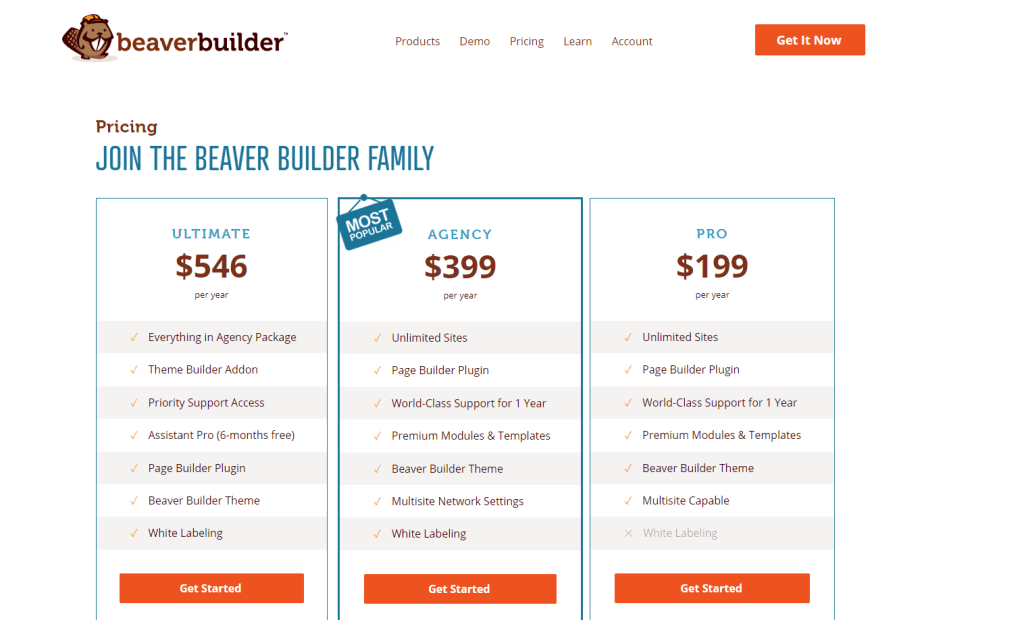 ---
| | | |
| --- | --- | --- |
| Sr. No. | Plans | Pricing |
| 1. | Pro | $199 |
| 2. | Agency | $399 |
| 3. | Ultimate | $546 |
4. SeedProd
SeedProd is a premium WordPress drag-and-drop landing page builder plugin. When it comes to speed and ease of use, we believe it is by far the best WordPress page builder on the market. You can choose from over 150+ beautiful pre-made templates or use their drag-and-drop WordPress page builder to create a completely custom layout (no coding needed). Sales pages, Landing pages, webinar registration pages, thank you pages, coming soon pages, 404 pages, maintenance mode pages, and more are all pre-built templates.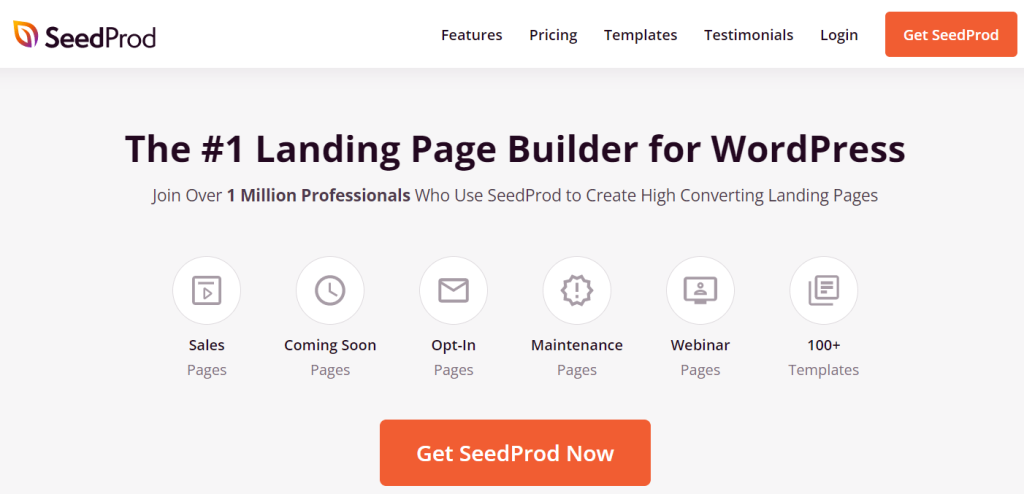 SeedProd has been designed with website speed in mind. It ensures that your pages load as quickly as possible, allowing you to rank higher in SEO. SeedProd includes a smart design system that allows you to save time by reusing elements rather than doing repetitive work. Color schemes, font combinations, page templates, custom blocks, sections, and other features are available.
But it is SeedProd's user-friendliness and clean interface that distinguishes it as the best WordPress page builder. Anyone with no technical knowledge can begin using the plugin. Furthermore, there are numerous customization options for creating pages exactly how you want them. Furthermore, SeedProd integrates easily with third-party email marketing services such as Constant Contact, Drip, ActiveCampaign, and others.
Pricing Plans SeedProd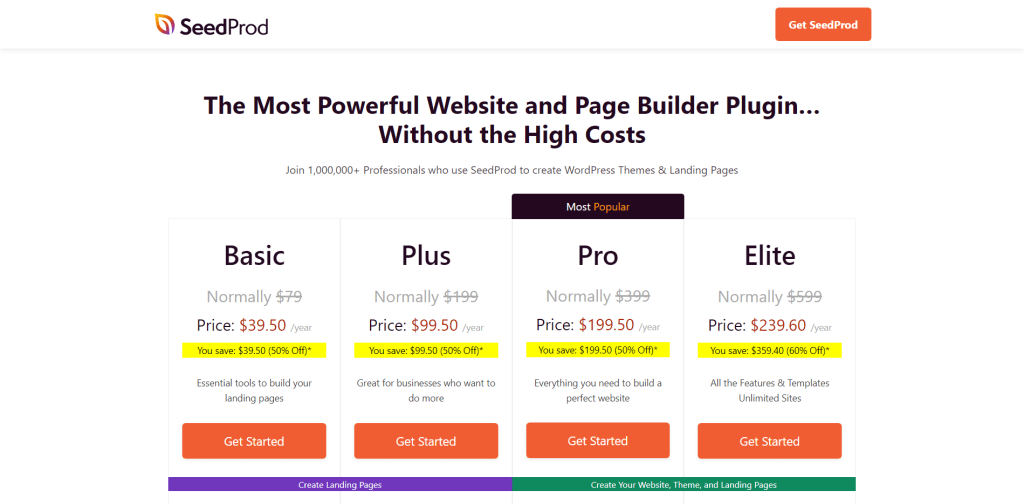 | | | |
| --- | --- | --- |
| Sr. No. | Plans | Pricing |
| 1. | Basic | $39.50 /year |
| 2. | Plus | $99.50 /year |
| 3. | Pro | $199.50 /year |
| 4. | Elite | $239.60/ year |
---
5. Themify
Another popular WordPress page builder in our list is Themify Builder. You can find this page builder on WordPress' popular theme shop Themify. It is a powerful and intuitive page builder for WordPress. All you need to do is select layouts, drag and drop on your website and design the website of your dreams. You can use its ready-to-use modules directly on your website's pages.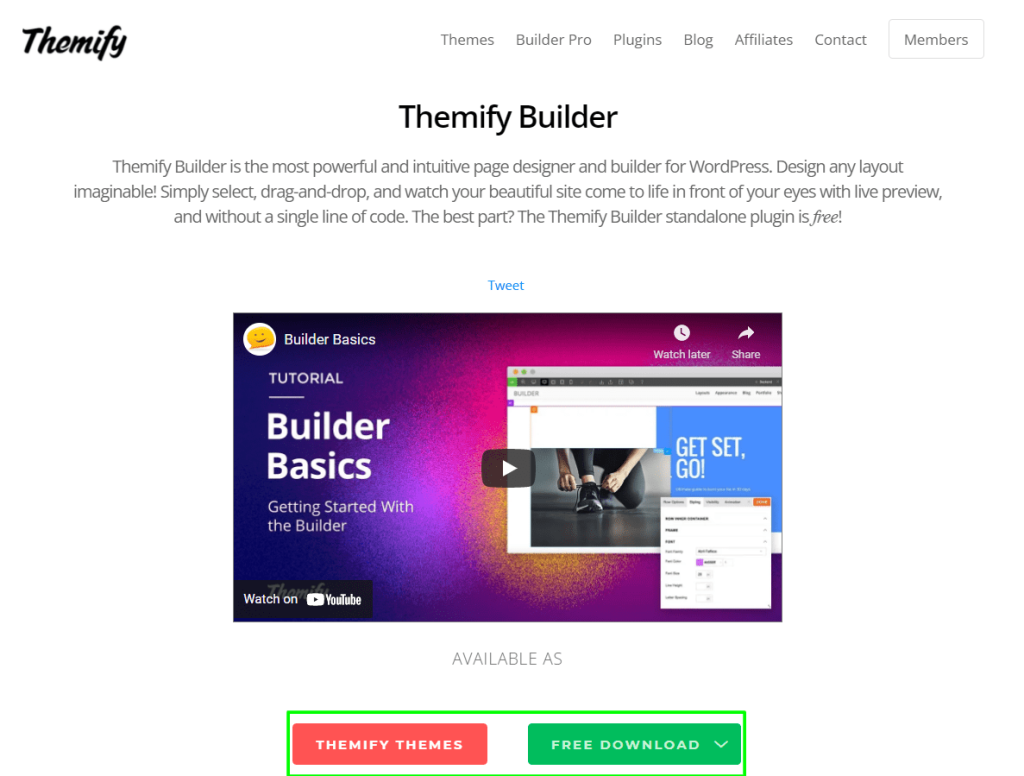 You might need to install some WordPress plugins to use these modules on your website. It has over 40 pre-designed layouts, which are really easy to use. You just need to import the layout to your website and then replace the image & text according to yourself. You can use its backend interface to drag & drop elements on your website quickly.
They also offer 60+ animation effects that usually trigger when you visit the viewing area of elements. You can use its custom styling feature to control your page's appearance completely. It allows you to style font, spacing, color, border, and background.
Themify Pricing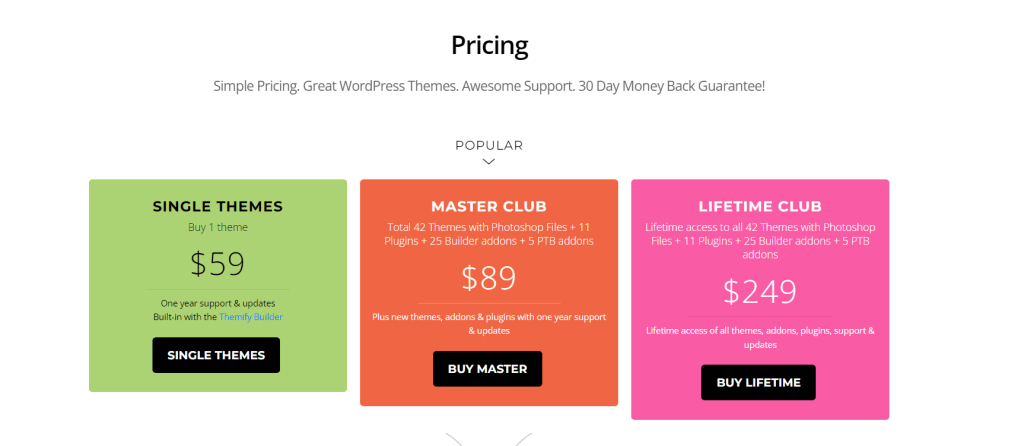 | | | |
| --- | --- | --- |
| Sr. No. | Plans | Pricing |
| 1. | Single Themes | $59 |
| 2. | Master Club | $89 |
| 3. | Lifetime Club | $249 |
---
6. Brizy
Brizy is another WordPress page builder which comes with a drag & drop editor that can help you design professional-looking websites. With their global styling feature, you can change elements on different pages of your website all at once. This can help you in changing the designs of different pages without ever needing to visit those pages individually.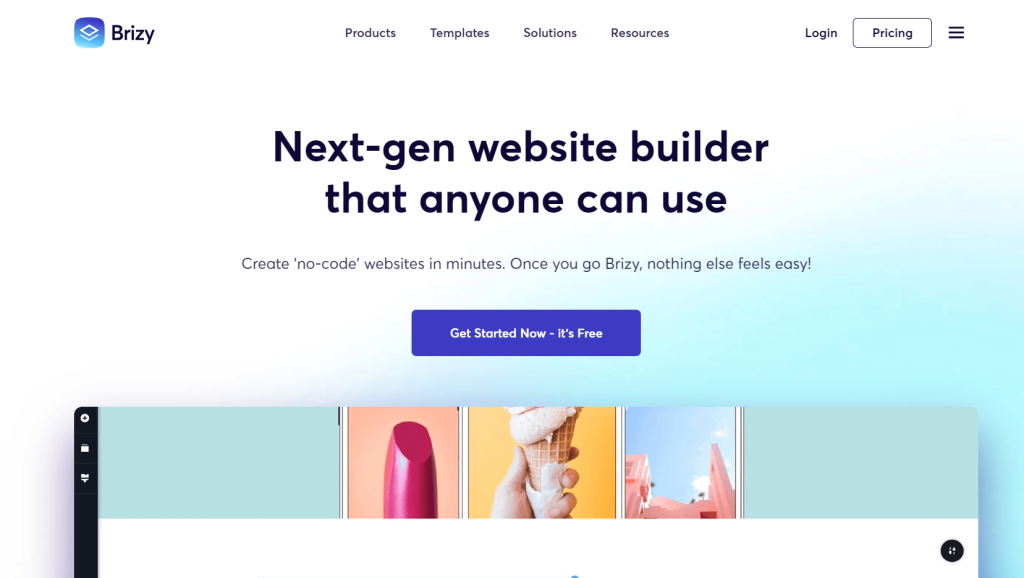 In their auto-save feature, you can find the previous versions of any page and restore them anytime you want. It also comes with a free version, just like Elementor. With its free version, you will get all the necessary features to design your website. However, if you want more advanced features, then you will need to buy any one of the premium subscriptions.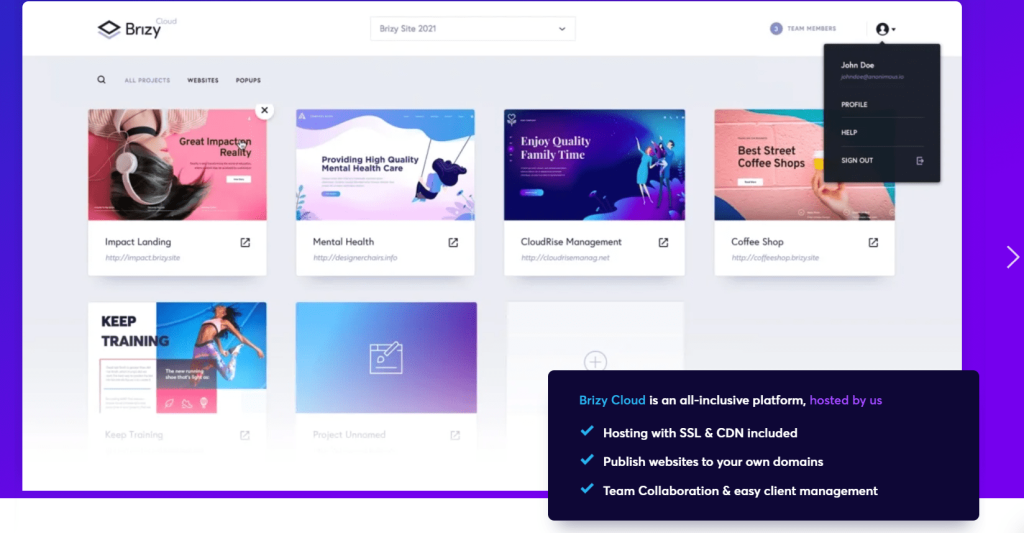 They recently launched Brizy Cloud, where you can get website hosting and access to Brizy page builder. The pricing of the Brizy plugin starts at $58/year, allowing you to design one website. The pricing of the Brizy cloud starts at $11/mo, which gives you hosting for one website and access to the Brizy page builder plugin for that website.
Brizy Pricing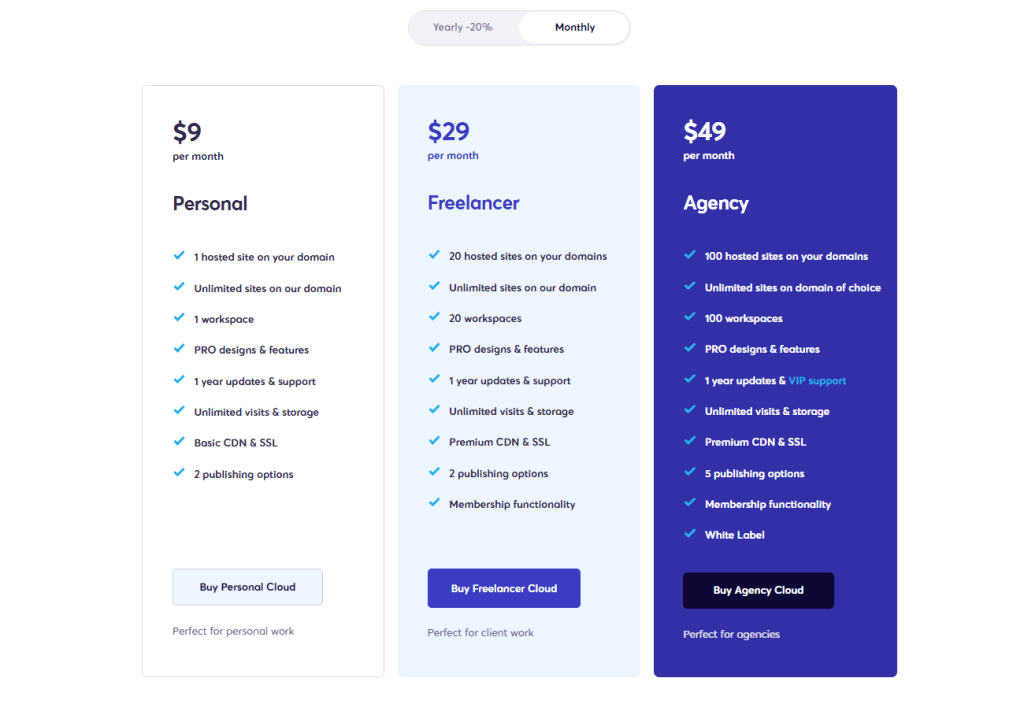 | | | |
| --- | --- | --- |
| Sr. No. | Plans | Pricing |
| 1. | Personal | $9 per month |
| 2. | Freelancer | $29 per month |
| 3. | Agency | $49 per month |
---
7. Oxygen
Oxygen Builder is slightly different from most WordPress page builders because it offers a few similar and unique features for building a website. This page builder focuses on three key areas: SEO & website performance, visual website building, and store management for WooCommerce. The working of Oxygen is a little bit different because it still works as a WordPress plugin, but it creates its own separate sandbox module.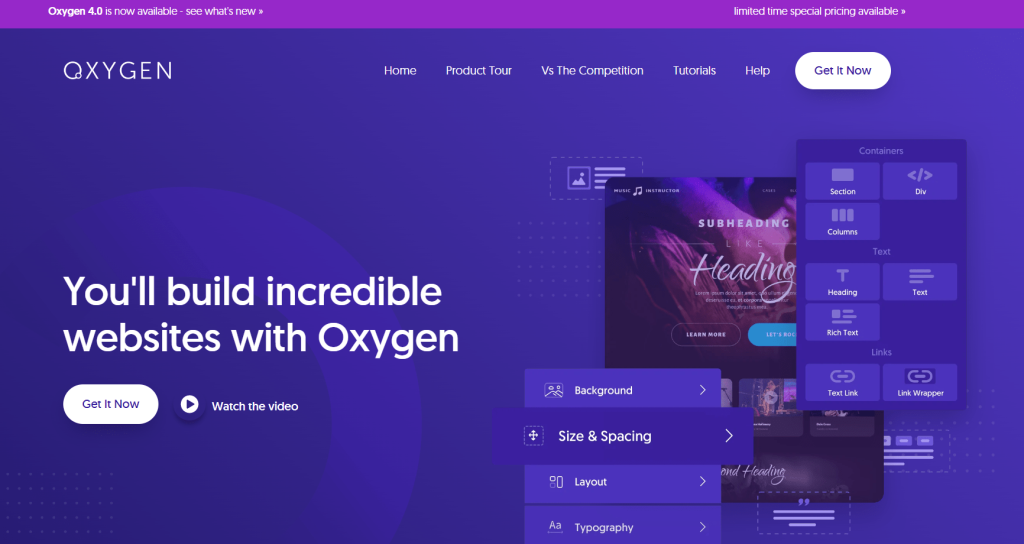 This sandbox module completely replaces the WordPress interface and gives you complete freedom to design the website. Oxygen comes with plenty of templates and high-quality designs that you can use to design your website. If you don't know anything about coding or know very little about it, then it would be hard for you to use this page builder plugin.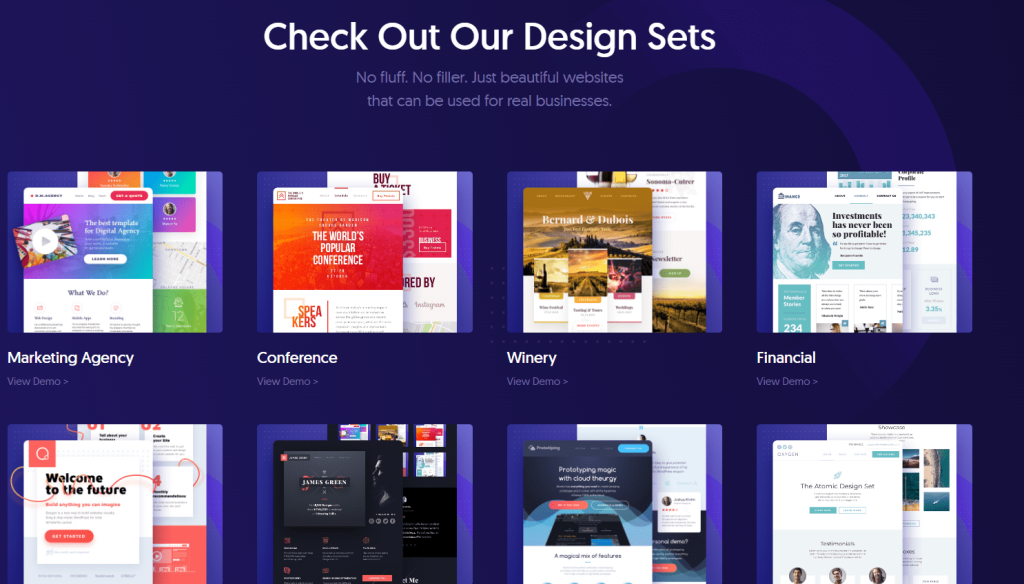 But if you know JavaScript, PHP, HTML, and CSS, then you can create your dream website with this tool. You will get complete flexibility using HTML and CSS. The best part about this page builder plugin is that it only offers lifetime membership plans which costs $129 and $349. With this license, you can use Oxygen builder on as many websites as possible.
Oxygen Pricing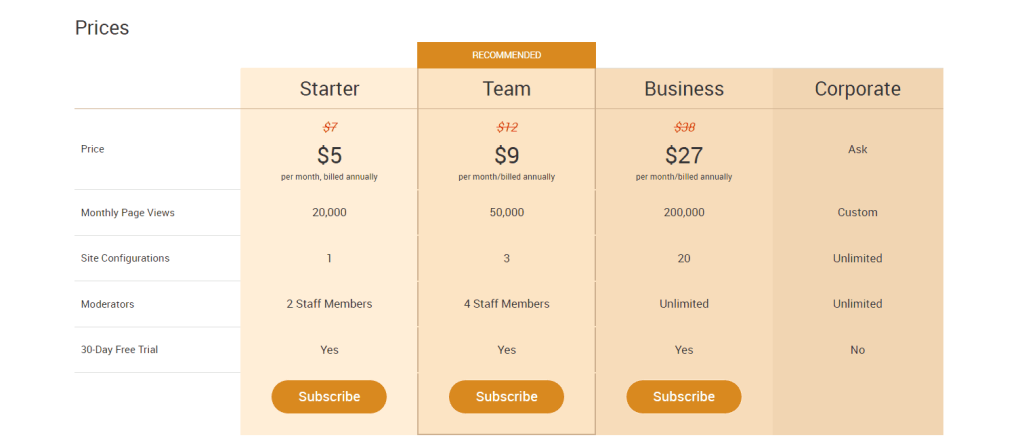 | | | |
| --- | --- | --- |
| Sr.No. | Plans | Pricing |
| 1. | Starter | $5 |
| 2. | Team | $9 |
| 3. | Business | $27 |
| 4. | Corporate | Ask |
---
8. Visual Composer
The Visual Composer is not your ordinary Page Builder. It goes beyond your expectations of a Page Builder. Customizing the entire website can be done without much complications. It just doesn't stop there, you can also change the header and footer if required, and many other aspects or elements can be changed. Your website can be done within few clicks. Its highly user friendly and compatible.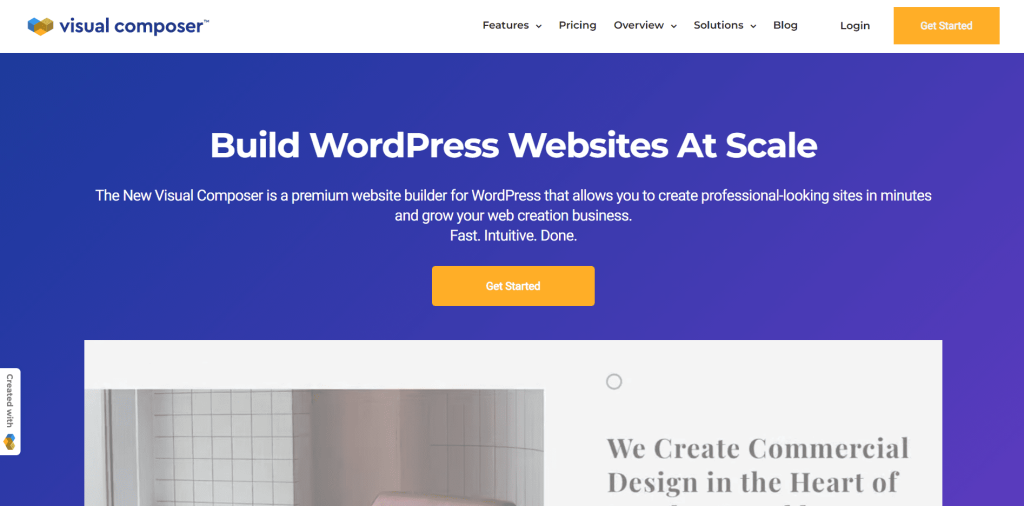 Visual Composer can be considered as a very powerful or impactful tool which is worth every penny. You can change whatever aspects you want to change through Visual Composer within few clicks.
Visual Composer Pricing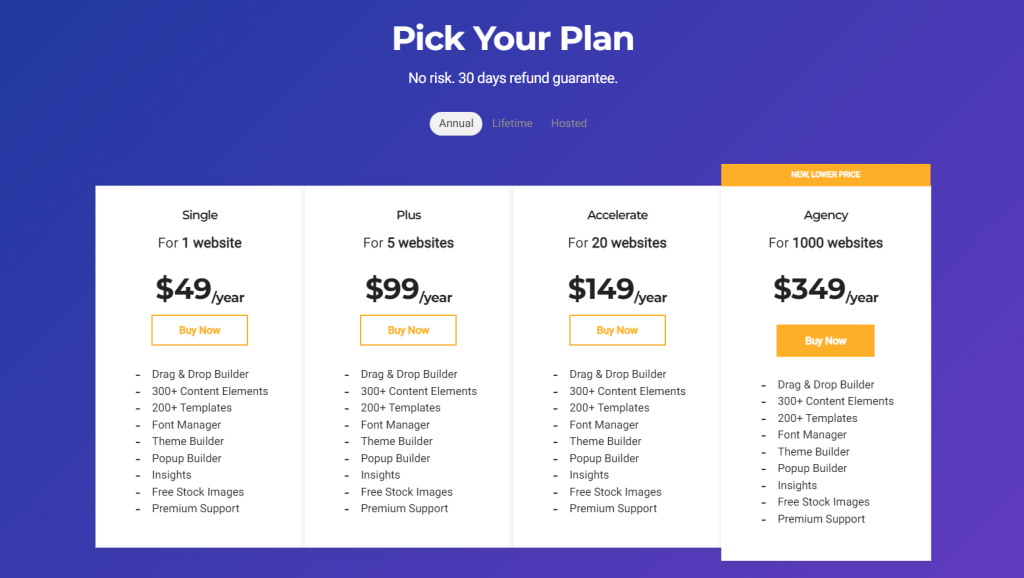 | | | |
| --- | --- | --- |
| Sr. No. | Plans | Pricing |
| 1. | Single | $49/year |
| 2. | Plus | $99/year |
| 3. | Accelerate | $149/year |
| 4. | Agency | $349/year |
How to Choose The Right Page Builder?
Before you choose which page builder you need for your website, you need to first be sure of what you are looking for in a page builder. Here are a few things which you need to consider before using a particular page builder.
1. Ease of Use
A simple drag-and-drop interface is an excellent feature to seek, especially if it includes a real-time visual page editor. The live editing system allows you to design the page and see the changes as they happen. This enables anyone, regardless of skill level or experience, to begin designing a website.
Look for history control and front-end text editing as well. Users can undo and recover revisions, as well as draught written content directly on the front end. WordPress page builders make it easier to create a website, especially for beginners who are unfamiliar with the process. As a result, excellent page builders must have this feature.
2. Widgets and Templates
Widgets and templates assist in saving time when designing pages. You can use widgets to add an image gallery, divider, social icons, videos, and other functions to your website without writing a single line of code.
Templates provide full-page designs or individual sections that you can arrange however you see fit. All you have to do is replace the content in the template with your own. The design is finished and ready to use.
Some WordPress page builders allow you to save your designs as templates. Consider this feature if you intend to create multiple websites or if you intend to reuse them in the future for new clients. If you want to create a functional website quickly, you should consider an abundance of widgets and pre-made templates.
3.Customizability
Check that the plugin includes essential features such as background, color, and typography editing. Custom paddings and margins, CSS classes, and responsive control allow you to create unique elements and adjust the website's appearance on different devices.
The Divi Builder and Beaver Builder both include a pop-up editor that can be pinned as a sidebar. Other page builders, such as Elementor and Themify Builder, have a styling tab that is always accessible.
Furthermore, some page editors will show you a single styling tab with detailed setting options, whereas others will adjust the styling tab based on the element you're editing. If you have a creative eye and want to be able to customize your tool, look for one with advanced features, as mentioned above.
4. Features
This is where the performance comparison takes place. The features of a WordPress page builder enable users to add important and useful functions to their website. They may include integrations such as WooCommerce for creating an online store and WPForms for collecting email addresses from visitors.
For example, Elementor includes hotkeys to save time when performing actions and background videos to make your layout more interesting. Meanwhile, Visual Composer provides mobile editing and custom CSS, whereas Thrive Architect distinguishes itself with resizable columns and hover effects.
As a result, before deciding on a WordPress page builder, conduct research and read reviews about the features.
Related Read:
Why Use a Drag and Drop WordPress Page Builder Plugin?
Your WordPress website's design is primarily determined by your theme. Most premium themes provide a plethora of customization options, but they are too complex for non-coding users to utilize fully.
This is where WordPress page builder plugins with drag-and-drop functionality come in handy. A simple WordPress page builder plugin can enable you to create stunning custom layouts and landing pages for your website.
With a page builder plugin, you can add any content to a page by dragging and dropping ready-made content elements such as blocks, modules, or widgets. To create unique website layouts, you can easily customize, move, and arrange the content elements. The best part is that you won't need any coding knowledge to design with a page builder.