In this review, we will start by looking at the Elementor Hosting service (Formerly know as Elementor Cloud). This service is provided by the very same company that created one of the most widely known page builders in the industry. The Hosting offering is a self-contained service that guarantees to handle and technical factors of creating a website. Placing emphasis on building and designing.
What is Elementor Hosting? – (Elementor Cloud Review)
Elementor Hosting is primarily a hosting service branded with Elementor. With Elementor Hosting, you get Pre-installed WordPress on your website along with the Elementor Pro plugin and hosting service.. You pay a subscription that covers everything from the license to the hosting to the assistance to the latest updates.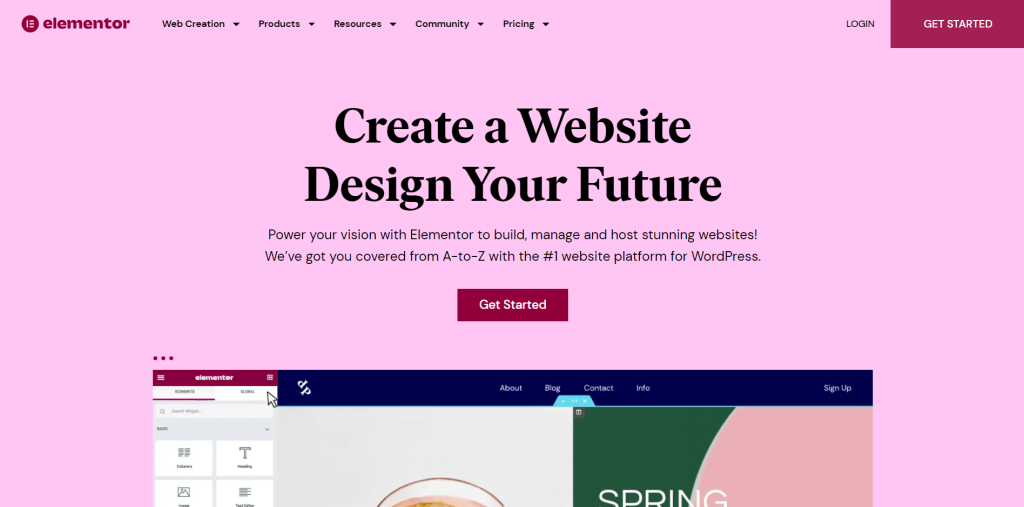 We will look at the functionalities, the pricing structure, speed, and ease of use in this overview to help you select if going the all-inclusive route is the best alternative for you and your company, or if it's better to host your webpage with another service.
Features & Functions Offered by Elementor Hosting (Elementor Cloud Review)
Now let us quickly discuss what you will get with Elementor Hosting, including all of the benefits and features mentioned below.
Elementor Pro plugin:
You will have access to this plugin for free which is otherwise starts from $59. You can create amazing WordPress websites quickly and easily with this plugin.
Quick Hosting Setup:
After purchasing the plan and entering the information needed, all of it will be set up, including features of Elementor Pro, WordPress CMS, and the Elementor Hello theme.
SSL Certificate (SSL):
Elementor hosting comes with a free SSL certificate from Cloudflare which is pre-installed. This adds an extra level of security that your WordPress website needs.
Free CDN:
Elementor includes a free CDN operated by Cloudflare. You can increase the speed with which your website's content is delivered by using this CDN.
Custom Domain:
Link more than one custom domain with your Elementor site without any cost. You can get the domain from any website domain service.
20GB Storage:
To maintain your website's content up and operating smoothly.
100GB Bandwidth:
To assist you in handling a large amount of traffic without lagging or stopping the server of your website.
100K Monthly Website Visits:
The allotted server can easily handle traffic loads of up to 100K monthly users and even IPs.
Automatic backup:
Automatic backups for your website are also available. It includes daily backups that are kept for 14 days. Furthermore, you can also easily run manual backups of your website data if needed.
Free Elementor Subdomain:
A free subdomain, for instance, yourwebsite@elementor.hosting
The ones listed above are some of the key benefits and characteristics of the Elementor Hosting. Furthermore, Elementor Website Hosting also includes Elementor Pro.
Elementor Cloud Review
If you are looking to start your own website and you are not familiar with coding then Elementor is your answer. Without any coding or complications you can get started with your website or landing page using Elementor for any business. The best part of this is it's all for free. There is a pro version which will cost you and give you more attractive templates which will make your website more appealing.
There are 4 plans which comes with Elementor Hosting, 1. Basic Plan, 2. Business Plan, 3. Grow Plan, 4. Scale Plan.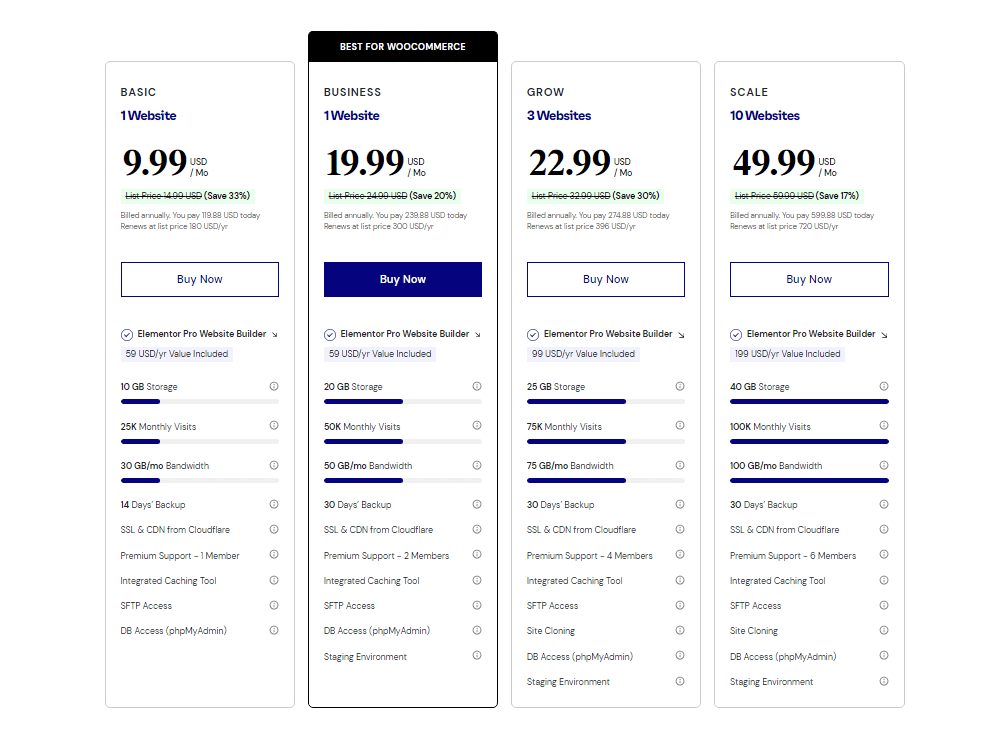 1. Basic Plan:
Basic Plan will give you one Website and Elementor Pro features. This plan will cost you for $9.99/month when billed annually for the first year. Later when you renew the plan, It will cost you $14.99.
2. Business Plan:
Business Plan will give you 1 Website and Elementor Pro Features. The difference between Business plan & Basic is, Business plan comes with more storage, more bandwidth, 30 days backup and much more. This will cost you $19.99/month for the first year and $24.00/mo after the first year.
3. Grow Plan:
Grow Plan will give you 3 Websites and Elementor Pro features. With more storage and bandwidth Grow Plan will cost you $22.99/mo for the first year and $32.99/mo second year onwards.
4. Scale Plan:
Scale plan will cost you $49.99/month for the first year. It will give you 10 WordPress websites. After the first year, it will cost you $59.99/month. Scale Plan will have the most storage, bandwidth compared with other 3 plans.
Getting Started with Elementor Cloud
It is simple to get started with the Elementor website; follow these instructions to get started smoothly with Elementor.
Step 1: Go to the Official Elementor Hosting Pricing Page
Visit the official Elementor Hosting Pricing Page.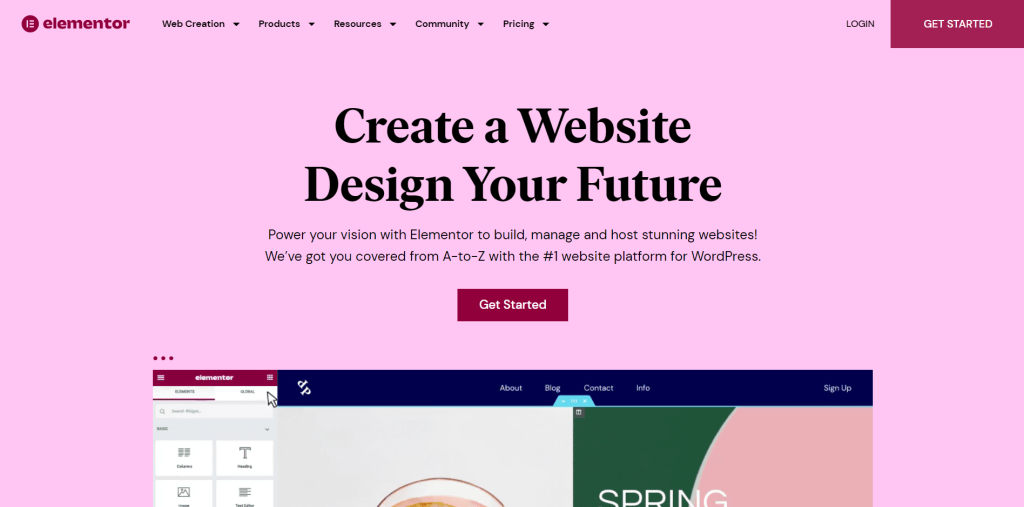 Step 2: Buy the subscription plan for Elementor Hosting
In this step, you have to select the "Buy Now" tab on the right-hand side of the screen.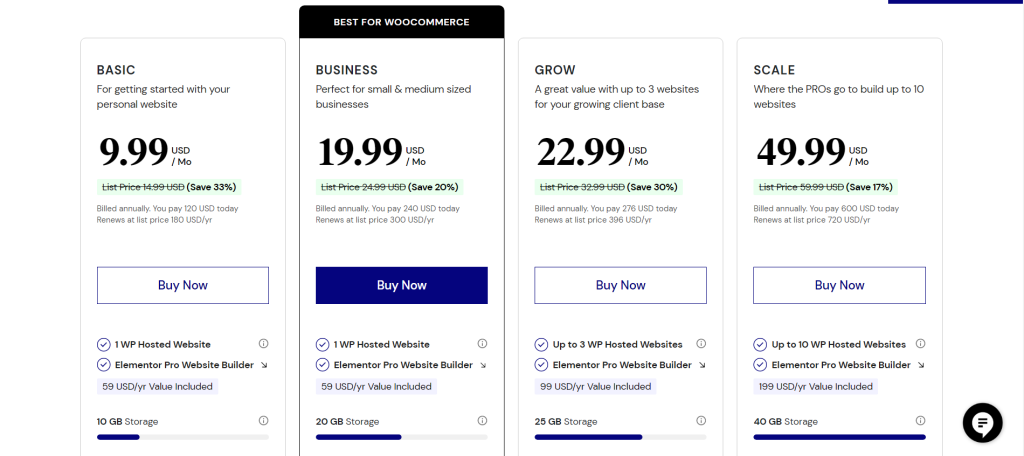 Step 3: Complete the purchase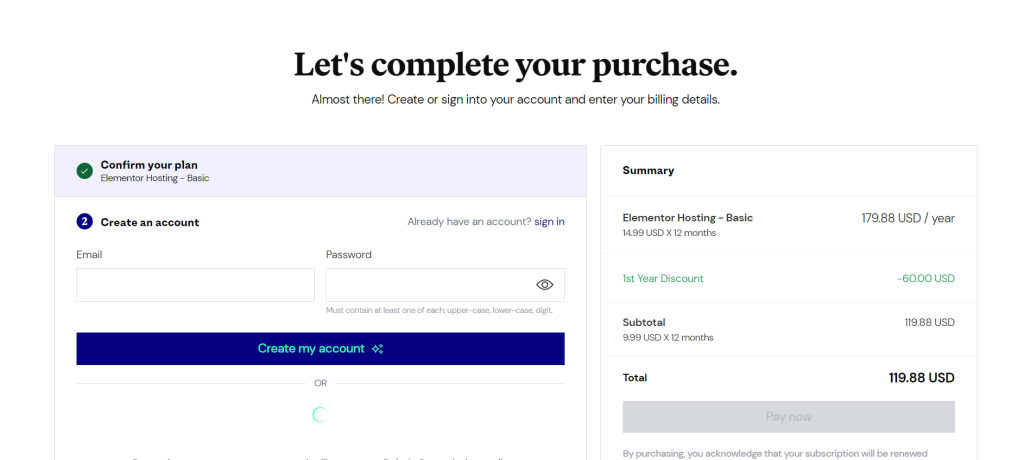 To complete the transaction for your Elementor plan, enter your payment information here. Enter all of the required information, including your company name, address, email, and payment information.
Finally, make your payment!
Step 4: Confirmation of Order
Once you have completed your purchase, an order confirmation will be sent to you along with a further set of instructions. You can also insert your domain name here. Elementor has a subdomain that would look like yourwebsite@elementor.hosting. Insert your custom domain and continue.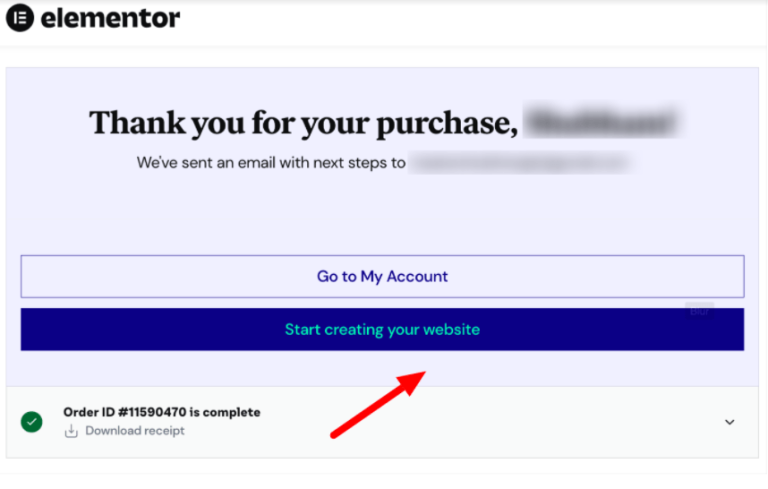 Step 5: "Work On Building Your Website"
Once you are through with all this, you have to select "Start Creating Your Website." You will be rerouted to the Elementor dashboard, from which you can view your Elementor-hosted website. In case you want to check out your WordPress dashboard, simply click on "Open WP Dashboard." You can then start building your webpage with Elementor Pro straight away.
Speed & Performance
Google Cloud provides excellent performance. This graph compares it to the shared hosting providers. There is no mention of server-level caching, and free page caching plugins have been almost entirely prohibited. WP Rocket, on the other hand, is not on the disallowed plugins list, so you could install it to reap the rewards of caching and optimization.
Banned Plugins
You should be aware that this service forbids some plugins if you value complete freedom and flexibility. Keep in mind that less expensive hosts frequently use this strategy. For instance, a large portion of those on the list is also prohibited by EasyWP.
WP Total Cache
WP Clone
Site Origin Panels
Site Origin Widgets Bundle
Beaver Builder
Beaver Builder Lite
Brizy
Really Simple SSL
Visual Composer
Shortcodes Ultimate
Limit Login Attempts Reloaded
QTranslate X
BWP Minify
SiteGround CachePress
Heartbeat Control
Oxygen Builder
Divi Builder
Image Map Pro
WP File Manager
WD Facebook Feed
Peepso
Duplicator
JetPack
Updraft Plus
Migrate Guru
Customizer Export/Import
BlueHost Site Migrator
WP Site Migrate
VaultPress
WPVivid Backup and Restore
Backup Guard
WP All In One Import
WP Reset
SiteGround Migrator
You'll see that they contain page builders that compete with each other, plugins that increase server load, and migration plugins. Elementor is the only page builder that works on their posting, which is annoying but fair.
Elementor Hosting (Elementor Cloud Review): Pros & Cons
Here are the pros & cons of the Elementor Hosting Website.
Elementor Hosting Pros
Let's take a quick look at the Elementor hosting pros
With Elementor in-built hosting, you don't need to worry about finding a hosting solution for your website.
Setting up an Elementor website is a lot easier than most website builders.
Elementor is more of a website builder, but it still works really well with WordPress and gives you all of its features.
You have to pay $99 upfront once a year, and there are no hidden or extra charges on the Elementor Website.
You get access to Elementor Pro and Elementor Hosting at an affordable rate.
Elementor Hosting Cons
Let's take a quick look at the Elementor hosting cons
Elementor is great for creating one website, but if you want to create more websites then you have to pay $22.99- 49.99/year/website.
With Elementor, you don't get complete control over your website.
How Much Is Elementor?
We have tried several hosting companies to host our web pages, but we prefer Elementor hosting service because it is more affordable than others. You can get Google Cloud Hosting and the Elementor Pro plugin for just $99 per year. Except for this pricing, there seem to be no hidden fees. As a result, you can take advantage of anything and everything Elementor has to provide at a low cost.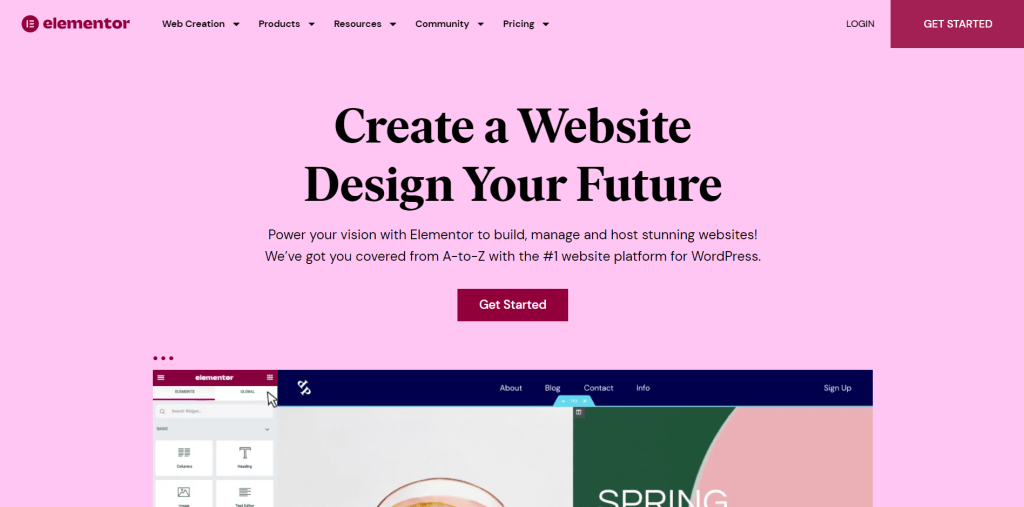 Cost of Elementor
You get a great deal of value because you get access to the Elementor Pro plugin for website design, which costs $59 per year, and Google Cloud hosting. You still get a free CDN, WordPress pre-installation, priority customer support, a free SSL certificate, daily backups, and a lot more.

On the Elementor Hosting, you will also get a 30-day money-back guarantee. So, if you don't really like their services, you can request a refund. They will reimburse your entire amount without any questions.
At first glance, $59 per year may appear to be a significant sum of money. However, when we take into account all of the features included in this single yearly subscription, it is clear that this cost is reasonable. In fact, I'm amazed it's so low.
Elementor Pro is also included right away. If you host the website yourself, the license for this resource would cost you $59 per year. For similar attributes, you would have to pay nearly $5.45 per month ($65.40) for cheap hosting (Bluehost).
If you really want to get hosting and also the Elementor Pro license independently, the total would be $114.40. This is in contrast to the $99 per year fee for Hosting, which includes everything. As a result, if we simply used a quantitative methodology to value this facility, you would undoubtedly save money.
What Makes Elementor Hosting Website Different?
Many end-to-end alternatives, like Wix, Squarespace, and Webflow, are available online; how does the Elementor website differ?
Elementor Website provides everything that all typical hosting providers provide, including all WordPress functions and the Elementor Pro plugin to help you build your webpage from scratch. Unlike the other costly hosting providers, Elementor provides excellent customer support, the fastest website page loading, and access to a single streamlined Elementor dashboard.
You can quickly create your WordPress website with the Elementor Pro plugin. The Elementor Pro plugin would never be charged separately.
Related Read:
Conclusion: Elementor Cloud Reviews
The answer to the question "Is Elementor worth it?" is as personal as it gets.
If you fall into the segment of the population that Elementor is trying to market this service to, it's a no-brainer in our opinion. This is an extremely valuable facility at a really low cost for what it provides.
Any small company, freelancer, or individual who is going to build or is trying to maintain their very own website should definitely look into this. This will save you a lot of money because the Elementor Pro license is created into low-cost, high-performance hosting powered by Google Infrastructure.
If you run a big content website, an e-commerce shop, or anything else that gets close to (or exceeds) 100k page views per month, you should consider using a different WordPress host. This service is certainly not destined for you, and as a result, you will be dissatisfied with the results.
FAQs: Elementor Hosting Review (Elementor Cloud Review)
Who should use the Elementor website?
The Elementor website is for those designers who would like to easily create their dream website. They don't have to search for another hosting provider or install WordPress on their own.
Can I link my Elementor website to a different domain?
Yes, you can freely link your Elementor website to a personalized domain at any time. You must first validate the domain's ownership before connecting it to your Elementor Website.
What happens if I exceed my storage, bandwidth, or visitor limit?
The storage, bandwidth, and visitor limits are big, and if you exceed them, you can consult Elementor's customer service team directly, and they will increase the limit further.
Which WordPress plugins are supported by the Elementor website?
All WordPress plugins are supported by the Elementor Website. If you are unable to connect a WordPress plugin to your Elementor Website, please contact the Elementor customer service team, who will provide you with different options.
How many websites can I create with a single Elementor website subscription?
You can only create one website with a single Elementor Website subscription. To create some other website, you have to purchase another Elementor Website subscription.
Is Elementor Hosting Good?
Elementor Hosting is a great for people who want to create a website or a landing page but don't want to rely on third party hosting providers.