Looking for the Best Caching Plugins For WordPress? Your Search ends here. Imagine this – if your website takes more than 3 seconds to load, you lose over 57% of all your website visitors. Slow websites are a brand's biggest hassle when it comes to website engagement and audience engagement. Designing a website that is optimized for speed is one of the best ways to decrease bounce rate, as well as boost site viewership. 
Various factors impact the speed of your websites – such as size-heavy media files, lots of queries, and a high number of visitors. However, speeding up your website isn't complicated at all. On WordPress, using caching plugins is the best way to ensure a speedy website. Put simply, caching is a way of storing "important data in an accessible spot so that it can be more easily and quickly served up to visitors when needed".
In this blog, I'll take you through not 5, not 10, but 15 of the best WordPress Caching plugins for your site, with a comprehensive overview of the plugin, as well as a mention of a few key features.
10 Best WordPress Caching Plugins (Top Picks)
The best part about WordPress is that it's got a plugin for everything you could need for an optimized, attractive website. Here are 15 caching plugins you need to install
| | | |
| --- | --- | --- |
| Sr. No. | Plugins | Best For |
| 1. | W3 Total Cache | Compatible with dedicated servers, clusters, and shared hosting |
| 2. | Comet Cache | extensive list of features that are available for free |
| 3. | WP Rocket | multi-site compatibility |
| 4. | Hyper Cache | Fully optimized for mobile devices |
| 5. | LiteSpeed Cache | Minifies and combines your CSS and JavaScript files |
| 6. | WP-Optimize | Compression and optimization of images and other media files |
| 7. | Breeze | File-level caching |
| 8. | Cache Enabler | Multisite support for WordPress |
| 9. | Borlabs Cache | Optimizes WordPress database |
| 10. | Autoptimize | Minify, optimize, and aggregate your backend scripts |
15 Top Caching Plugins For WordPress In 2023
Here's the list of the 15 Best Caching plugins for WordPress. Lets go through it one by one.
1. W3 Total Cache
With over 1 million installs, W3 Total Cache is one of the most popular plugins used by WordPress site users for the features available without having to pay for a Premium version. It did see a drop in ratings before it was acquired by BoldGrid, due to a lack of updates and laggy customer service. However, after the takeover, users noticed an increase in plugin performance and site speed.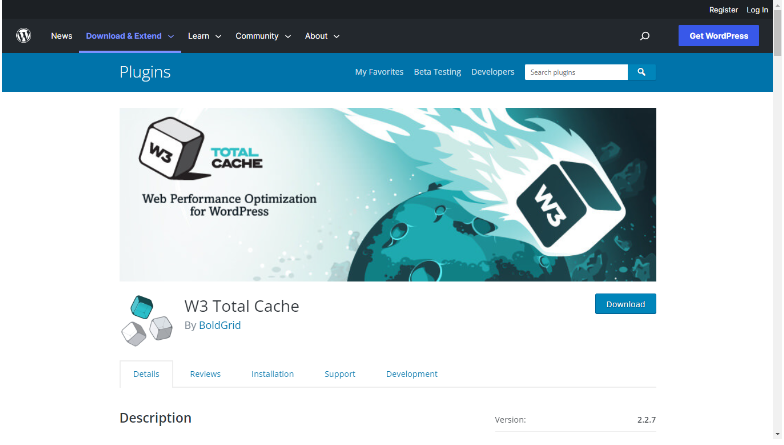 W3 Total Cache Key features:
Here are the key features of W3 Total Cache
Free-open source caching software
Integrated with CDN
Optimized for sites on both mobile and desktop devices
Excellent plugin for sites with SSN certificate
Offers bandwidth compression through minifications, HTTP compression, as well as optimizing site feed.
Supports object caching
Compatible with dedicated servers, clusters, and shared hosting
2. Comet Cache
Just like W3 Total Cache, Comet Cache has both free and paid versions that offer a plethora of caching features for site owners.
According to thousands of users, one of Comet Cache's biggest advantages is its documentation features. Comet Cache provides an exhaustive list of FAQs on all things cache and regularly updates its site with blogs and updates. This makes Comet Cache perfect for beginners, especially with an easy-to-navigate dashboard and features.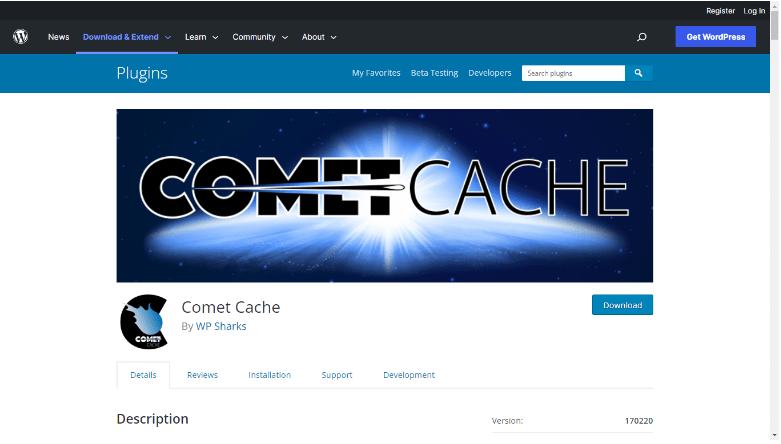 Comet Cache Key features:
Here are the Key Features of Comet Cache
Speedy configuration and efficient backend set-up
You can use Comet Cache to work on individual pages, posts, tags, or even categories
Cache your RSS feed
The paid version offers automated caching so that you don't have to manually work on caching your site now and then
Users recommend Comet Cache because of its extensive list of features that are available for free
3. WP Rocket
If you're a complete beginner to caching on WordPress, I recommend WP Rocket as one of the first plugins you should download while setting up your site for publishing.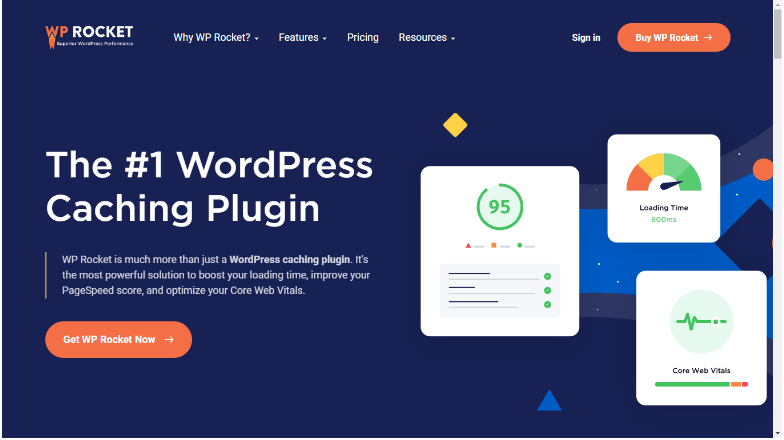 Its one-click feature ensures you don't spend a lot of time moving things around and get straight to caching. Although it is a premium plugin priced at $39 for one website and $199 for multiple sites, it is a worthwhile investment for me.
WP Rocket Key features: 
Here are the Key Features of WP Rocket
Super simple dashboard and set-up
Page and browser caching
Offers lazyload – the images/videos on your site don't load until the user scrolls over them
Compatible with CloudFlare
Offers multi-site compatibility
Optimizes Google Fonts
Compatible with Kinsta's server-level caching
Helps with object caching, minification, and concatenation
4. Hyper Cache
If I had to sum up HyperCache in one word, I'd say "underrated". HyperCache is a plugin that isn't as popular as WP Rocket, or W3 Total Cache but offers a host of features you should know about as a WordPress site owner. It's completely free of cost, with no Premium version, so you can avail of all of its features without having to pay a dime.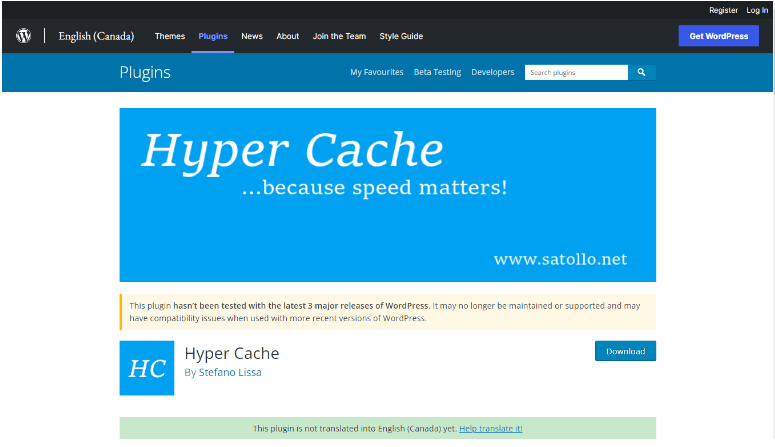 Hyper Cache Key features: 
Here are the Key Features of Hyper Cache
Integrated with bbPress
Integrated with CDN
HTTPS-ready
Fully optimized for mobile devices, one of its biggest plus points
Automatically clears cache every time your website receives new replies or topics
5. LiteSpeed Cache
A five-star rated plugin in the WordPress plugin library, LiteSpeed is the go-to caching plugin for all those looking for a server-level cache instead of a PHP-level cache. The only drawback a new site owner may observe while considering LiteSpeed is that it's not very beginner-friendly in terms of setup. Since it is server-side tech, it takes some knowledge of the backend, code, and server functions to be able to utilize this plugin to its fullest. Here are a few of LiteSpeed cache's key features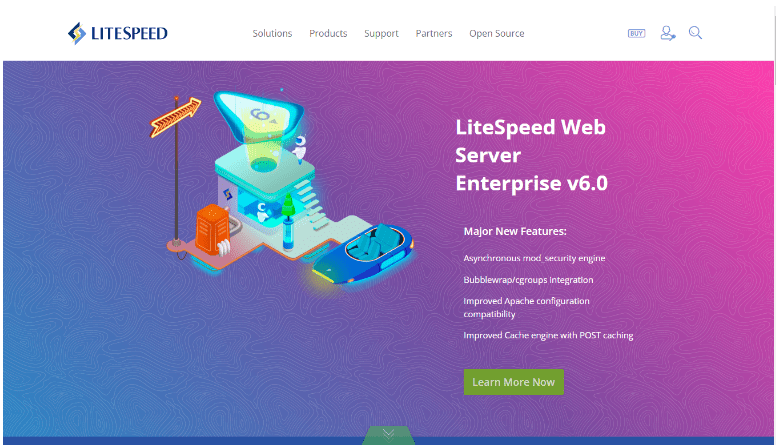 LiteSpeed Cache Key features:
Here are the Key Features of LiteSpeed Cache
Deep WordPress integration
Also integrated with CloudFlare
Sleek interface
Completely free of cost
Minifies and combines your CSS and JavaScript files
Lazyload
Auto-optimizing feature for images
6. WP-Optimize
WP-Optimize is one of the most comprehensive plugins for speeding up your site on WordPress. It was initially built as a plugin to help clean up your WordPress database but has now evolved into a caching and performance-enhancement plugin.
While it does stray away from its original function (database cleaning), users are now finding it a much better option for optimizing their site without having to download multiple plugins.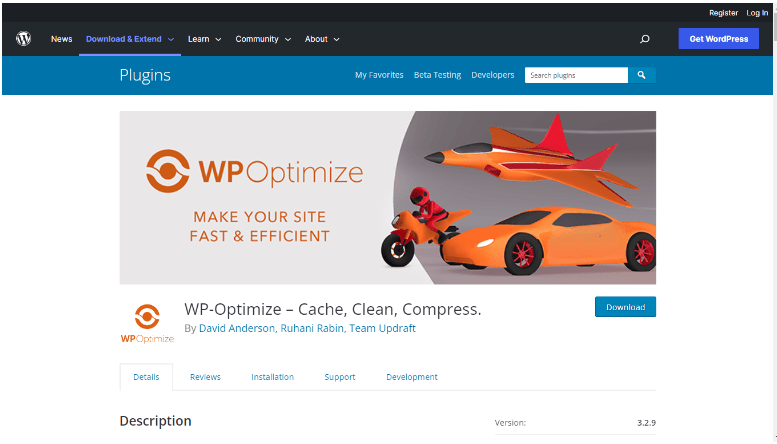 WP-Optimize Key features:
Here are the Key Features of WP-Optimize
Basic website caching
Optimization for site speed
Compression and optimization of images and other media files
Multi-site support (albeit only for premium users)
7. Breeze
Built by CloudWays hosting, Breeze is another excellent plugin that works across various browsers without having you use a hosting service. It has received wonderful reviews for its simple, functional, and easy-to-use dashboard, as well as its being completely free of cost. Breeze is a great choice for any site owner looking for a plugin that helps boost site performance without any monetary investment – perfect for beginners or small businesses.
Breeze Key features: 
Here are the Key Features of Breeze
Browser-level caching
File-level caching
CDN support
Minification and combination of code
Optimizes your WordPress database
GZip compression is supported
8. Cache Enabler
If you're looking for an ultra-simple plugin to install and run to speed up your site, Cache Enabler is the one you're looking for.
It's a sleek, simple page caching plugin developed by KeyCDN and requires very minimal effort at the time of setup. The biggest advantage of Cache Enabler is that it allows you to use and import WebP images without the need for JavaScript, a language that's not the best for a speedy site.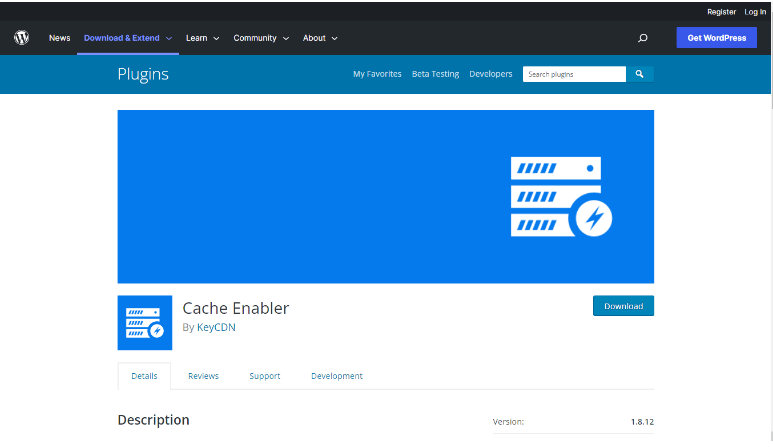 Cache Enabler Key features:
Here are the Key Features of Cache Enabler
A simple user interface, perfect for beginners
Support WebP images without JavaScript
Works well when paired with Autoptimze (which I'll be covering later in the blog)
Automatic and manual cache cleaning
Minifies HTML code
Multisite support for WordPress
9. Borlabs Cache
A highly-rated, well-priced cache plugin is a must, especially for large, media-heavy websites with a large number of visitors daily. Borlabs comes with a bunch of unique features, one of which being this – unlike most other plugins, Borlabs starts optimizing and caching your site as soon as it is activated. Instead of a 24-hour or 48-hour delay period, you can instantly get to work with Borlabs.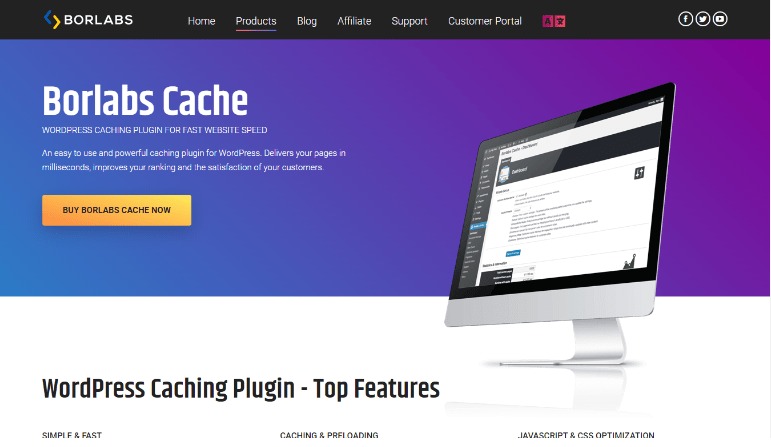 Borlabs Cache Key features:
Here are the Key Features of Borlabs Cache
CDN support
Optimizes WordPress database
The fragment caching feature helps serve ads in cached sections of your website
Cache presets for different cache settings in different parts of your site
10. Autoptimize
While Autoptimize isn't exactly a caching plugin, it deserves mention in this list of the best caching plugins for WordPress. As we mentioned before, pairing Autoptimize and Cache Enabler is an extremely beneficial move for your site. While Autoptimize does not help with caching, it does a lot more.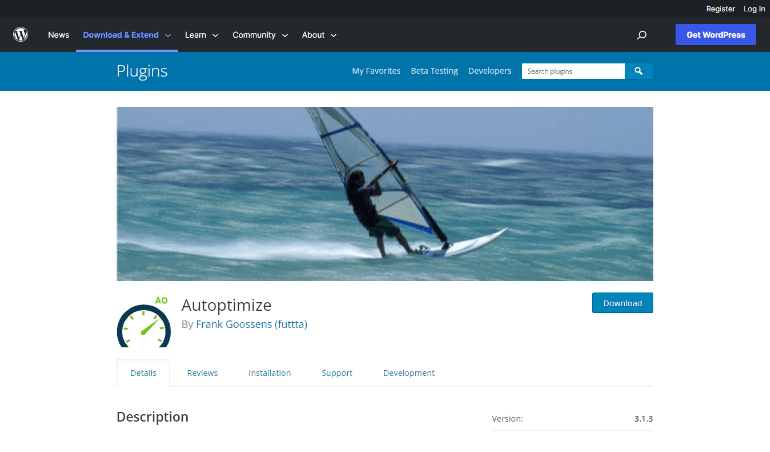 Autoptimize Key features:
Here are the Key Features of Autoptimize
Minify, optimize, and aggregate your backend scripts
Disable WordPress emoji script
Beginner-friendly
Is a free plugin, paid version available on a per-site basis for developers
11. Swift Performance
Popular, quick, and easy to use, Swift Performance is by far one of my favorite cache plugins on WordPress. True to its name, Swift Performance is one of the fastest and most efficient plugins in the WordPress library. It did receive a lot of flak a while back and was removed from the WordPress plugin library, but after a few updates and feature additions, it's a reliable plugin for all your caching needs.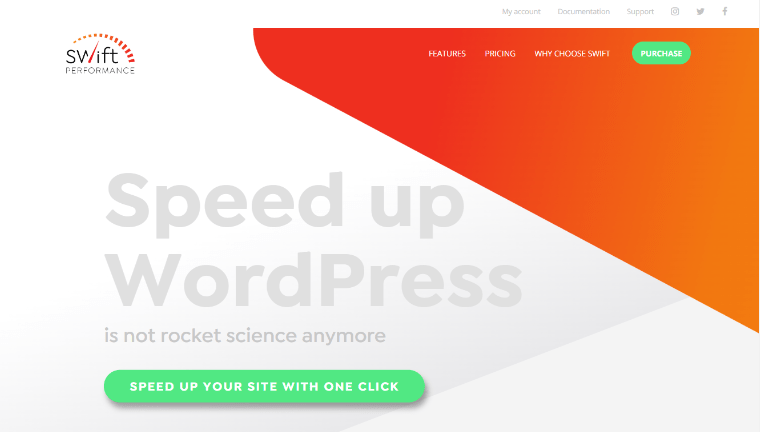 Swift Performance Key features:
Here are the Key Features of Swift Performance
Offers a "Plugin Organizer", a feature that allows you to disable and enable plugins specific to an individual webpage, only running them when allowed to
Unlimited Image Optimizer feature to compress your images
Optimizes and minifies CSS and Javascript feeds
12. Cachify
A free caching plugin available to all WordPress site owners, Cachify makes it to my list of the top caching plugins owing to its large community of developers that make sure this plugin is updated, optimized, and glitch-free. Cachify is an excellent option for anyone looking for a stable plugin that helps with everything from caching specific elements on your site, to speedy customer service in case you're in a fix.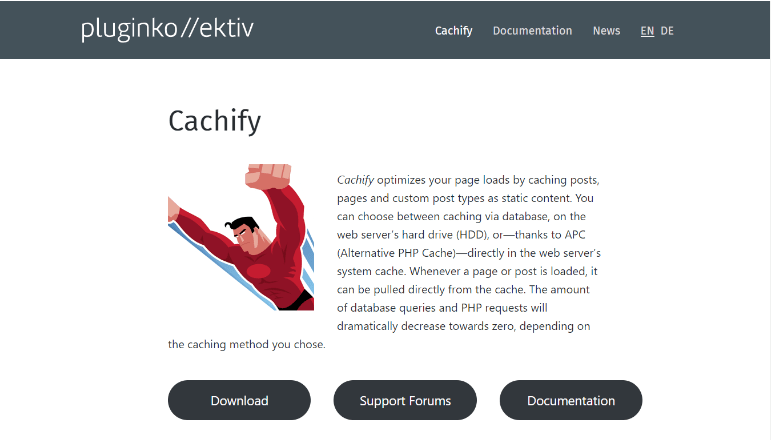 Cachify Key features: 
Here are the Key Features of Cachify
Works well with custom post types
HTML support
Uses caching methods such as HDD, DB, APC, and Memcached
Multisite support on WordPress
Dashboard created for all your cached items
Reset your cache both manually and automatically
13. WP Fastest Cache
With all of the features of popular cache plugins such as W3 Total Cache and WP Rocket, but with a much simpler and cleaner interface, WP Fastest Cache is a ticket to the speedy side. It's perfect for beginners, owing to the absence of advanced features that experienced site developers may need. There's a free version, as well as a premium version that starts at $49.99 for one site.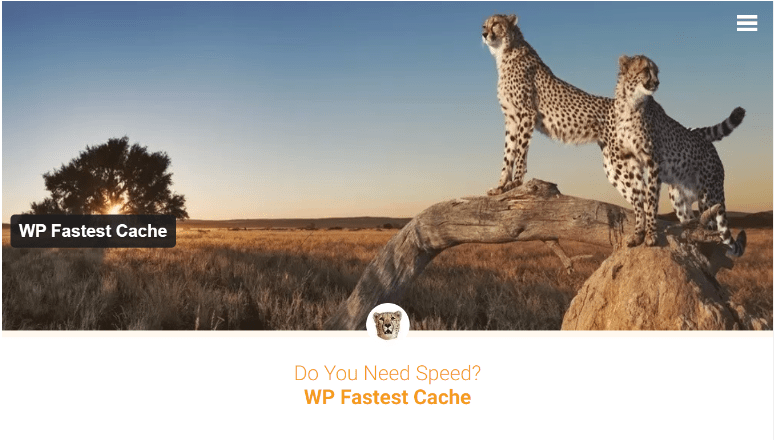 WP Fastest Cache Key features:
Here are the Key Features of WP Fastest Cache
Minification and concatenation of your code
GZip compression feature
Browser caching
Features caching preloading – enabling you to create a cache before a user visits your site, saving you (and them) a lot of time, and speed.
Delete cache, and exclude some cache from being deleted as per your needs
14. Hummingbird
The best caching plugins for WordPress, we have Hummingbird. It's packed with the best features for any site owner looking to optimize their site for speed, and its basic version is completely free of cost!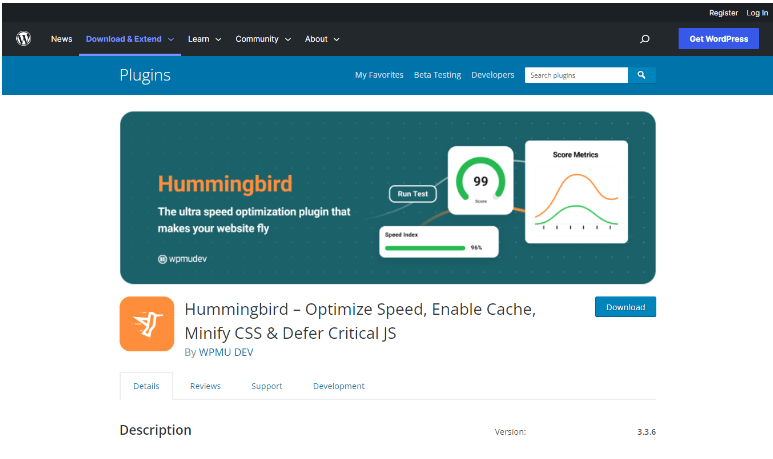 Hummingbird Key features:
One-click scan and fix feature for easy optimization
Preloaded cache
Expiry dates for cache
Page and browser caching '
Caching for RSS
Gravatar caching feature
GZip compression
15. WP Super Cache
And finally, to wrap up the list of, WP Super Cache. One of the most well-known and potent free cache plugins for WordPress is WP Super Cache. It is the perfect choice to speed up your site.

WP Super Cache Key Features :
Easy to use
One of the Fastest and Popular Plugins to wok in WordPress
Related Read:
Conclusion: Best Caching Plugins For WordPress (2023)
Choosing the "perfect" plugin for your WordPress site can be difficult, especially with all of the great options out there. However, for me, one plugin you should opt for while optimizing your site for speed is WP Rocket. WP Rocket, despite being priced at $39/site compared to other free-of-cost plugins, is completely worth the price – from lazyload, Google Font optimization, and minification, to browser and page caching features, WP Rocket is the plugin for you.
---