Are you looking at an honest and an unbiased Divi Theme Review? Then you are at the right place.
Divi is a widely reckoned WordPress theme and, might I add, one of the biggest reasons why Elegant Themes is so popular.
But today, with so many alternatives available in the market, is Divi still the best in the league? And if so, then what exactly are its standout features? To cut it short – is Divi really worth it?
Well, this is exactly the question I'll be answering in this blog. Read my Divi Theme Review, where I'll be sharing two cents on my experience with the plugin.
Let's start!
Divi Theme Review: In A Nutshell
Considering aspects like features, ease of use, pricing, and everything in between, here's a quick roundup of my ratings for Divi:
| | | |
| --- | --- | --- |
| 1. | Features | 4.9/5 |
| 2. | Pricing | 4.2/5 |
| 3. | Ease of Use | 4.6/5 |
| 4. | Customization Options | 4.9/5 |
| 5. | Speed | 4.7/5 |
| 6. | Customer Support | 4.8/5 |
| | Overall | 4.7/5 |
Divi is a powerful page builder through which you can make professional websites. It's power-packed with a lot of features pivotal for designing a website that looks good. But the ease of use is a factor you might want to take a second guess on. And, of course, the pricing is also quite a bummer.
Other than this, there's nothing I wish were different about the plugin. It's efficient and fast, with a simple interface and extremely helpful customer support.
Divi Overview
While searching for the best page builder plugins, I'm sure you must have come across Divi's name. To be precise, Divi is a multipurpose WordPress theme cum page builder – one that is highly recommended for beginners and solopreneurs for being easy to use.
Launched in 2013, Divi has since then powered 3,643,351 websites and went ahead to become one of the flagship products offered by the house of Elegant Themes. And why not?
Divi comes with a range of templates, elements, and theme layouts and is entirely based on the WYSIWYG model. Implying a powerful, visual drag-and-drag builder feature. Not just this. Offering maximum flexibility, Divi comes in both – a theme version and a plugin version!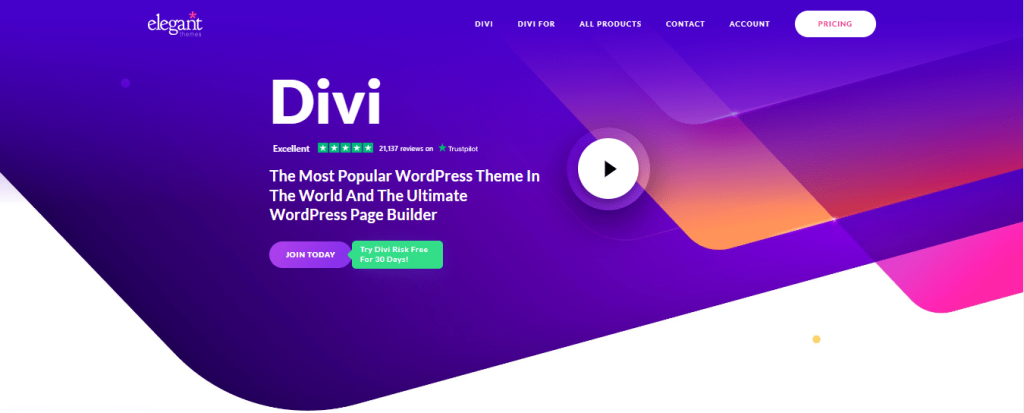 Although it's not a free theme, Divi's pricing is something that may not be best suited for all kinds of users. We'll discuss it further in the blog.
My main concern while writing this review, however, was to throw light on two of Divi's most acclaimed aspects – features and ease. And having used this tool myself, here's what I feel about both of these factors.
Divi Theme Review – Top Features & Functionalities
Divi is known for its robust features. To name a few;
1. Stunning Range of Elements and Layouts
If you choose to design your website with Divi, one thing I assure you – you'll never run out of great elements and layouts to choose from. Numerically speaking, Divi offers 200+ content elements and 2,000+ layouts.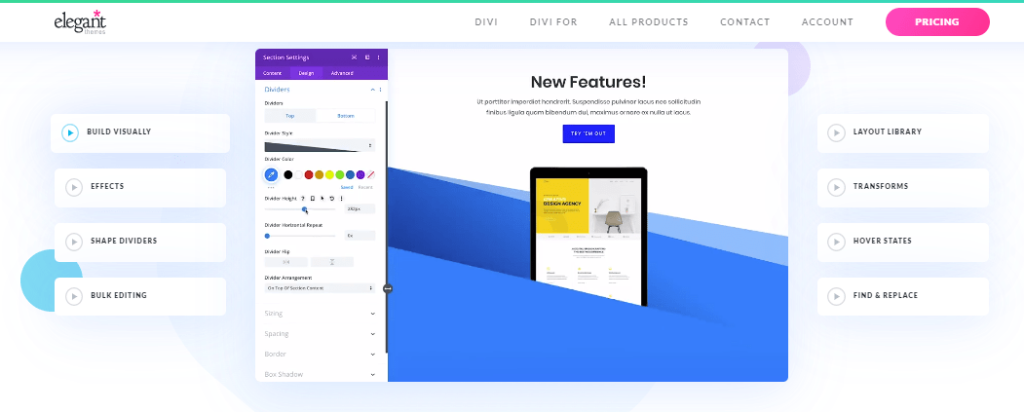 The layouts are extremely beautiful and truly justify the "multipurpose" tag given to Divi. Whether yours is a SaaS brand or an SEO Agency, Divi has stunning, pre-made layouts to suffice all these and more. Coming to the elements, while most of them are similar to what other Divi alternatives have to offer, it was Divi's incredible WooCommerce-specified elements that stole the show for me. Not only are some of them totally unique, but they also make the otherwise cumbersome task of eCommerce integration, a piece of cake.
2. Powerful Drag-and-Drop Builder
Divi boasts itself of being an effective, no-code builder. And I wouldn't say differently either.
Thanks to the robust yet simple drag-and-drop builder, designing a website with Divi is a hassle-free experience. It gives you full front-end control of how your website appears. So you can add or remove elements, make changes to literally any part of the website, and see what it looks like – all at the same time.

But here's something really fascinating – if you want to, you can also put your coding skills to use. Yes, Divi allows you to add your own custom CSS to code any part of the website. Although I must mention, it's not as dynamic as a traditional one. So Divi is for developers too, but only if you're not a pro.
3. E-commerce Capabilities
Divi is fully eCommerce capable, given it's compatible with one of the best in the league – WooCommerce.
As mentioned earlier, Divi's WooCommerce integration is the feature that appealed the most to me. Unlike other page builders, it doesn't just let you build a beautiful eCommerce store very effortlessly. It takes a step further by helping you promote and optimize it (more on this in the next point). You can customize every inch of your eCommerce store – right from the product pages to the checkout page. And just in case you lack enough knowledge to go about with all the customizations from the ground up, Divi also offers pre-designed eCommerce shop templates. Just pick any and you're good to go.
4. All Round Marketing Tools
Not just main website pages, Divi's features are equally helpful in creating brilliant landing pages that actually lead to conversions. Another coding-free feature, you can add the elements you like and check all the modifications visually, on the fly.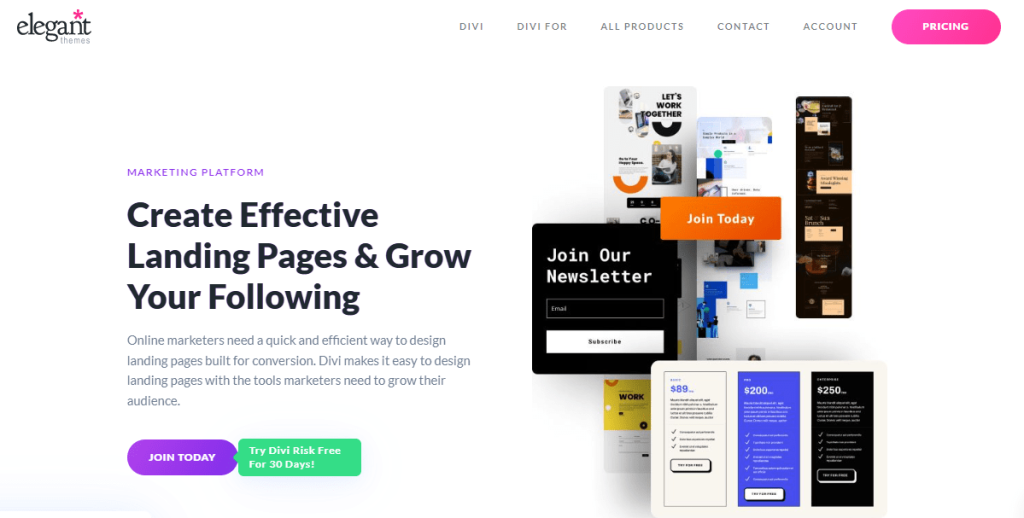 Moreover, Divi also gives you the option to A/B test your landing page, create newsletters, add buttons to your web pages for social sharing, and much more. So marketing your website with Divi is just as delightful and not a superficial bluff.
5. Multiple Integrations Available
Divi integrates with a bunch of third-party tools and plugins that really come in handy when designing and launching a website. From MemberPress and Mailchimp to Amazon, PayPal, Instagram, and Facebook – the list is endless.
Divi Review – How Easy Is It To Work With?
Divi makes building a website easy. But that doesn't mean there's just no learning curve involved.
Having used other top page builder plugins like Elementor and Wix, I did quite enjoy the edge Divi offered, that is, its vast number of templates, features, and customization prospects. But well – the same, huge number of options and features end up making the theme a tad bit overwhelming.
Let me repeat this again – Divi is easy to use. But don't expect yourself to design a full-fledged, professional website using it in the first go. Especially if you're not so familiar with the basics of website designing, you'll find it hard to sift through the many features and customizations offered by Divi.
So, frankly, I won't say Divi disappoints when it comes to ease of use. It's a premium theme that promises what it delivers – quality. So it's only natural that one finds it a little complex, starting out all new.
Divi Review – Pricing
Let's save you the bummer – if you think you can get all those fantastic features that Divi offers at a custom price – you can't! Being a part of the Elegant Themes product bunch, if you wish to purchase Divi, then you have to subscribe to either of the two pricing plans as offered by Elegant.
Coming next to the structure, Elegant Themes follows a subscription-based pricing model with 2 simple, straightforward plans. You can either get its Yearly Access for $89/year or pay a lump sum of $249 to get hands-on all – Divi, Extra, Bloom, and Monarch.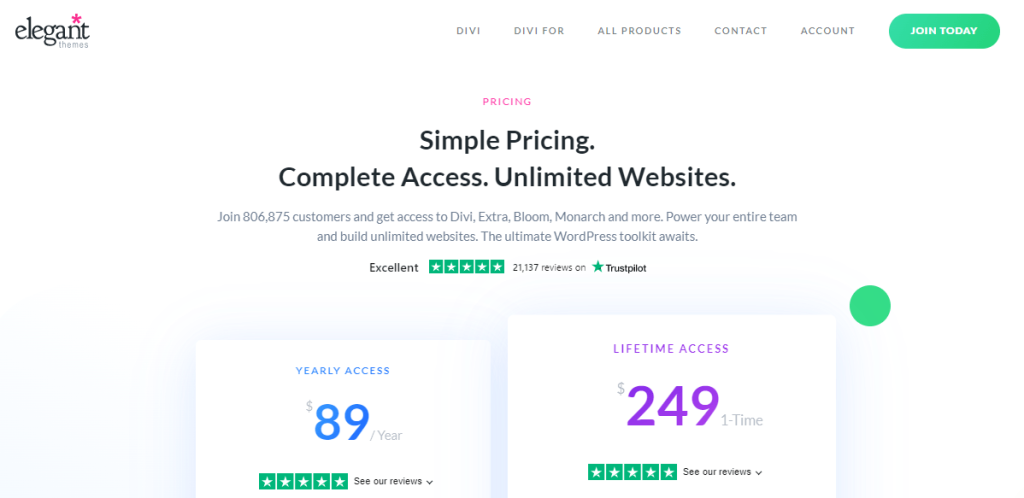 While I must say the prices justify the brilliant features of a premium theme like Divi, they are still quite unfair.
Think of it this way – you may not be needing all the extra products and plugins that Elegant has to offer. You only want to get your hands on the Divi Theme for designing a website. But can you? Well, clearly not. You will have to keep paying an annual amount to use Divi, unlike in the case of other similar plugins like Beaver Builder or Themify, that follow a one-time payment plan.
Divi Review – Customer Support
Initially, Elegant Themes would use a private forum to discuss and do away with customer concerns. However, I'd like to believe they didn't really bother beta-testing this idea. Their customer support faced a huge backlash by all Elegant Themes users as, quite naturally, the whole process – from putting up the question to getting a solution – turned out to be heftily time-consuming.
However, today, their customer support is named amongst the best. While the private forum is still open for discussion, Elegant Themes has diversified its support channels with the help of messenger support, Facebook groups, and occasional in-person meetups. Not only are the queries solved much more quickly, but their team also assists users facing general issues while designing a website. And that's something!
Divi Review – Pros & Cons
Subscribing for Divi might sound like a commitment. So I recommend you take a look at its advantages and disadvantages to make up your mind:
Pros of Divi:
Easy to use and control, especially if you're not familiar with website design.
Multipurpose and suitable for all kinds of websites.
Robust in performance and high speed.
Highly customizable and lets you modify every website element.
Integration with WooCommerce ensures full-fledged eCommerce capabilities.
Updated every once in a while to remove bugs and enhance performance.
Customer Support is extremely helpful.
Cons of Divi:
Pricing is not very tempting, given you cannot separately buy Divi.
Divi is easy to use, yet there's a learning curve.
Too many customization options tend to overwhelm beginners.
Seasoned developers might find the plugin, a bit restricting.
Related Read:
Final Thoughts – Divi Theme Review
In my opinion, Divi is an absolute no-brainer for those who want a professional touch to their website minus the effort.
Its visual drag-and-drop builder is incredibly effective and lets you design your website just how you want it to. And although traditional coding options are available too, chances are, you'll find them pretty limiting if you're a seasoned web designer.
Yet, I feel Divi might overwhelm someone who is all new to the world of website designing, given the range of features available at every step. But again – that's the price one has to pay for creating stunning websites without any coding.
Talking of price, well, that's one factor where Divi falls short for me. If only it was available at a separate price, I'd have been more impressed.
Now coming back to our question – is Divi still the best WordPress theme? Well, honestly, I'm not quite sure whether calling it "the best of all" would be just. But yes – Divi is definitely "amongst" the best WordPress page builder plugins, and for all the right reasons.
FAQs – Divi Theme Review
Is Divi a Good Theme?
Divi is an amazing theme which is a perfect combination of stunning features and pleasing to eye UI. One of the best theme which allows you to create or design without any coding.
Is Elementor better than Divi?
When it comes to Elementor vs Divi, Elementor stands tall with its astonishing features. The Drag and drop features even helps the beginner to understand on how to design a website.
---