This isn't just another review, it's our no fluff — Elementor Pro review! Let's get started!
Elementor is no longer the new kid on the block. It's a fully fleshed-out, ever-evolving website builder with a slew of tricks up its sleeve. Despite stiff competition, it has now become one of the most popular visual page builders for WordPress, and it is still growing quickly.
It has now transformed from just a page builder plugin into a WordPress website builder, thanks to recent updates. This means that you can use Elementor Pro's simple drag-drop interface to not just create custom designs for your content but also have complete control over the appearance of your WordPress website.
So, in this post, we will give you an elaborate Elementor Pro Review and how it is different from the free version of Elementor!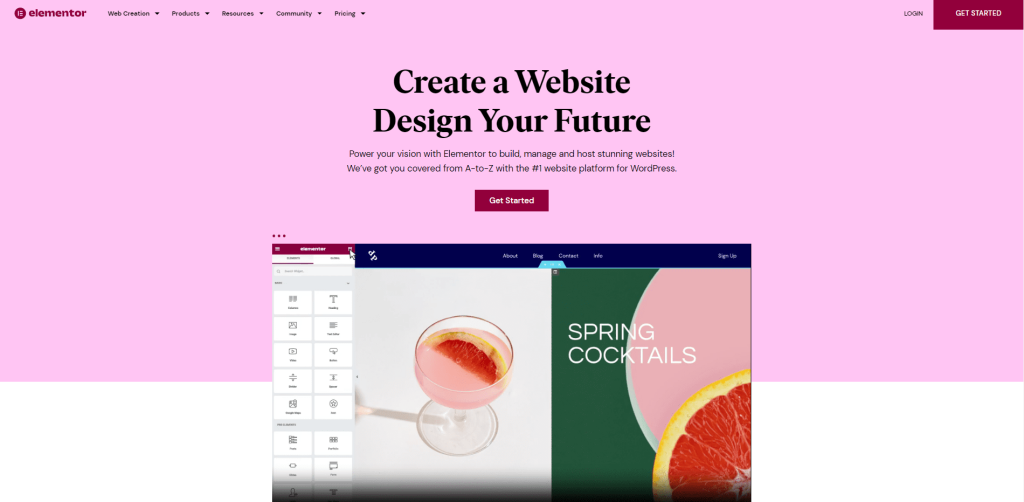 Elementor Pro vs Free: What's the Difference?
Before rushing to the review, let's understand the difference between — Elementor Pro vs Free.
Elementor Pro
Elementor Pro is a website builder for WordPress. After you've installed the plugin and activated it on your WordPress site, you can begin using the Elementor user interface to create custom designs for your posts and pages.
Elementor Pro also allows you to customize the header, footer, post archives, and other areas of your site that are not directly related to the post or page content. This means that Elementor Pro is a full-fledged WordPress website builder, not just a content editor or page builder.
Elementor Pro has the functionality you need if you want complete creative control over your website and the ability to design a custom WordPress website. The Pro version includes all necessary and advanced design features. You can easily design stunning websites with Elementor Pro even if you have no prior design experience.
Furthermore, Elementor Pro includes over 300+ well-designed templates, as well as 70+ powerful pro widgets. Elementor Pro includes a powerful — Theme Builder. The Theme Builder is a tool that allows you to customize the functionality of your WordPress theme. You can create things like a header, a footer, a single page/post layout, pop-ups, 404 error pages, and so on.
What Will You Get With Elementor Pro?
Elementor Pro includes the following features:
300+ high-quality templates
100+ high-quality Block templates
Global widgets – the same widget can be used on multiple pages of your website. If you want to change something about your widget, all you have to do is edit it once. It will be updated automatically on all pages.
Elementor Theme Builder – You can use Elementor's templates for footers, headers, and other elements to create your own theme from scratch.
WooCommerce Builder – allows you to create an online store using 18 WooCommerce widgets.
Front-end form and pop-up builder, including MailChimp integration.
Access to your website's CSS code is available 24 hours a day, seven days a week. Premium customer support entitles you to priority support for help tickets, as well as the ability to allow Elementor representatives to log into your dashboard to resolve issues.
Elementor (Free)
The free Elementor plugin includes a dependable set of features that assist you in designing WordPress websites. The free version of Elementor comes with a limited set of features and widgets. It lacks many of the features that Elementor Pro has, such as its large premium templates and blocks library, as well as several widgets, theme builders, popups, and other tools.
You also don't get the ability to integrate your pages with third-party services or use online forms. The free version of the plugin can be used to gain a better understanding of the Elementor user experience. You can, however, try Elementor Pro risk-free for a month courtesy of its 30-days money-back guarantee. This will undoubtedly provide you with a better and more accurate understanding of what this amazing tool is capable of and whether it is appropriate for you or not.
Elementor distinguishes itself with a feature-rich free plan. The free version is more than adequate for many personal and even business websites. You can create custom sites and pages that include all of the basic functions as well as the majority of the fancy design features.
What Will You Get With Elementor – Free?
The free version of Elementor includes:
Complete access to the builder platform, including live design, mobile editing, version history, and so on.
30+ image, text box, map, an audio file, and other widgets
40+ Page Layouts (including royalty-free stock photos)
100+ Block templates for FAQs, features, testimonials, "meet the team," and many other things.
What You Will Receive If You Pay
Elementor Pro has three paid plans available. The only distinction between the Personal, Plus and Expert plans is the number of sites for which you are licensed.
Elementor Pro Vs Elementor Free: Which One To Go For?
Let's take a look at the features of Elementor Pro Vs Elementor Free in this comparison table.
| Features | Elementor Free | Elementor Pro |
| --- | --- | --- |
| Drag & Drop | Yes | Yes |
| 300+ Pro Templates & Blocks | No | Yes |
| Motion Effects & Mouse Effects | No | Yes |
| Landing Page Builder, Canvas Template | Yes | Yes |
| Social Buttons & Integrations | No | Yes |
| Hello Theme | Yes | Yes |
| Header And Footer | No | Yes |
| Woo Products Widget | No | Yes |
| HubSpot Integration | No | Yes |
| Zapier Integration | No | Yes |
Elementor Pro Review: In a Nutshell
Elementor Pro is a powerful page builder plugin for WordPress. You can begin creating stunning designs once you install and activate this plugin on your WordPress websites. Elementor Pro includes a slew of powerful design features, including 300+ pro templates, custom header and footer, global widgets, 20+ integrations, post and portfolio widgets, and so on.

All-in-all Elementor Pro includes everything you need to quickly and easily create stunning WordPress websites. It has a drag-and-drop website building interface that makes creating stunning designs a breeze. There are hundreds of ready-to-use templates available. It also has simple customization options; in fact, it has industry-leading customization options.
Before we get into the specifics of Elementor Pro, here's a quick rundown of its best features and main benefits:
Drag-drop editor 
Individual templates are available in a large library.
Many widgets for enhancing your content
Works with any WordPress theme
Editing header, footer, and other elements using the Theme Builder
Create Custom post archives as well as single post templates.
Popup Builder and other marketing tools to aid in the generation of more leads
Add a custom online form to your site using visual form builder
Supports various third-party integrations.
Add new features and functions using a variety of free and paid third-party plugins.
Elementor has a fantastic free plan that comes with a plethora of features to assist you in building a website. If you only intend to use it for personal or business purposes, the free version may be sufficient. You'll have access to a large number of templates and widgets, and you'll be able to fully utilize the website builder's features such as version history, mobile editing, and so on.
Although Elementor's free plan allows you to do almost everything, if you're building sites for clients or your website is your main asset, I recommend upgrading to one of the pro plans. The ability to create your own theme, as well as the global widgets feature, make the relatively low investment worthwhile.
Elementor Pro Ease of Use (Getting Started)
In this section, we'll go over the fundamentals of the Elementor Pro interface. This will provide some context for some of Elementor's most distinctive features. Before delving into the user interface and experience of Elementor Pro, it's worth reviewing the various components of the core WordPress user interface. WordPress comes with two main UIs that site owners can use to build their websites by default:
WordPress Customizer:
Personalize the appearance of your website by changing the fonts, colors and more.
WordPress Editor:
Also known as the Gutenberg or block editor, it is used to create fresh posts and pages.
When you activate Elementor Pro, a third user interface is added to WordPress, which gives you even more options for customizing the appearance and look of your website and creating posts and pages.
In the last few years, the default editor for WordPress posts and pages has developed a lot. Thanks to some recent updates, creating custom post and page designs with interesting layouts using a variety of blocks, like image and video galleries, and buttons, is a lot easier than it used to be.
When you open the Elementor editor, you'll see a visual preview of your design on the right and a sidebar on the left:
Visual Preview :
This is where you create your layout. You can drag-and-drop content elements around as needed.
Sidebar :
This is where you can add new elements, customize the existing elements on your page, and access other Elementor settings.
Drag a new content element (called a widget) from the sidebar onto the live preview of your design to add it. You can also use drag-and-drop to reposition elements on your design. If you want to edit text, simply click on the visual preview and begin typing.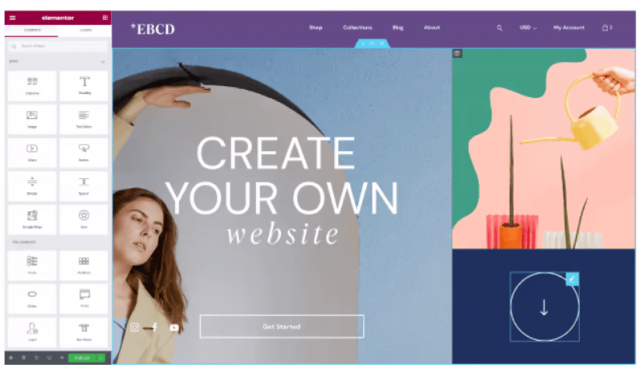 You Get Two Layout Blocks To Arrange Your Widgets:
Sections:
This is basically a row.
Columns:
Columns divide a section into different vertical sections
Your widgets will be placed within sections and columns. When you click on a widget, section, or column, its settings appear in the sidebar. This is where you can tweak the design, spacing, and content, among other things.
New Features of Elementor Pro (Updated 2023)
Here we have listed new features of Elementor Pro.
1. Theme Builder
Over the years, Elementor Pro began has evolved into a full-fledged WordPress website builder that allows you to personalize every aspect of your website, including all your pages and posts. The header, footer, and other elements of your site can now be customized using the same simple drag-drop editor. You can even design your own templates for posts, post archive pages, and several other key elements of your website. This allows you to create a template for your blog post and then configure your website to get it applied automatically to all of your blog posts.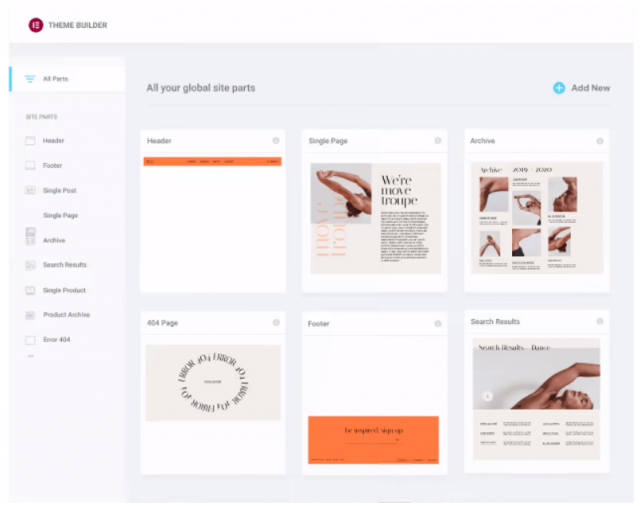 You can also create several templates and assign them to specific posts using the "Conditions" feature. These can include those from a specific category or written by a specific user. The "Conditions" feature can also be used to choose which header should be displayed with which pages on your website.
2. Premium Templates & Blocks
The most important feature of Elementor Pro is its user-friendly interface. It makes no difference what other features the tool as if it is difficult to use. Here is a quick description of the Templates and blocks offered by Elementor Pro.
Templates
The templates offered by Elementor Pro are editable and can be imported quickly into your pages, Elementor Pro is ideal for people who wish to save time on website building and also those people who have limited designing skills. Elementor Pro's pre-built content includes approximately 200-page templates, over 100 content blocks, and 16 different website kits.
All the templates were created with high-quality standards covering a wide array of projects, making Elementor Pro a very versatile option for users looking for pre-built content to assist them in the creation of their website.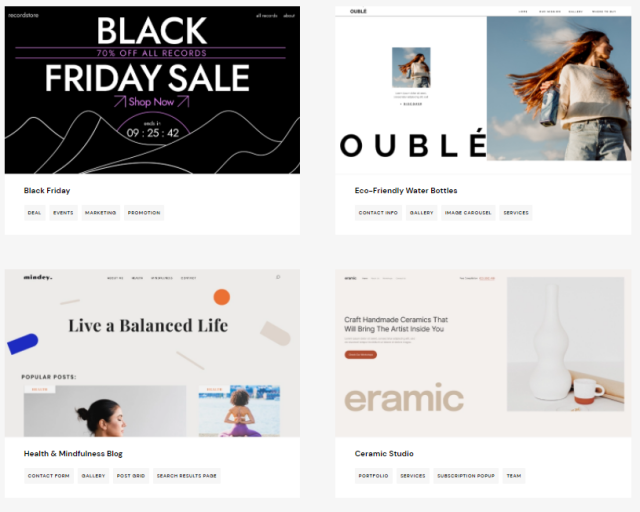 Blocks
The blocks designed by Elementor are also a useful addition. Instead of being full templates, these blocks can be used to add popular sections to your pages, which can include the about page, contact page, clients list, and testimonial blocks. The blocks, like the templates, are fully editable via the Elementor Pro interface.
Widgets
The most recent update to Elementor Pro added more widget options for you to use on your pages. There are numerous options available, making it simple to incorporate buttons, video players, and slideshows into your pages.
Elementor Pro provides a large selection of widgets that you can insert into your pages and other areas of your site when creating custom designs. There are basic widgets like image galleries, buttons, and carousels, as well as more advanced options like call-to-actions, PayPal buttons, and pricing tables. There are many more, so make sure to browse the list on the Elementor website.
As previously stated, all of the widgets can be customized to ensure that they look appropriate for your website. You can incorporate widgets from other plugins into your designs and are not limited to the ones included with Elementor Pro. There's also a good selection of third-party Elementor extensions available, which allow you to add even more widgets to your site — sometimes for free.
Other Standalone features
While the page builder User Interface, templates, blocks, and widgets are the key features of Elementor Pro, there are numerous other features and functions that make this a strong tool to consider. These include:
Popup Builder: Used for creating custom popups for generating more leads from your site. These include popups for collecting email addresses, etc.
Form Builder: A drag-drop editor for creating advanced and basic forms.
WooCommerce Builder: Use this tool to customize your eCommerce store and gain access to WooCommerce widgets.
Role Manager: Have complete control over which logged-in users can use the Elementor Pro features on your site.
Third-party Integrations: Integrate your website with several tools and services like social networks, email marketing services, and more.
Global Widgets: Used for creating custom dynamic widgets which can be used across the entire website.
Hello Theme: A free theme that has been optimized to be used with Elementor.
Who Should Use Elementor?
Anyone who is using WordPress can use Elementor to design their website. Suppose you're casually building a website on WordPress. In that case, you should definitely consider using Elementor free version, and with it, you can add style to your pages and create an amazing-looking homepage for your website. Digital Marketers can use Elementor's Pro version to design professional-looking websites easily.
Its advanced features will give you everything you need to give your website a professional look. Elementor has amazing plugin plans that allow you to build websites for your clients as well. You can purchase Elementor's agency plan and build up to 1000 websites. If you want hosting with a website builder, then you should go with Elementor Cloud Website.
Pros & Cons Of Elementor
Here are the benefits & drawbacks of Elementor.
Elementor Pro Pros
Lets have a look at the Pros of Elementor
It comes with a free version that gives you all the necessary tools to create your website.
It has a smooth interface that has a learning curve to it.
You can build custom layouts & designs without using any PHP or HTML coding.
It offers an all-in-one solution called Elementor Cloud that gives you hosting and all Elementor pro features.
You can edit your website according to desktop, mobile, and tablet separately.
Elementor Pro Cons
Lets have a look at the Cons of Elementor
It offers fewer page templates than most of its competitors.
It lacks marketing-oriented features.
Elementor Pro Pricing – Elementor Pro Review
Elementor Pro is currently offering a variety of license options for users to choose from, starting at just $59 per year. A good thing here is that you will have access to all features and functions of Elementor Pro regardless of which option you select. You can also save a few bucks with our Elementor Pro Discount Codes.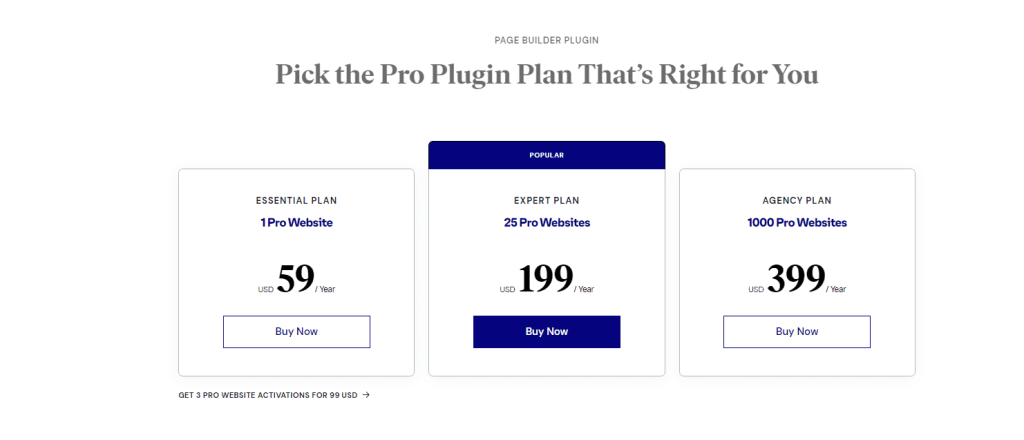 The only difference between the plans is the number of websites one can use Elementor Pro on. Another difference is that the lower tier plans only offer email support. The higher plans offer customer support via live chat as well. Elementor Pro is currently offering the following subscription plans:
Elementor Pro Essential Plan
Here are few features of Essential Plan
Price: $59 per year
1 website
Email customer support 
Elementor Pro Expert Plan
Here are few features of Essential Plan
Price: $199 per year
25 websites
Email customer support
Elementor Pro Agency Plan
Here are few features of Essential Plan
Price: $399 per year 
1,000 websites 
Email customer support and live chat option
Elementor Hosting Plans
Elementor has introduced Elementor Hosting Plans replacing Elementor Cloud Website. There are four plans & you will get everything that you may need to build your WordPress Website. Access to Premium support, Elementor Pro website builder & much more.
Let's take a look at the Pricing Plans of Elementor Hosting Plans.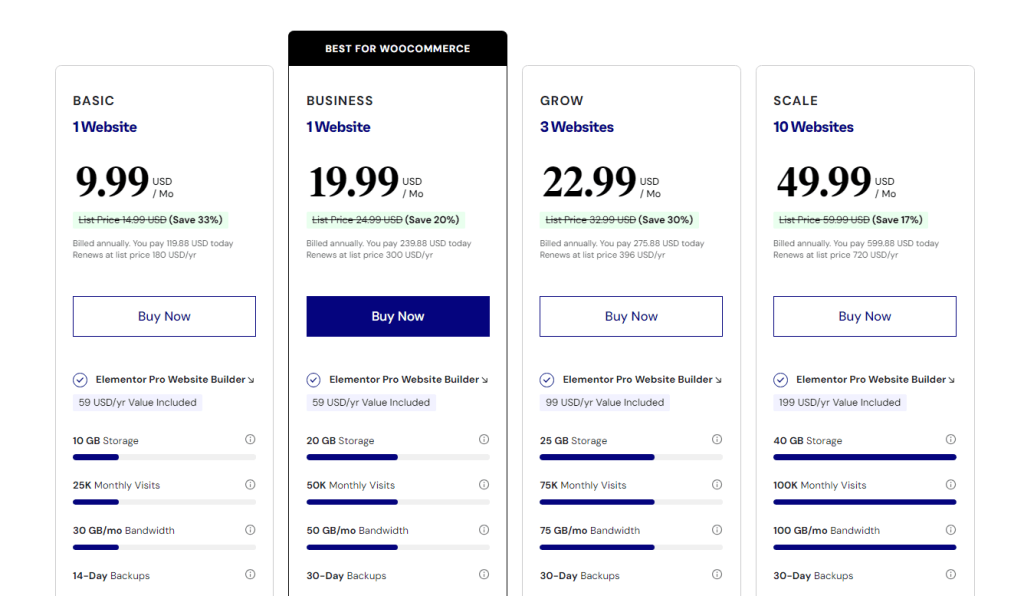 Elementor Pro Alternatives & Competitors – Elementor Pro Review
There are many page builders available on the internet but there are only a few which are the perfect Elementor alternative such as Divi, Brizy, Gutenberg, and more.
Divi vs Elementor
You can also check out our detailed Divi vs Elementor comparison to check which tool is better for you.
Divi is the perfect alternative to Elementor because it also offers a drag and drop builder similar to Elementor. You can create amazing websites with Divi without using any coding skills. Divi also offers an A/B testing feature that Elementor does not offer.
Gutenberg vs Elementor
We have also compared Gutenberg with Elementor. Check our detailed Gutenberg vs Elementor comparison here.
It became the default block editor for WordPress which replaced the classic editor all because of its functionalities. Gutenberg simplified the process of creating website that's why it is a perfect alternative to Elementor.
Brizy vs Elementor
You can also check out our unbiased Brizy vs Elementor comparison here.
Brizy is the page builder plugin created by ThemeFuse. They offer a lot beginner-friendly tools that can help you create your first website quickly. It is a cloud solution where you can save your preset elements to use them on different projects.
Related Links
Conclusion: Is Elementor Pro Worth The HYPE?
Needless to say, Elementor Pro is a powerful WordPress page builder. We hope this detailed Elementor Pro review serves your needs and provides you with valuable information about the Elementor Pro plugin.
Elementor Pro also integrates with the popular WooCommerce plugin, allowing you to customize your online store. In fact, Elementor Pro is compatible with the vast majority of WordPress third-party plugins and themes. Because of this, Elementor Pro should be able to help you customize any type of WordPress website you have or plan to build.
If you want to build a beautiful WordPress website, we recommend starting with Elementor Pro. The best part is that you don't need any coding experience to start designing websites with Elementor Pro.
FAQs On Elementor Pro Review
Can I use Elementor for free?
Elementor comes with a free version where you can access almost all the features of Elementor in this version. However, you can only build one website with one account of Elementor's free version.
What happens if I don't renew my Elementor Pro license?
Elementor gives you reminders on your websites to renew the license before it expires. If you fail to do so, then the designs & features of your website will remain intact. However, you won't be able to access any of the Elementor Pro features anymore.
What will happen to my website if I deactivate my Elementor Pro account?
If you deactivate your Elementor Pro account, then you will lose all the Pro designs you have made and saved in the library. You will only be able to access the designs of the Elementor free version.
Can I migrate my Elementor plugin website to the Elementor Cloud Website?
No, there is no option available on Elementor Pro where you could migrate your Elementor plugin website to the Elementor Cloud website. However, you can save your Elementor plugin website as a website kit and import it to your Elementor Cloud website.
Can I upgrade my Elementor Pro plan?
Yes, you can upgrade your Elementor Pro plan whenever you want. You just need to pay for the plan you're upgrading to, and after that, you can enjoy its features instantly.