Creating a website isn't the scary, daunting experience you may think it is. In fact, more and more individuals and companies are turning to websites for several reasons – be it showcasing their products to a larger audience, sharing their thoughts with their followers, or even selling a product or service; a website is a great way to boost your reach, revenue, and engagement.
But here's the catch – revamping and making minor edits to a website is much, much less time-consuming and effort-heavy than building a website from scratch.
Beginners often find it intimidating even to start creating a website solely because the task seems challenging and reserved for people with coding experience.
However, there are hundreds of tools that can help you create a stunning, powerful, and well-performing website. You can choose from both free and paid website builders that come with a drag-and-drop feature or hosting services, as well as themes and layouts. These tools usually come with a host of pre-made templates that you can use to start with instead of spending time on a blank canvas. 
But before you start creating a website, you might ask yourself – "Where can I find the best ideas for a website as a beginner?"
In this blog, I have compiled a list of 10 of the best, most popular website ideas that you can ideate upon and use to set up your site.
Once you select an idea that works best for you, you must make sure to research your target audience well, pay close attention to the content on your website, and work on overall UX and brand identity.
So, let's dive right in!
10 Of The Best Website Ideas For Any And Every Beginner
| | |
| --- | --- |
| Rank | Website Idea |
| #1. | Personal Blog |
| #2. | Personal Portfolio |
| #3. | E-Commerce Store |
| #4. | Recipe/Cooking Website |
| #5. | Book Review Blog |
| #6. | Travel Blog |
| #7. | Fitness or Workout Website |
| #8. | Non-profit or Charity Website |
| #9. | Online Course or Tutorial Website |
| #10. | Pet-Related Website |
1. Personal Blog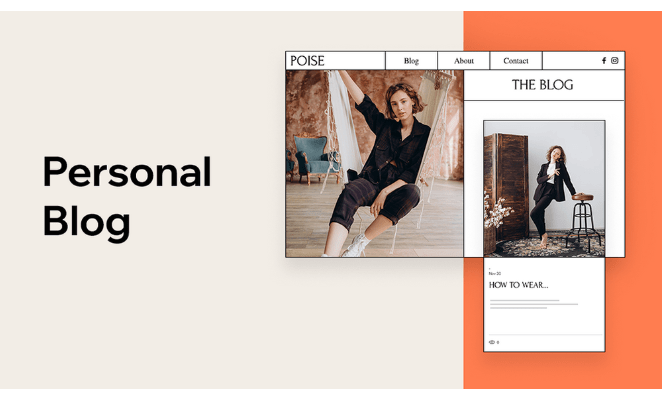 An excellent website idea for a beginner in any niche, a personal blog website requires minimal setup, can drive in a great amount of organic traffic and allows for a lot of engagement between your audience, content, and you. 
The best part about a personal blog is that no matter the topic you choose to cover, the thoughts and opinions you will be putting out on your blog are completely yours. This website idea thus allows for maximum creativity and maximum self-expression and is a great way for you to engage with multiple themes and aspects of a particular niche.
You could scale up your blog website once you're confident about your content, target audience, posting schedule, as well as possibilities for monetization. 
How To Start: Jot down ideas or industries that you are passionate about or would like to express your views about. For example, you could pick education and narrow your niche further and further until you have a specific topic, tone, and audience in mind.
Example: Here are a few great personal blog websites that you can gain inspiration from – Mr. Money Mustache, My Wife Quit Her Job and Nia Shanks
2. Personal Portfolio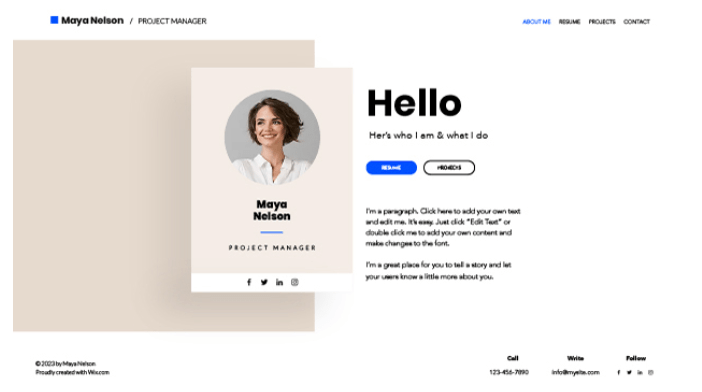 Applying to college? Looking to scale up as a freelancer? Pitching your services or products to a client? Building a portfolio website is the best way to integrate all of your work samples/achievements/projects on one site, as well as beautify it using multiple templates and designs available.
You can also customize your portfolio based on whether it's technical, non-technical, and/or creative. A portfolio is much more impactful while drafting an application or pitch than simply sending in a resume. 
How To Start: You can use design platforms such as Canva or even coding languages such as HTML to create your personal portfolio. You can add your past accomplishments, links to relevant work samples, testimonials, and recommendations, as well as your contact details. 
Example: You can check out these portfolios by Jey Austen, Aileen, and Tamara Sredojevic!
3. E-commerce Store
If yours is a small or medium-sized business looking to expand its audience through an online medium, you should definitely work on a website that showcases your brand identity and products and delivers a seamless experience to your customers.
You can either build simply a products or services showcase or build a website that also supports purchases and online transactions.
However, you might have to shell out a little bit more from your website budget if you're looking to integrate payment channels or support for an international audience, but getting started with a basic website that presents your products clearly is a must for brand success.
How To Start: You can choose a platform such as Shopify or WooCommerce to get started with, register your domain, and work on adding content and visuals on your website, as well as work on product cataloging on the side. Make sure to invest in a secure payment gateway for a seamless UX.
Example: You can check out websites such as Redbubble, Bath and Body Works, and Etsy.
4. Recipe/Cooking Website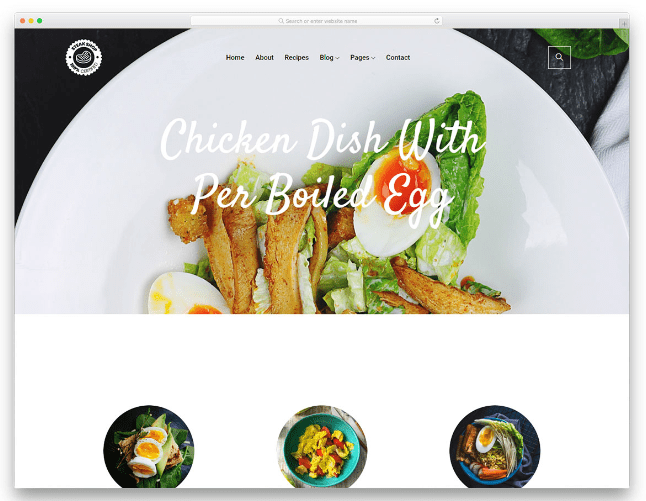 Are you passionate about cooking? Do you wish to share all of those recipes you're excited about making and experimenting with? If yes, a recipe/cooking website is the best minimalistic website idea you can start with.
You can add recipes according to categories, such as desserts, vegan recipes, meat-based recipes, etc., to give your readers more organized (and varied) options! You could also set up an online community of your site visitors and followers where members interact and post their own versions of your recipes, share photos and videos of their dish(es), and ask and answer queries.
You can also add various integrations such as a search bar, integration with social media, comment sections, etc.
How To Start: You can use one of the many website builders and platforms available, such as WordPress, Wix, and Squarespace, to create your website. You can then work on creating posts, adding images, setting up comment sections, etc. 
Example: Here are a few great websites you can use as a reference – Feel Good Foodie, Jeanelle Eats, and Epicurious!
5. Book Review Blog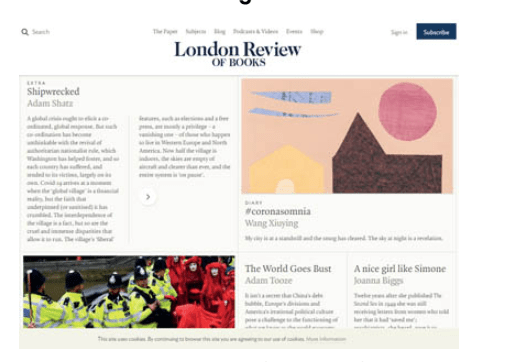 Read and book and want to write and publish your thoughts on it? Start a Book Review Blog! You can talk about books that you've previously read, why you love them, and why you don't, share reading lists for your users based on their genre preferences, age, and language, and even track your own reading habits with the help of a reading list webpage.
The amount of actionable ideas you can implement with a book blog is endless. As a beginner, it is advised to stick to a minimalist website theme and experiment with various writing styles, posting schedules, recommendation settings, and levels of engagement with your readers.
How To Start: Start by conducting solid research on your target audience and choose a platform to launch your website on. Once you've got this sorted, go ahead and start regularly posting content, engaging with your readers, and working on optimising your content and marketing efforts over a period.
Example: 49th Shelf, The Orangutan Librarian, and From First Page to Last are great examples of well-performing book review blogs.
6. Travel Blog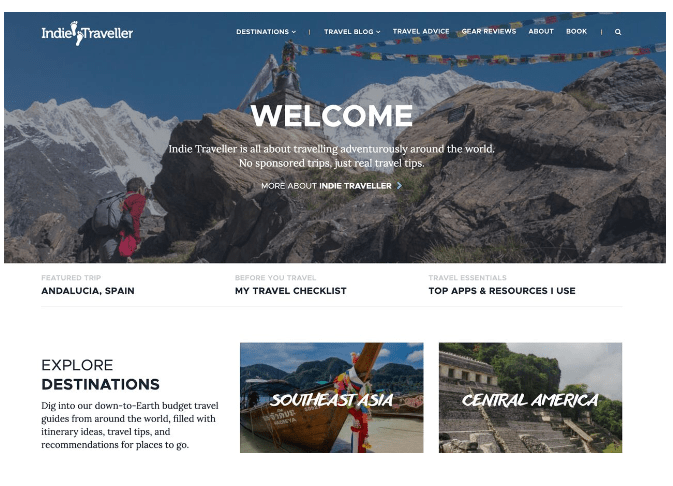 After the pandemic, there has been a rise in travel blogs, with most of these blogs being between 1-4 years old. If you're an avid traveller and wish to share your recommendations and tips with a larger audience without investing a lot of resources, a travel blog website is the best way to do so.
All you need to set up initially as a robust website and then start uploading your pictures, blogs, and snippets from your recent travels, as well as a community forum where travellers can ask and answer questions about certain geographical locations, experiences, etc.
Considering the fact that over 80% of all travel planning is done over the internet, setting up a travel blog website can open many doors for you in terms of building a larger community of travellers, landing brand partnerships, or even sponsorships for your future travels!
How to Start: Follow the same steps as mentioned above, i.e., choose a hosting service, theme, and domain, and regularly post content on your website. You can also customise your site and its features more once you're comfortable with running and managing your website.
Example: Here are a few great travel blogs you must check out – Dan Flying Solo, Travel Tom Tom, and The Blonde Abroad.
7. Fitness or Workout Website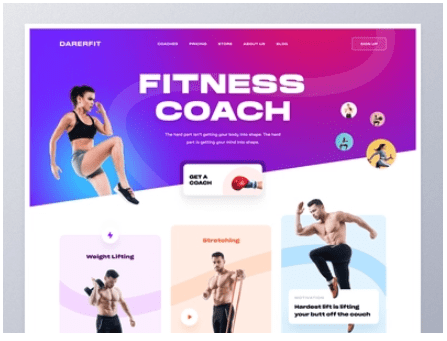 Are you a dietician, personal trainer, or athlete who wishes to post your knowledge online using a website? If yes, a fitness, health, or workout-related website may be an excellent decision. However, here are a few things you must keep in mind if you wish to set up a health/fitness-related website.
You must be a certified professional from a credible organization (national or international) before you publish your tips and regimes online.
Setting up a health/fitness-related website does take a little more time than the other ideas I've put down in this list so far, but as long as you have a brand goal in mind and are consistent with your efforts, the returns on your website can be huge.
How to Start: Pick a platform such as Wix or WordPress, choose a theme that aligns best with your brand identity, and set up sections for FAQs, blogs, community forums, product pages, etc. Regularly post content and keep an eye out on your analytics – this step will make sure you optimize your content from time to time for maximum reach and engagement.
Example: Here are a few examples – Chloe Ting's website, Cassey Ho's website (called Blogilates), and Deja Riley's website.
8. Non-profit or Charity Website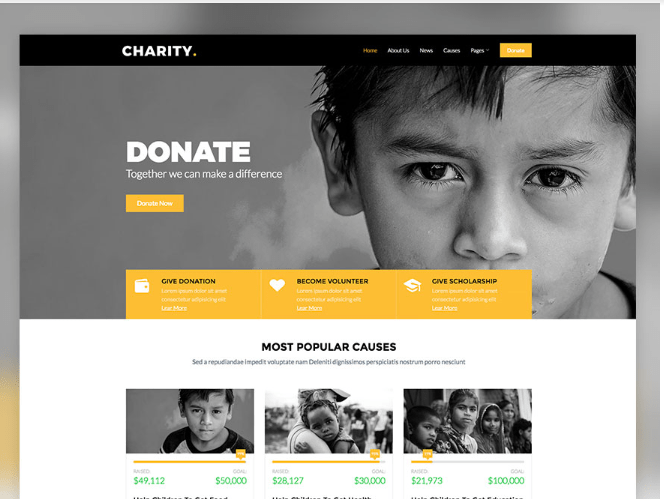 Passionate about contributing to the environment, an underrepresented community in your region, or a cause such as a lack of funds to promote artistic talent in high school?
Set up a non-profit website!
With the help of your website, you can expand your nonprofit's reach, and engagement, gather a lot more resources from your online audience, as well as promote your cause in front of a wider group of people.
A non-profit website can also be used to launch fundraisers and promote events from time to time, giving your marketing efforts a timely boost. While starting out, you need not worry too much about filling in all the sections of your website in one go – instead, focus on clearly presenting your cause, the issue you are trying to solve, and what you can do to contribute.
How to Start: Pick a hosting service, domain, and suitable theme made especially for non-profits. Add relevant content such as testimonials, fundraiser details, contact details, opportunities for volunteering, as well as a Q&A session that tells people more about your cause. You can then market your website through email, newsletters, word of mouth, etc.
Example: The World Wildlife Fund, Guide Dogs, and Change is Us are great examples of international and regional charity and non-profit websites.
9. Online Course or Tutorial Website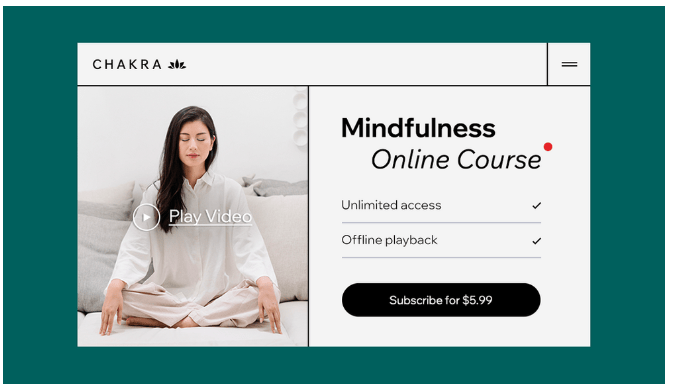 Have you mastered a skill or subject that you wish to teach to a wider audience? If yes, build a website that helps you set up online courses and/or tutorials! You do not have to be restrained by just technical skill sharing such as Python, CSS, etc.
In fact, you can teach just about anything using your personal educational website – from knitting to learning a new language, you can select your skill and start building a website right away! Some multiple extensions and builders are created especially for websites that publish and/or sell online courses to interested audiences – you can pick one that suits your needs and budget, and add relevant content regularly.
Since you are teaching a skill online or publishing How-To's online, scaling up may take some time. However, you need not start off with elaborate video lessons or videos, you can start by writing a blog taking your audience through the basics of what you wish to teach.
How to Start: Pick a hosting website such as WordPress and purchase an LMS plugin such as LearnDash. Publish relevant content and work on setting up a community forum, secure payment gateway, as well as your contact details and an FAQ section.
Example: Coursera, Udemy, and Skillshare are great reference points!
10. Pet-Related Website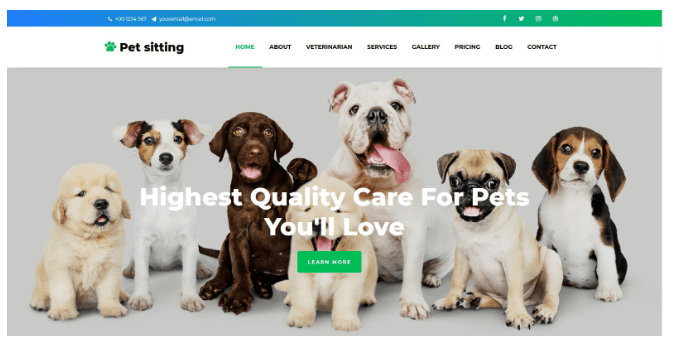 A pretty niche website idea for beginners, a pet-related website is an excellent way to share with your audience your learnings, and tips, as well as your pet-related products through an online medium.
A pet-related website can include but is not limited to the following – product reviews of pet food, pet toys, pet grooming items, pet blogs, information about pet-related events happening in your city or town, pet care tips, relevant links to pet products available on online stores, and even a pet forum where pet owners can come and discuss, ask, and answer queries.
How to Start: Pick a suitable hosting service, register your domain, and pick a suitable theme that is bright, engaging, and has a lot of space to display photos and videos of your content. Publish relevant posts, snippets, images, reviews, and descriptions, and promote your website on Facebook communities, to start with.
Example: PetMD, Chewy.com, and Cuddles and Meow are excellent sources of inspiration!
Related read:
Wrapping Up! Beginner Website Ideas (2023)
To wrap up, out of all those website ideas that you can start off with as a beginner, a personal blog website is one of my top recommendations for you.
Setting up a personal blog is an excellent way to create a channel of self-expression, interaction, and engagement with your readers, and build on monetization. You can also expand your blog website to include guest posts, relevant niche recommendations, as well as a community forum. Now that you're familiar with some of the top website ideas, start working on them right away!
---