Using AI to build digital products isn't new at all – AI website builders have been around for some time.
The way Al lives is slowly changing, from the way one eats to the way one travels. As a result, this technology has also affected the website design industry, making lives easier.
Over the years, AI website builders have been hyped and fallen short, but today there are a decent number of AI website builders on the market.
It has become commonplace to find websites that offer beautiful, fully-functioning websites so quickly, intelligently, and with hardly any user input required.
Read on if you are interested in getting a website designed and developed quickly, easily, and at a reasonable price. This article will overview the most popular AI web builders available.
AI Website Builders (Top 4 Recommendations)
With this list, you can build fast, modern websites without putting in a lot of effort and time.
| | | | |
| --- | --- | --- | --- |
| AI website builders | Features | Pricing | Best for |
| Wix Adi | A template is automatically created using text and images AI-powered website builder | $0.98/month | People seeking a mix of AI-building and customization options |
| Zyro | Toolkits for branding.Easy to edit photos | $1.66/month | Those on a budget |
| B12 | Develop mobile-friendly website importing and exporting content | $49/month | Mission-critical sites that need a human touch |
| Bookmark | Simple and fast web design website design automation | $11.99/month | Sites targeting a global audience |
This was just an overview of top AI website builders. For a detailed review, continue reading the article. 
1. Wix ADI:
In the world of site builders, Wix is one of the most popular because the templates it offers are stunning. Besides paving the way for the use of AI in website creation and design, Wix also launched ADI (Artificial Design Intelligence). This algorithm utilizes machine learning to create and design websites.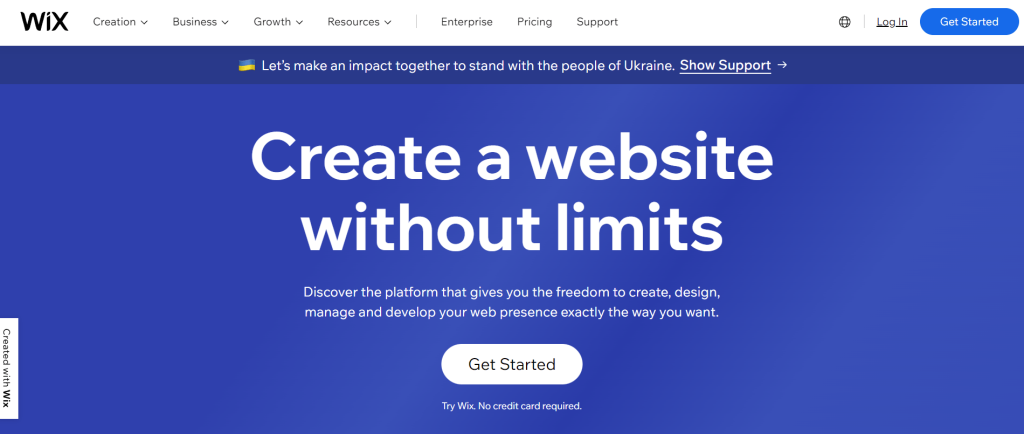 If you choose to use Wix ADI, you will be given a set of guidelines you will need to follow to create a professional-looking and unique website design. There is no fee to use this platform, and you'll need a paid plan to take advantage of its unique features.
Features
Easily customize and edit your project with simple website development tools
A template is automatically created using text and images taken from the internet
An AI-powered website builder
Pricing
Wix has a free plan, but it comes with limited features and also has Wix ads on it, as well as a Wix domain name. A Wix premium plan can be tried by you for 14 days, during which period you can cancel, and you will receive a full refund.
The website plans start at $0.98/month for the basic website plan and go up to $6.13/month for the business and eCommerce plans. You can access the ADI through any of the Wix plans – free or paid – that you choose.
2. 10Web:
10Web is a WordPress platform that is completely automated and powered by Google Cloud. By copying and pasting any URL into the AI builder, you can create a nearly identical layout; think of it as your website builder.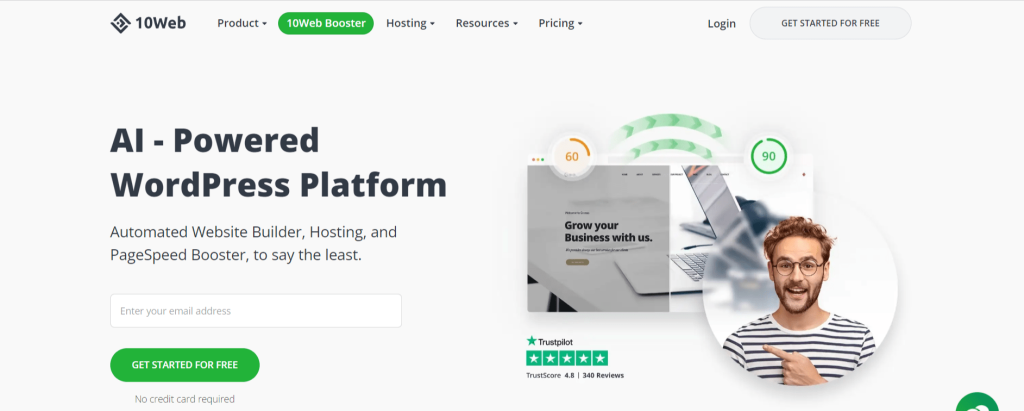 With the AI software available at 10Web, you can easily copy any existing site that you already have – excellent if you have difficulty moving it. As an added benefit to Web10, all websites that are transferred and converted into WordPress-powered websites are free.
Features
Backing up in real-time
Get a free SSL certificate
One dashboard for managing all sites
Fully automated WordPress migration
Pricing
There are three paid plans from 10Web: Personal, Premium, and Agency. With each tier, you can pay by month, year, or both, and there is a 30-day money-back guarantee. Pricing starts from $14/month and goes upto $85/month.
3. Zyro:
With only a few years on the market, Zyro has already made quite a name for its website-building niche.
A great alternative to the functionality of Wix, Zyro's website builder comes with a wide selection of stunning templates for your website and offers a host of features.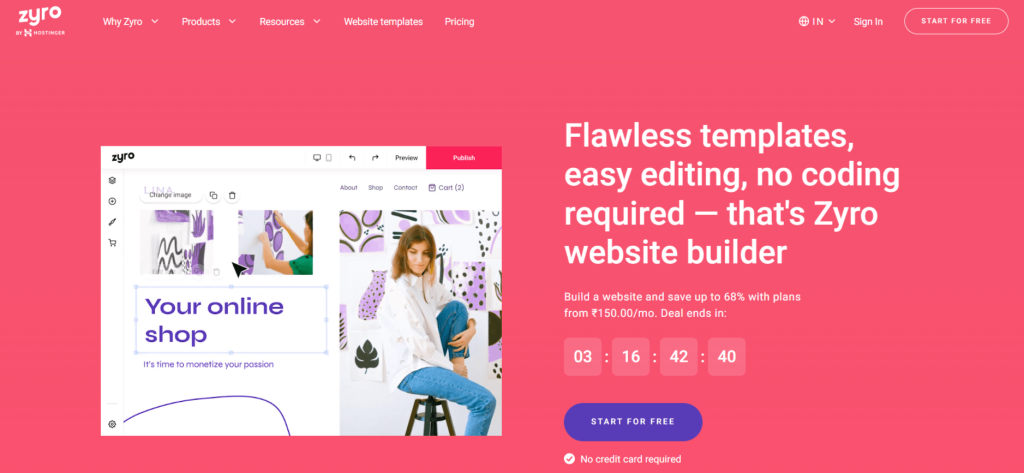 Many AI-powered tools are at your disposal, including a generator of business names, logo makers, blog writers, and many more.
Features
Toolkits for branding.
A smart way to edit photos.
Heatmap of artificial intelligence.
Pricing
There are two main pricing plans for Zyro: Website and Business (which adds eCommerce features). Prices are per month, yearly, and biannually. Zyro does not offer a free plan, but its $1.66 per month option and $3.31 per month option are both affordable and cost-effective. The tool even has a text generator for those who need written content.
4. Bookmark AiDA:
You can create a website quickly using Bookmark's AiDA (Artificial Intelligence Design Assistant). As it understands the challenges of designing a website, it has eliminated those points, making the process easier. Like in other AI-driven web design builders, there will be a question about your brand on the page. It will provide you with different versions of your optimized website within a few minutes of using it.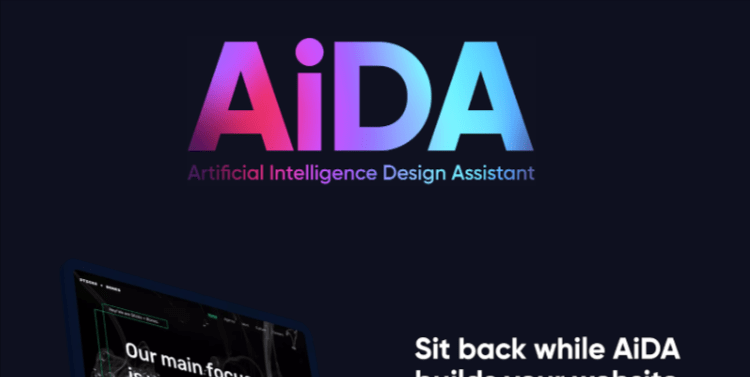 Everyone can design on the platform using drag-and-drop, regardless of their design experience.
Features
Simple and fast web design
Website design automation
Variability in Templates
Pricing
The Bookmark system can be used for free but has some restrictions. Upgrade your website builder subscription to improve project performance. The cost of their services is $24.99 (business plan) per month and $11.99(professional plan) per month.
5. B12 Editor:
By analyzing your website using artificial intelligence, B12 can make monthly recommendations on the improvements you need to make. Moreover, this AI website builder automatically keeps track of the current user interface trends for you, eliminating your worries.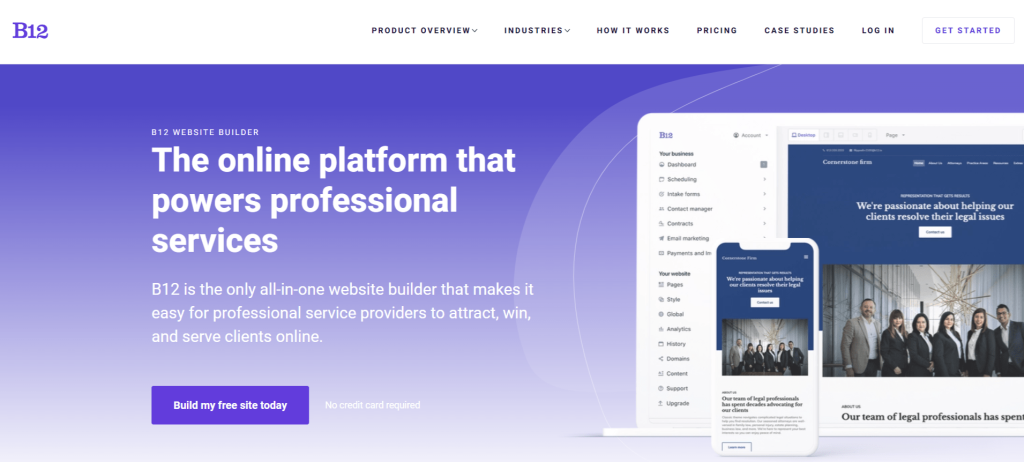 In addition to setting up the basic website and gathering information about your business, the AI is also responsible for gathering information about your company. The staff member at B12 will make sure your site stands out from the rest because they are the ones who customize it.
Features
Develop mobile-friendly websites
Importing and exporting content
Automated and human-assisted websites
Feature-rich real-time editing
Pricing
The price of B12 is relatively high, and no free trial or plan is available. Rather than that, it offers two subscriptions, which are expensive but allow you to access top features. As a result, it will cost you $49 per month (basic plan), $199 (professional plan) per month, and $399 (advanced plan). For ordinary users, this is an expensive solution.
6. Weblium:
This is one of the easiest AI website builders on the market, with a drag-and-drop editor that will allow you to create a professional-looking website within minutes. There is no need for you to have any experience in coding or design to use it. Using Artificial Intelligence (AI), Weblium builds responsive websites that instantly fit your brand and your company.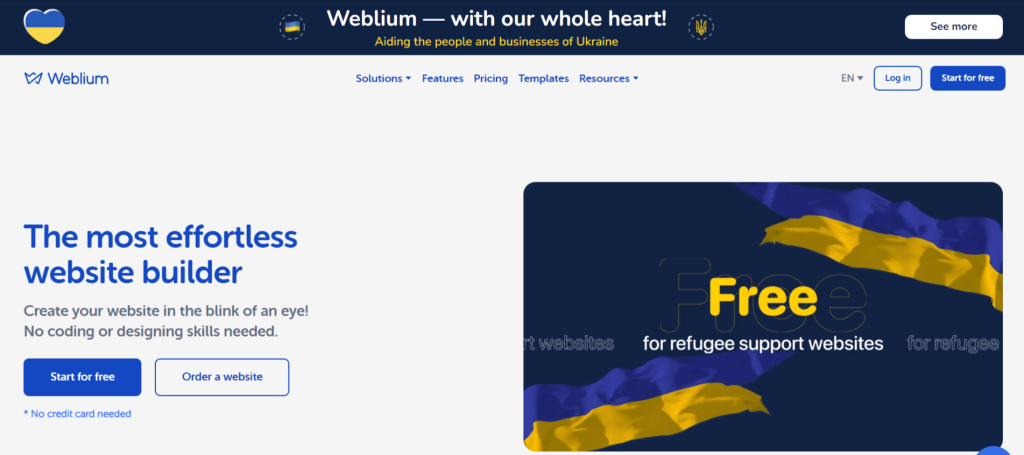 Hundreds of templates are available for you to choose from, and they can assist you with hosting, domains, SSL security certificates, and other technical issues. With Weblium, teamwork is a breeze.
Features
Users with a free account have unlimited storage space
Features included in the free plan that is quite generous
It is one of the cheapest website builders on the market
Tracks the performance of a website
Pricing
A monthly subscription to Weblium starts at $8.25.
7. Appypie:
By using Appy Pie's AI Website Builder functionality, you will be able to build your website with ease, even if you do not have coding skills. Within three simple steps, you can launch your website on your favorite app store in no time.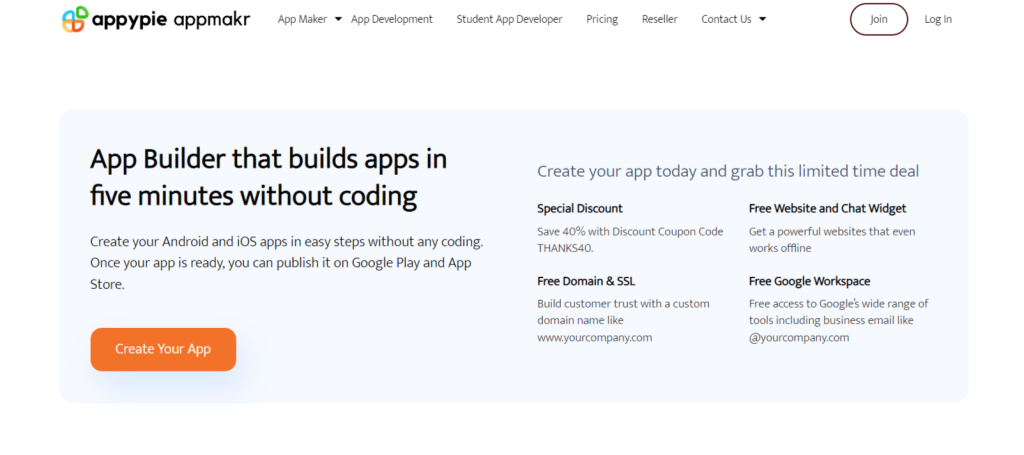 The software offers real-time updates, a no-code development feature, and many other valuable functions.
Features
Keeping up-to-date in real-time
Do not consume much data
No core coding expertise needed
Pricing
Appy Pie's AI website builder prices start at $8.57 and go up to $19.61/per month for the enterprise plan. This includes unlimited bandwidth, site customization, marketing, monetizing tools, and many others.
8. Bizin.ai:
If you're feeling creative regarding your website's design, Bizin.ai can provide you with a professional and attractive one. This is highly suggested for those who own an e-commerce store since it focuses on the customer's experience while developing a website.

Many features are included in this software, such as tools for creating eCommerce websites, creating sales funnels, and writing content professionally.
Features
Designing websites with the customer in mind
Marketing services for managed websites
Sales funnel creation and eCommerce features
Pricing
Bizin.ai offers a free trial of 15 days, though. The service has enough major features to test, and regular users need to upgrade to a premium subscription. Their monthly rates range from $79 to $99, depending on the features, tools, and options they offer.
9. Leia:
This AI-powered website builder does not require any coding knowledge. It allows you to build clean custom projects in minutes and manage them daily. Creating and publishing beautiful responsive websites for businesses is made easy with this tool.

You only need to create a picture of how your project should look, specify its features, and choose details that are important to its performance and design. Interestingly, Leia can design, code, and implement your ideas.
Features
A unique design for your website
Commands using voice
An intuitive approach to web design
Pricing
The leia plan is free forever, but the premium plan is also pretty affordable. As the price ranges from $0.00 to $6.99 per month, there is almost no reason not to subscribe to this service.
Related Read:
Conclusion: Best AI Website Builder (2023)
If you are looking for the best AI website builder for your project, you need to consider how much control you are willing to give yourself over the design and content of your site. What exactly do you want from the builder? Is there anything you want it to do for you, or would you like it to automate everything for you? Additionally, remember that the quality of your site is strongly influenced by the information you can provide to the web developer.
When you wish to have both smart tools as well as the power to customize your website, Wix is the best choice. In addition to saving you time, Wix ADI allows you to edit your site easily. Wix also offers hundreds of apps for extending the functionality of your site.
When it comes to value for money, Zyro has a lot to offer. Besides its frequent discounts, this site provides many smart business tools that simplify the process of running a website.