Looking for an unbiased Jasper Art Review? Then you are at the right place. Artificial Intelligence has made it extremely easy for any individual, no matter their location or background, to access and use services that create useful, original, impactful content. In the world of marketing advertising, one AI-based tool has proven to be an extremely efficient one, especially when it comes to creating content across various platforms and lengths – Jasper AI.
Jasper is a tool based on Machine Learning, enabling it to constantly update its existing knowledge about your content needs and refine its results. The best part about Jasper.ai? It helps you create both textual and visual content!
Jasper.ai Art, or Jasper Art for short, is an incredible piece of software that helps you generate unique, stunning images in a matter of seconds. Jasper Art has garnered an overall rating of 4.8 out of 5, something I'll be reviewing in this blog.
In this blog, I'll take you through everything you need to know about Jasper Art, its main features, pricing, customer support, updates, user community, and pros and cons. This review is your guide to all the info you could need when considering opting for Jasper Art!
Jasper AI Art Review: In A Nutshell (2023)
Let's take a quick look at the table.
| | |
| --- | --- |
| Features | 5/5 |
| Pricing | 4.5/5 |
| Ease of Use | 5/5 |
| Customer Support | 5/5 |
| Overall | 5/5 |
Jasper Art: Overview
As a quick review, here's Jasper Art summarized in a few sentences, which can serve as a quick, handy guide for a later date!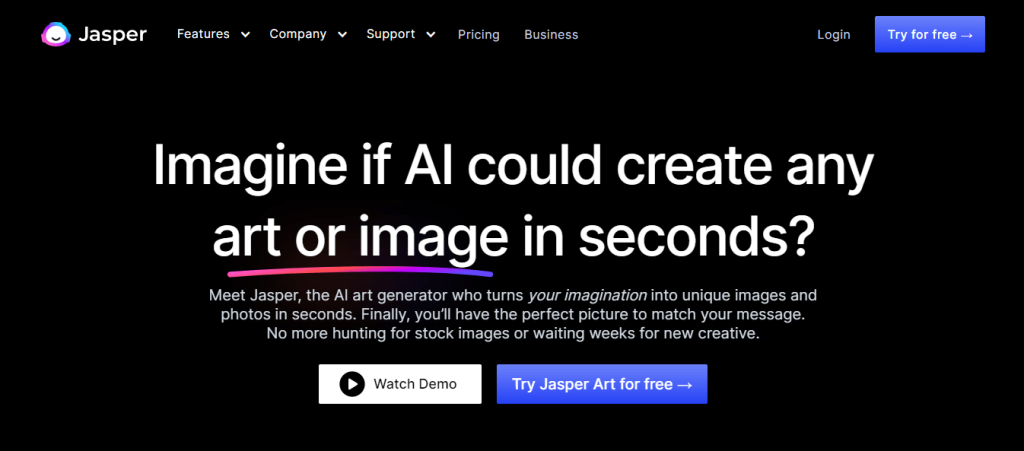 While designing high-quality, original images can take hours, even days, of effort, Jasper Art offers a quick solution to all your art needs. All you need to do is feed in a description of the image you wish Jasper Art to create, using tags and phrases. You can also select a style, choose a color palette, and provide reference images for the AI to use as inspiration.
Jasper Art uses this to create a completely original image that suits your needs to the 't'. Its pricing plans are extremely flexible, billed monthly and annually based on your preference. You can opt for a free trial and then go on to purchase Jasper for $20/month. You can also join Jasper's online community with over 65,000+ marketers, designers, and content creators to share your ideas and get inspired.
Jasper Art Review: Top Features
Let's look into the features of Jasper Art:
1. Fully customizable
With Jasper Art, you can customize your image to the smallest of details, including art style, background style, image quality, colour palette, and elements in the image.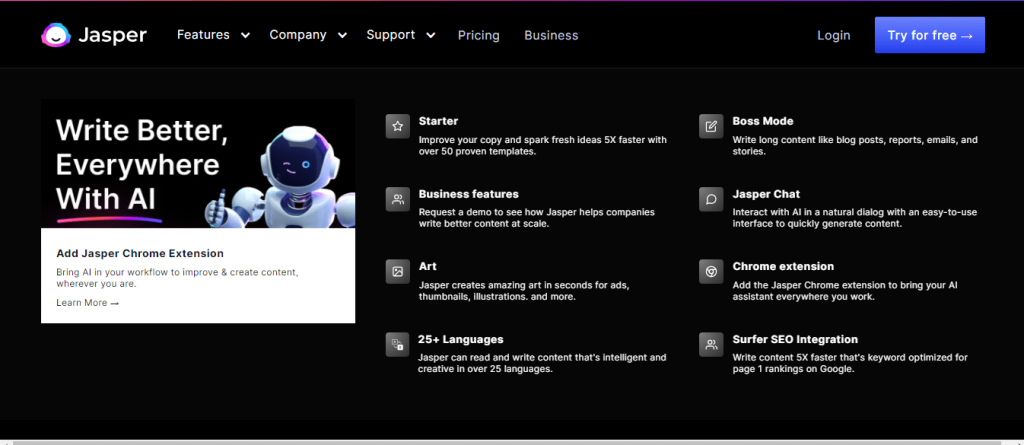 The wide customization options Jasper offers most business owners, designers, and artists are moving from stock photo to AI-based tools such as Jasper. Here's an example of how fully customizable Jasper is – you can select from over 19 mood options, such as happy, sad, aggressive, and scared, before generating an image to ensure the image matches the content style you wish to use.
2. Beginner-friendly
Jasper Art does not involve complex coding and tech-heavy processes on the front end. It makes it extremely easy for everyone, from beginners to experts, to use the tool. A great way to explore Jasper Art's image generation process is by opting for the free trial. You can play around with multiple prompts on Jasper. User-friendly, efficient, and clutter-free interface and familiarize yourself with all its features!
3. Multiple art styles
Adding to its high customizability and user-friendliness, Jasper also offers images in multiple art styles. You can choose to create abstract artworks, modernist, classical, textured illustrations, cartoons, etc. You can check out different images generated by Jasper with instructions given by fellow Jasper Art users.
4. ML-based
Being a machine learning-based tool, Jasper Art is constantly evolving to meet the highest standards of user-friendliness and user satisfaction. With the very prompt it receives and every image it generates. It gives you the option to "Like" or "Dislike" it, along with the space to give detailed feedback. This process ensures that its database is constantly learning and improving, positively impacting its UX.
5. Accessible Dashboard and Easy Image Export
The best part about Jasper? Its dashboard. With Jasper Art's dashboard, you can easily view all of your past designs and saved posts and edit and save your designs in one go. With the help of this and Jasper Art's easy image export options, you can quickly download the images you've created in an easy-to-use PNG format.
Jasper Art Review: Customer Support & Updates
The first and foremost feature of Jasper Art we'll cover in terms of customer-friendliness is its impressive customer support. A tool that supports thousands of requests daily is a useful one only when paired with sufficient customer support.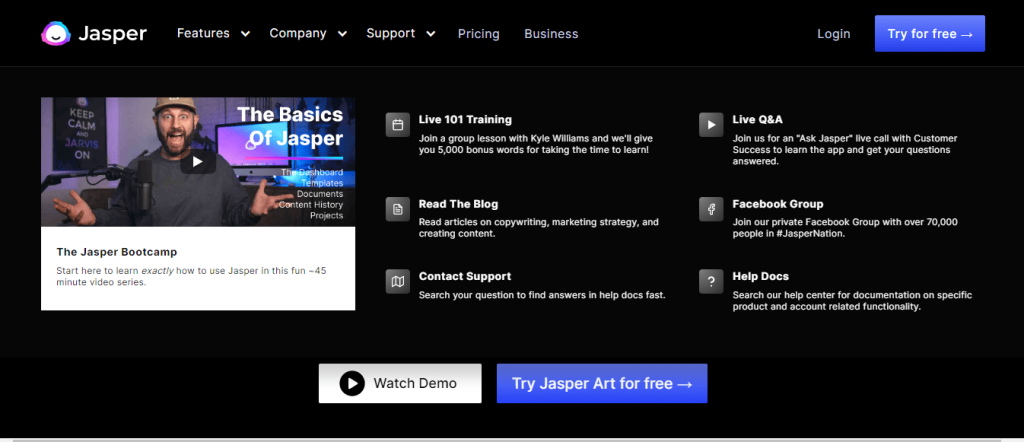 You can get your queries answered through Jasper Art's comprehensive FAQ section or contact the team via phone or email. Jasper Art boasts of an excellent response time and has received glowing reviews for its regular updates and enhancements.
You can keep in touch with all of Jasper's updates via email updates, newsletter, and online community. Regularly updating its knowledge base is one way Jasper has been able to efficiently deliver high-quality, original content that fulfils its customer's needs.
Jasper Art Review: Pricing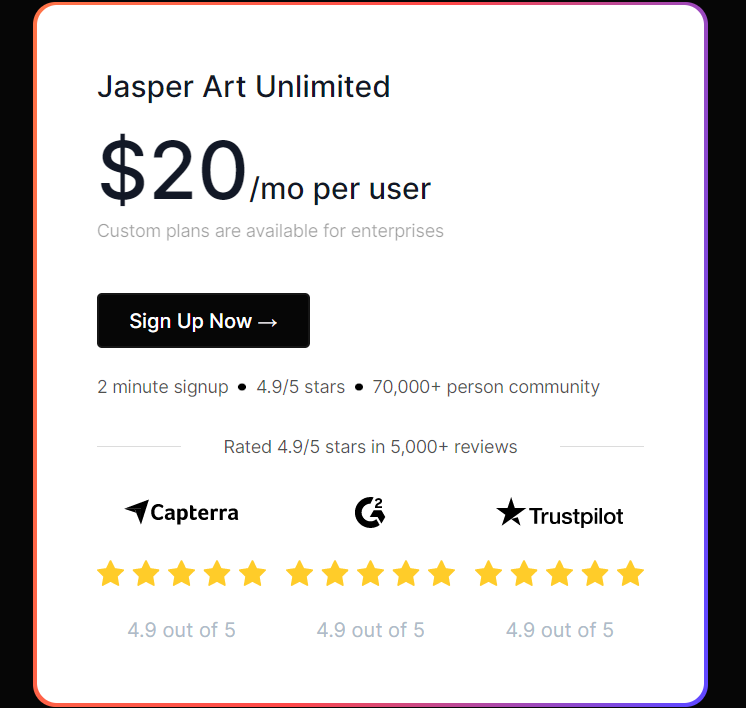 Jasper Art offers both fixed and custom pricing plans for its members. Something you should check out before opting for its features. For a personal plan that's perfect for small enterprises, you pay $20 monthly for unlimited access to Jasper Art. It includes unlimited image generation and high-resolution image downloads. Check out the free trial that allows you 200 images in high-res for a period of 5 days!
Jasper Art Review: How It Works
Here's a quick overview of how Jasper Art works to create unique, stunning images in a matter of seconds:
1. Data collection:
The first step in creating an AI-generated artwork with Jasper AI Art is to gather a dataset of images for the AI to analyse. This dataset can include a wide range of images, such as photographs, paintings, and more. You can also add specific keywords or key phrases that can help Jasper Art better understand what you're looking for. From specifying the background colour of the art style to each of the elements in the image, clearly defining and sending data to Jasper is the first step in the process.
2. Machine learning algorithm:
The AI uses a machine learning algorithm to analyse the dataset of images and learn about different visual patterns and features. It borrows from previously generated images that have perhaps the exact keywords, the same theme, or the same references. Because it is constantly updating itself with every search query a user runs, you will end up with more and more accurate results every time you run a prompt over some time.
3. Artwork generation:
Based on the data it has analyzed, the AI generates a new, original piece of artwork. The resulting image is unique and original and can be created in a variety of styles.
4. Further Customization and Feedback:
You can customise the AI-generated artwork by selecting a style, choosing a color palette, and providing reference images for the AI to use as inspiration. You can also give feedback to the tool via the "Like" and "Dislike" buttons to help Jasper Art generate images more accurately the next time it receives similar prompts or themes.
Jasper Art Review : Pros & Cons
It's time we look at both the sides, Jasper Art Pros & Jasper Art Cons.
Jasper Art Pros:
Now let's take a look at Jasper Art Pros:
Allows for the creation of interactive and responsive art projects that can adapt and change based on the input of hundreds of Jasper Art users such as yourself or natural learning via environmental data.
Offers a wide range of tools and pre-trained models for generating visual and audio content, such as images, videos, and music, which is extremely helpful if you're looking to generate images in a matter of seconds without having to rely on stock galleries on the Internet.
Provides an uncomplicated and intuitive interface for defining and training machine learning models, which can be helpful for artists and creators with no coding experience.
Enables artists, developers, marketers, and designers to collaborate and share their work with over 65,000+ like-minded individuals.
It is well-priced and offers a wide range of services, perfect for anyone just starting with AI-generated art.
Jasper Art Cons:
Let's take a quick look at Jasper Art Cons:
Requires a strong understanding of machine learning concepts and methods to get the most out of the platform.
May not be appropriate for all kinds of art projects, as it is m mainly geared towards generating visual and audio content.
May be more difficult to use for more complex or custom art projects that require more advanced machine-learning techniques.
The images you create on Jasper cannot be copyrighted by you and are all part of the Internet's creative commons, free to use by anyone with due credits.
Related Links :
Final Thoughts – Jasper Art Review
While it is difficult to make a blanket statement about how good Jasper Art is, it is essential to point out that while the tool itself is a fantastic piece of software that is customizable, accessible, affordable, and creative, the artwork you generate is mostly based on the inputs you send to Jasper Art.
While some creative projects may require heavy human contribution, you can always experiment with Jasper Art and work with it to fulfill your brand's creative needs.