Here I have shared a super in-depth BuddyBoss review which helps you get detailed insights into it. BuddyBoss is a platform that enables the creation of internet communities. Buddyboss is a website theme that makes it easier to run a website. BuddyBoss provides the option of providing a platform for open or private groups, and also personal messages.
Using free or paid plug-ins, BuddyBoss enables you to advertise things and help your business grow globally. It aids in marketing strategy as well as attracting a broad audience to your webpage and generating sales.
BuddyBoss Review- In A Nutshell
The BuddyBoss concept is more than just a WordPress theme; it offers tremendous value. BuddyBoss offers you outstanding customer service. Customer support is always accessible if you experience an error or any other kind of problem or issue on the online platform. They will be available 24 hours a day, 7 days a week, with employees working in various time frames and shifts all over the world.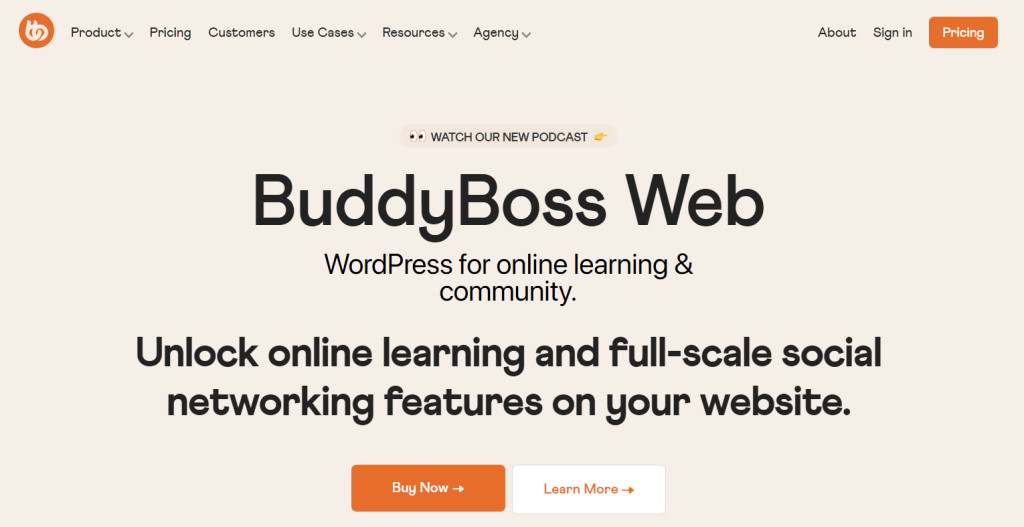 What Functions Does BuddyBoss Provide?
BuddyBoss includes several features that assist users and customers in staying connected to your products or services. BuddyBoss includes the following features:
1. Community
Buddyboss values collaboration and helps to bring people closer to your company. As a consequence, the community characteristic is highlighted, which makes it easier for your customers or followers to stay in touch with your brand.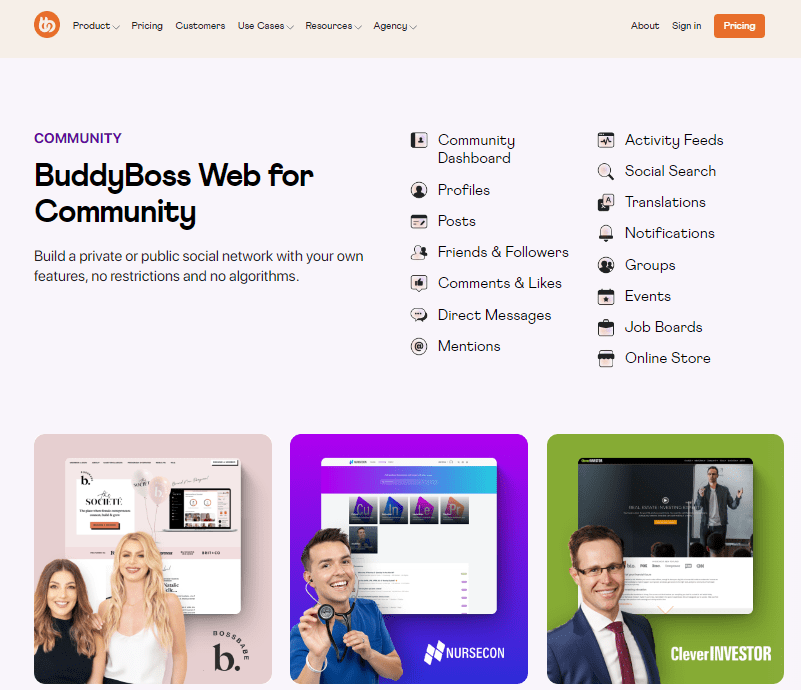 It promotes customer engagement and keeps a record of all the reviews. It also helps your staff understand one another, thereby improving the company's reputation. BuddyBoss provides a number of services, including:
Member profiles: Any community member can customize his or her profile, allowing them to share personal information with each other.
Social groups: Community members can organize themselves into public as well as private groups.
Forum discussions: Forum discussions allow people to interact with one another through defined structures and bulletin-board style.
Private messaging: Personal messaging allows the members to communicate with one another individually or in groups.
Album and media: BuddyBoss provides album and media functions to support your businesses and individuals in becoming more creative. These features will help anyone to post and share pictures as well as images, and also organize them into albums and read comments.
Events: It offers an inbuilt style for exciting attractions, calendar pros, and other extensions as well.
2. Earn money
BuddyBoss works seamlessly with WooCommerce, letting you provide access to your community members. You could perhaps generate revenue by charging people a one-time subscription fee to your community and courses.
BuddyBoss includes the following features to monetize your community
WooCommerce store
Subscriptions and memberships
Membership plugin integrations
One time purchases
3. eLearning
BuddyBoss includes the opportunity to produce and sell courses online. It helps to build, launch, and share your course with your team and community members, and also learn from each other in one place.

BuddyBoss seamlessly integrates with LearnDash learning management, allowing you to create and manage your courses from the WordPress Dashboard. Learndash is sold as an extension and is considered necessary to enable eLearning features.
BuddyBoss has created action sequences that will improve the utility of your course for your customers and members. It has the following characteristics:
Customizing Courses
LearnDash learning management integration
Reports
Conducting Quizzes
Certificate
Drip feed content
4. Gamify
BuddyBoss enables you to connect your members and followers in a range of different entertaining programs that positively influence them to stay engaged with your course as well as the community. It explains how the members can obtain badges, scores, and ranks, as well as certificates and achievements. This establishes your power and encourages your followers to follow you.
Points
Rewards
Ranks
Achievements
5. Setup and Customize
BuddyBoss provides a simple and easy platform for you to personalize your company according to your own choices. It provides you with a while label background that can be customized to match your company, and the open-source solution design is adaptable to your brand's needs.
It has the following features:
Demo data import
While label and branding
Multi-lingual and RTL support
Flexible layouts
Custom header and footer
Page Builder integrations
6. Mobile app
Customers and fans of your brand are glued to their mobiles. As a matter of fact, you must maintain constant contact with them. BuddyBoss offers a mobile platform that enables your people to easily access your courses or communities, resulting in the development of loyal followers.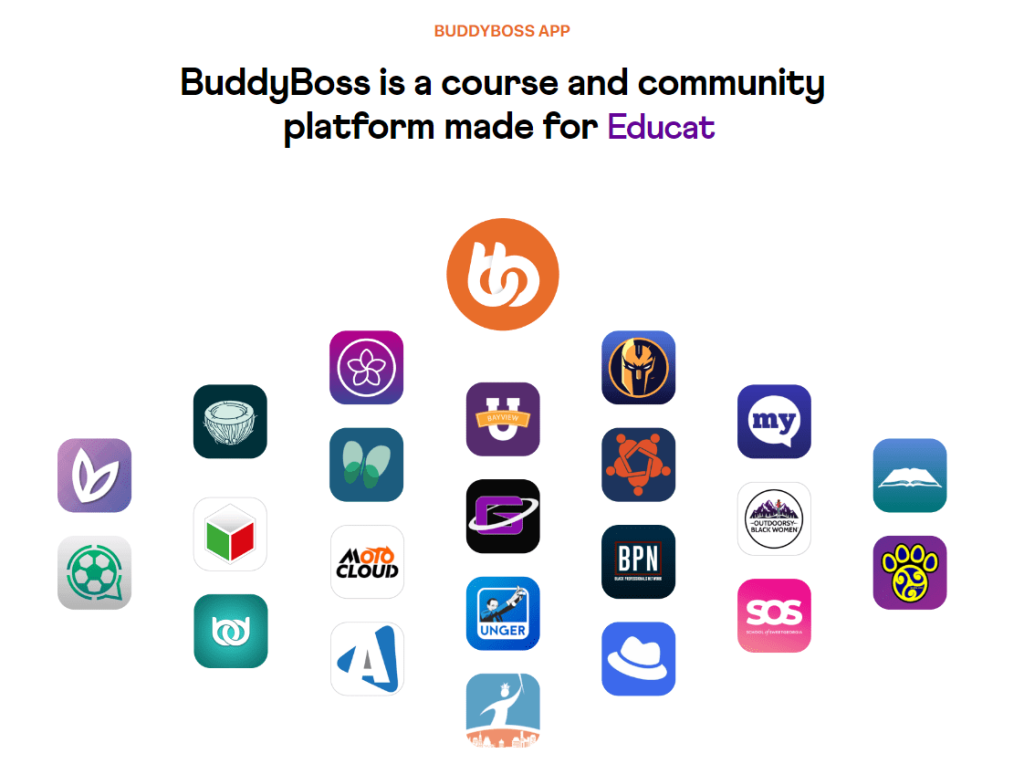 Buddyboss broadens its services with: 
Real-time syncing with website
Native iOS and Android App
White label mobile app
Published on your accounts
Push notifications
In-app purchases
With all these means BuddyBoss enables you to get connected and retain your loyal customers.
How to log in To Your BuddyBoss Account?
You're only a few steps away from launching your BuddyBoss community. Some of the instructions listed below must be followed:
1. Download or install WordPress.
2. BuddyBoss should be downloaded on your device.
3. Now, you have to sign in to your WordPress account and browse to the domain or the dashboard.
4. Then, select Add-new (which is in the plug-in)
5. After this you need to select and upload the BuddyBoss platform.in zip file format.
6. Once the upload is complete, click on active.
Note – Before downloading the BuddyBoss Platform, you have to ensure that you comply with all of the Word Press and server requirements.
Does BuddyBoss Offer Good Customer Support?
BuddyBoss's goal is to build a community platform, so it is committed to assisting you in the formation of your community. The BuddyBoss team is always available to walk you through step by step process as well as provide video tutorials to help you navigate the platform.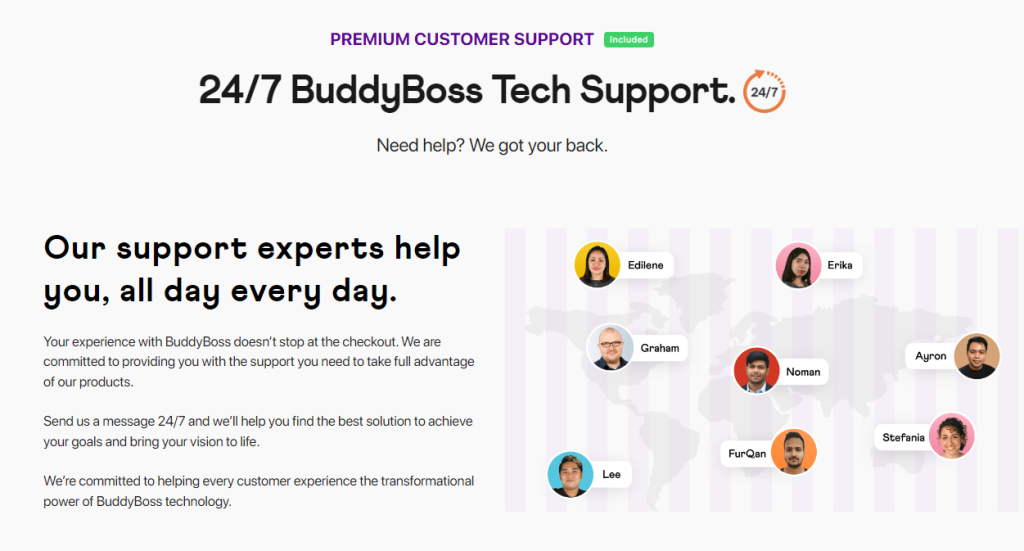 The given step-by-step instructions will assist you in customizing your community portal. The team will be available to answer your questions; you just need to simply submit a ticket and the team will be available right away to resolve the particular issue.
Does BuddyBoss have a Refund Policy?
BuddyBoss offers 14 days of a money-back guarantee. If you do not like the product or do not want to use it, please contact BuddyBoss and they will try to solve the problem or refund your fee.
BuddyBoss Pricing Plans: What is the Pricing Range?
You may find all the pricing plan details offered by BuddyBoss right below: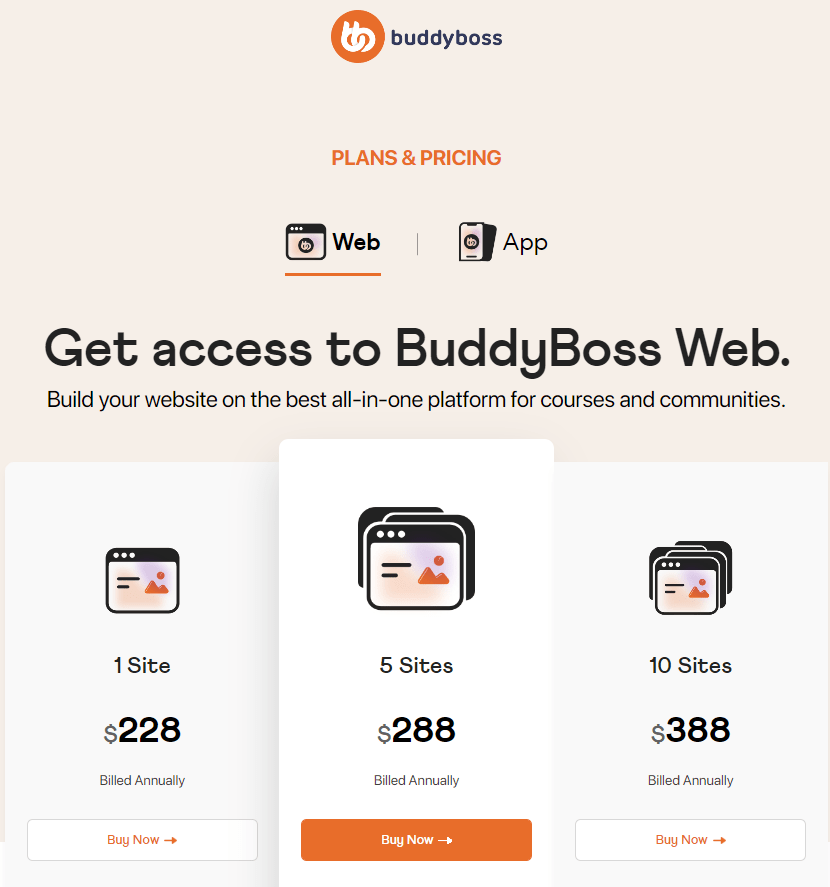 1. Starter Plan
Launch your website here to make things easier for yourself.
The cost of the starter plan is $228.
This plan includes:-
BuddyBoss Theme
1 year updates
License for 1 site
1 year priority support
BuddyBoss Platform Pro
2. Pro Plan
A perfect system for your company's performance and booze. The pricing range of the Pro Plan starts at $288
It is an enhanced version of the starter plan that includes the following features:
1 year of support is being provided.
Gives you full priority support.
Gives you a license to 5 sites.
3. Advance Plan
This strategy will encourage you to expand your business organization to its full potential. This plan involves more amenities than the previous two plans, the Starter Plan and the Pro Plan.
This package plan will cost you $348.
Updates for 1 year
Pro theme
Gives you a license to 10 sites.
What Do We Like About BuddyBoss?
BuddyBoss is a complete package and there are a lot of things and aspects we really like about it. Here are some of the main things that we admire about BuddyBoss.
Making sound decisions is advantageous and has a positive effect.
Word Press is an online system, whereas BuddyBoss provides a high level of flexibility.
Online communities are established.
This will allow users to share suggestions with their team members.
It will also allow users to post.
Assists you in developing a customized app.
It has all of the functions you require.
Narrated video lectures are available to help you get started with the platform.
What We Don't like About BuddyBoss?
Now let us also dig into some of the things that we feel can be improved about BuddyBoss.
The price of one plan, assume the VIP plan, which costs $8000, is very high in comparison to the advance or starter plans.
The dark version could be added as an extra bonus feature.
It highlights loopholes for dynamically inserting content.
Related Read:
Conclusion: Is BuddyBoss Really Worth the Hype?
If you want to create an online community for your business, BuddyBoss is the way to go. Even individuals with no technical background can use BuddyBoss to create their own social community platform.
BuddyBoss is a life saver for anyone looking for an easy-to-use and seamless option for creating and managing a social network in order to engage existing customers or build communities.