Looking for a WordPress theme for your website? Well then, I'm sure you must have come across the name Elegant Themes.
Elegant Themes is a popular name in the world of WordPress and websites. With its popular themes and plugins like Divi, Elegant certainly stand out from the rest.
But before investing your money in the theme, wait and contemplate – is it really suitable for you? Does Elegant consist of all the features you might need?
Don't worry! Having used Elegant Themes myself, I've compiled all these answers for you. So read this blog where I evaluate Elegant Themes based on my experience with it and see for yourself – is it the right one for you? Let's start with Elegant Themes Review . 
Elegant Themes Review – In A Nutshell
In case you want to have a quick glimpse at my Elegant Themes ratings, here it is for you:
| | |
| --- | --- |
| Features | 4.9/5 |
| Pricing | 4.3/5 |
| Ease of Use | 4.8/5 |
| Customization Options | 4.7/5 |
| Speed | 4.8/5 |
| Customer Support | 4.7/5 |
| Overall | 4.7/5 |
I find Elegant Themes to be an amazing solution for building premium WordPress websites. It consists of every feature and plugin you'll ever need to get your website up. The customization options at every stage are endless and thanks to the drag-and-drop builder, the entire theme is exclusively beginner-friendly and easy to use.
However, the only drawback lies in its pricing. I'd have liked Elegant Themes much more if its pricing plans were more comprehensive.
Elegant Themes Overview
Elegant Themes is one of the best destinations for all things websites. I am not saying this alone – take it from the 589,000 people who've used Elegant and trust its resources.
Founded in 2008, Elegant is revered as the ultimate WordPress theme shop available in the market currently. And it makes perfect sense. Elegant hosts two of the best WordPress themes of all time – Divi and Extra. While Extra may not be so popular, it certainly has a lot to offer. And Divi? Need I highlight how excellent this theme is?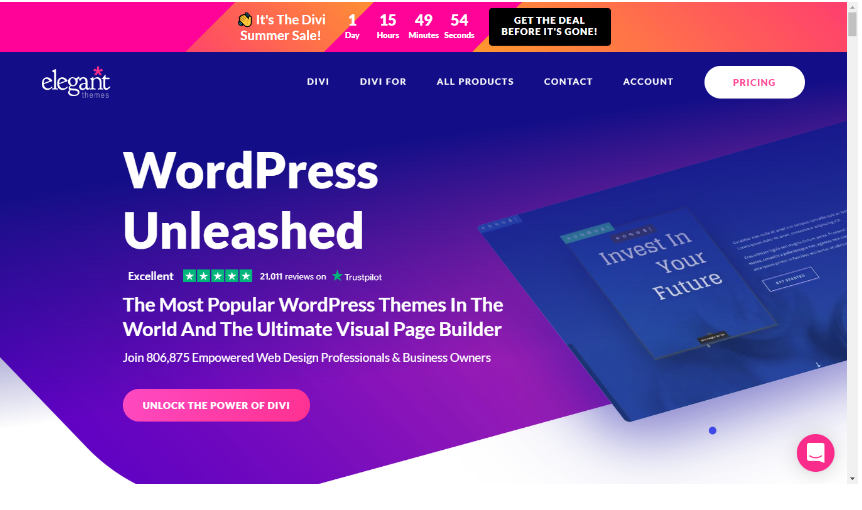 Not just this, Elegant also offers a range of powerful plugins like the Divi Page Builder plugin and Bloom to charge your website with all kinds of features and functionalities. It also comes with a plugin unique to them – the Monarch Social Sharing plugin. We'll explore more about each of them ahead in the blog.
As for me, I started using Elegant Themes when I was in the nascent stages of building my website, and safe to say – each of its products came in handy for me. So, in my opinion, it's particularly great for those looking for a one-stop solution for their website.
However, the pricing part could be a tad bit disappointing – especially for those wanting access only to a single product offered by them. Apart from this, I think Elegant Themes is a wonderful place to start your online journey with.
Now, let's discuss about it in more detail!
Elegant Themes Review : Top WordPress Themes & Plugins (2023)
When you sign up for Elegant Themes, you get access to 5 of the most exclusive and useful WordPress themes and plugins. Let's explore all about them in specific.
One of the most iconic ones of current times, Divi is a WordPress theme that I find amusingly easy to use and beginner-friendly. It's super responsive and intuitive, with a simple UI.
It comes with over 2,000 pre-formatted website designs to choose from. So whether you want a simple blog or a full-fledged eCommerce shop – you can build it all. And that's not the best part yet! With Divi, you don't even need any coding know-how to customize these designs. Just pick one custom website layout, use the drag-and-drop editor, and design your website.
Not only this, Divi also lets you manage and control the customization of the entire site with your own CSS. This translates to unlimited website design tailoring, with the power in your hands!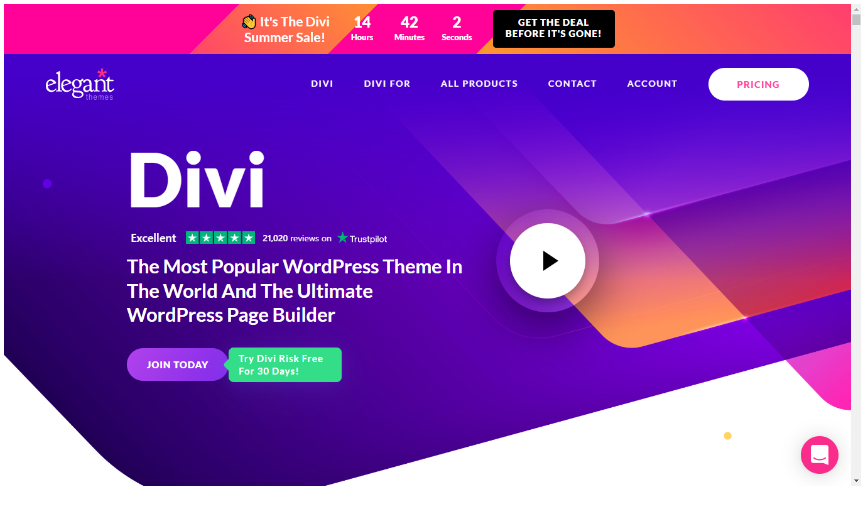 And that's not all. It's really fascinating how Divi's customization options go down to the tiniest elements of the website – all requiring zero coding knowledge. But that doesn't mean the pro coders can't churn out the best of their talent with Divi. Yes – Divi also consists of an Advanced Code Editing feature that allows website designing in the traditional, coding way.
Coming to speed, Divi is super fast a theme, thanks to its speed-boosting options that remove cache data every now and then.
And lastly, Divi also offers WooCommerce integration to allow you an easy transition from a website to an eCommerce shop. All in all, a one-stop solution.
Key features
Offers 200+ full website packs to begin with.
You can add media elements to your webpage, including animation effects.
Bulk editing options are also available to save time.
With Divi Leads, you can A/B test every page of your website.
Integrates with powerful email marketing platforms like Mailchimp, Covertkit, etc.
Lets you save your website designs for future use.
2. Extra Theme
Just like its creators boast, Extra is a theme I find extremely relevant for bloggers.
Firstly and most importantly, it's powered by Divi. So I might as well skip talking about how responsive, intuitive, and lightweight it is – it should be apparent by now.
Coming straight to the main reason why this particular theme is said to be a treat for blog pages – its Category Builder feature.
With the help of Extra's unique Category Builder tool, you can design all the different categories of your blog page – food, lifestyle, decor, and whatnot – with a simple drag-and-drop builder. In fact, Extra also makes it possible for bloggers to create super reader-friendly, post-based modules and make their feeds easily navigable.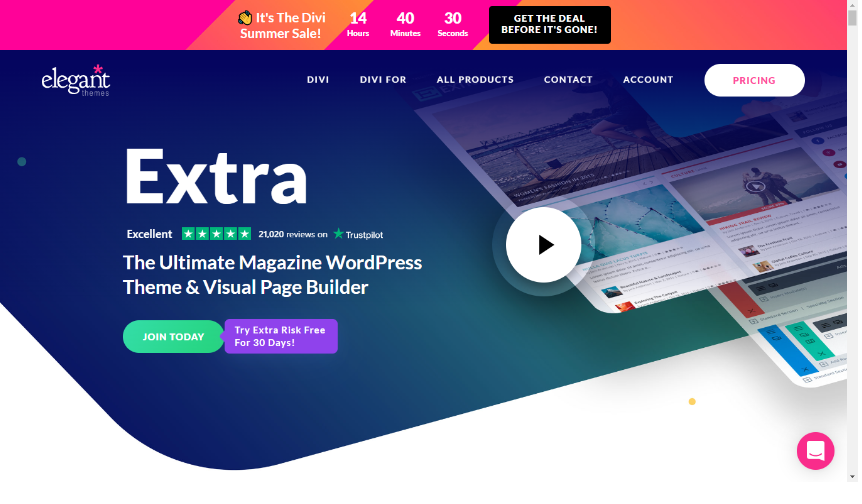 Apart from this, all the other features offered by Extra theme are pretty much alike Divi – the only difference being the former's are designed to be more suitable for blogs and publication websites. So if you were wondering, then yes – just like Divi, Extra also has pre-designed website layouts for all kinds of blogs and hundreds of web elements, ready to be customized per your choice!
The cherry on the cake? Extra is also fully WooCommerce ready, making selling courses and guides a piece of cake for you.
Key features
Specially built for blogs and publications.
Offers over 800 pre-designed website templates to choose from.
Lets you create interactive, story-driven blog posts for increased traffic.
Allows showcase of work portfolio and product selling through WooCommerce integration.
Blog layouts designed to attract visitor engagement and interaction.
Lets you add a review option to your blog content, inviting ratings and feedback from your visitors.
Allows content sharing by readers on various social platforms for increased reach.
3. Divi Page Builder Plugin
I've built multiple (if not all) web pages using the Divi Page Builder plugin. It's one of Elegant Themes' flagship products. And the features suggest why.
A standalone tool, the Divi page builder plugin makes building web pages easy and effortless. With its efficient and easy-to-use drag-and-drop builder, you might as well create super professional pages without having to write a single line of coding.
The whole interface of the plugin is based on the "What You See Is What You Get" (WYSIWYG) principle, meaning every change that you ever do is visible to you in real-time.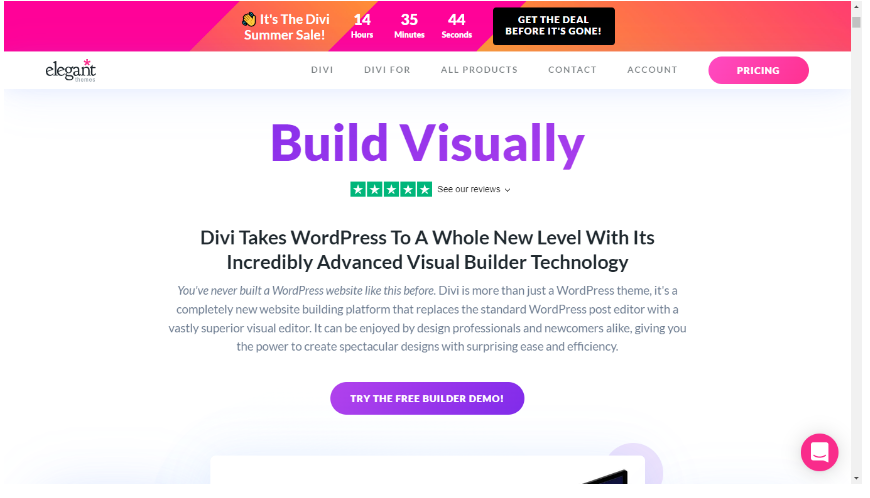 With the help of Inline Text Editor, you can add texts to your web pages as simply as you do on your phone's notepad. And certainly, you can make as many revisions and redos as you want to – all in just a matter of clicks!
Thanks to how responsive it is, Divi page builder lets you take control of the entire website. And, it's mobile-friendly too.
Another prime benefit offered by Divi page builder is that it's compatible with other WordPress themes too. This means, that even if your website is based on a theme apart from Divi, you can still use this efficient plugin to build web pages seamlessly.
Key features
Comes with an easy-to-use drag-and-drop editor.
Visual Editing makes customization simple and extra effective.
Includes 40+ customizable website elements like CTA, Forms, and Testimonials.
Unique Hover State Styling lets you create a hovering effect on your elements.
Global Elements & Styles help maintain uniformity across the website design.
4. Bloom Email Opt-In Plugin
So far, we have only discussed website designing. But Elegant Themes also offers a plugin that facilitates website growth.
Bloom is an email opt-in plugin that offers lead generation features for your website. It basically urges your website visitors to sign up for a particular action, say receiving regular newsletters or offer alerts and records their email addresses for you. Then, you can add them to your email list and send them customized emails. Just sign in on Bloom, add an email opt-in or a signup form option, and you're all set!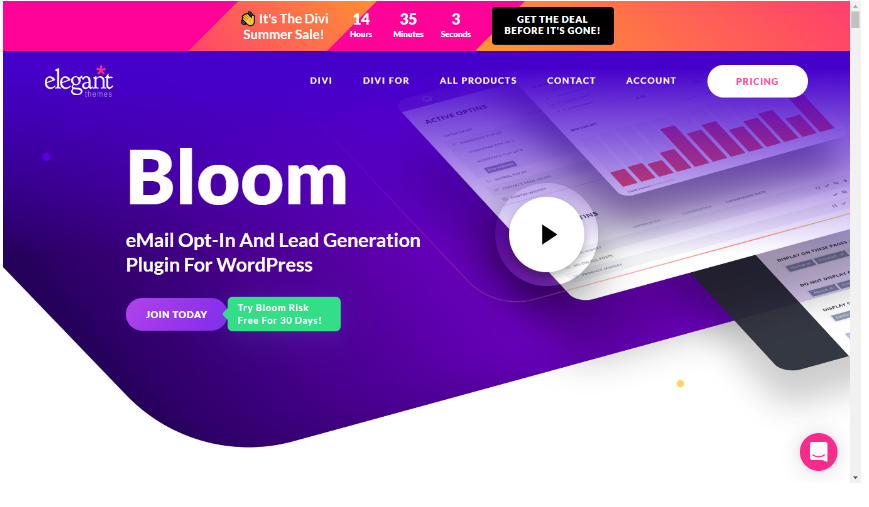 However, unlike a traditional email opt-in plugin, Bloom offers a plethora of choices for you to do so. You can go for in-line opt-in forms, widget area opt-in forms, or even locked content forms based on your audience's preference. Moreover, you can also customize each of them!
What's I love the most? Bloom also comes with a dashboard that gives you access to all your marketing campaign data and insights to help you evaluate how well your efforts are paying off.
Key features
6 exclusive email opt-in display types to choose from.
Offers 100+ pre-designed email opt-in form templates.
Comes with a unique Fly-In Trigger option to achieve increased conversion rates.
Integrates with 19 third-party email marketing platforms.
5. Monarch Social Sharing Plugin
Social media sharing can really elevate your website content's engagement and reach. And thanks to Monarch, this has become seamlessly easy.
With its in-built tools, Monarch allows your website visitors to share your content across 20 of the most prominent social media platforms. This also helps your content rank better on Google SERPs.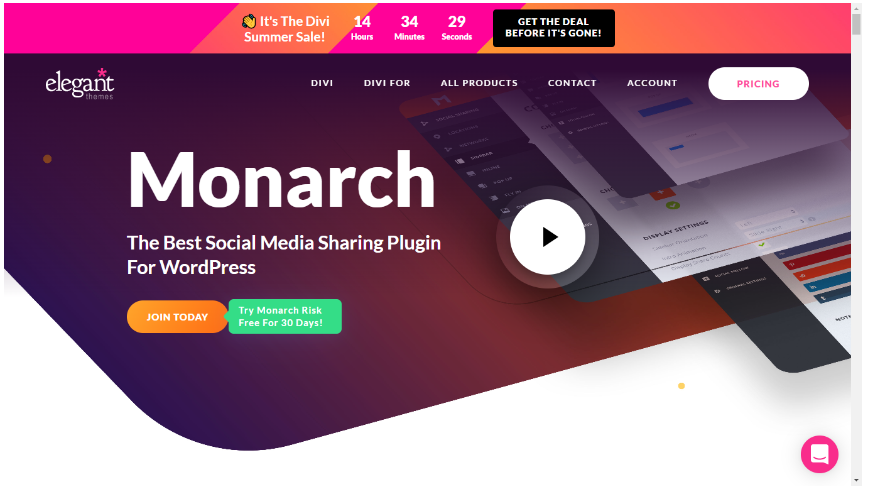 It even lets you place your social media sharing buttons on upto 5 different website locations and allows you to flaunt your following. With every single element being easy to customize, Monarch also hosts a dashboard that keeps you updated with the efficacy of your social media campaigns and other plugin settings. A complete package!
Key features:
Integrates with over 20 social networking platforms.
Offers 6 automatic pop-ups and fly-in triggers.
Lets you customize each element easily.
Mobile friendly.
Other Divi Products
Apart from these 5 main products, Elegant Themes offers 3 complimentary Divi services – Divi Cloud, Divi Marketplace, and Divi Hosting.
Divi Cloud is a cloud storage platform that allows you to save your website designs and customized elements.
Divi Marketplace offers you access to a range of free and paid Divi child themes, layouts, and third-party extensions.
Divi Hosting allows access to multiple platforms that offer Divi-compatible web hosting services.
Elegant Themes Review : Pricing
Elegant Themes offers two membership pricing plans – you can either get the Yearly Access to its products at $89/year or grab the Lifetime Access at a bulk payment of $249.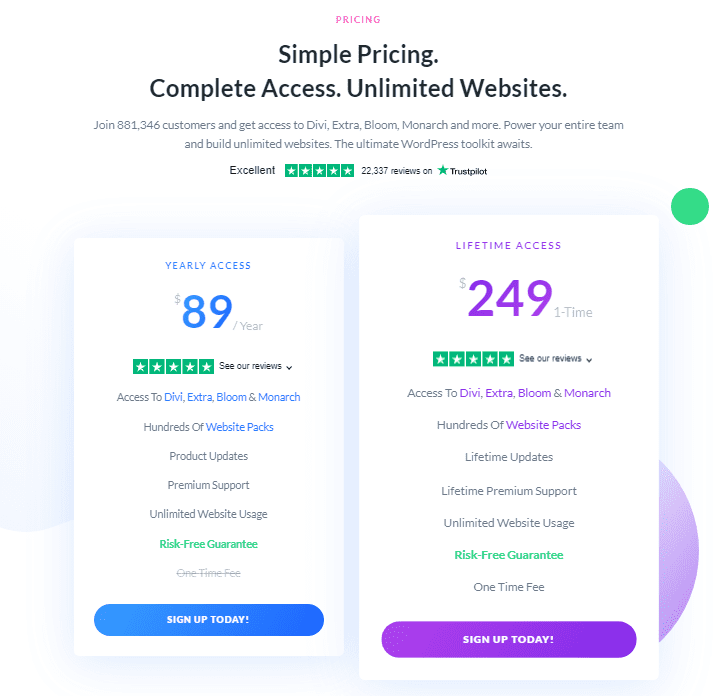 But like I said before, this pricing plan doesn't do justice to all the customers. By this, I mean, it doesn't matter if you want the whole set of themes and plugins Elegant has to offer or are here just for getting the Divi Page Builder plugin (for instance) – you will have to buy either of their memberships and can't purchase a product separately.
Elegant Themes Review : Customer Support & Community
Coming to yet another crucial aspect of an assessment – customer support.
Elegant Themes' reputation is held high amongst its rivals, and one of the reasons that lead to this is its remarkable customer support. Upon becoming a member, you receive access to 24/7 customer support through email or chat. So no matter where you get stuck, you are free to get in touch with their help center and I guarantee – their lightning-fast response will get you sorted real quick.
Moreover, Elegant also includes a library of helpful resources to help you solve an issue while building a website. Apart from this, you can always join Elegant's massive user communities and forums available on major platforms like Facebook, Twitter, YouTube, and more.
Elegant Themes Review : Pros & Cons 
Now that I've led you through all the essential features of all the products offered by Elegant Themes, it's time to put down some of the pros and cons that I noticed after using the theme:
Pros:
Extremely easy to use; amazing for beginners.
Lightweight and highly responsive.
Contains all the tools and plugins for building a website from scratch.
Endless yet simple customization options are available.
Supports eCommerce platform integration for easy online selling.
An incredible backend support team that's available 24/7.
Cons:
No separate product purchasing options are available.
Related Read:
Final Thoughts – Elegant Themes Review
So far, we have learned everything about Elegant Themes and its products. But the question is – is it worth the money? And if yes, then who is Elegant Themes best for? Well, let me quickly help you out with this.
Keeping all the features aside, the biggest pro Elegant Themes has to offer is its simplicity and ease of use. You need not be an expert in coding to build a website just as professional as one – and that's quite a remarkable feat on the part of the developers of the theme.
So I believe, Elegant Themes is absolutely worth the money, exclusively for beginners. It consists of every solution it takes to not only build but grow a website.
If you are a person who's looking forward to kickstarting their own website or are a freelancer taking up multiple client projects – don't look further – Elegant Themes is for you. 
FAQs – Elegant Themes Review
What are your top 3 WordPress Plugins?
Top 3 WordPress Plugins are 1. Divi Page Builder Plugin 2. Bloom Email Opt-In Plugin 3. Monarch Social Sharing Plugin
What is the Most Popular Theme For WordPress?
Most Popular Theme for WordPress are as follow
1. Elementor 2. Yoast SEO 3. WPForms
What is the Most SEO Friendly WordPress Theme?
The Best SEO Friendly WordPress Theme are 1. Divi Theme 2. Extra Theme 3. Astra Theme
---