Are you searching for Elementor Pro Templates? Your search ends here. Elementor is one tool that needs no introduction. 
It is a highly intuitive and user-friendly tool that enables you to create powerful, smooth websites with a simple drag-and-drop mechanism, a feature that not a lot of other website builder tools offer.
Users have praised Elementor for its speed and the variety of website-building options it offers, which makes it easy to create a fully-functional website in a matter of hours.
Another added feature of Elementor for new site owners?
It offers hundreds of both free and paid templates that you can build with the drag-and-drop feature, as well as multiple customization options that you can use to make sure that the website is built for your brand and its identity as accurately as possible.
For this blog, I'll be covering 11 of the best Elementor Pro themes for a variety of businesses, out of which you can pick and choose a free/paid template according to your need and budget. 
Let's dive into the Best Elementor Pro Templates.
Top 10 Elementor Pro Templates: In A Nutshell (2023)
Here is a quick Overview of Top Elementor Pro Templates
| | | | |
| --- | --- | --- | --- |
| Rank | Template Name | Pricing | My Rating |
| #1. | Phlox Pro | $39 | 5/5 |
| #2. | Lagar | $89 | 4.5/5 |
| #3. | Coiffure | $89 | 4/5 |
| #4. | Debebe | $89 | 4/5 |
| #5. | Wavo | $39 | 4/5 |
| #6. | Fiore | $89 | 4/5 |
| #7. | Bijoux | $89 | 4/5 |
| #8. | Caridad | $89 | 3.5/5 |
| #9. | Ferme | $89 | 3.5/5 |
| #10. | Hello | Free | 3.5/5 |
1. Phlox Pro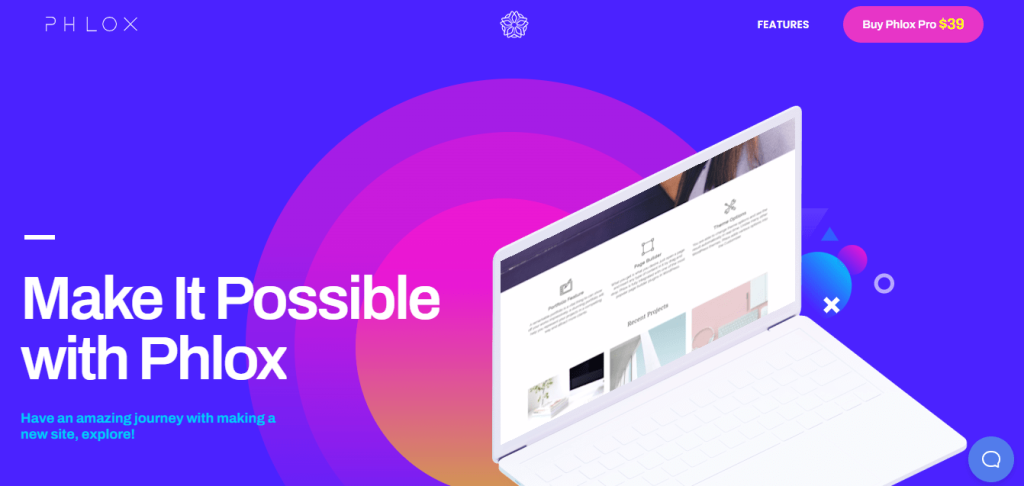 First in our list of Elementor Pro Templates is Phlox Pro. It is a multipurpose theme that is closely integrated with Elementor and requires 0 coding skills! The theme is currently in use by over 85,000 websites and has received great ratings. Phlox Pro can be customized for any brand in any niche – all it takes is some customization and designing, and you have a performance-ready website that's up and running in a matter of a few hours. It has a theme provider that is compatible with Elementor, has over 200 templates that you can use as a starting point. 
Phlox Pro Key Features: 
Here are the Phlox Pro Key Features
200+ customizable templates
160+ elements
Parallax animation option
Multiple header styles
Section-importer
Supports Global Color
Also compatible with WP Bakery
Mobile responsive
Phlox Pro Pricing:
Phlox Pro is priced at $39/year. 
2. Lagar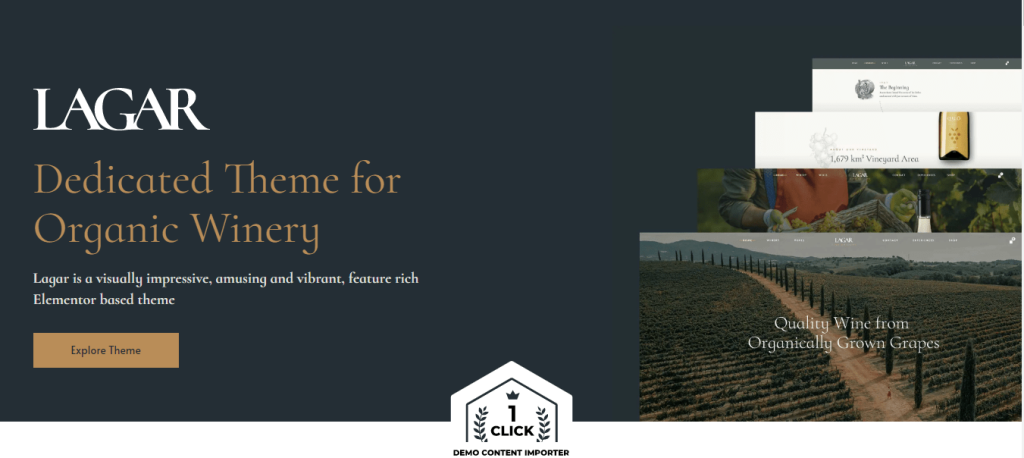 Lagar is an Elementor Pro theme for wineries and wine shops that wish to build a business online. The theme is highly customizable and is currently used by over 60 000+ clients so far. The theme has received glowing reviews for its timely updates, as well as 24/7 customer service. Lagar can be used to display your products, tell your brand story, as well as create a brand identity that your customers can engage with on an online medium.
The theme is also extremely compatible with a wide range of plugins, some of them being WooCommerce, WPML, Yoast SEO, and Contact Form WPForms, to name a few.
Lagar Key Features: 
Here are the Lagar Key Features
Powerful theme options panel for customization
Video tutorials for beginners
One-click demo installer
Translation ready
Compatible with 10+ plugins
100+ articles with guides, FAQs, and more resources
No-code theme
Deeply integrated with Elementor
Lagar Pricing:
You can purchase Lagar at a price of $89 with free lifetime updates. 
3. Coiffure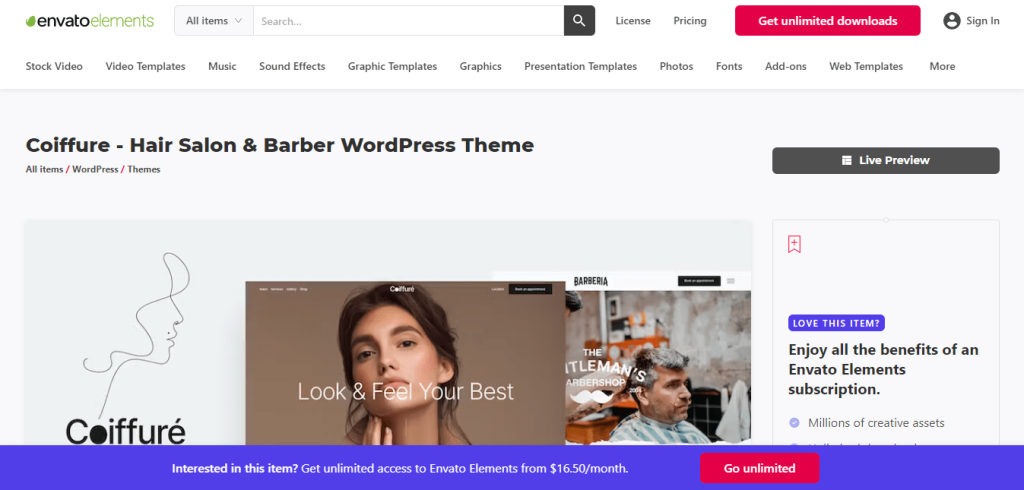 If you're a spa or beauty and wellness provider, Coiffure is the theme for you. It is created specifically as a modern Hair Salon and Barber Shop Theme and can be customized to showcase services such as massages, manicures and pedicures, men's grooming, haircuts, styling, spa services, as well as waxing. The theme is a great Elementor Pro option for website owners who don't have former experience with coding, as well as code-familiar professionals who wish to create a speedy customized website.
Coiffure Key Features: 
Here are the Coiffure Key Features
Compatible with WooCommerce
Multiple widgets
Tutorial Videos and step-by-step guides for beginners
WPML Plugin supported
Extensive header and footer library
Dynamic Content Layouts
Supports pop-ups and forms
Booking system supported
Blog post section
Coiffure Pricing:
You can purchase Coiffure for $89/year. 
4. Debebe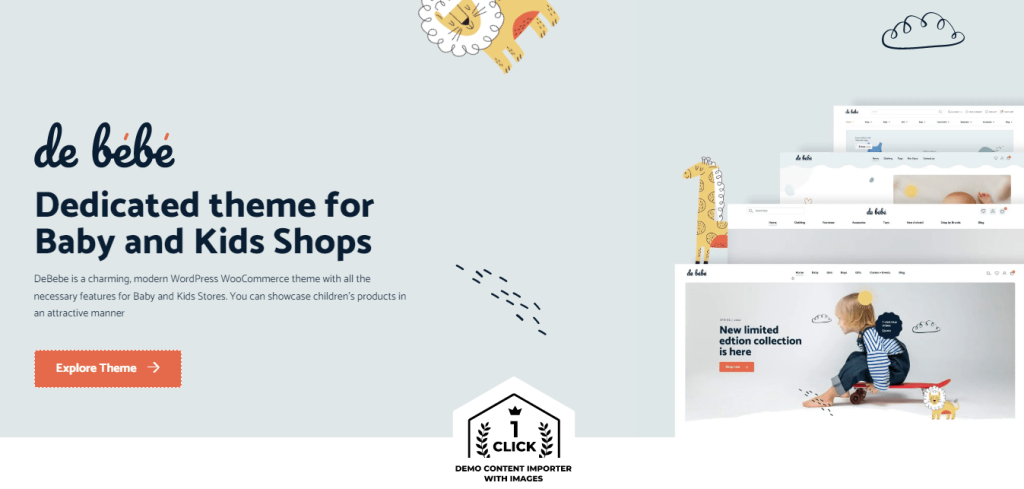 Another stellar theme by VamTam themes, Debebe is created specifically keeping in mind shops that sell baby and kids products and services. The website is extremely user-friendly and highly customizable.
Additionally, a feature that may be extremely useful for new site owners that do not wish to spend hours looking for relevant pictures and worry about image royalties, the theme's purchase plan comes with $265 worth of premium image stock. The theme is known for its compatibility with even the smallest of details on your website, which it supports during the design process.
Debebe Key Features: 
Here are the Debebe Key Features
Custom icons
Less-than-8-hour response time by the customer support team
Multiple layout options
Extensive header and footer library
Mobile-responsive
Customizable colors and font styles
No-code theme
FAQ section
Grid option
Compatible with Elementor Pro
Compatible with 10+ plugins
Debebe Pricing:
You can buy Debebe for $89/per year. 
5. Wavo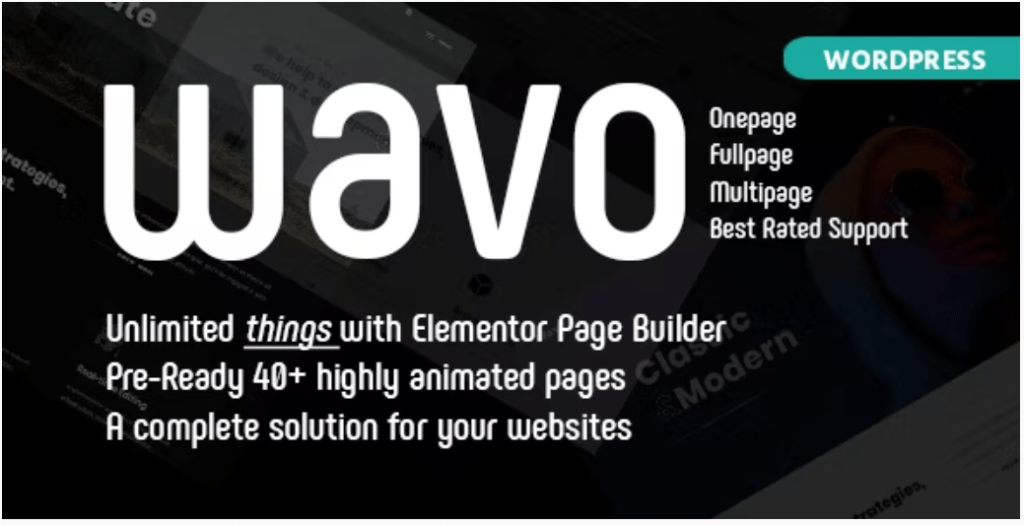 Another multipurpose theme built for Elementor Pro, it has over 2,000 purchases and is praised for its lightweight nature, speedy performance, and customizable design. If you're a beginner to creating websites using WordPress and Elementor Pro and wish for a theme that allows for maximum customizability and showcasing of your portfolio, resume, and/or services. Wavo is an excellent purchase for them. Below are some of the best/salient features of the Wavo theme for Elementor Pro.
Wavo Key Features: 
Here are the Wavo Key Features
Translation-ready, RTL supported
Mobile-responsive
Compatible with 12+ plugins such as Ypast SEO, WPBakery, WP Super Cache, and MetaBox.
Sleek, minimalist design
Multiple layout and design options
Animated widgets
Multiple header and footer options
Wavo Pricing:
You can buy the Wavo theme for $39/year. 
6. Fiore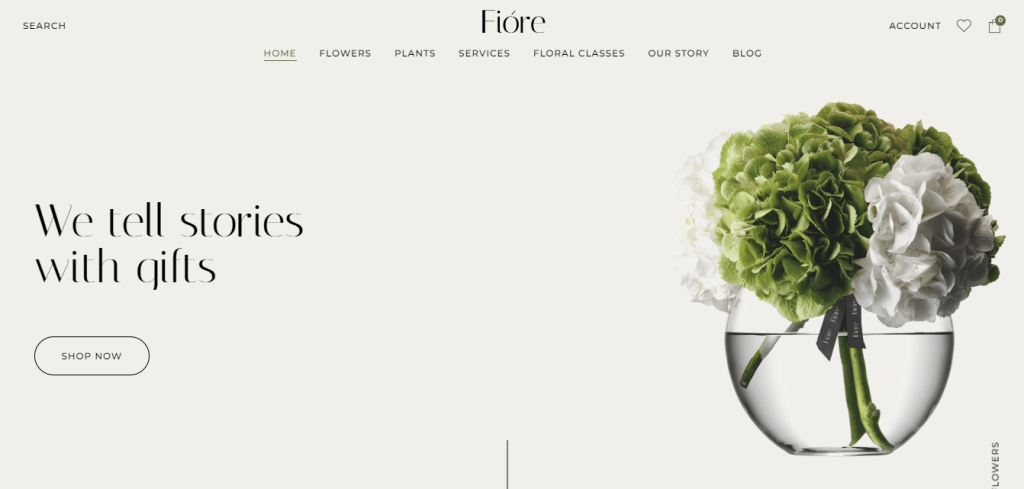 A clean, minimalist, and attractive theme for site owners in the florist and flower shop space, Fiore can also be used for eco-centered brands thanks to its incredible customizability. The theme is the perfect one if you wish to highlight your products, publish blogs and guides on multiple topics, and even help your customers order from your website.
One excellent feature of Fiore that is commended by its users is that you have all the elements and layout options you see on the demo pages of the theme (for inspiration/ideas), you can use them all without any hidden charges once you purchase the theme.
This transparency has scored many points with its customers, along with its regular updates and fast customer service.
Fiore Key Features: 
Here are the Fiore Key Features
Multiple floral icons
30+ HD tutorial videos for beginners
No coding knowledge required
Deep integration with Elementor Pro
Compatible with 10+ plugins for SEO, Translation, and ECommerce, to name a few
Purpose-oriented theme
Multiple customization options for text and layout
Product gallery and grid option
Pricing list
Fiore Pricing:
You can buy Fiore from Vamtam themes for $89/year.
7. Bijoux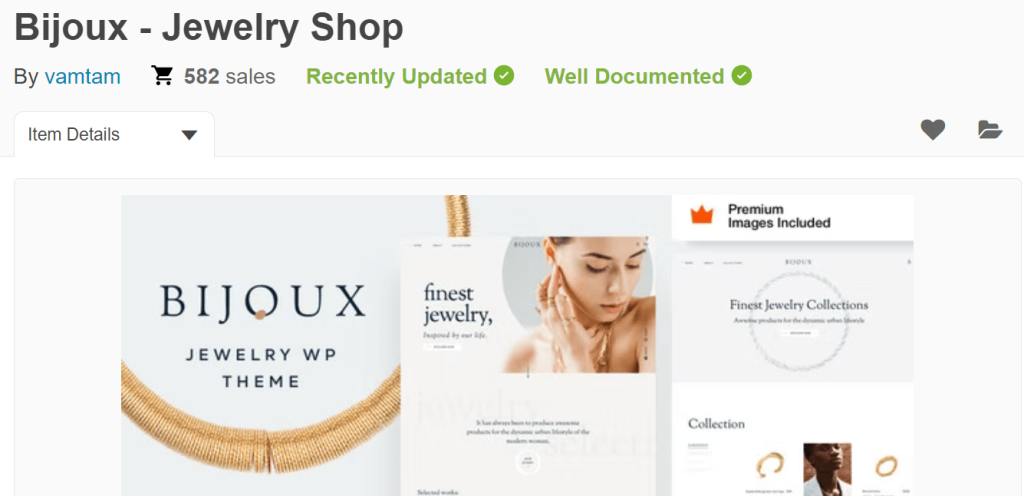 Another niche-specific theme by VamTam themes that is incredibly popular for its customizability and responsiveness, Bijoux is created keeping in mind the needs of owners in the field of jewelry and beauty.
The website theme is bright and fresh and offers loads of elements that you can pick from and add for a high-converting website.
The theme is extremely visually rich, which also makes it perfect for any site owner and business owner who deals with handcraft/luxury goods. The site allows for a solid showcase of your products, as well as clean, smooth transitions that are mobile responsive.
The theme also functions on the one-click-demo-importer feature that Elmentor Pro is known for, so you need to have 0 coding knowledge in order to build a stunning website using Bijoux.
Bijoux Key Features: 
Here are the Bijoux Key Features
Classy and clean design
Product grid
Single product page
Built-in blog post page
Testimonial slider
Translation-ready and RTL compatible
Compatible with 10+ plugins
Extensive setup guide for beginners
Bijoux Pricing:
It is available for purchase for $89/year. 
8. Caridad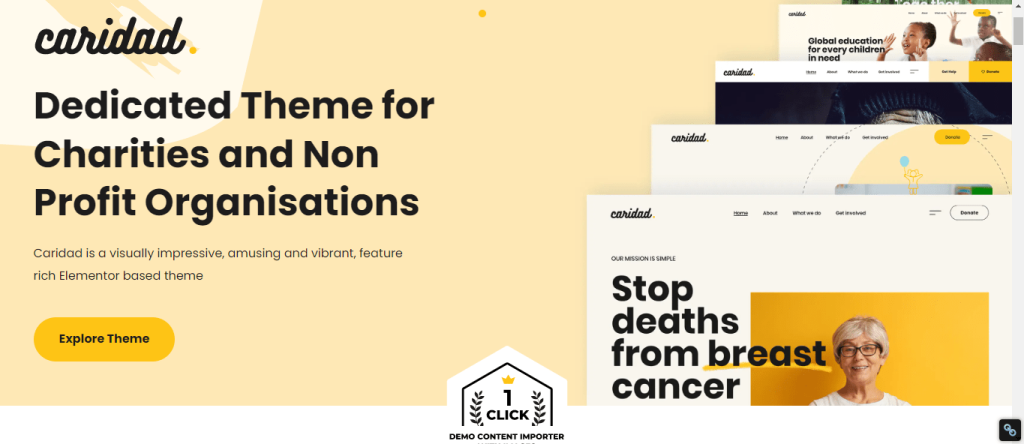 A theme built specifically for non-profits and charities, Caridad is an affordable, high-performance solution for non-profit owners. The theme is light and minimalist and offers lots of layout options and designs so that you can customize your website to demonstrate and present your cause and efforts as impactfully as possible.
You also get $240 worth of Premium Stick Images that you can use for your site without paying extra.
What's more, the theme is also optimized for Gutenberg, as well as multiple plugins, for a comprehensive website experience.
Caridad Key Features: 
Here are the Caridad Key Features
Classy and clean design
Multiple slider options
Built-in blog post page
Translation-ready and RTL compatible
Compatible with 10+ plugins
Extensive setup guide for beginners
Contact Form
Donation system
Event Calendar
Caridad Pricing:
You can buy Caridad for $89/per year. 
9. Ferme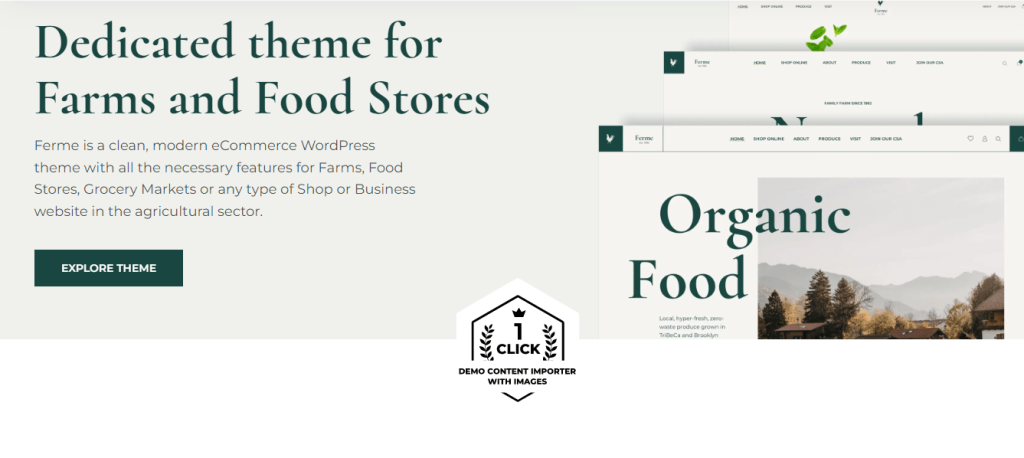 Ferme is a theme built keeping in mind grocery, farming, and produce stores. The best feature that Ferme offers is its deep integration with WooCommerce so that you can display your products, present your brand to your customers, and enable them to carry out purchases through your website itself.
The theme is incredibly clean and minimalistic and allows for maximum customizability in terms of elements such as headers, footers, and other site elements such as icons and text. The theme is developed by VamTam Themes, a trusted theme store for Elementor Pro. If you're looking for a high-performing website theme for Elementor Pro for your farm or grocery-based brand, this is it.
Ferme Key Features: 
Here are the Ferme Key Features
Rustic and organic design
Product Grid option
Single product page
Subscription form supported
Mobile-optimized
Ferme Pricing:
You can purchase Ferme for a price of $89/year. 
10. Hello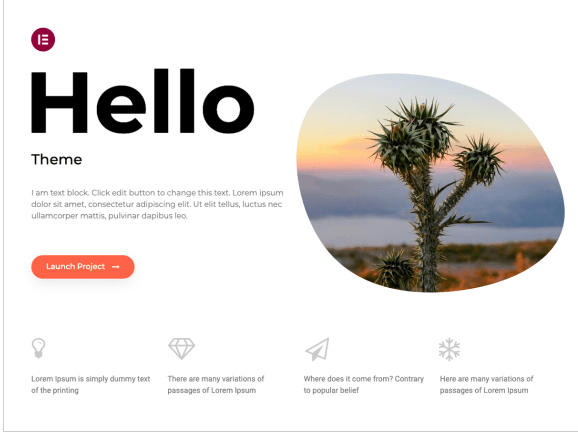 The next heme for Elementor Pro that made it to the list is the Hello theme. The best part about the theme is that it is extremely lightweight and ensures a speedy customer experience. It is multipurpose and deeply integrated with Elementor. It claims it is the fastest theme for Elementor Pro users, and its minimalist design and responsiveness surely attest to the feature. 
Hello Key Features: 
Here are the Hello Key Features
Lean and light theme
Fully customizable
Drag-and-drop editor feature
100+ ready-made designs
Multiple headers and footers
Integrated with WooCommerce
Hello Pricing:
The Hello theme is completely free of cost and is the perfect option for new site owners looking for a super-fast theme.
11. Felt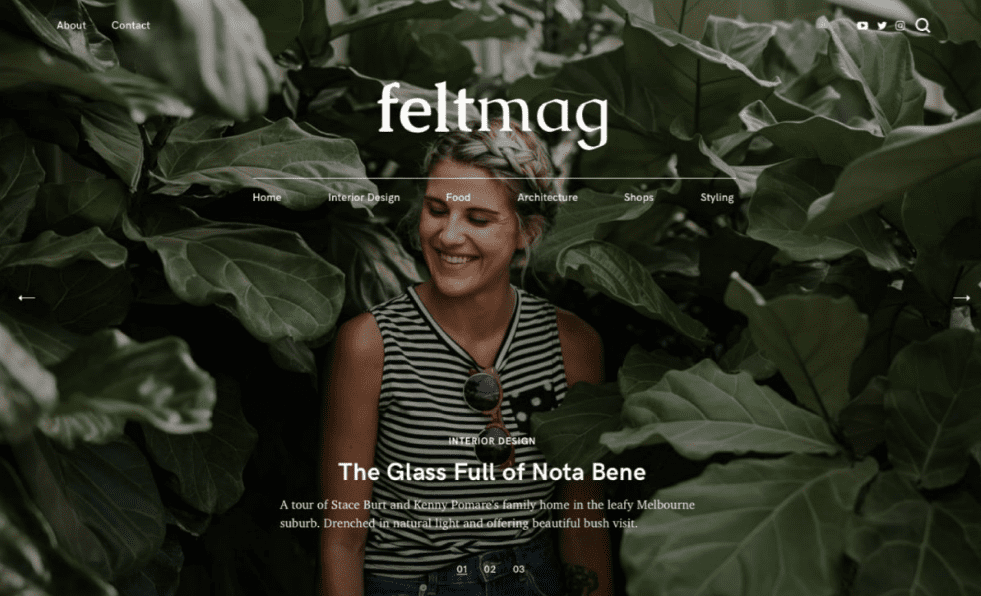 Felt can be called as one of the beautiful WordPress Magazine Theme out there. It's highly customizable & works absolutely fine with Elementor. You can create custom layout and edit it if you want.
This theme is simple and easy to use, you can set up your website in bare minimum efforts. It has a powerful style manager, custom widgets & many notable features.
Felt Theme Key Features
Here are the key features of Felt which are given below
Custom Widgets
Powerful Style Manager
Fullscreen Carousel Slider
Multiple or No Sidebars
Felt Theme Pricing
It has 3 Pricing Plan, 1. Felt LT on a roll, 2. Felt LT for Life, 3. Themes Bundle. Costing each respectively at $75/year, $95/year & $498/year.
Related Read:
Wrapping Up On Best Elementor Pro Templates (2023)
Elementor Pro offers hundreds of templates that are responsive, fast, and light and are both premium and free. The themes that I've covered in this blog are some of the best themes that you can pick if you have purchased an Elementor Pro subscription/license. The themes are fast, responsive, and highly customizable, a perfect fit for any brand across multiple niches.
However, the best theme for Elementor Pro for me is Phlox Pro. The theme is multipurpose and supports a host of plugins, as well as customization options, ensuring that it is the perfect investment for any business at a nominal price per year.
---