The Digital era provides you with countless opportunities to make money, and affiliate marketing is one of them. Using it, you can generate substantial income from your website. To facilitate your marketing efforts, WordPress affiliate marketing plugins come into play.
Before installing a dozen affiliate WordPress Plugins, you should slow down and reflect on what you hope to achieve with the plugins. Why is that? It is the only way to determine which affiliate plugin best suits your website's requirements.
They assist businesses in setting up an affiliate marketing program on their WordPress websites.
This article describes the criteria for selecting an affiliate plugin and provides an overview of the best options for merchants and affiliates.
Our recommended picks
| | | | |
| --- | --- | --- | --- |
| WordPress Plugin | Best for | Rating | Downloads |
| AffiliateWP | Merchants who already use other plugins under AffiliateWP's development team | 4.6/5 | 20000+ |
| Ultimate Affiliate Pro WordPress Plugin | Affiliate marketers looking for an all-in-one solution to earn in multiple ways | 4.6/5 | 12000+ |
| Pretty Links Pro | It is ideal for people who want to create pretty affiliate links and keep them organized. | 4.1/5 | 8,000+ |
| AdSanity | Best for Business owners who aim to run an affiliate marketing campaign. | 4/5 | 5000+ |
| Affiliates | Ideal for affiliate marketers | 4/5 | 5000+ |
Check out the more detailed list of WordPress affiliate plugins below.
1. AffiliateWP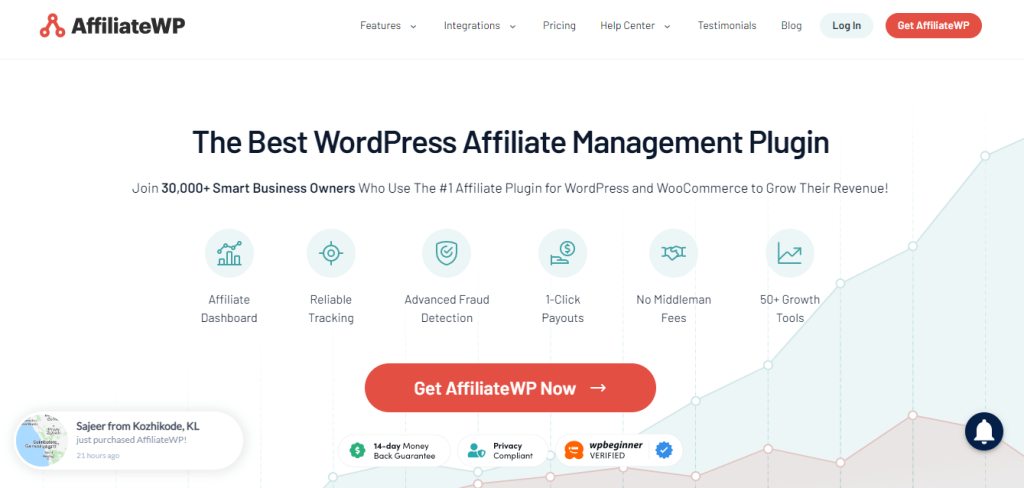 Best for
Those who already use affiliate programs created by AffiliateWP's development team.
There's no doubt that AffiliateWP is a feature-rich affiliate management system that's incredibly easy to use and surprisingly agile simultaneously. Using it allows you to have a seamless process in managing your referral program and makes the process hassle-free.
Key Features
Integrations: A powerful WordPress plugin that integrates seamlessly with dozens of tools. Include WPForms, one of the best contact form plugins on the market.
Affiliate Management: For simple affiliate registration, either manually or automatically approve requests. As a result, you save time, and people can continue directly into the affiliate area.
Automated affiliate system: It is possible to automate many processes, such as the approval of affiliates, the creation of referral links, and the maintenance of the profile.
Real-time reporting: Continually monitor affiliates' sales and traffic.
Pros
A refund policy of 14 days is available
An interface that is easy to use for beginners
Tools for accelerating affiliate growth
Cons
It does not have a free or trial version.
Pricing
AffiliateWP plans start at $149 and escalate to $299 annually.
2. Ultimate Affiliate Pro WordPress Plugin
Best for
Affiliate marketers looking for an all-in-one solution to earn in multiple ways.
If you're an owner of a product or service who would like to expand your business across the entire affiliate network as much as possible, then Ultimate Affiliate Pro is sure to make that happen for you quickly.
Let the marketers do all the promotion for you, and for every sale they generate, you will be able to pay them a commission.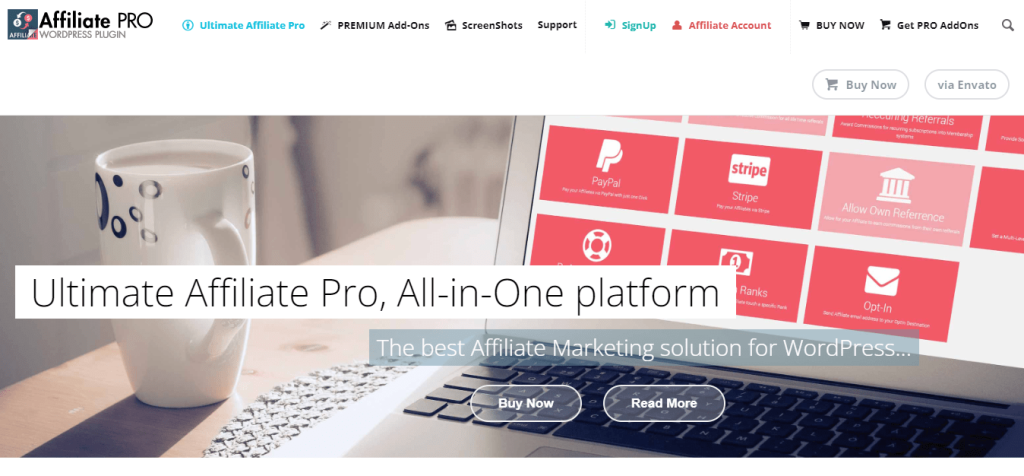 The best way to boost the confidence of those bringing in the greatest deal is to set individual rewards. When it comes to marketing strategies, this is one of the cheapest and most effective.
With the plugin, you can translate your site, set your currencies, and make payments via PayPal or Stripe.
Key Features
Various payment metrics: The affiliate program pays affiliates based on multiple metrics, such as the number of clicks per action, the rank of the affiliate, and multilevel marketing (MLM).
Custom commissions and currencies: You can set up a percentage, flat rate, or customized commission like MLM rewards. Furthermore, users can reward affiliates for their recurring referrals with specific bonuses.
Pre-made templates: Templates are available for registering, logging in, and managing your account. Depending on how you customize them, it's up to you.
PayPal and Stripe payouts: The Ultimate Affiliate Pro dashboard allows you to pay affiliates through Stripe or PayPal.
Downloads: 14,000+
Pros
Management of affiliate campaigns made easy
The software supports all types of earnings (CPC, CPL, CPM, etc.).
Great support and video tutorials
Cons
The free version is not available
A limited number of support channels
Pricing
Regular License ($69): An end product that is free to the user
Extended License ($149): A single end product for which end users will be charged
3. Pretty Links Pro
Best for
If you would like to create pretty affiliate links and organize them, this is ideal for you.
There are several WordPress affiliate plugins on the market, but Pretty Links Pro is one of the best. With this, you can easily manage all the affiliate links on your website with one easy-to-use interface.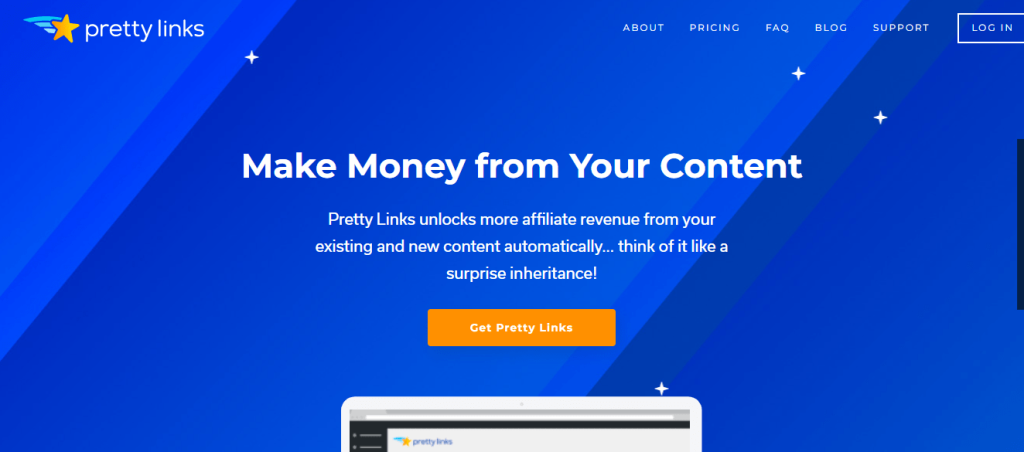 Pretty Links Pro is a free tool that allows you to turn your ugly, long affiliate links into more shareable, readable links with a few simple steps. As well as linking them to specific keywords, you can specify your affiliates in the text so that the link is automatically added when you mention them.
Downloads: 8000+
Key Features
The drop-down menu provides 302, 307, and 301 redirects.
The Block Builder in Gutenberg now supports the easy insertion of affiliate links.
A link category helps you keep track of the many affiliate links you have.
Creating public links allows your WordPress website to be turned into a short-link generator (like bitly.com or something similar).
Pros
You can use the domain name you own
A simple way to manage links
Cons
You can only add five sites to your Supper Affiliate plan.
Pricing
Free: Automatically generate link titles, nofollow links, export click databases, etc.
Beginner ($99.50/year): 1 site, custom slug, detailed performance reporting, rotating redirects
Marketer ($149.50/year): Setup of two sites, creation of public links, import/export of links, social sharing buttons
Super Affiliate ($199.50/year): Creation of automatic links, integration with Google Analytics
4. Amazon Auto Links
Best for
Automate your Amazon affiliate links on your blog or website.
In case you're tired of manually adding products to your website, consider purchasing Amazon Auto Links for your website. The free WordPress affiliate plugin will do all the hard work for you, so you do not have to do it yourself.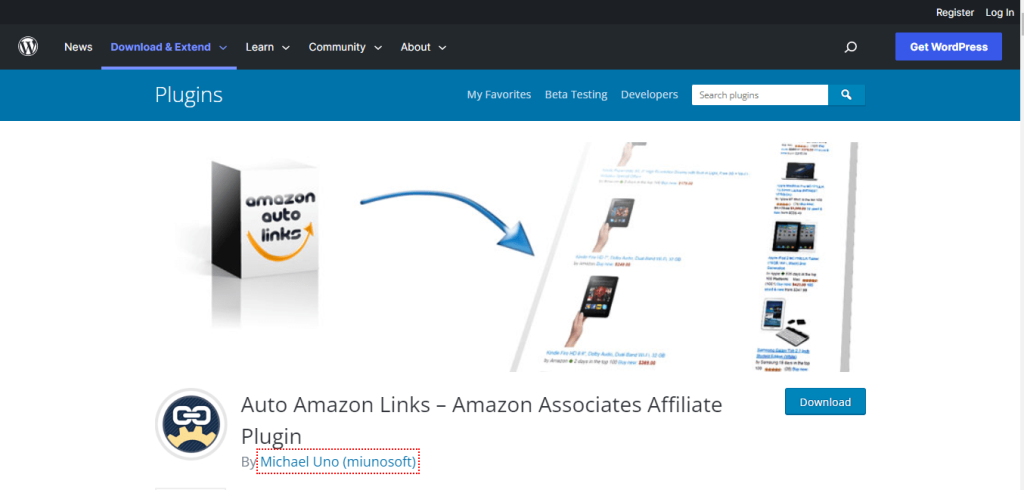 After you select the category for your page, you will be able to access items that are appropriate for that page from the tool. You can, of course, associate your affiliate ID with them as well.
Furthermore, you can insert only those products you wish to include in your search.
That's how Amazon Auto Links works.
Key Features
Brandable buttons or buttons in your preferred style can be added with custom buttons.
It is possible to geo-target your Amazon links to fit a specific region.
By utilizing Gutenberg blocks, you can save a great deal of time instead of having to create a shortcode on your own.
Several widget areas on your website can accommodate a custom widget.
By filtering your products, you can keep your website organized by showing only the items you want your visitors to see. As a result, it removes any products you don't wish to display from the list.
Downloads: 6000+
Pros
Adapts to all Amazon locales
No JavaScript required
Automatization is great
Cons
Pro plans are not refundable.
Pricing
Free: With a maximum of three categories and ten products per unit, plus a filter for finding products that match your search
Pro ($47.98): One site, all features
Extended ($77.98): Up to five sites and all features
Unlimited ($237.98): Access to all features and unlimited sites
5. Affiliates
Best for
Ideal for Affiliate marketers
An affiliate WordPress plugin created by itthinx and Kento, Affiliates is designed for people who want affiliate management software that works immediately without requiring configuration. With great tools, it rivals many other affiliate WordPress plugins for selling, using online stores, and running membership sites, and offers excellent tools for sellers, online stores, and members.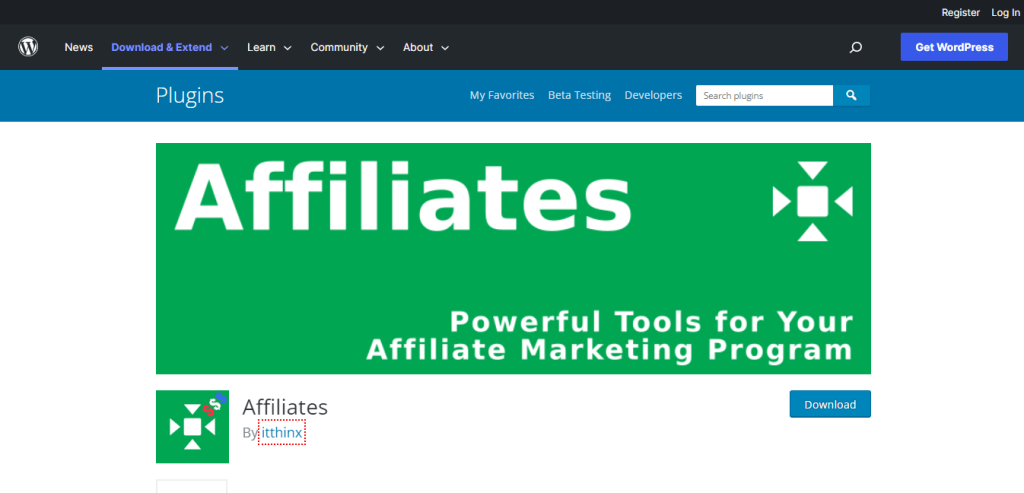 Let's take a closer look at what the Affiliates WordPress plugin can do for you.
Features
Real-Time Reporting: The dashboard keeps track of the success of your affiliates using graphs.
Easy to Use: Make your affiliate area and dashboard look like you want using blocks and shortcodes.
Integrations: The platform seamlessly integrates with popular tools such as WooCommerce, BuddyPress, Events Manager, and many more.
Downloads: 5000+
Pricing
The pricing depends on the number of sites planning to manage. The price may vary from $69 to $229.
6. YITH WooCommerce Affiliates
Best for
Owners of WooCommerce sites who use other YITH plugins
The YITH WooCommerce Affiliates plugin is designed for WooCommerce users looking for affiliate programs. With this plugin, you can easily register, view, and manage affiliates through the dashboard of your WordPress website.
A WordPress affiliate store plugin for WooCommerce lets shop owners create affiliate accounts and make their commissions more customized using this plugin.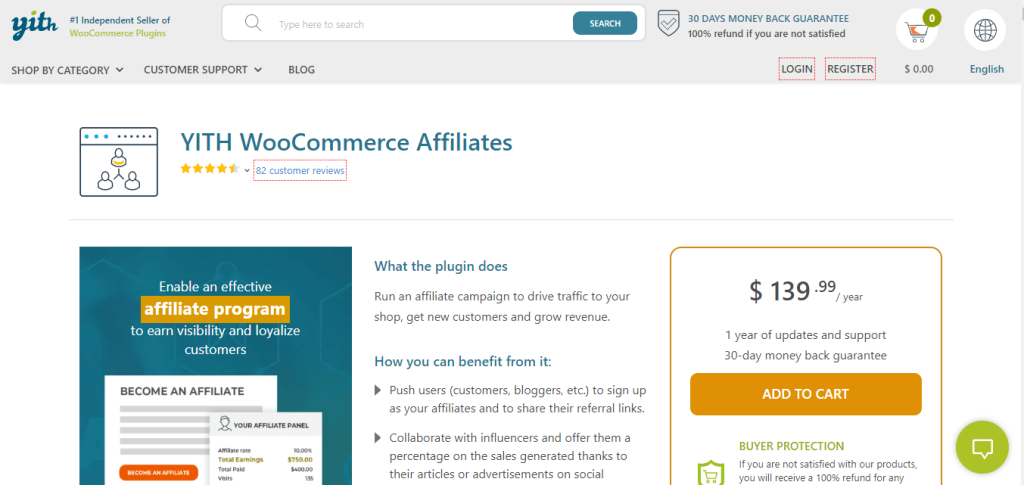 The YITH WooCommerce Affiliates plugin also uses shortcodes to facilitate registering affiliates, among other functions.
Key features
Adjustable Cookies: It is possible to store Refer IDs in the user's cookies for a specific period and change how long this customized period lasts.
Affiliate Dashboard: As an affiliate, you will receive your dashboard, where you can monitor your commissions and progress.
Prorated Commissions: It automatically calculates a refund amount and affiliate commission based on the refund amount.
Downloads: 8,000+
Pros
An attractive dashboard with a lot of visual appeals
Everything runs smoothly with YITH
Cons
Features are limited.
The free version lacks advanced features.
Price
The paid plan starts at $139.99/per year
7. ThirstyAffiliates
Best for
Those who want to make money from affiliate marketing.
Among the popular affiliate plugins for WordPress, ThirstyAffiliates is also popular. The plugin will help you manage all your affiliate links in one place. In other words, this tool is a great choice when you want to cloak your unreadable affiliate links and make them look more appealing.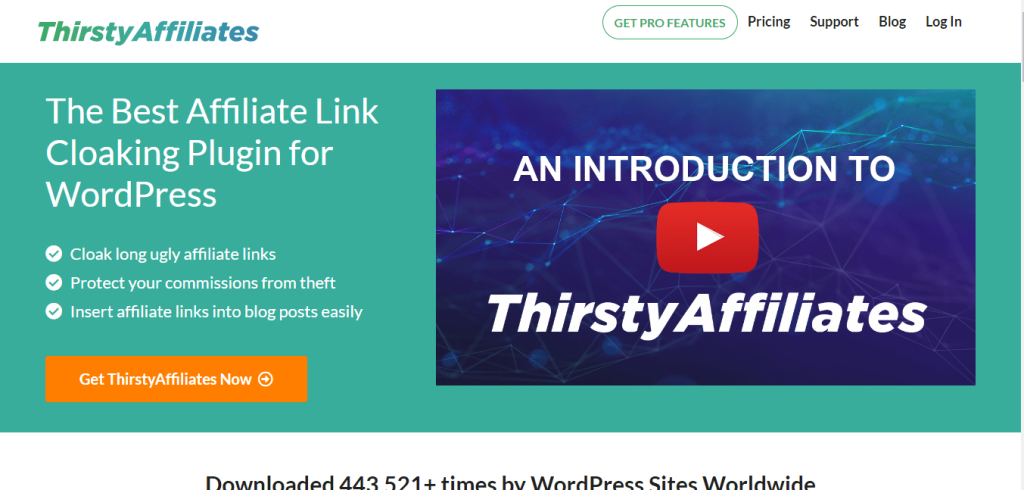 As a result of the plugin, you can even easily set up affiliate links on your website, edit them, and remove them if you wish. As a result, you can easily edit any affiliate link without having to go to every page and edit it individually.
Key Features
Statistic reports with advanced controls display the performance of links, geolocation information, best performers, etc.
Use link scheduling to set the time when affiliate links will be activated.
3rd-party product integration for WooCommerce.
The plugin automatically generates affiliate disclosures (but you can customize them).
The Nofollow tag and "open in new tab" will be automatically set for each affiliate link, so you do not have to set them individually.
Downloads: 40000+
Pros
Stay up-to-date
Guaranteed money-back for 14 days
Despite not renewing, the plugin will continue to function
Cons
The advanced plan only allows ten sites
Pricing
Free: Statistics and reporting, nofollow tag, custom URL prefix
Basic ($79.50/year): Includes all features for one site
Plus ($129.50/year): All features for five sites
Advanced ($199.50/year): Up to 10 sites and all features
8. AdSanity
Best for
Business owners who aim to run an affiliate marketing campaign.
The Adsanity plugin for WordPress is also a popular affiliate plugin. At its core, AdSanity is an advertising management tool, perfect for managing all your affiliate ads on your site in a centralized place.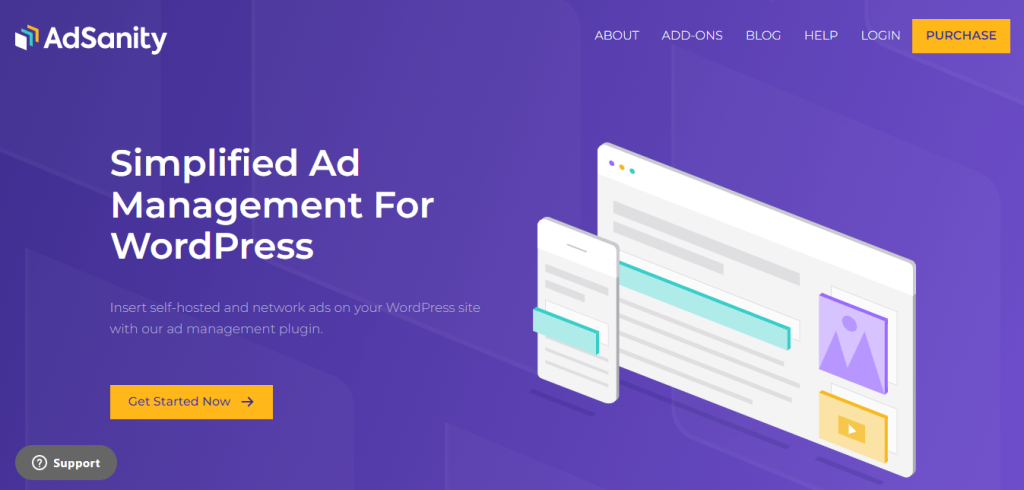 Its excellent feature allows you to use shortcodes, widgets, and template tags to add affiliate ads to your site immediately. Apart from that, AdSanity also allows you to add network ads to your WordPress site, such as AdSense, which is a popular network ad network.
Key Features
Beginner-Friendly: It is elementary to use and manage affiliate campaigns and ads with AdSanity, as it allows you to do it all right from the dashboard of your WordPress site.
Flexibility: It's easy to add your affiliate banner. You can include widgets, sidebars, posts, and more.
Ad Block Detection: You can automatically inform visitors that they must disable their ad blockers to enjoy your content.
Downloads: 5000+
Pros
Suitable for beginners
Easily extensible
Cons
Ads-first design
With add-ons, it can be quite expensive
Pricing
With its Basic plan, you can use AdSanity for $59 per year. With the Pro plan, you get even more features for $179 per year.
9. Easy Affiliate
Best for
Managing affiliate links while staying within a budget
There is no question that Easy Affiliate is one of the most popular affiliate WordPress plugins on the market. You'll gain direct revenue with an affiliate management system that integrates with WordPress.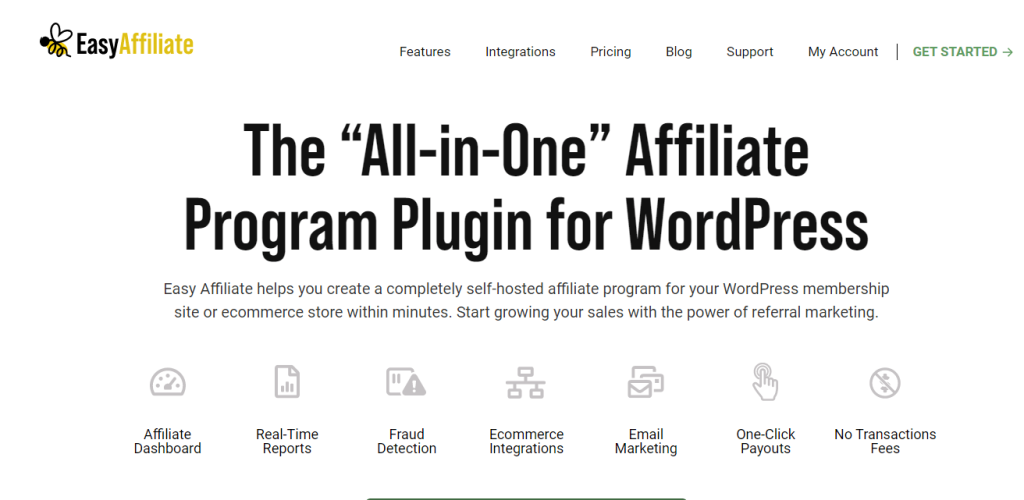 You can set up an affiliate program that works in just a few minutes. You will get all the usual stuff in your program and some additional stuff. You can easily maintain the brand's appeal without losing your affiliates' interest by providing a convenient dashboard to monitor their clicks, sales, and payments.
Using Easy Affiliate, it is easy to integrate your website with various applications.
Features
Dashboard tailored to affiliates' needs and preferences
Advanced reporting capabilities in the admin panel
Process for affiliate applications built into the system
Customizable override rules for multiple commission levels
Keeps affiliates up-to-date with popular email marketing services
Downloads: 10000+
Pros
WordPress dashboard allows managing affiliate links
View all clicks or track clicks monthly
Cons
Reporting dashboard and other features available in free versions of some other plugins require a premium version
Pricing
Using the service on one site is $199 annually, with unlimited affiliates and tracking requests. Regarding the refund policy, there is a 14-day money-back guarantee in case you don't like the plugin and want a refund.
Conclusion: WordPress affiliate plugins
So here we are at the end of the post. The top list of WordPress affiliate plugins above will significantly help ensure that your affiliate marketing efforts don't go waste.
If you seek a plugin that can help keep track of links, edit links and add redirecting pages, then we recommend you move forward with Pretty Links Pro.
But if you are one such marketer with the complete affiliate marketing solution WordPress plugin at your fingertips, then the Ultimate affiliate pro WordPress plugin is worth the try.