Hunting for the Best WordPress LMS Plugins for your online learning website? I've got some suggestions for you.
With the swelling popularity of online courses, the number of LMS platforms and plugins the internet is witnessing is quite staggering.
But don't get too overwhelmed – I've got you covered here. Let's get your expertise to make some bucks with the best tool, shall we?
Here are 12 of the best WordPress LMS plugins you need to check out if you're serious about selling your expertise to the world. Let's dig in!
10 Best LMS For WordPress 2023: (Handpicked List)
Here's an overview of the WordPress LMS Plugins, just in case you're on the fly:
| | | | |
| --- | --- | --- | --- |
| Rank | WP LMS Plugin | Pricing | Rating |
| #1 | MemberPress | $179/year | 4.8/5 |
| #2 | MasterStudy LMS | $54.99/year | 4.8/5 |
| #3 | Lifter LMS | $99/year | 4.6/5 |
| #4 | LearnPress | $49/year | 4.5/5 |
| #5 | Namaste! LMS | $67 | 4.5/5 |
| #6 | WP Courseware | $129/year | 4.4/5 |
| #7 | LearnDash | $199/year | 4.3/5 |
| #8 | Tutor LMS | $149/year | 4.0/5 |
| #9 | Good LMS | $32 | 4.0/5 |
| #10 | Masteriyo | $199/year | 3.9/5 |
Top WordPress LMS Plugins
Let's have an in-depth look towards Best WordPress LMS Plugins:
1. MemberPress
Used exclusively for creating membership sites, MemberPress is an all-in-one creator's suite for creating and selling stuff – including online courses. With MemberPress, you can quickly build courses, add gamification elements to them, create coupons, and so much more – all coding free. Not just this, this tool integrates with an array of powerful add-ons, ensuring you have it all to take your eLearning website sky high.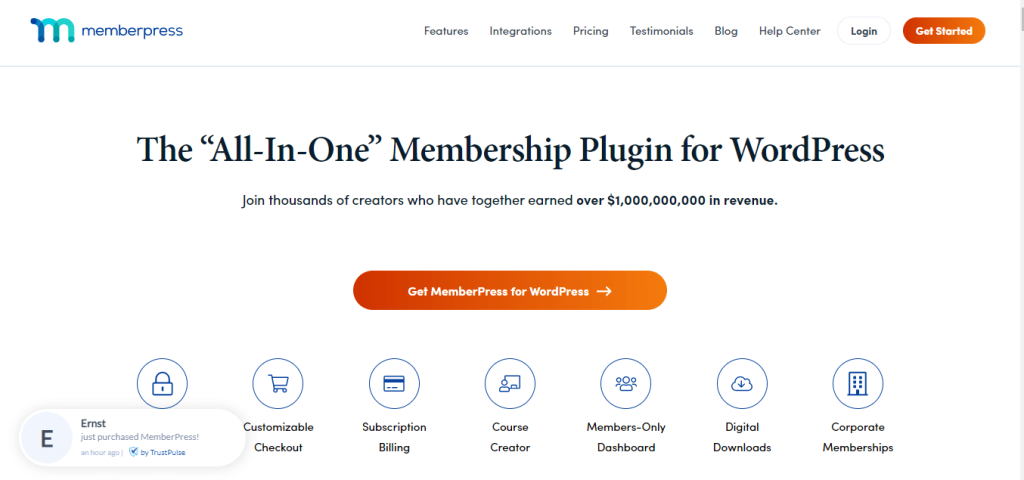 MemberPress Key Features:
Lets take a look at the Key Features of MemberPress.
Simple, coding-free experience for beginners.
Offers a powerful drag-and-drop builder for creating courses.
Works efficiently with every theme.
Multiple payment gateway options provide more flexibility.
Useful add-ons like Beaver Builder and ConvertKit are available.
You can also sell digital downloads, subscriptions, memberships, etc.
MemberPress Pricing:
Pricing plans start from $179/year. 
2.MasterStudy LMS
MasterStudy LMS is a fairly new entrant in the world of LMS plugins. But the creators are already loving MasterStudy LMS for its smart and intuitive features. To name a few, it has flexible pricing models, multilingual capabilities, media file integrations, and much more. While the plugin lets you create courses for free, the paid plans with all these stunning features start from just $54.99/year. I say it's a steal deal if you're serious about making money through courses.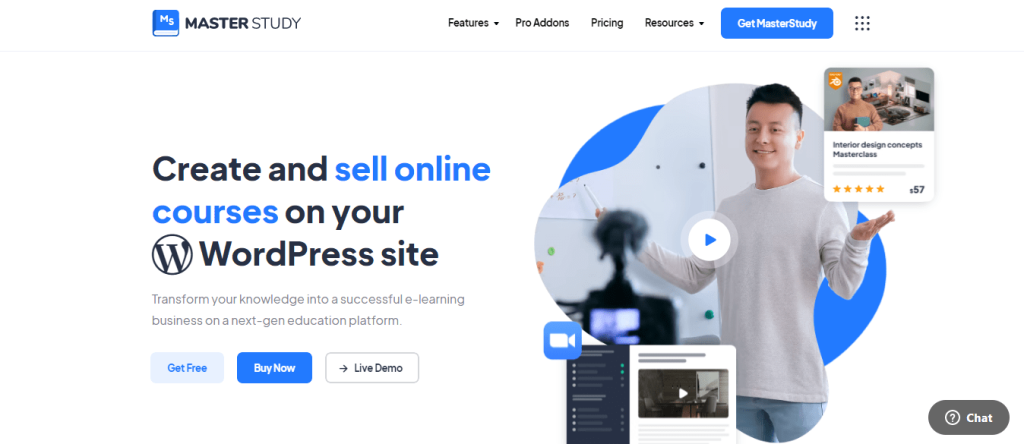 MasterStudy LMS Key features:
Lets take a look at the Key Features of MasterStudy
Offers quizzes, badges, and other course gamification elements.
Drip course content functionality is also available.
Auto generates certificates for course completion.
User Management dashboard lets you track student progress.
Supports various payment gateway options.
Integrates with WooCommerce, H5P, Elementor, Mailchimp, and more.
MasterStudy LMS Pricing:
Free plugin with pro plans starting from $54.99/year for 1 site license. 
3. Lifter LMS
Lifter LMS is a stunning WordPress LMS plugin for all the coaches and tutors out there. This plugin does exactly what it promises – allowing you flexibility. From letting you create online courses to helping you market them, Lifter LMS does it all – the way you want it to. It even integrates with third-party platforms like Slack and Mailchimp to make managing your online learning website a breeze.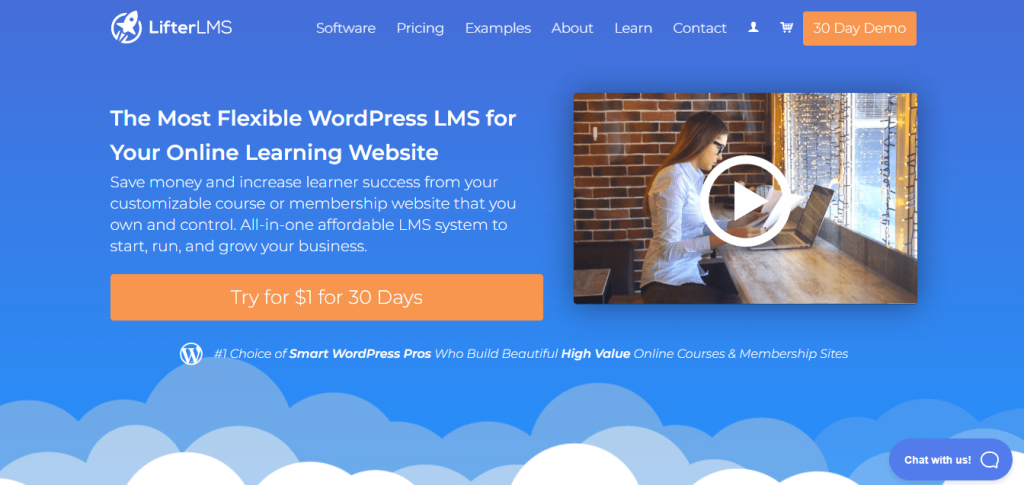 Lifter LMS Key Features:
Lets take a look at the Key Features of Lifter LMS
Offers an intuitive drag and drop course builder.
Offers interactive gamification of courses.
Drip course content creation is also available for effective learning.
Allows you to host unlimited eCourses and video lessons.
Integrates with WooCommerce for hassle-free course selling.
Comes with valuable add-ons like Astra and Course Scheduler.
Lifter LMS Pricing:
Based on a freemium pricing model, its paid version starts from $99/year.
4. LearnPress
Next up on my list of the best WordPress, LMS plugins are LearnPress. Full of features that make course creation a hassle-free task, the best part about this platform is that it's as swift as dreams. Yes – the ultimate USP of LearnPress is that it is lightweight and offers useful add-ons like Gradebook Drip and H5P. Also, did I mention it also works with almost every WordPress theme!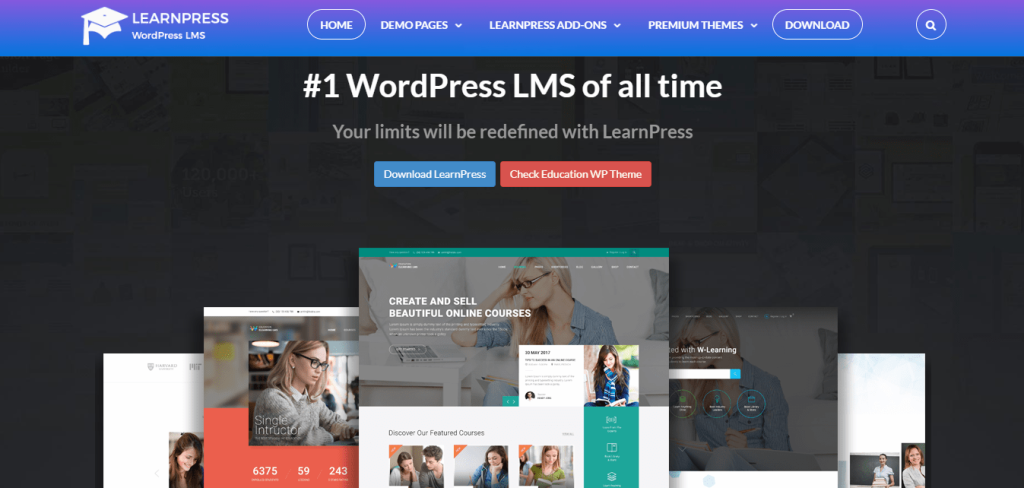 LearnPress Key features:
Lets take a look at the Key Features of LearnPress
Beautiful course dashboard lets you take charge of course progress and selling.
Offers drip content, quizzes, and gamification of courses.
Supports multiple payment gateways like PayPal, Visa, etc.
Offers import/export of course content.
WooCommerce integration is also available.
LearnPress Pricing:
Free plan is available, but the paid ones start from $49/year. 
5. Namaste! LMS
Another free tool on this list, Namaste! LMS isn't as reckoned as most others, but it's still quite a power-packed one. This plugin can create basic, straightforward courses in a snap. Moreover, it also beautifully facilitates course management. You can jot down course descriptions, auto-approve student enrolments, manage lessons, and much more. In fact, Namaste! LMS also provides you with reports of each student's progress. Isn't it amazing?!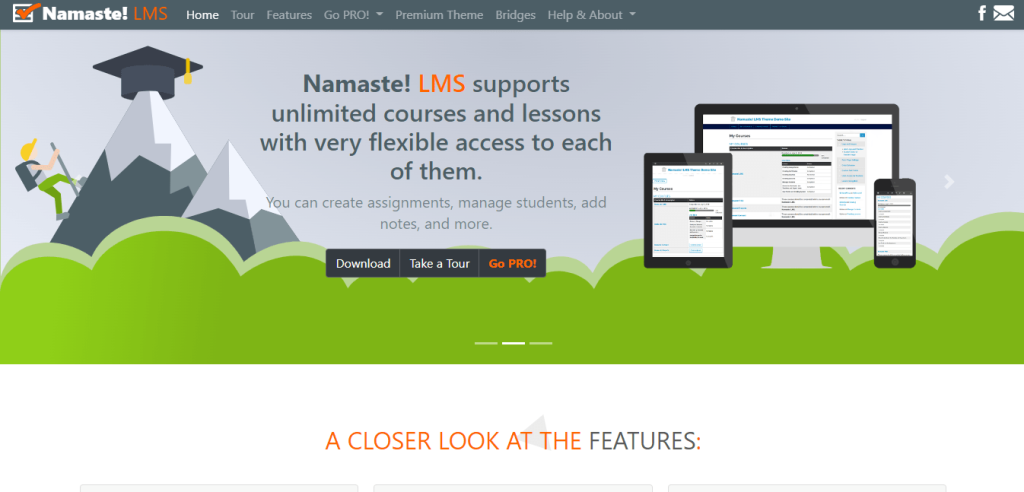 Namaste! LMS Key features:
Lets take a look at the Key Features of Namaste! LMS
Allows you to enroll the unlimited number of students.
Offers incorporation of media content to make courses engaging.
Comes with an in-built shopping cart feature for easy course selling.
Protects your content against copyright infringement.
Offers PayPal and Stripe integrations.
Namaste! LMS Pricing:
Free plugin with the pro plan starting from $67.
6. WP Courseware
Known to be the first WordPress plugin for online course creation and management, WP Courseware is a legit pioneer in this field. With a wide range of features, this WP LMS plugin is a trusted solution for online learning websites. There's a visual course builder, drip content option, quizzes, assessments, and whatnot! In fact, this plugin is also updated now and then to keep you on top of everything that's happening in the online learning industry.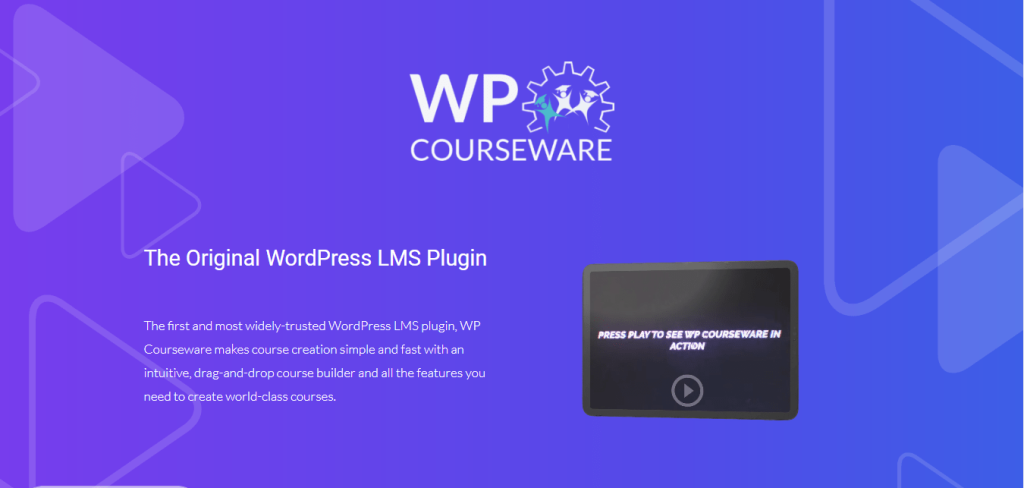 WP Courseware Key Features:
Lets take a look at the Key Features of WP Courseware
It offers a visual drag and drop course builder for creating courses.
Allows integration of multimedia for making lessons more engaging.
Comes with an in-built shopping cart feature for easy course selling.
Enables you to host unlimited courses and enroll unlimited students.
Supports multiple payment options like subscriptions, installments, and more.
WP Courseware Pricing:
Plans start from $129/year for 2 WordPress sites.
7. LearnDash
If you're looking for an intelligent solution for creating courses that ooze professionalism, LearnDash is for you. This LMS plugin is paid. But well, the features that it offers are worth every penny. First, its interface engages both the tutor and the learner. To add to it, LearnDash is based on a "structured course content" model that makes each topic more digestible and easy to grasp. Genius, we know!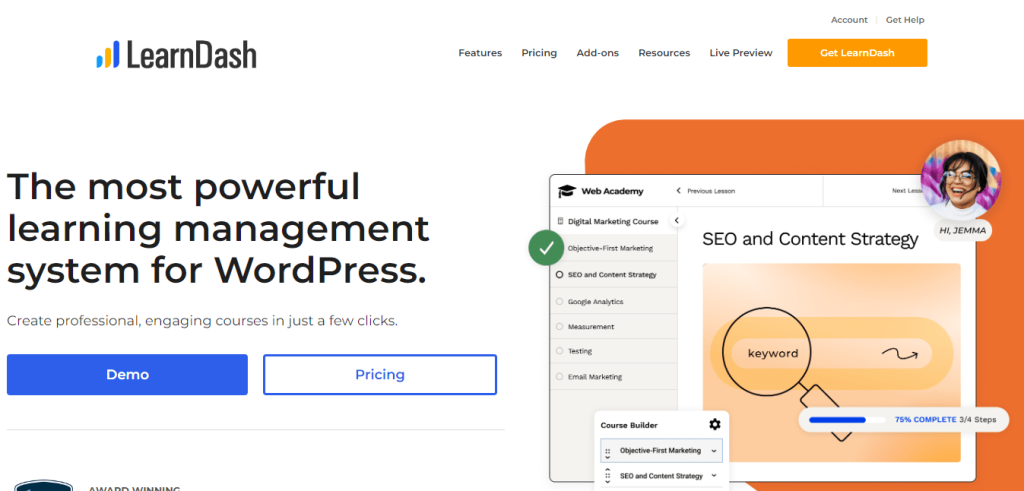 LearnDash Key Features:
Lets take a look at the Key Features of LearnDash
Allows the creation of quizzes and quick assessments after every lesson.
Creates badges and certificates for course completion.
Allows selling of memberships, subscriptions, course bundles, and more.
Integrates with many third-party platforms like Zapier and Mailchimp.
LearnDash Pricing:
Paid plans start from $199/year for 1 site. 
8. Tutor LMS
Tutor LMS is another incredible LMS plugin I can't miss mentioning. Especially if you're looking for a free tool to explore course creation and selling, I'd recommend you try it. It stands out in the market for its features and ease – both of which you'll need to start out as a newbie. And the add-ons that Tutor LMS offers are yet another pro attached to it.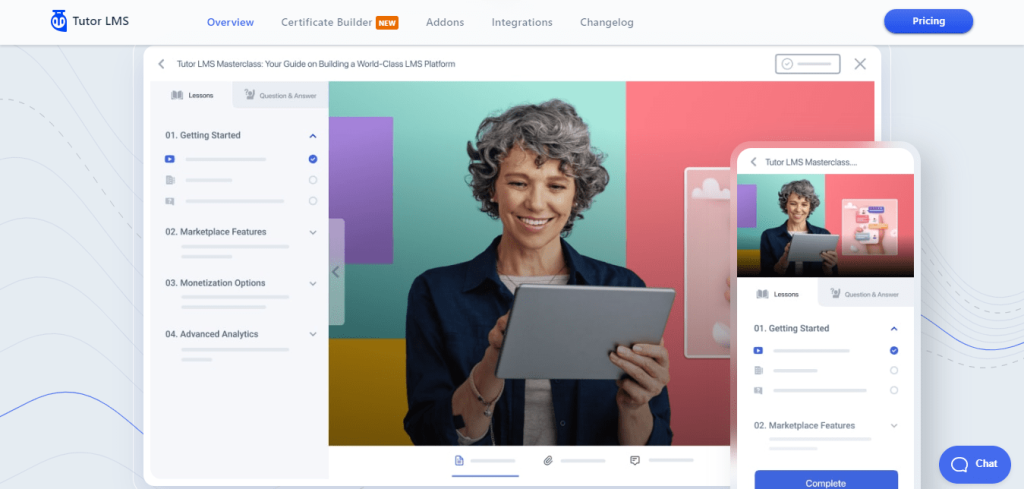 Tutor LMS Key features:
Lets take a look at the Key Features of Tutor LMS
Offers frontend drag and drop builder for building eCourses seamlessly.
Allows embedding videos from YouTube and more.
A Q/A section is also available to enable student interaction.
Compatible with mobile devices.
Integrates with platforms like Gutenberg and WooCommerce.
Tutor LMS Pricing:
Free with paid plans starting from $149/year for 1 site license. 
9. Good LMS
A standalone plugin offered by CodeCanyon, Good LMS is exceptionally great for beginners – thanks to its simple interface. It's efficient, fast, and follows the same formula for course creation as publishing a blog post on WordPress. So well, if you're looking for something basic – both from navigation and course creation points of view – Good LMS is your ideal plugin.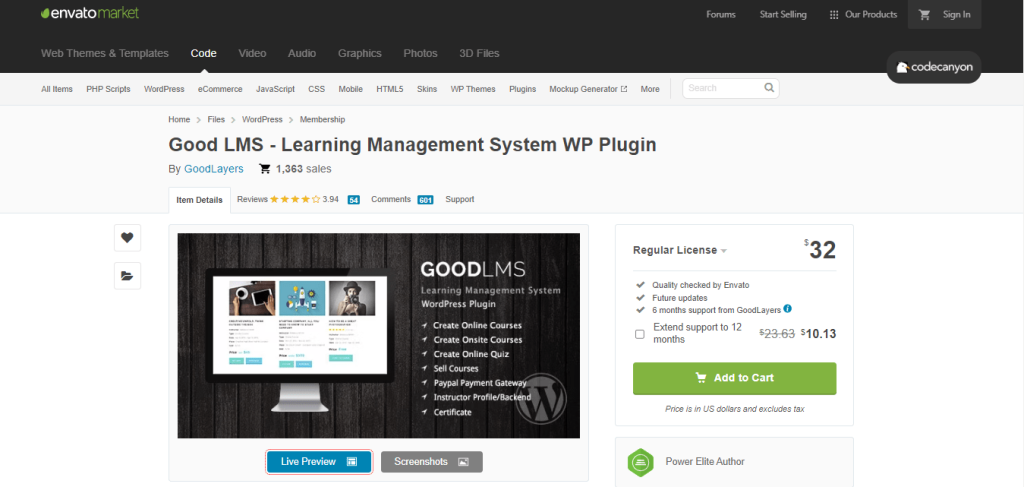 Good LMS Key features:
Lets take a look at the Key Features of Good LMS
Simple and easy to navigate.
Enables you to create and host unlimited courses.
Offers assessments, quizzes, and badges for interactive learning.
Helps you create discount coupons to attract more learners.
Supports various payment gateways.
Good LMS Pricing:
You can purchase this plugin for a one-time payment of $32/license for six months of support. 
10. Sensei LMS
Sensei LMS is an efficient LMS plugin that's also quite popular among coaches and creators. Coming from the house of WooCommerce, I think the biggest pro that this plugin offers is that it builds and streamlines selling for you. Moreover, being a free plugin, its course creation features and integrations are almost the same as some of the best players in this industry.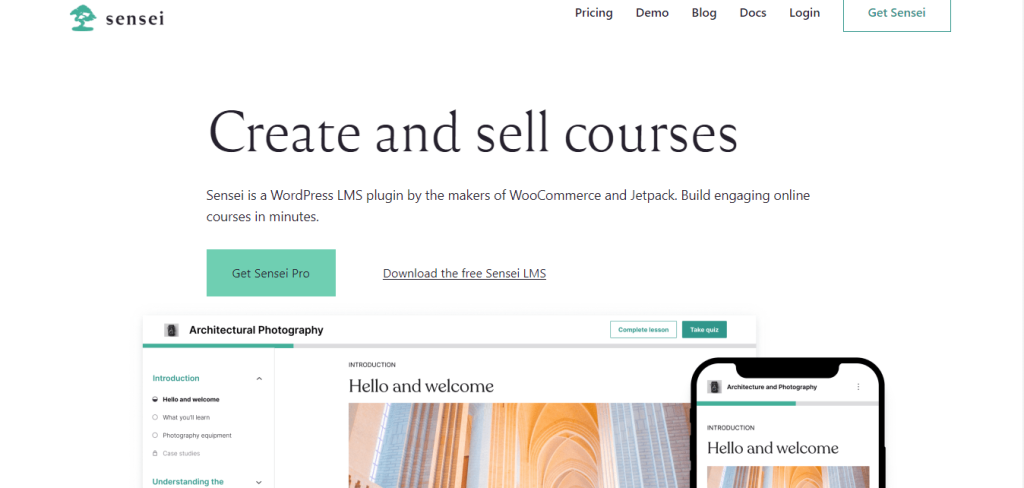 Sensei LMS Key Features:
Lets take a look at the Key Features of Sensei LMS
Offers course creation directly via WordPress editor.
Drag and drop block editor is also available for seamless course editing.
Offers drip course content feature to release bite-size lessons at a time.
Integrates with WooCommerce for easy selling.
Allows embedding multimedia to make learning rich and compelling.
Integrates with VideoPress, H5P, and other powerful tools.
Sensei LMS Pricing:
Free with premium plans starting from $49/year for 1 site. 
11. Masteriyo

It is one stop solution for people who want to create website and sell online. Masteriyo is known as to be one of the best LMS Plugins in the market. It is user- friendly and simple to understand. Another great part about Masteriyo is you can add unlimited courses without any problem. It comes with a free version & paid version. This plug in comes with easy drag & drop which is a great feature. It also has a navigation course option which makes the users know exactly in which section they are.
Masteriyo Key Features :
Lets take a look at the Key Features of Masteriyo
Drag & Drop option available.
Easier to navigate
Simple To Understand
Unlimited Courses & lessons
Customization available
You can create courses from various devices such as iPhone, iPad and other devices.
Masteriyo Pricing :
There are 3 plans for Masteriyo, 1. One site License, $199/ year. 2. License for five sites, $299/ year. 3. License for ninety – nine sites, $499 / year.
12. Teachable 
Last in our list of Best WordPress LMS Plugins is Teachable. It's an independent platform. You can build or create your online course. You can link Teachable with your current website. Customization is available which will help you create an interactive course online. It provides various subscriptions, coupons, & much more. Teachable is best for people for who want to set up their online courses without WordPress.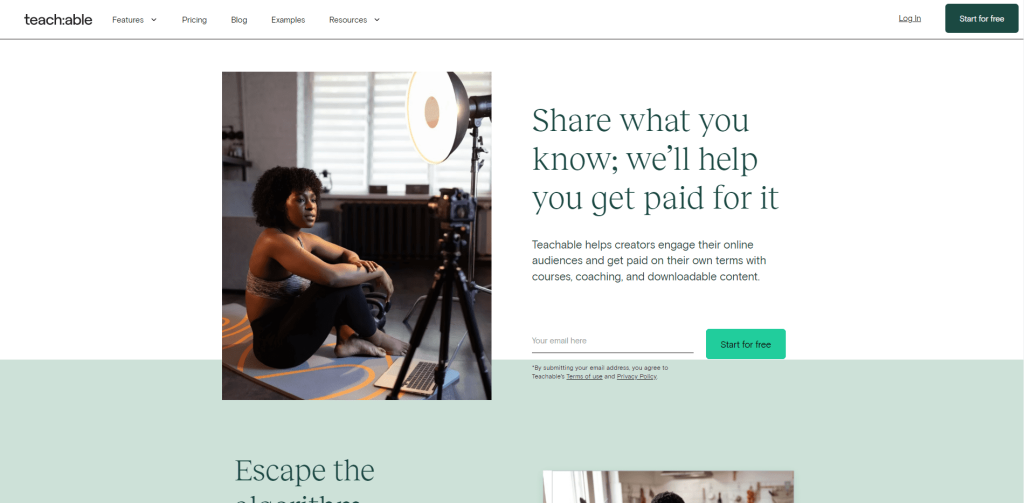 Teachable Key Features :
Lets take a look at the Key Features of Teachable
Customization Available
You will get detailed analytics
Flexible Page Editor
Zapier Integration available.
Teachable Pricing:
You can either have the free version or premium features for $39/Month.
Related Reads:
Bottom line – so what's the best WP LMS plugin of all?
In my opinion, two of the best WP LMS plugins out of all on this list are MemberPress and MasterStudy LMS. Reason?
Well, both of these plugins come packed with all the features you'll ever need to level up your online learning website. Whether it's gamification or drip course content – there's nothing these two plugins fall short of.
Next up, the price at which these plugins come for is also super affordable as compared to other hotshots on the list with the same features (or less, even!).
And being two of the topmost LMS plugins of the time, the customer support these two provide is something you can always be assured to fall back on in case of crisis.
So if you're a creator looking for the best WordPress LMS plugin in the market – go install MemberPress or MasterStudy right now and avail discounted prices like never before!
---