Which are the two most popular WordPress page builders? If you're searching for a detailed comparison between Beaver Builder vs Elementor, two of the most popular page builders available in the market right now, you are reading the right post.
If you have searched for the best page builder to use for designing your own website, we're sure you're aware that these plugins are among the best options available.
However, there are some distinctions to be aware of before making your decision. Both of these products have subtle differences that could influence your decision. Because once you make a decision, you're in it for the long haul, and there's (almost) no turning back. Making the correct decision is critical!
In this detailed comparison of Beaver Builder and Elementor, you will get to know which one is best for you. We took various parameters to compare these two-page builders. By the end of the post, you will get to know which one to choose among— Beaver Builder and Elementor. Let's dive in Beaver Builder vs Elementor. 
Here's a quick Overview Of Beaver Builder vs Elementor
| Sr. No. | Features | Elementor | Beaver Builder |
| --- | --- | --- | --- |
| 1. | Pricing Starts at | $49 | $99 |
| 2. | Responsive Designs | Yes | Yes |
| 3. | Visual Builder | Yes | Yes |
| 4. | Inline Editing | Yes | Yes |
| 5. | Pop Up Builder | Yes | No |
| 6. | Theme Builder | Yes | Yes |
| 7. | Free Version | Yes | Yes |
| 8. | Advance Design Options | Yes | No |
| 9. | Ratings | 4.8/5 | 4.7/5 |
About Beaver Builder
Beaver Builder is a WordPress page builder that is popular among both website developers and do-it-yourselfers. You can create layouts with rows and columns and set up your design with content modules. You'll have detailed control over the design, layout, spacing, and other aspects of each module, row, and column.
It is a drag-and-drop page builder plugin that is simple to use. That is, it allows you to create complex designs and landing pages without any technical knowledge. Its reputation for being developer-friendly, having clean code, and providing reliable updates has resulted in its use on over one million websites.
About Elementor
Note: Wanna get detailed insights into Elementor Pro. We have already done a detailed Elementor Pro Review here.
Elementor is a WordPress page builder that has changed how people design websites. It has the most features, but it is also the simplest to use and master. Elementor is the most feature-rich free page builder. While both plugins give you access to the same page builder interface, Elementor Pro comes with more templates and modules, as well as a few extra features to help you customize your entire WordPress website, create pop-ups, and integrate with a variety of third-party services.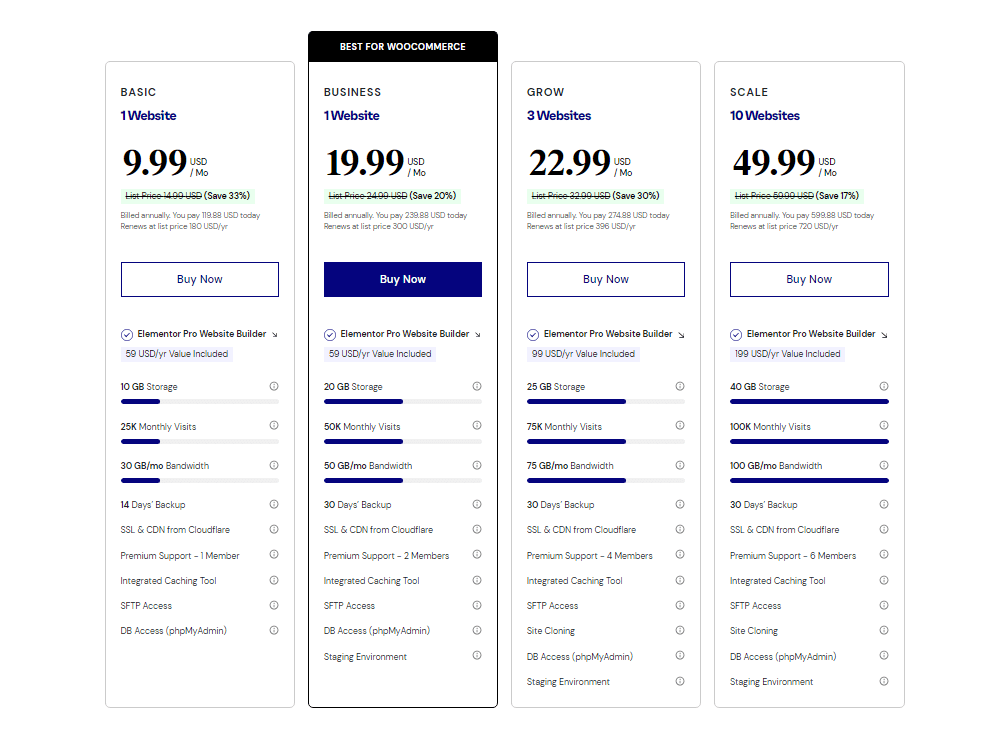 Elementor has also come up with an all-in-one solution called Elementor Hosting (Formerly Elementor Cloud Website ). This plan starts from $9.99/Mo to $49.99/Mo and it will give you hosting from Google Cloud Platform, access to the Elementor Pro plugin, free custom domain connection, free CDN by Cloudflare, automatic backups, and so much more. You also get WordPress installed on your website
Beaver Builder vs Elementor: The Key Differences
Elementor and Beaver Builder are both powerful site design tools. Elementor has a free version, but its PRO version ($49) shines with a large set of elements and a template library. Beaver Builder is still a great option due to its ease of use and low cost.
Beaver Builder vs Elementor: Interface
Although both Elementor and Beaver Builder are visual drag-and-drop page builders, their interfaces look and function differently. Because you'll be spending the majority of your time learning and using the plugin's interface, it should be simple.
Beaver Builder Interface
When you launch the interface, you'll see a full-width preview of your current design. There isn't a fixed sidebar by default, but you can add one if you want. And, while I found it fairly intuitive in terms of page builders, it wasn't exactly efficient. For example, it has a top bar with the Beaver Builder logo on one end and a few buttons on the other. It's only useful when you need to bring the sidebar back into view, but Elementor has a much more elegant solution that I believe Beaver Builder should consider.
In terms of modules, Beaver Builder does an excellent job of providing you with access to all of the most important modules. The list may not be as extensive as that of some other page builders, but I don't believe most people will have any issues. You can always use third-party plugins to add more modules if necessary.
Beaver Builder also supports inline editing, which allows you to add text to the page by clicking and typing. In terms of design options, I would say you get all of the important core options but not the advanced design options that some page builders, such as Elementor, provide.
Responsive design is also supported by Beaver Builder. You can hide certain elements on mobile devices and also change the configuration based on the device of the user. Beaver Builder's templates, on the other hand, are not its strong suit. The templates themselves are fine, but you don't have access to nearly as many as some other tools do.
If you wish to do some coding, Beaver Builder makes it simple to add CSS or JavaScript to the page — press Ctrl + Y to open the code editor. However, unlike Elementor Pro, you cannot add custom CSS directly to a module/section. You can add a custom CSS class or ID to a module but not the CSS itself.
Elementor Interface
When you first launch Elementor, you'll see a live preview of your design on the right and a fixed sidebar on the left. This fixed sidebar is where you do almost everything, including adding new widgets, editing widgets, column, and section settings, and editing page-level settings.
To add content, simply drag a widget from the sidebar to the page. To edit a widget or section, click on it in the sidebar to open its settings. If you don't want to see a full-width preview of your design, you can always hide it by clicking the toggle option in the sidebar.
Aside from the sidebar, Elementor has a few other unique interface features. For starters, it provides full right-click support (which Beaver Builder does not currently provide). When you right-click on widgets or sections, you can access useful options such as copying and pasting all of the content or just the styles.
Elementor also includes a Navigator feature that allows you to view the high-level layout of your design. You can add custom labels to sections to help you stay organized. Finally, you get a Finder feature that allows you to quickly switch between designs or Elementor settings. This is especially useful if you're designing your entire site with Elementor.
Beaver Builder vs Elementor: Design Options
Content sliders, post carousels, contact forms, pricing tables, and WooCommerce product modules are examples of premium modules. These features can significantly reduce the number of additional plugins required to build your ideal website.
Beaver Builder Design Options
Beaver Builder provides you with all of the basic design options you'll need for the majority of your projects. However, it falls short of the more advanced design options provided by Elementor Pro. Beaver Builder, for example, does not provide anything comparable to Elementor Pro's Motion Effects and custom positioning.
Design options can be applied to individual rows, columns, and modules. Although Beaver Builder does not allow you to add custom CSS to individual elements as Elementor Pro does, you can easily add custom CSS to the entire page.
Elementor Design Options
You can use Elementor to apply design settings to specific sections, columns, or widgets. There are three tabs for the design options. The first two provide basic design settings such as typography and colors, while the Advanced tab gives you access to advanced design options. Where Elementor Pro differs from Beaver Builder is that you have access to some unique options, such as the following:
Motion Effects – Add cool scroll effects to your designs to make them more immersive and interactive.
Custom positioning – For pixel-perfect positioning control on your designs, use absolute or relative positioning.
Element-level CSS – You can apply custom CSS to specific widgets rather than the entire page.
Elementor Pro also includes a sitewide design system that allows you to configure sitewide style defaults for consistent designs. This is extremely useful if you use Elementor Pro as a theme builder.
Beaver Builder vs Elementor: Templates Library
The fact that you don't have to design a website from the ground up is a significant benefit of using a page builder. Instead, use templates to expedite the process. Let's see how the template selections of the plugins compare.
Beaver Builder Templates Library
Beaver Builder does provide a reasonable selection of landing pages and content structures to whet your appetite if you rely heavily on templates. And, while the designs aren't going to win any awards, they're still pretty good. (At the very least, they provide a solid foundation upon which to build.) Beaver Builder, on the other hand, will require access to the entire page in order to use one of these templates. However, if you're using an older theme, your design can only go so far as the theme allows.
Unfortunately, the builder does not provide a solution to this issue, so you will need to install a plugin (such as this or this) to add a new option to your page template settings. When enabled, the theme's inherent boundaries are lifted, allowing Beaver Builder to fill the entire page with content.
However, only use this method if you're using an older theme and can't fill a page with Beaver Builder Full Width using WordPress options. Finally, you can save your own templates to reuse later, which is an important consideration if you create a LOT of similar content.
Elementor Templates Library
Elementor has a large number of templates available in both Elementor free and Elementor Pro. Elementor's free version includes over 40-page templates as well as a larger number of blocks. Elementor Pro includes over 200 premium page and block templates.
Once you've created your own designs, you can save them as templates to use again later. You can, for example, create a custom block and save it as a template. You can then access that template from the Elementor left menu and use it on any page. If you reuse elements frequently, it will save you a lot of time. You receive hundreds of individual page and block templates, as well as 80+ complete website kits (with more added every month).
Specific Elementor Pro features have their own templates as well. Popup Builder, for example, includes popup templates, while Theme Builder includes templates for your theme's templates. It's not a mistake – that's template Inception. Aside from that, you can save your own designs to the Elementor template library, allowing you to reuse them in the future easily.
Beaver Builder vs Elementor: Theme Builder
The theme building feature is a very powerful tool that Elementor and Beaver Builder both provide to their users. When you upgrade to Elementor' s premium version, the theme builder is automatically unlocked. On the other hand, Beaver Builder requires the installation of a separate plugin called Beaver Theme.
Beaver Builder Theme Builder
It is an official Beaver Builder team extension that adds full theme building support to Beaver Builder. Beaver Builder was one of the first page builders to offer full theme development, beating out competitors such as Elementor and Divi.
When Beaver Themer is active, navigate to Beaver Builder → Themer Layouts to create templates for your themes':
Header
Footer
Singular (e.g. single blog posts, pages, etc.)
Archive (e.g. the page that lists all of your blog posts)
404 page
You can also create theme parts, which is a really neat feature that lets you inject a design at different parts of your site, kind of like a theme hook.
Elementor Theme Builder
With Theme Builder, Elementor Pro allows you to go beyond designing individual posts and pages. It essentially allows you to use Elementor's interface to design your entire theme by customizing templates for key areas of your site such as the:
Header
Footer
Single post (the template for individual posts and pages)
Archives (the template for the page that lists your blog posts)
If you have a WooCommerce store, you can also customize your single product templates.
You'll use the same interface with Theme Builder. The only difference is that you're creating templates that will be used by some or all of your content. For example, if you're designing a template for a single blog post, you'll include one widget for the post's title, another for the content, another for the author, and so on.
Beaver Builder vs Elementor: Styling Options
Both Beaver Builder and Elementor offer styling options that you can use to give styles to different modules and sections. Here I have compared the styling options of both tools in detail.
Beaver Builder Styling Options
Beaver Builder takes up the color & fonts of the theme you choose for your website, which allows you to stay consistent with styling. There are four options for styling on Beaver Builder: Separator, Style, Advanced Options, and Typography. When you are using the style option, then you can change the width, height, content width, border, background, and color of any page. You will find options like visibility, spacing, responsive layout, and HTML element when you use advanced options.
Separator gives your elements an elegant look. The options for separators are line style, separator position, separator style, thickness & width, and line color. The typography styling option controls how your text is going to look. The options for typography are text color, margins, HTML tag, font size, style, and face.
Elementor Styling Options
You can find basic and advanced styling options on Elementor, depending on the version you're using. Basic styling options are available on Elementor free version, and to unlock the advanced styling options, you need to upgrade to Elementor Pro. In the basic styling options, you can find options like typography, text color, blend mode, and text-shadow.
In the advanced styling options, you can change the scrolling effect, background, border, responsiveness, attributes, and add custom CSS elements. It also allows you to set custom values depending on the screen size, which will make your website mobile and tablet responsive as well.
Beaver Builder vs Elementor: Popup Builder
Elementor Popup Builder allows you to use the visual interface of Elementor to create custom popups that can be displayed anywhere on your site. This feature is not available in Beaver Builder, so this is a significant advantage of using Elementor Pro.
The popup builder interface is identical to the regular interface. You get all of the same widgets, design options, and so on. One new feature is a new Popup Settings area where you can control the canvas of your popup. You can modify its size and placement to create various types of popups such as modal popups, notification bars, slide-ins, and so on.
Beaver Builder vs Elementor: Pricing Battle
If a page builder is feature-rich, user-friendly, smooth, and responsive, and contains all of the required elements, but it is too expensive and exceeds your budget, it is useless to you. The pricing packages, as well as your budget, govern everything. Elementor and Beaver are low-cost page builders that offer excellent value for money.
Beaver Builder Pricing Modules
It currently offers one free version and three premium Beaver Builder Pro packages. Beaver Builder Pro is available in three editions: Standard, Pro, and Agency. Like many page builders in the market, Beaver Builder provides a variety of premium product tiers for users with advanced requirements. All of the plans allow you to use Beaver Builder on an unlimited number of websites, which distinguishes it from many other page builder plugins.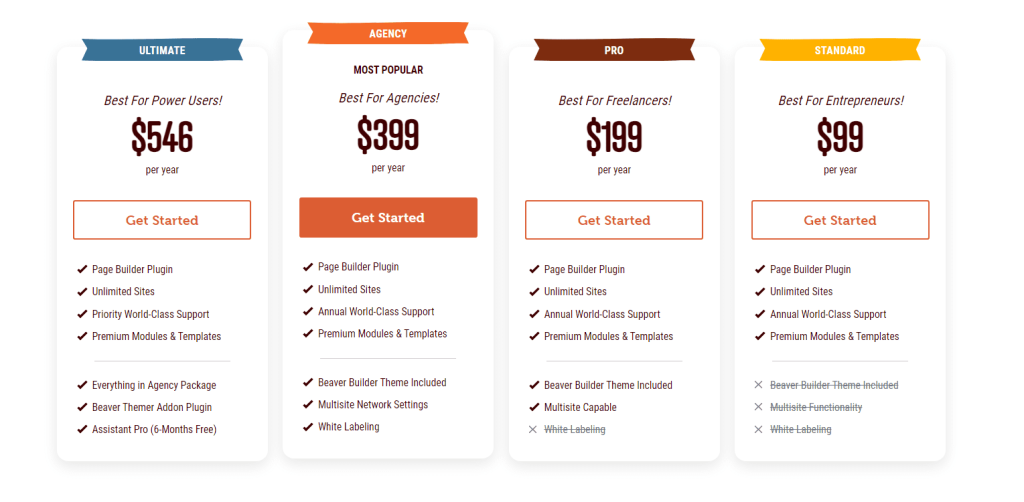 Standard (Price: $99)
The Standard plan includes premium modules and templates as well as one year of customer support. You can also save your page layouts for later use and even export them to be used on other sites.
Pro (Price: $199)
Pro Plan includes all of the same features as the Standard plan, plus WordPress multisite support and access to the Beaver Builder theme.
Agency (Price: $399)
This plan includes all of the same features as the Pro plan, plus multisite network settings and white labeling, which allows you to replace all Beaver Builder branding with your own.
If you prefer to test out a product before deciding if it's the right fit for you, you can purchase a package and request a refund within 30 days of purchase if the builder fails to meet your expectations.
Each package includes the ability to use Beaver Builder on an unlimited number of sites, priority support for one year until the license expires, and access to premium modules and templates. The main distinction between the three is that only the Pro and Agency packages include access to the Beaver Builder Theme.
The Beaver Builder theme is a lightweight WordPress base theme designed to work in tandem with Beaver Builder. The idea is that you use the Beaver Builder Theme to handle non-content areas like the header, footer, and blog templates, and then use Beaver Builder to design the actual content.
Ultimate ($546)
Ultimate plan includes all same features of Agency Package with Assistant Pro ( 6 months ). With Multisite Network Setting and White Labelling it is the most advance plan.
Elementor Pro Pricing Modules
Elementor currently offers a free plan and three paid plans for users to choose from. The free version has limited options and is designed to entice users to purchase paid plans. There are currently the following 4 plans on offer:

Essential Plan
Price: $59 per year
Only 1 website
Drag & Drop Live Editor
Responsive Design
90+ Basic & Pro Widgets
300+ Basic & Pro Templates
60+ Pro Website Kits
Theme Builder
Premium Support
Expert Plan
Price: $199 per year
Up to 25 websites
Drag & Drop Live Editor
Responsive Design
90+ Basic & Pro Widgets
300+ Basic & Pro Templates
60+ Pro Website Kits
20 Expert Website Kits
Theme Builder
VIP Support
Experts Network Profile
Agency Plan
Price: $399 per year
Upto 1000 websites
Drag & Drop Live Editor
Responsive Design
90+ Basic & Pro Widgets
300+ Basic & Pro Templates
60+ Pro Website Kits
20 Expert Website Kits
Theme Builder
VIP Support
Experts Network Profile
Free vs Premium
Elementor and Beaver both have free and a premium version available. Let's compare both Elementor's free version and Beaver's free version.
Elementor Free vs Pro
Elementor's free version functions are great, and you might start thinking why should be paying for the Pro version. Free version consists of basic functionalities. Keeping it simple. You might need more features but for some people it is totally fine. The free version does give you more functions and flexibility compared to the WordPress editor.
Drag and Drop Option, 40+ Widgets, Mobile responsive are the important features you will have in Elementor Free.
Beaver Builder Free vs Pro
Similar to Elementor Beaver Builder also has a free version. But when compared to Elementor's free version it doesn't stand a chance. It has very limited features and isn't that useful. The free version only allows you to check the interface whether you like it or not. People usually choose WordPress Block editor over Beaver. But if you are going to use Beaver Builder than you better go for the premium plan rather than the free version.
Pros & Cons
Let's check the pros and cons of Beaver Builder and Elementor.
Beaver Builder Pros and Cons
Overall, I believe Beaver Builder is a very good plugin from a reputable development team. It has been around for over seven years and has developed a wonderful community in that time. However, whether or not you should use Beaver Builder is ultimately determined by what you look for in a WordPress page builder plugin.
PROS
Here are the Pros for Beaver Builder
Intuitive user interface (beginner friendly)
Decent library of page templates
Ability to save templates and content sections to reuse later
Several reliable support options are available
Use on unlimited sites (even on the cheapest plan)
Save modules and rows to reuse globally
Great support channels are available
CONS
Let's take a look at the Cons of Beaver Builder
Doesn't stand out with any special feature – The Beaver Builder is just another face in the crowd
Pretty expensive
Elementor Pros & Cons
Elementor is without a doubt one of the best, if not the best, free page builders on the market. This feature-rich WordPress plugin competes with many premium, more established page builders, and development shows no signs of slowing. Now that I've gone over all of the different features and functions of Elementor, it's time to weigh the pros and cons.
PROS
Following are the pros of Elementor
The core product is 100% free
Great user interface
Global widgets are awesome
Open-source
Active Facebook group
Extreme customization
Regular updates
CONS
Let's take a look at the cons of Elementor
Forced styling by default
Global vs static templates can be confusing
Lacking some marketing-oriented features
Fewer page templates than some competitors
Related Read:
Conclusion: Beaver Builder vs Elementor
While you could always try each page builder on your own to see which one is best for you, we're guessing you're reading this article because you want us to help you with that. So, between Elementor vs Beaver Builder, which one is best for you?
Choose Beaver Builder If
Beaver Builder is a popular WordPress page builder plugin. It doesn't have as many design options as Elementor, but it does have a very stable, reliable interface and all of the features that the majority of people will require.
I like the idea of using a page builder to create my entire theme.
I believe it is beneficial to be able to create multi-column designs using drag and drop.
If I ever deactivate my page builder, it must leave clean code behind.
Despite its limitations, Beaver Builder is a dependable, user-friendly WordPress page builder plugin that I personally used to create stunning websites. Its clean code, developer-friendly features, dependable updates, and excellent support make it one of the best page builders available.
Choose Elementor If
Because Elementor's free version is so generous, you should simply install it on a WordPress test site and experiment with it. If you like how the interface works, you should think about upgrading to Elementor Pro for theme creation, more elements/templates, and other useful features.
I like that I can edit text right on the page (in-line editing).
I'd like to have as many advanced styling and responsive design options as possible.
I'd like to have as many pre-made templates as possible.
If I ever deactivate my page builder, it must leave clean code behind.
To summarise, the main advantage of using Elementor is that you can create visually stunning page layouts and designs whether you are an amateur with no experience with site-building or a professional. This is especially important if you are on a tight budget and do not wish to hire someone to assist you with the site.