If you're looking to create a website in 2023, you might not have any prerequisite coding knowledge to do so. Multiple no-code website builders have become exceedingly popular thanks to their ease of use, beginner-friendliness, and high level of customizability.
Enter Beaver Builder.
One of the most popular drag-and-drop page builders used by WordPress users. Beaver Builder is the tool you need for all of your site-building needs. It is used by bloggers, e-commerce owners, designers, and developers to create intuitive, engaging websites with just a few clicks.
Alongside its no-code drag-and-drop feature, it also allows thousands of customization options. Right from the background color to the typography, header content, image preview, and site responsiveness when used on mobile devices.
In this blog, I'll be covering a few essential aspects of Beaver Builder. Such as its key features, pricing, updates and customer support, and overall responsiveness – all the information you could ever need while browsing through multiple page builder tools, trying to figure out which one's the best for your website.
Beaver Builder Review: In A Nutshell (2023)
| | |
| --- | --- |
| Features | 4.5/5 |
| Pricing | 4.5/5 |
| Ease of Use | 5/5 |
| Customer Support | 5/5 |
| Overall | 4.5/5 |
Beaver Builder's biggest offering is its drag-and-drop page builder. It lets you import content onto your website without having to manipulate lots and lots of code. You can also see how the content/media that you've just added to your website will look when a customer visits in real-time.
Beaver Builder offers a ton of customization options. Integration with thousands of WordPress themes, and a responsive design for better accessibility on both mobile and desktop devices. As for pricing, its pricing plans start at $99 for a Standard membership.
A flexible, easy-to-use, well-priced site builder, Beaver Builder is an excellent choice for your website.
Beaver Builder Review Overview
Beaver Builder is currently used by over 100,000+ sites on WordPress. Including some of the biggest names in WordPress, such as GoDaddy, WPEngine, etc. It is known for the flexibility it offers its users, especially when it comes to theme and overall website editing.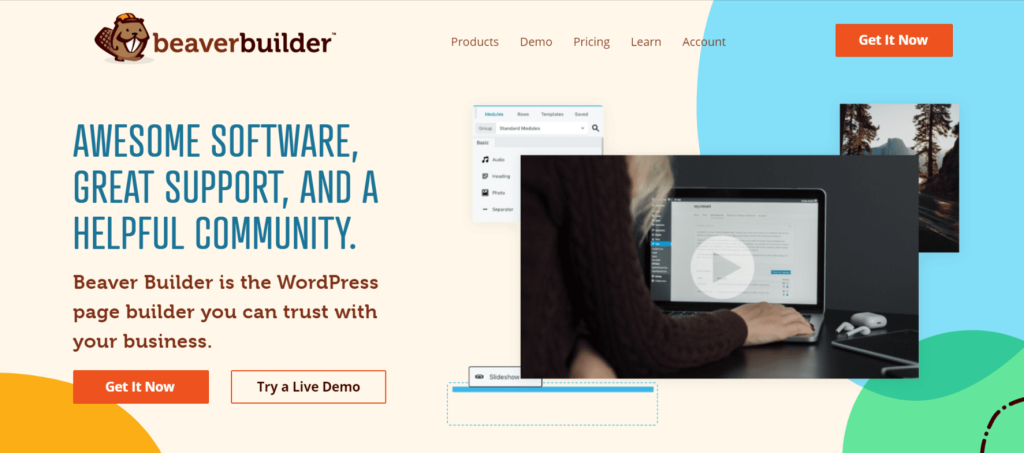 It was created to solve one huge problem every single website owner faced while creating or editing their site tech-heaviness. If you wanted to change the content on one webpage, change the typography, or switch up your theme to match your brand identity, you had to familiarise yourself with complex coding languages or hire someone to do the editing for you.
Thanks to Beaver Builder, you can edit an unlimited number of websites. Even use the tool as a plugin for quick and easy site editing. Beaver Builder's community of designers, developers, and marketers is an excellent resource for anyone looking to share their ideas or get inspired!
Now that you have an overview of the tool let's dive into Beaver Builder's top features!
Beaver Builder Review: Top Features
Lets Look into the Top Features of Beaver Builder :
1. Drag-and-drop page building
Beaver Builder's highly intuitive interface allows you to easily add and rearrange textual and visual elements on a webpage using a drag-and-drop interface.
As mentioned before, this saves you a lot of time and effort while redesigning your website or starting afresh.
Your website should represent your brand. Being able to control and customise every inch of your website makes for an excellent user experience. Also, minimises any lags or glitches, or even design errors.
2. Multiple templates and modules
The plugin includes a variety of pre-designed templates and modules. Which you can use for a quick start while designing your website.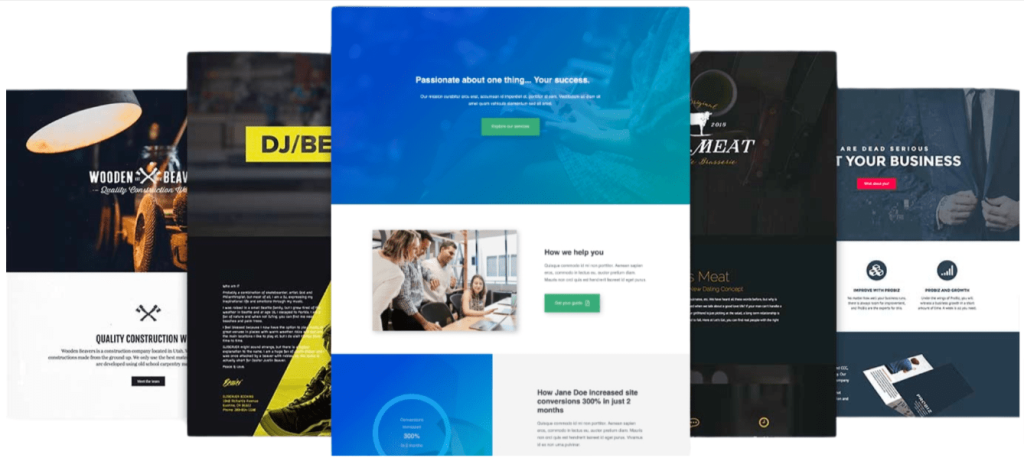 You can also share your designs or templates with the Beaver Builder community or post your templates on social media. You need not worry about the templates being too rigid because you can keep and remove any part of the template you want, according to your design needs.
3. Multiple Customization options
Beaver Builder includes tools for managing and styling content on your website, including thousands of options for customising typography, colours, and more.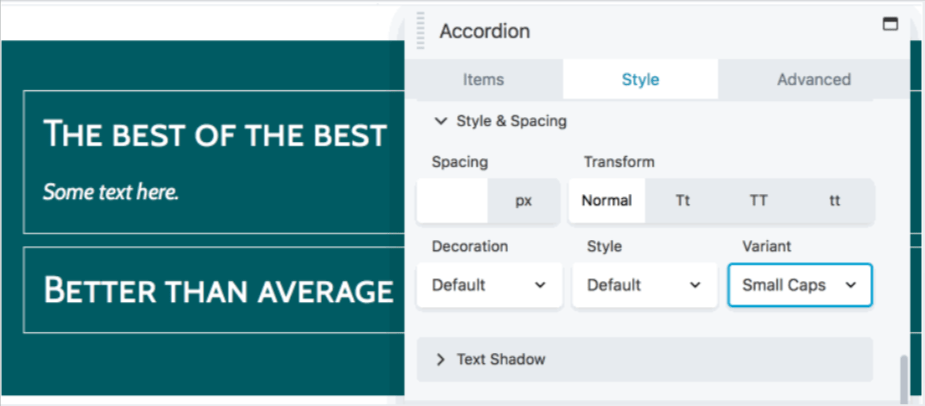 You can choose header and footer options, slideshows for product showcases, integration with social media platforms using social media icons, and column layouts.
4. Responsive design
Beaver Builder automatically adjusts the layout of your website to fit different screen sizes and is optimised to load quickly and seamlessly on mobile devices. Making it highly accessible for your target audience, no matter which device they use to access your website.
5. Multilingual support
Beaver Builder includes support for multiple languages. Making it easy for you to reach a broader segment of people, including a diverse international audience.
6. SEO-friendly
Organic reach is one of the main features of a well-performing website. Beaver Builder is a site builder that allows you to make your website as SEO-friendly as possible, such as providing options for custom meta descriptions and tags for your images.
7. Multiple Integration Options
Beaver Builder integrates deeply with popular WordPress plugins such as Gravity Forms, WPForms, and Yoast SEO, allowing you to borrow from their features to create a seamless, high-performing website that boosts your marketing efforts.
Beaver Builder: Customer Support & Updates
In terms of customer support and updates, Beaver Builder has set up a comprehensive system for both, which I'll talk about below.
Extensive documentation:
It has compiled an extensive list of all the resources you could possibly need before getting started with the site builder. You can find FAQs on how to get started with Beaver Builder, things to keep in mind, troubleshooting options, and guides to customizing your website
Video Tutorials:
With the Beaver Builder Plugin, you can access a host of video tutorials that take you through all of its customization options, tips, and tricks to creating a solid website, as well as step-by-step guides that you should keep handy while creating your website.
Community Forum:
The Beaver Builder community has thousands of members and regularly answers questions any new user may have. The community is your best bet for finding solutions to any problems or issues you may face!
Beaver Builder Review: Pricing
Beaver Builder is a premium plugin that charges its users to use it. It offers multiple pricing plans, charged on a yearly basis –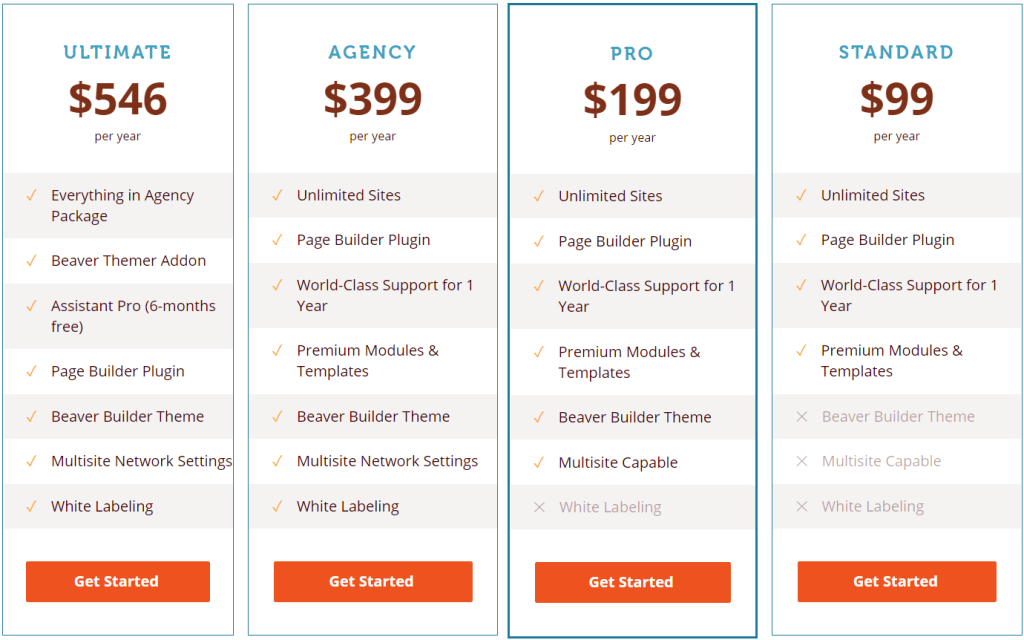 Beaver Builder Standard Plan:
$99 per year, includes all of the core features of Beaver Builder, plus access to all of the plugin's templates, modules, and add-ons.
Beaver Builder Pro Plan:
$199 per year, includes all features of the Standard plan, plus additional templates, modules, and add-ons. You also get access to Beaver Builder's Beaver Themer add-on, which allows you to create custom templates for different sections of your site.
Beaver Builder Agency Plan:
$399 per year, includes all of the features of the Pro plan and access to Beaver Builder's Multisite Network Support add-on, which allows users to use the plugin on more than one website.
Beaver Builder Ultimate Plan:
You can buy the Ultimate plan for $546 which has all the advanced features or opt for the Beaver Builder add-on for $147. 
Beaver Builder Review: Ease of Use
Beaver Builder has been created keeping in mind user experience and user-friendliness. The builder is extremely easy to use and offers a wide range of customization options that you can tweak according to your need without limiting any of your design options.
The tool is highly intuitive, with a clutter-free, clean, and efficient interface. You can use Beaver Builder's live preview feature, which allows you to see the changes you make on your website. In real-time instead of you having to wait for a fixed period of time, such as one-two hours, to see the changes on your website.
Overall, Beaver Builder is the best there is for user-friendliness, perfect for any site owner regardless of their expertise with site-building.
Beaver Builder Review: Pros & Cons
Here are some pros and cons of Beaver Builder that you should keep in mind.
Beaver Builder Pros:
Lets have a look at Beaver Builder Pros:
Ease of use: Beaver Builder is designed to be user-friendly, with a highly intuitive interface that makes it easy for you to create and edit layouts. The Builder also
Flexible: The plugin offers a wide range of customisation options ranging from typography to colour scheme, letting you create unique and visually appealing websites in a matter of hours.
Ultra-Responsive Design: Beaver Builder automatically adjusts your website and its content to make sure it fits different screen sizes, an excellent feature to have while creating an optimised website.
Support for Multiple Languages: The plugin and site builder offer support for 25+ languages, helping you reach and engage a broader, more diverse audience base with your website.
SEO-friendly: Beaver Builder is the tool you should use if you're looking to create a website optimised for organic reach. Adding meta descriptions, tags, and optimised images on your site is an excellent way to make sure your website is SEO-friendly.
Beaver Builder Cons:
Lets have a look at Beaver Builder Cons:
Starting from Scratch: If you wish to create your own code-based layout from scratch, Beaver Builder may be less helpful as a drag-and-drop site builder for you.
Limited Design Options: While Beaver Builder offers a wide range of customisation options, you may find that it does not offer as much flexibility as other page builder plugins when it comes to layouts of coding options.
Compatibility Issues: A few users have complained about compatibility issues while using the plugin/site builder with their WordPress website.
Learning Curve: While Beaver Builder is designed to be user-friendly, it may take some time for you to acquaint yourself with all of the options it offers.
Related Read:
Final Thoughts – Beaver Builder Review
Beaver Builder is one of those plugins that are extremely versatile. Making it perfect for site owners across different skill levels, niches, and industries.
Bloggers, coders, designers, and marketers all find Beaver Builder an extremely efficient tool while creating or editing their websites. It is been praised for its intuitiveness, flexibility, and affordability.
Beaver Builder is perfect for you if you're looking to create a website that's no-code, easily editable, and optimized for SEO, multilingual support, and mobile devices. While Beaver Builder may seem a bit pricey at first, its features are definitely worth the price.
---