Want to know the Best 13 Free Drupal Themes? This one is for you. 
The open-source web Content Management System is loved by thousands of users across the globe. When it comes to building a website framework that's light, fast, and attractive – be it for blogs or online stores, choosing the right theme on Drupal is of utmost importance. Thanks to Drupal's large library of customizable and ready-to-use themes, you're spoilt for choice.
This blog will take you through 10 of the best, completely free-of-cost Drupal themes that you can use to boost your site, drive in more users, focus on user-friendliness, and build a better user experience, all for absolutely free!
Top 10 Free Drupal Themes In 2023 Overview (Handpicked)
I'll be taking you through Drupal themes that are perfect for your site, no matter your niches – such as charity, business, and even e-commerce!
| | | |
| --- | --- | --- |
| Sr. No | Free Drupal Theme | Best Feature |
| 1. | Danland | Supports 25+ website regions |
| 2. | Zircon | Image Carousel Feature |
| 3. | FontFolio | Option To Show or Hide Your Page Titles for a Seamless, Smooth Website Look |
| 4. | Business Responsive Theme | Clean markup and HTML5 support |
| 5. | Showcase Lite | Supports a Whopping 34 regions |
| 6. | Corporate Clean | Superfish Module Support |
| 7. | Skeleton | CSS-supported Drop-Down Menus |
| 8. | Charity | Well-Organized Sass Code |
| 9. | Minimal Lite | Horizontal Tabbing System For Better Accessibility |
| 10. | Facdori Theme | Supports HTML, Bootstrap 4, CSS3, & SAAS. |
13 Best Free Drupal Themes In 2023
Let's get Started with the Free Drupal Themes in detail :
1. Danland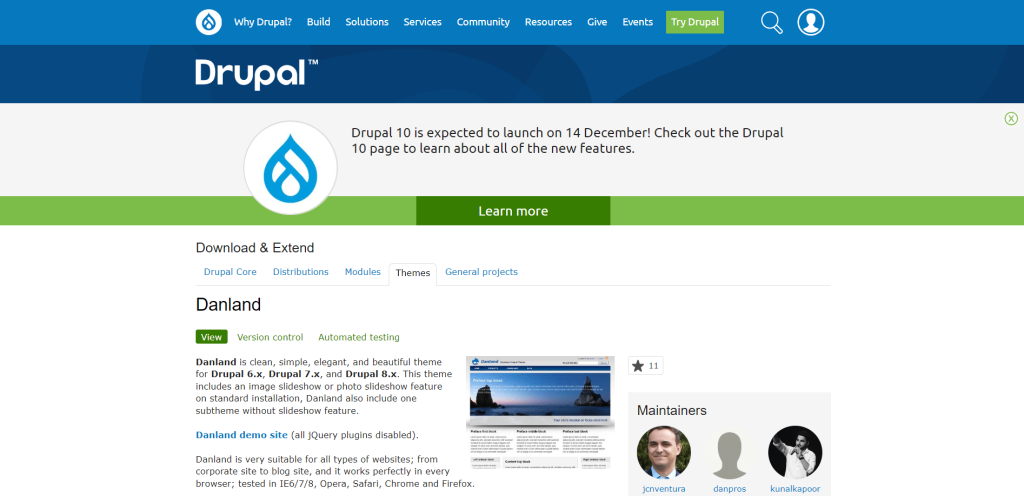 A popular theme on Drupal, Danland is the perfect theme for anyone looking to customize every component of their site, down to the smallest detail. Drupal comes with a wide range of features and layout options that you can use to create a site you want, just the way you (and your audience) like it.
Danland Key features:
Let's Look in the Key Features of Danland:
1, 2, or 3-column layout options
For better organic reach, a table-less design is supported
16+ collapsable block options
Slideshow feature for better product showcase
Customizable front page
Supports 25+ website regions, one of the best in this list
Extra-wide image banner option
Runs on Drupal 6, 7, and 8 versions
Optimized for mobile devices
Compatible with most popular browsers
2. Zircon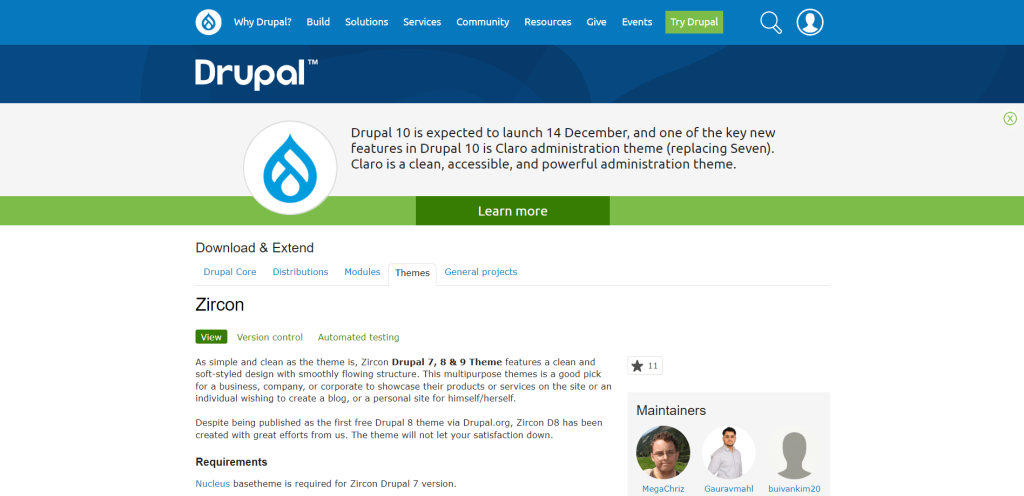 For an image and visually-rich website, the Zircon theme on Drupal is a must-have. The way that the theme is designed allows for better, more prominent image-based showcasing instead of a text-heavy website that might bore users. E-commerce owners can use this theme to advertise their most recent or popular products without having to worry about sacrificing text or header space, thanks to Zircon's layout options.
Zircon Key features:
Let's Look in the Key Features of Zircon:
Slideshow option for product showcase
Slider option of image sets/albums
Supports 15+ regions
Available on Drupal 6, 7, and 8
Image carousel feature
Optimized for mobiles and tablets
Fully responsive theme
3. FontFolio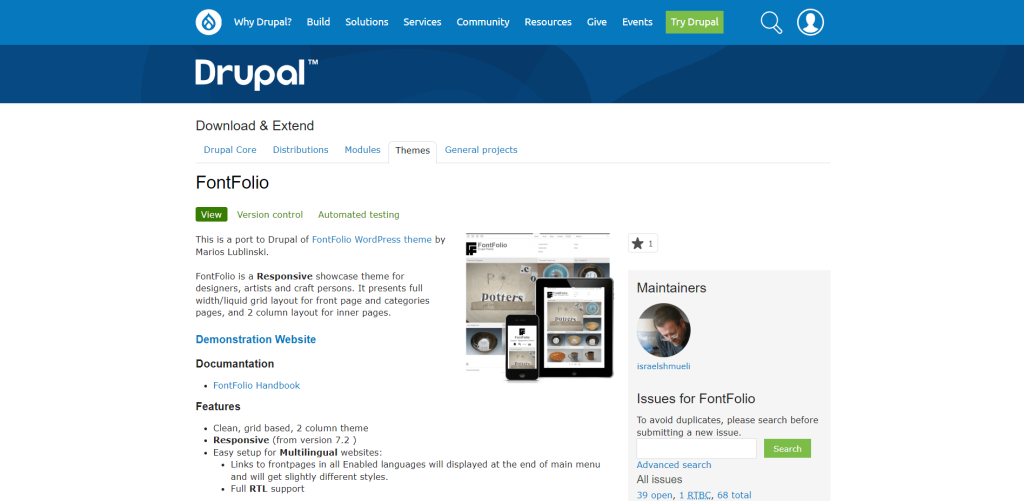 If you're an artist, craftsperson, or an e-commerce owner in the pottery, jewelry, or craft niche, FontFolio is the best theme for your site. FontFolio is a theme perfect for anyone looking to let their art and product do the talking. With its beautiful, earthy color palette, FontFolio is a Drupal theme that is worth checking out.
FontFolio Key features:
Let's Look in the Key Features of FontFolio:
2-column text layout for a decluttered look
Responsive and speedy theme
Seamless setup for sites needed multilingual support
Support with different view styles
Full RTL support
Interactive social network icons to help direct your audience to your social media pages
Option to show or hide your page titles for a seamless, smooth website look
4. Business Responsive Theme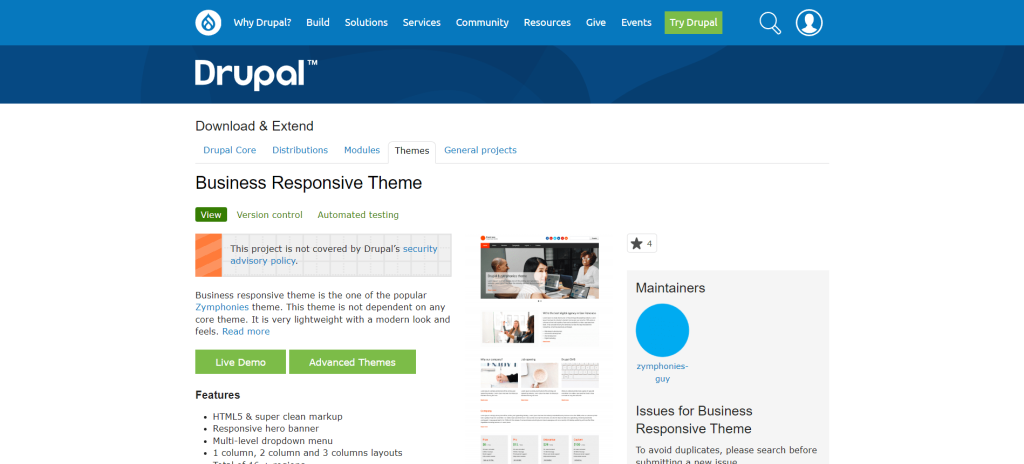 The best Drupal theme for businesses and corporates, Business Responsive Theme delivers exactly what it promises to. It's a speedy, attractive theme with a clean, professional look. The best part about this theme is how responsive it is, which is a big factor when deciding upon a theme for your business website, the very first impression your audience will have of your brand.
It is currently used by over 5000 websites on Drupal and is a no-brainer choice for small and medium-sized businesses.
Business Responsive Theme Key features:
Let's Look in the Key Features of Business Responsive Theme:
Stable, responsive design
1, 2, and 3-column design
Integrated with social media icons (such as Facebook, Instagram, Vimeo, and Pinterest)
Clean markup and HTML5 support
Supports 18+ regions
Customizable front page with slider options
Attractive typography options
Supports Nivo Slider
5. Showcase Lite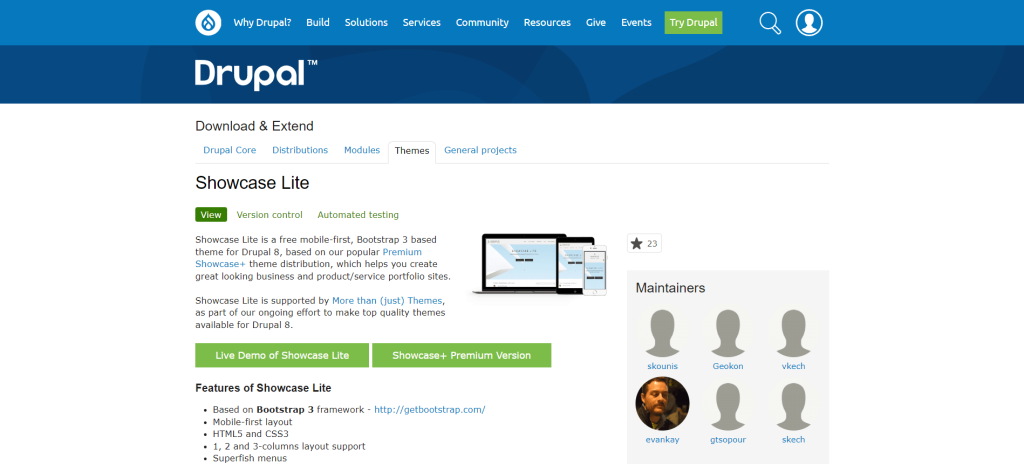 Choosing a theme that's optimized for mobiles and tablets, considering most of the research your audience does is from their mobile devices. Showcase Lite is the best theme for your business, especially if you're looking for an optimized, feature-packed, completely free Drupal8 theme. It has garnered over 2000+ downloads since its release and shows no signs of taking a backseat in the list of the best free Drupal themes.
Showcase Lite Key features:
Let's Look in the Key Features of Showcase Lite:
Supports almost all font and typography styles
Based on the Bootstrap 3 framework
HTML5 and CSS3 support
Fully optimized for mobile devices
1,2, and 3-column options
Supports a whopping 34 regions
Supports Font-Your-Face for extra typography customization
6. Corporate Clean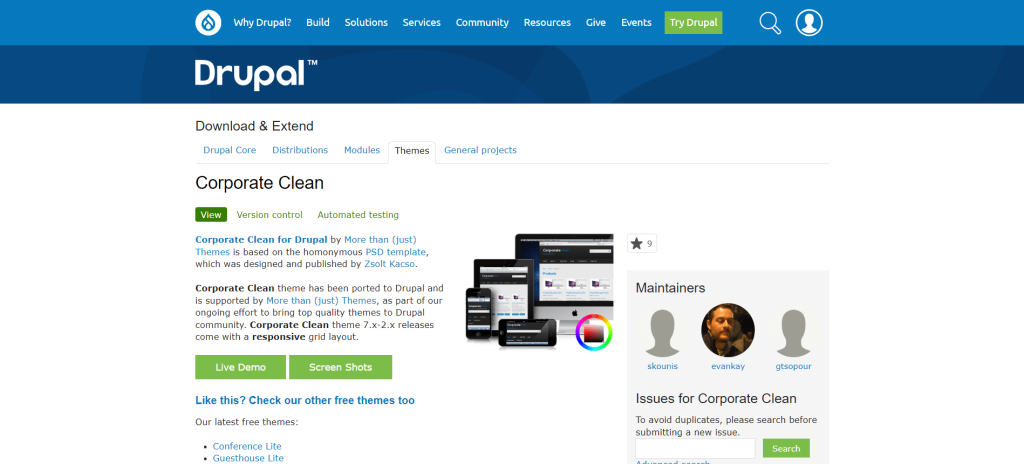 A well-rounded, feature-packed theme for businesses and professional site owners, Corporate Clean is a favorite amongst Drupal users. It's responsive, fast, and allows for a wide range of customization for fonts, typography, and even color palettes, for an attractive site in line with your brand identity. Corporate Clean currently supports, just like the other free themes, 1,2, and 3-column support for efficient utilization of site space.
Corporate Clean Key features:
Let's Look in the Key Features of Corporate Clean:
Customizable color palette
Responsive, optimized for speed
Multi-level drop-down options
Slideshow views for product showcasing
Compatible with Drupal7 and 8
CSS support
Breadcrumb display
Superfish module support
7. Skeleton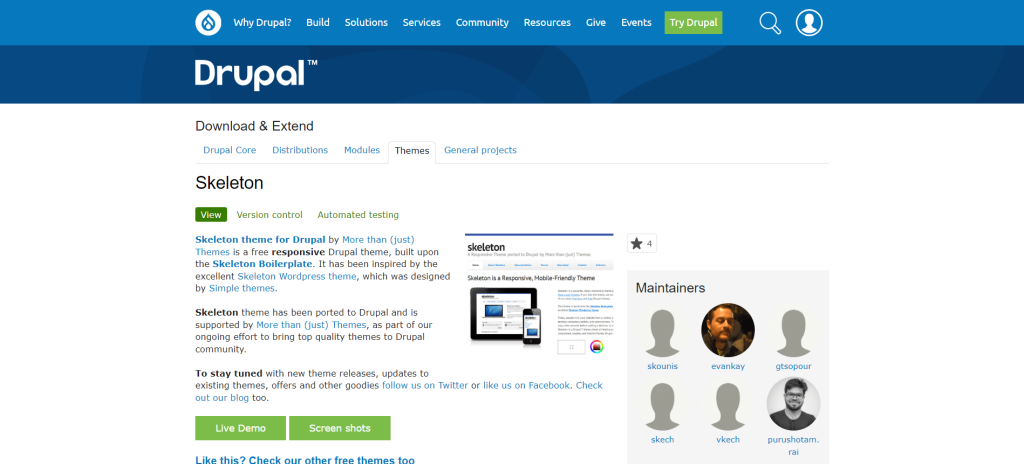 This theme for Drupal8 is inspired by the Skeleton theme for WordPress. It is a highly responsive theme perfect for a site owner looking for a free solution to a clean, fast, and optimized theme for their brand. The best part about Skeleton is its high level of customizability in terms of layout and presentation. Created over Skeleton Boilerplate by Simple Themes, you need to consider this mobile-friendly theme for your next Drupal website.
Skeleton Key features:
Let's Look in the Key Features of Skeleton:
Optimized for mobile devices for better reach and engagement
Multiple color schemes for an attractive site layout
1,2, and 3-column layout support
CSS-supported drop-down menus
jQuery Responsive Menu Plugin that converts your site's navigation section into a drop-down menu when it is accessed from a mobile device
CSS3 buttons in multiple sizes and colors
14 website regions are supported
Support for blog core module
Supports all standard Drupal features
CSS rules for Comments, Comment form, Contact form, User pictures in Comments, etc.
8. Integrity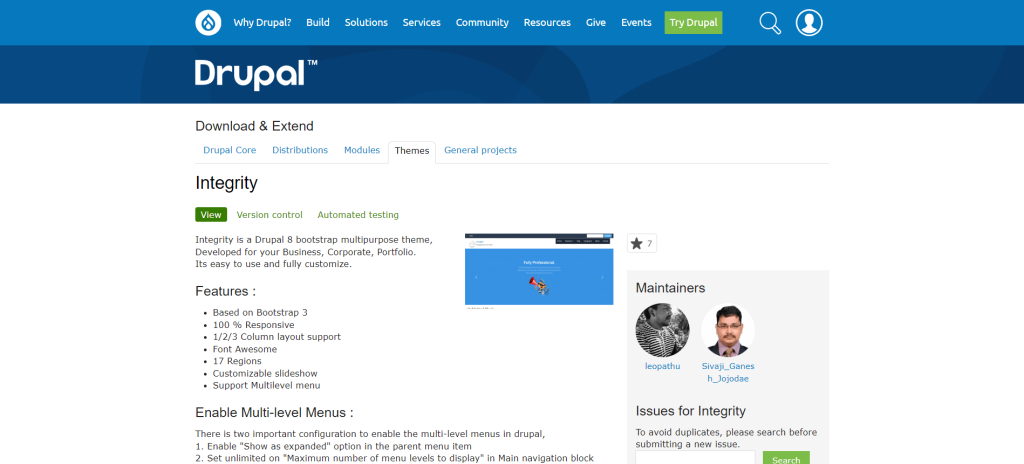 Simple, clean, and powerful, Integrity is an amazing plugin for a minimalist, low-effort website that can be up and running in no time. It is very easy to use, making it perfect for beginners and small businesses, and it offers a host of services, all for completely free! You can use the Integrity theme for your personal or professional portfolio, business, or corporate site.
Integrity Key features:
Let's Look in the Key Features of Integrity :
Fully responsive theme
Based on Bootstrap3
Supports 1,2, and 3-column layout
Supports 15+ regions on your website
Multilevel menu options
Highly customizable slideshow option
9. Charity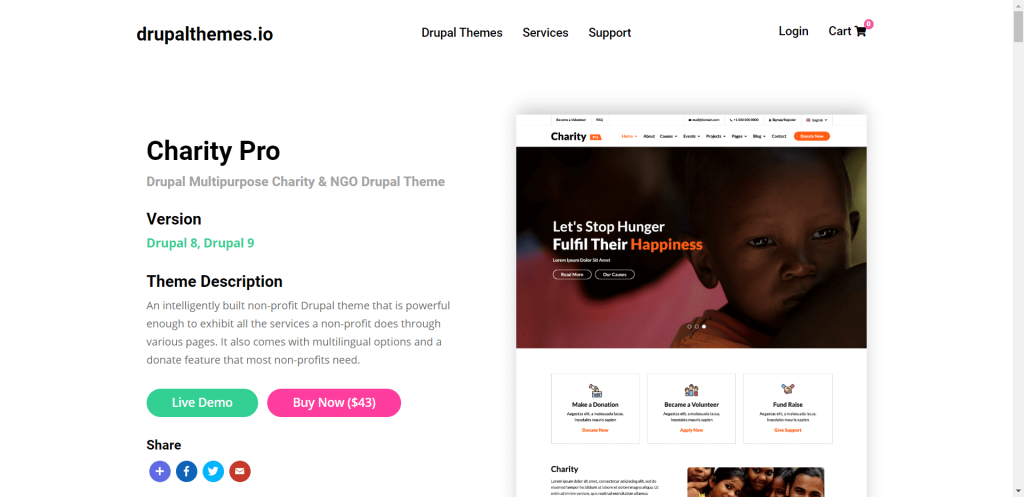 A theme built for a very specific niche, Charity is a one-stop option for all charities, non-profits, non-governmental organizations, and fundraiser campaigns. The theme is easy to use, light, and captures the attention of your audience to drive better engagement towards the cause you wish to work towards. The best part about Charity is that the site is not limited to simple desktop devices but is optimized for mobiles and tablets so that your audience can access and view your site from anywhere, at any time.
Charity Key features:
Let's Look in the Key Features of Charity :
Core for Drupal8 version
Support for Bootstrap version 4
Mobile-ready theme and layout
Customer-centric site layout
Links for your social media handles
Well-organized Sass code
Unlimited uploads on custom slider options
Various home page layouts
10. Minimal Lite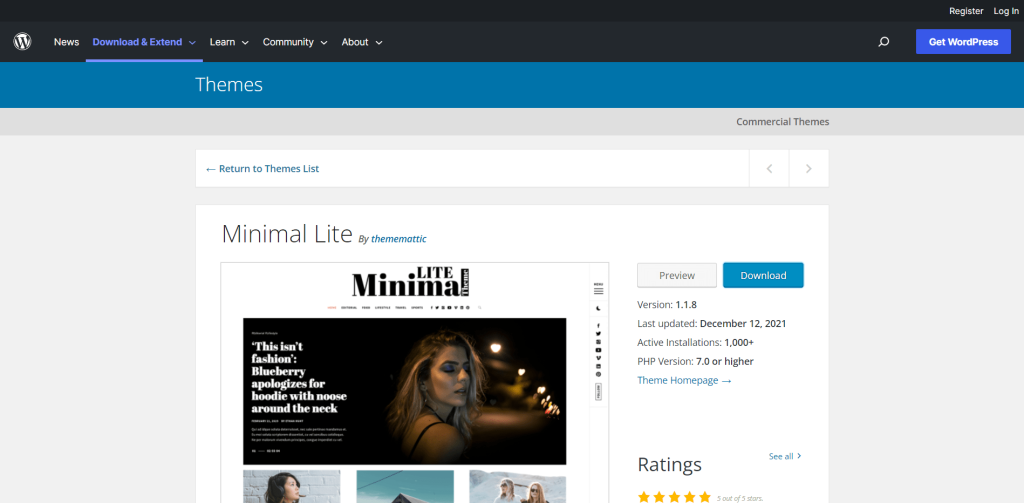 Next in our list of best free Drupal themes, we have Minimal Lite. It has over 200+ site setting options, letting you customize your site to the "T". It is currently supported by More than (just) Themes and is gradually regarded as one of the best Drupal themes. Here is a list of critical features of Minimal Lite – 
Minimal Lite Key features:
Let's Look in the Key Features of Minimal Lite:
Fast-loading
Optimized for mobile devices
A clean, minimalist look
HTML5 and CSS2/3 support
Tableless layout with fixed width and support for three columns.
Horizontal tabbing system for better accessibility
Fully responsive on IE 7+, Chrome, FF 3+, and Safari 4+
Extremely lightweight, faster load time than other themes
11. Photographer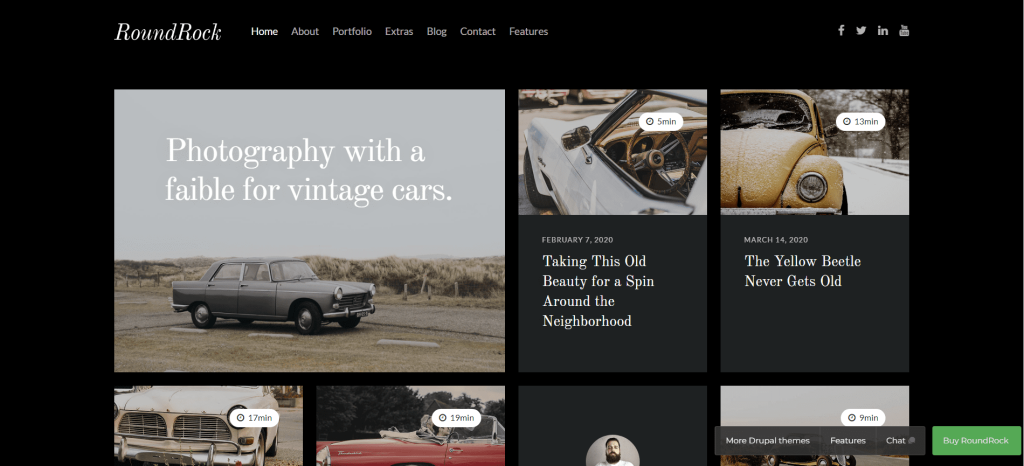 One page responsive theme page which is based on Drupal Blank Theme. Responsive theme page, mobile friendly, easy to navigate, Drop Down Menu with Social Media Integration and Font Integration with customization and styling for links.
Photographer Key Features :
Let's Look in the Key Features of Photographer:
One Page Responsive Theme
Mobile Friendly
Social Media Integration
Font Integration
Styling for Links
12. Facdori Theme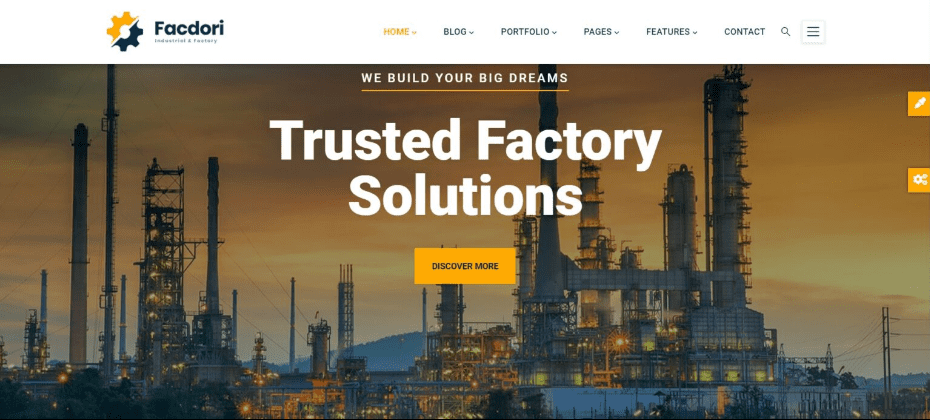 Next on our list of Free Drupal Themes is Facdori. Facdori is know to be one of the best Free Drupal Theme if not the best. Its know Best for industrial businesses (Drupal 8 & Drupal 9 to be more specific). Know as a versatile theme with customization, Facdori can be considered as a multi purpose theme. Facdori supports HTML5, SAAS, CSS3, and Bootstrap 4. Integrating Workflow tools makes it easy for the user to come up with any design they can imagine. Customization with Personal touch is what makes Facdori unique.
Facdori is perfect fit for industrial businesses. The free version is great but for more advanced features you will just have to pay $45.
Facdori Key Features :
Let's Look in the Key Features of Facdori:
Best for Industrial Business
Versatile Theme
Customization Available
Supports HTML, Bootstrap 4, CSS3, & SAAS.
13. Mayo
If you are looking for a website which is full of colors and attractive elements then Mayo is your one go to option. It's simple and easy to use, you can change colors within clicks. It can be your header, base page, footer and much more. You can also change the text color, background color, link color and much more. Customization of the website is simple.
It's a perfect for Personal Blog, Portfolio, Photographers, Freelancers, Agency Sites, and much more.
Mayo comes with a free version and just incase if you need more advanced features then you can go for the paid version. It will cost you $39.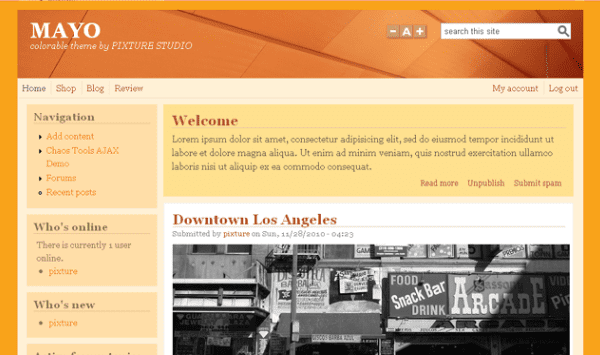 Mayo Key Features:
Let's take a quick look at the key features of Mayo
Drag & Drop Option available
Customization available
Layout options such as Boxed Wide Website Layout available
Widgets which are ready to use
24/7 Customer Support available
Related Read:
Bottom Line Free Drupal Themes
Drupal is an excellent, albeit relatively lesser-known, option for a robust site-building experience.
Choosing the right theme can be tricky, especially for a site owner with a lot on their plate. This blog covered ten of the best free themes on Drupal that are worth using for your next site. For me, the theme that wins the top spot in the list is the Business Responsive Theme.
The theme is highly-responsive, well-optimized for mobile devices, has multiple column options, has integrations with social media icons, supports multiple site regions, and has stellar typography options.