Are you looking to set up an e-commerce website using WordPress ? Look no further, because 11+ Best Free WooCommerce Themes, used by over 30% of all WordPress e-commerce sites, can be customized with hundreds of free and paid themes that give your site the "Wow" factor that your customers are looking for.
In this blog, I'll be taking you through 10+ Best Free WooCommerce themes (2023), trusted widely by website owners, that you should try for your site! And the best part? They're all completely free and are extremely easy to set up and tweak according to your needs.
Let's start!
Top 10 WooCommerce Themes That Are Available For Free Of Cost In 2023
If you're looking for a comprehensive list of themes that are ranked based on factors such as ease of access, attractiveness, user ratings, and niche-specificity, this blog is the best place for you!
Let's now take a look at 11 of the best themes that you can use for your site for absolutely free. 
| | |
| --- | --- |
| Sr. No. | WooCommerce Themes |
| 1. | Botiga |
| 2. | Open Shop |
| 3. | Woostify |
| 4. | Zigcy Lite |
| 5. | Boutique |
| 6. | Store Front |
| 7. | OceanWP |
| 8. | ShopStar |
| 9. | Hestia Lite |
| 10. | Ample |
| 11. | Sydney |
1. Botiga – Free WooCommerce Themes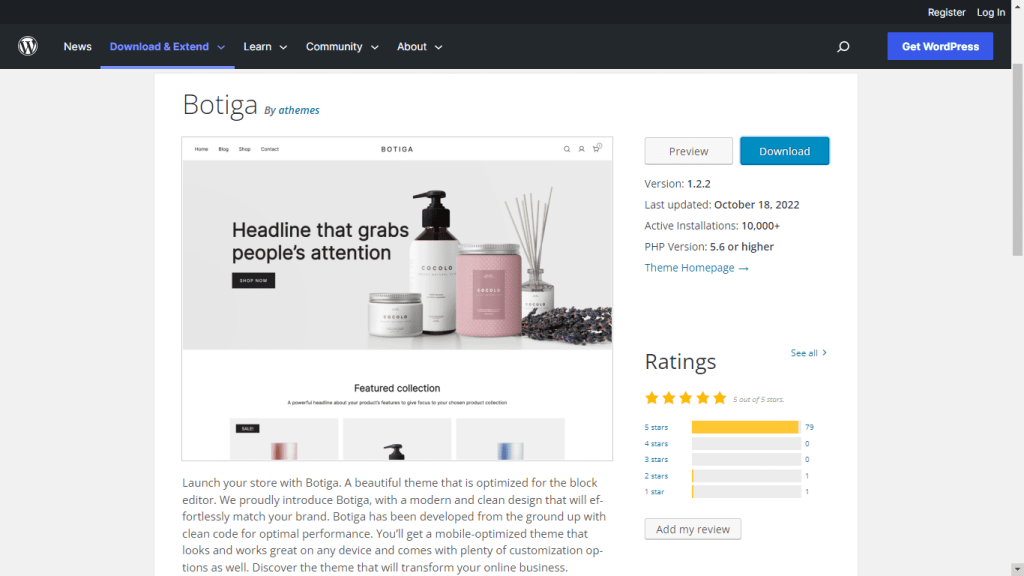 One of the most popular WooCommerce themes, Botiga is perfect for anyone looking for a clean, easy-to-customize, and attractive theme for their e-commerce store. One of the reasons why Botiga is extremely popular amongst site owners is its high level of customizability, minus the hassle of navigating complex code.
Key features:
Extensive library with the header, subheader, and text-listing styles, perfect for anyone looking for a high level of customizability and brand-specific formatting on their site.
It offers a free and premium template to every user upon signup.
Wide range of colour palettes that can be tweaked to suit your brand image and site look.
Extra features such as product search, sort, and filter, as well as product recommendations, make this theme a customer-centric theme, perfect for all e-commerce sites.
Offers multilingual support for an international target audience.
Pros:
Beginner-friendly in all aspects, especially design.
Helps with mobile optimization for your site.
Multiple layouts for your products are available on Botiga.
Cons:
Due to external plugins, it isn't a quick-loading theme as compared to other WooCommerce themes.
Botiga offers the Gutenberg editor by default, which can be a bit tricky to navigate.
2. Open Shop – Free WooCommerce Themes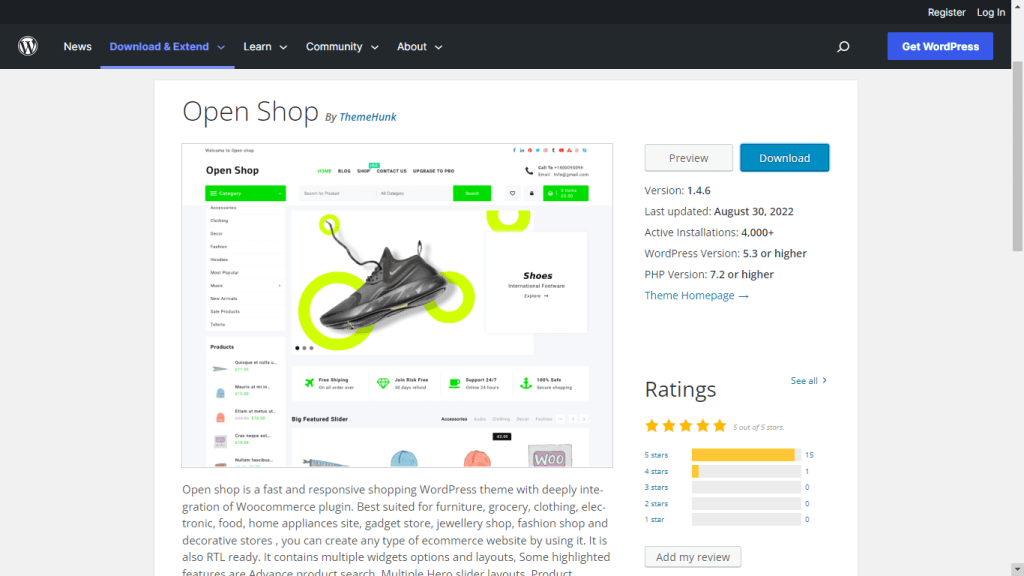 With Open Shop, it doesn't matter what niche your website is all about – grocery, fashion, tech, or even furniture, Open Shop is one of the fastest, lightest, and most attractive themes you can use while building your site. One thing Open Shop does well is the options it offers for image placement on your site. With the options offered, all for free, you can display your products in a way that would attract and motivate your audience into opting for your product/service.
Key Features:
Wide range of image placement options.
Multiple footer layouts.
The quick view offered.
Product carousel with tabs, perfect for sites looking to direct their customers to quick purchases.
Pros:
Multiple site elements are offered from within the Open Shop library, which is useful for a quick and easy setup.
CTA widgets, carousel image templates, and a category slider were built. Specifically for WooCommerce.
Multiple colour options and palettes.
Minimal code involved.
Cons:
It is heavily dependent on other plugins in the WooCommerce library, which can impact its speed and standalone utility.
It is not a completely no-code theme.
3. Woostify – Free WooCommerce Themes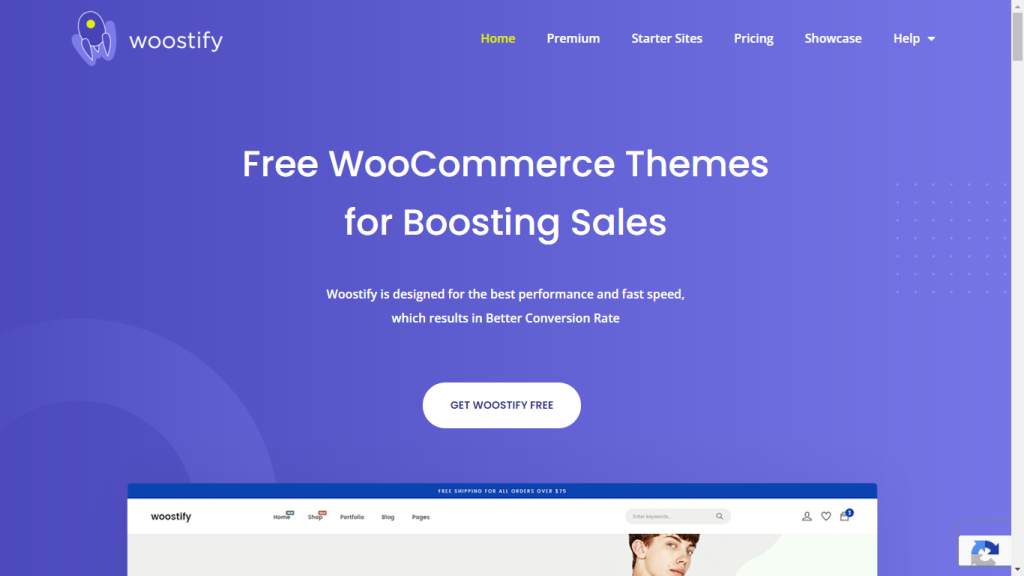 It is the perfect theme for anyone wanting to build a high-performance site in a small time frame, without compromising on performance and visual impact on its audience. Woostify, as the name suggests, is built specifically with WooCommerce in mind and comes packed with features useful for setting up every section of your website, such as your homepage, check-out page, product gallery, video displays, and even post-purchase page. 
Key Features:
Clean, creator-friendly theme with a minimalistic layout for easy site creation.
Integration with popular page builders such as Elementor, and Beaver Builder.
Optimized source code that gives your site the organic boost it needs on search engine results.
Multiple header, footer, and image and video gallery styles for a quick showcase of your products.
Pros:
Optimized code helps the site rank higher.
Supports a wide range of plugins such as RankMath, WooCommerce, and BuddyPress.
Multiple free and paid, pro-version demos are available, depending on your site needs.
Compatible with more than one vendor.
Cons:
Since it is code-heavy, website developers used to no-code tools can face trouble while creating the website from scratch, as well as editing it at a later date.
Not a lot of customization options are available.
4. Zigcy Lite – Free WooCommerce Themes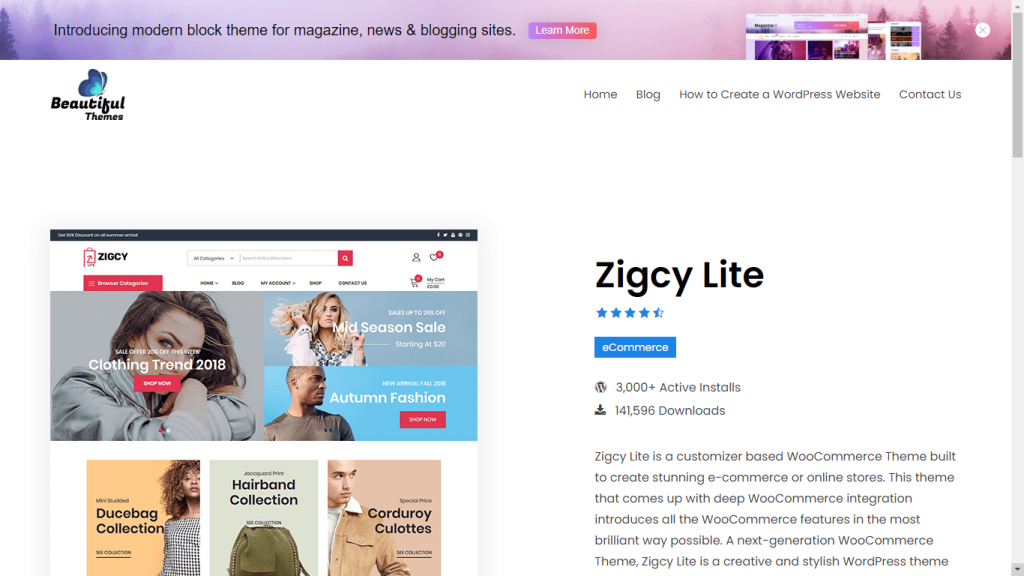 A go-to WooCommerce theme for fashion websites, Zigcy Lite has received glowing reviews for its interface, design options,beginner-friendly design options, stunning color palette, as well as stellar customer support.
Key Features:
It features a Customizer that you can use to create a hyper-personalized, product-centric site.
Using Zigcy, you can import Demos with no more than one click, for an easy start.
Completely compatible with WooCommerce.
Helps you create Product and Custom search options.
Pros:
Comes with 3 free demos that can be tweaked and edited according to your needs.
Fully optimized for SEO.
Attractive layout options for headers.
Attractive color theme and intuitive design options.
Cons:
Not very beginner-friendly and can take some time to get used to.
5. Boutique – Free WooCommerce Themes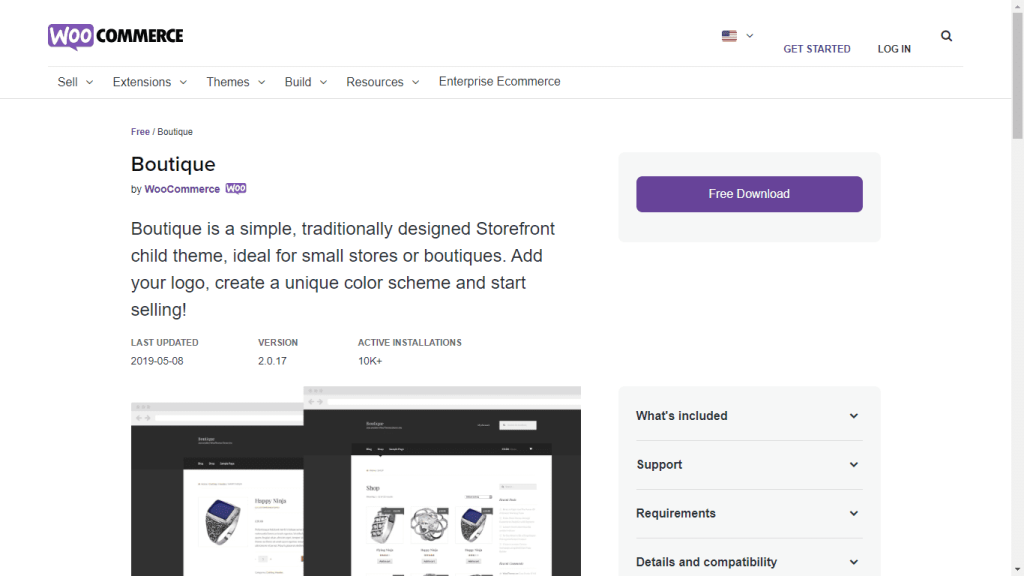 As the name suggests, this theme is created keeping in mind the needs of small businesses and boutiques. Boutique helps website owners create a clean, impactful, and easy-to-navigate site in a short period. Its present version is an updated one of the original Boutique design theme on WooCommerce, with newer, fresher elements and customization.
Key Features:
It is integrated strongly with Storefront and WooCommerce, allowing users to create a site with the best of both elements and extensions.
It adheres to the highest levels of accessibility, helping you reach a wider audience.
Highly responsive for both desktop and mobile devices.
Pros:
Budget-friendly.
Strong integration with Storefront and WooCommerce.
Availability of demo layouts if you do not wish to start from scratch.
You can see your site edits displayed in real-time.
Cons:
Lack of options compared to other themes.
The minimalist layout and design options can be a put-off for those looking for a fuller website design.
6. StoreFront – Free WooCommerce Themes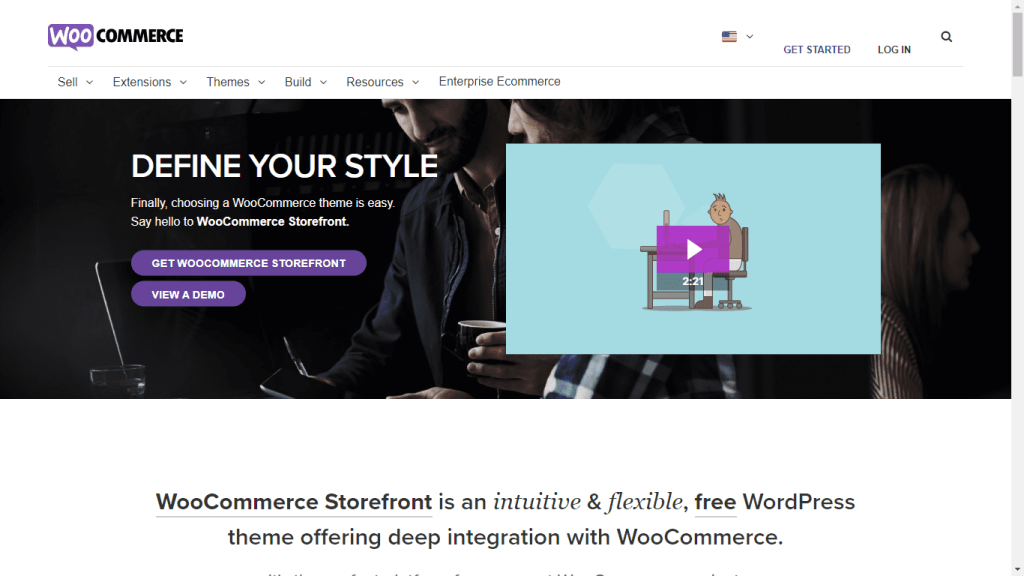 It is once again, a popular theme preferred by WooCommerce users, all thanks to the deep and powerful integration it offers with WooCommerce. 
Storefront is created by WooThemes, the team behind the plugin WooCommerce on WordPress. This ensures users can create themes that are highly compatible with e-commerce owners' websites.
Key Features:
Multiple customizable layouts.
It allows for about six widget elements, such as 'Top-Rated Product(s)', 'Featured Products,' 'Promos', and more.
Offers SEO optimization for better organic success.
Highly responsive design space for quick, easy website design.
Pros:
High responsiveness and optimization for multiple device types.
Offers SEO optimization services.
Allows for a high level of customizability with layouts, colours, fonts, and overall design.
Trusted and helpful support centre.
Cons:
Does not offer a wide range of customization options when compared to other themes, which can be limiting for site owners.
7. OceanWP – Free WooCommerce Themes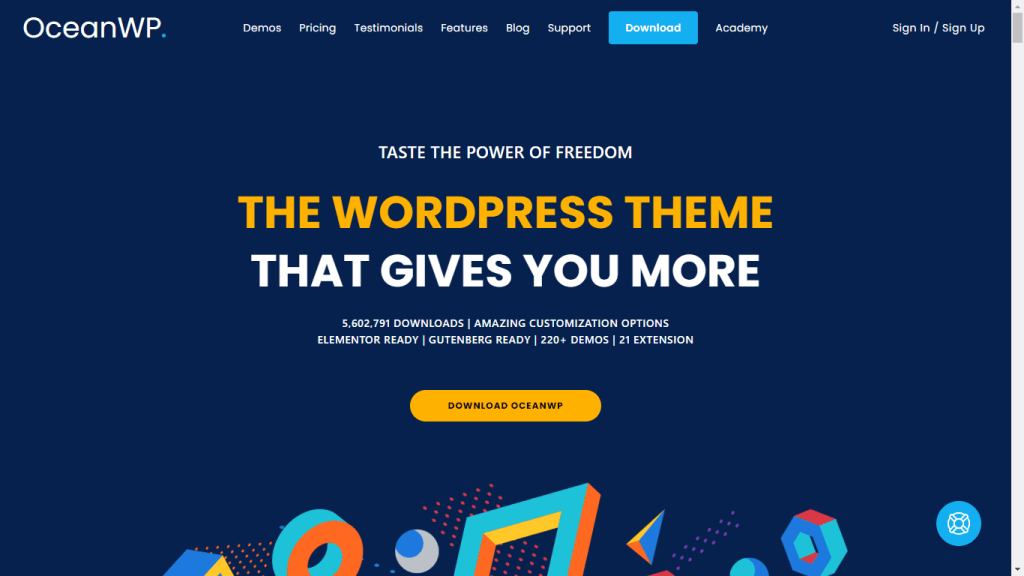 Adding to the list of WooCommerce themes deeply integrated with the plugin, as well as other site-building elements, we have OceanWP – a fast, light theme built for e-commerce stores that are aiming for an explorable, extendable website for their products.
It has had over 4,000,000 downloads since its release and is perfect for every site owner looking for a beginner-friendly and site developer-friendly theme.
Key Features:
Offers a custom page layout for your site.
Multiple design options.
Multiple font styles for headers, subheaders, and body text.
Deep integration with WooCommerce.
Optimized for mobile devices, with 3 mobile layouts.
Built-in icons and menu options.
Pros:
Optimized for SEO.
Integration with page builders such as Gutenberg, Elementor, and Beaver Builder.
220+ demos and 20+ extensions.
Offers pop-up elements, add-to-cart bar, and quick view options for your products.
Cons:
It requires you to buy a Premium license if you wish to access most of OceanWP's themes. (You could use the 12-13 free themes available if you do not wish to purchase a license).
It involves quite a lot of code, which can be a hassle for site owners without prior coding experience.
8. Shopstar – Free WooCommerce Themes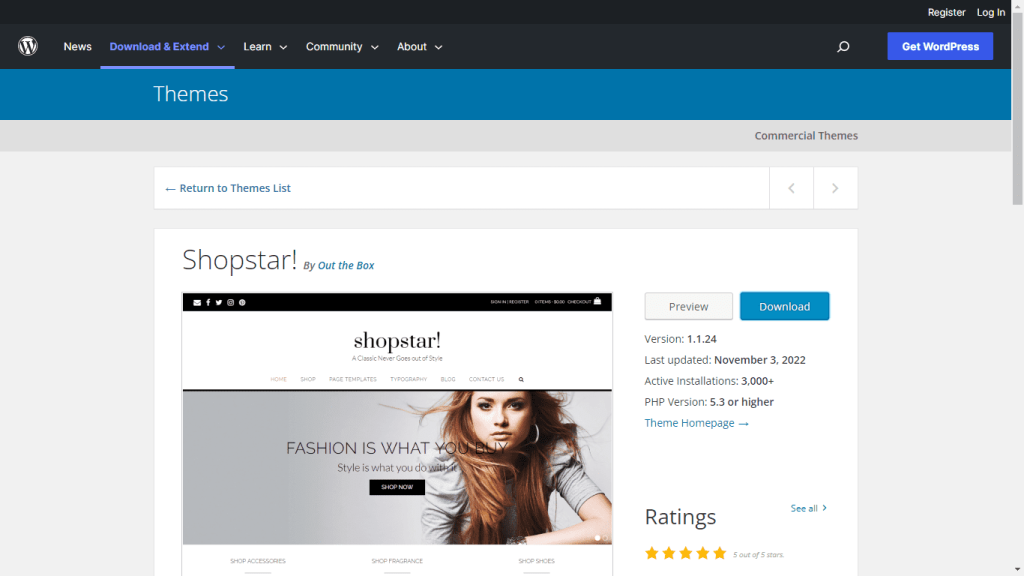 It is your go-to theme on WooCommerce, especially if you're in the fashion industry and wish to attract a larger audience to your online store. Shopstar is a theme commonly used by bloggers as well, owing to the ease with which you can get your site up and running. If you're looking for a theme that offers an appealing image-to-text layout, Shopstar is the one for you. 
Key Features:
Uses Elementor page layouts, which can be directly imported to your site with the help of an import tool.
Deep integration with WooCommerce.
Minimalist design features for a clear, inviting website design.
Multiple layouts (such as gallery and category views) for product showcase.
Pros
Minimalist design options put your products at the center of the visitor's website experience.
Supports major plugins such as WPForms, WPML, etc.
Completely responsive design.
Features threaded comments.
Full-width templates, translation options, and category showcase buttons.
Cons:
Its minimal design options may be limiting for some.
9. Hestia Lite – Free WooCommerce Themes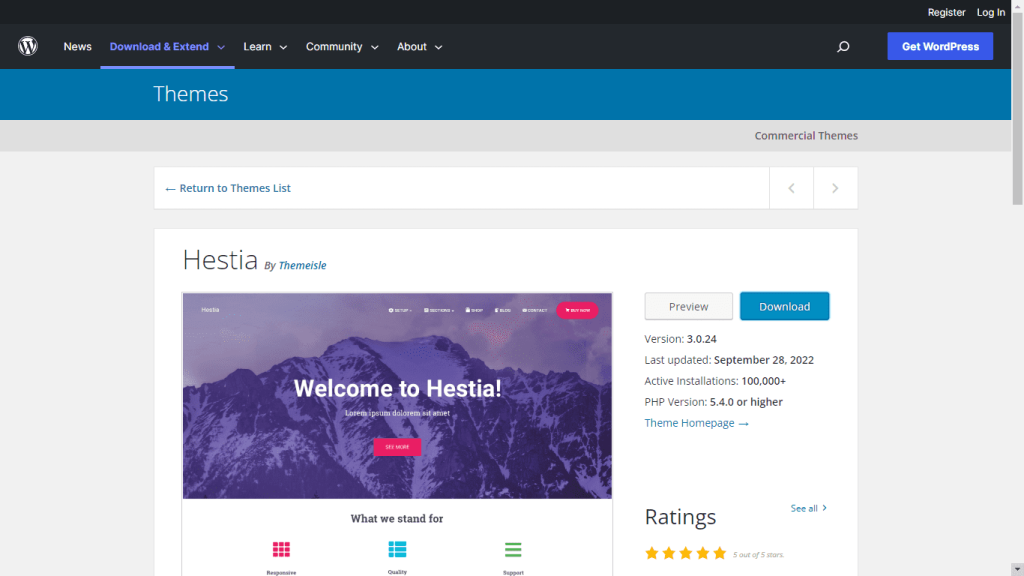 Hestia offers a layout design that is sleek, customizable, modern, and extremely professional. With Hestia, you can rest assured that your site is built to showcase your products, keeping in mind your customer's needs.
It is a multipurpose WordPress theme for all types of e-commerce stores and includes a large variety of gallery options and layout styles.
Key Features:
Integrated with WooCommerce.
Has advanced typography, fonts, icons, mega menus, and layout styles for peak customizability.
Integrates with page-builder tools for easy site creation.
You can also use Hestia's portfolio showcase options.
Pros:
Includes multiple starter sites.
It is optimized for speed – no more laggy sites!
You can update layouts, elements, and more with just one click.
Quick, effective support team.
Offers translation services.
Cons:
Fewer designs are available in the Hestia library than in its competitors.
Reviewers state that Hestia's customization options are a bit lacking.
10. Ample – Free WooCommerce Themes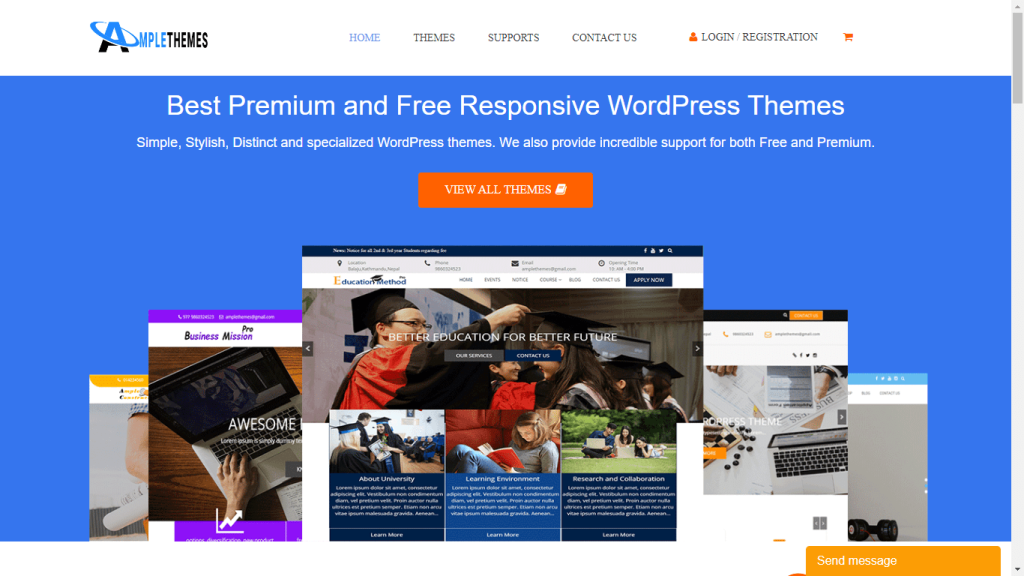 To conclude this list of my top WooCommerce themes, we have Ample – a highly responsive theme built for e-commerce stores looking for a robust, well-designed site.
It's an extremely functional and intuitive theme and is perfect for business and portfolio sites. Its average rating stands at a glowing 4.9 stars out of 5 and is used by over 10,000 WordPress sites.
Key Features:
Compatible with major browsers.
Optimized for site speed.
Offers multiple color options for max customization.
Offers multiple widget options.
Large site library for inspiration and imports.
Pros:
Integration with page builders (Gutenberg, Beaver Builder, Brizy, Elementor, and SiteOrigin).
Site loads in one second.
Compatible with WooCommerce.
3 starter sites are offered for demo purposes.
Cons:
The Premium version of Ample offers more features, but costs $49, which can be a bit expensive for those just starting out.
11. Sydney – Free WooCommerce Themes
One of the best Free WooCommerce Theme out there in the market. Sydney comes up with amazing features that will make your website look amazing. You can create an entire website completely the way you want with all the features and make it look professional. Start with free version and if required you can switch to premium plan. With Sydney you can create a custom Elementor blocks which will look exceptionally well and professional. Sydney theme is been taken care very precisely, its updated every now and then for better user experience.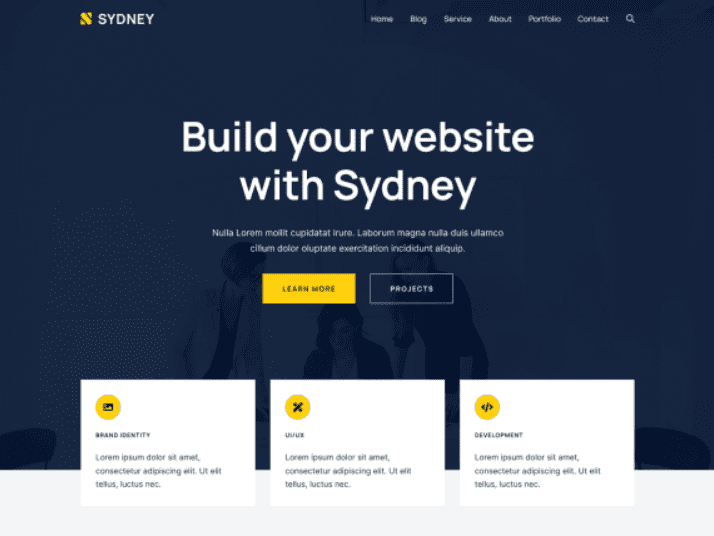 Key Features :
Sydney is completely a responsive theme.
You can connect your social media accounts to this theme.
Is Compatible with Elementor
Pros :
You can use this Theme for various websites considering its a versatile theme.
Theme can be customized accordingly to the user requirements.
Highly Compatible with Elementor
Theme is regularly updated
Cons :
Free version comes up with limited features. To avail all the features you will have to buy the premium plan.
Compared with the competitors, its priced a little high.
Related Links
Conclusion 11+ Best Free WooCommerce Themes
Creating an attractive, inviting, and efficient site is no longer a dream for e-commerce owners. With the help of these WooCommerce themes, you can ensure that your site stays true to your brand identity without having to worry too much about the complexities of site design without themes.
For me, Ample is the best theme for e-commerce sites on WordPress, owing to its high responsiveness, deep integration with page builders and WooCommerce, as well as a large library of layouts and design templates. As an e-commerce owner, you can benefit greatly from its demo layouts, widget options, and optimization for speed to build a rocking site!