Is Astra theme the right choice for your blog/website? Yes, in this post, I'm going to share my detailed Astra Theme Review which will help you get an insider's view into this popular WordPress theme.
While WordPress does have a lot of themes to offer, Astra is the one that stands out for being versatile and super lightweight. With over a million downloads, there's quite a hype around this theme. So lately, if you too have been considering getting it for your website, I'd understand.
But the question is – does Astra have all the features to suffice your website's needs?
Is the Astra Pro version really worth all the bucks?
What are the pros and cons of getting Astra for your website?
Don't worry, I've got you covered. Read this blog as I bring to you a detailed review of the popular Astra theme that includes everything – right from its features, to its pros and cons, and a quick summary of its pro version.
Let's begin with our Astra Theme Review!
Here's a Quick Overview of Astra Theme.
| | |
| --- | --- |
| Features | Ratings |
| Ease Of Use | 4.8/5 |
| Price / Value | 4.6/5 |
| Speed | 4.7/5 |
| Customisation | 4.5/5 |
| Customer Support | 4.7/5 |
Astra Theme Review: In A Nutshell
If you're someone who doesn't want to get into the hassles of hefty coding and customization, hear me out – Astra is for you. I've been using it myself for quite a while now (both the free and paid versions), and here's what I have to say.
Astra is power-packed with brilliant features that make customizing a website easy. So if you also believe the devil lies in the details, choose Astra. For instance, there's this Custom 404 Page option that lets you customize your error 404 page how so ever uniquely you want to. However, to access such uber cool features, you might have to expend a little. And that's where the catch lies!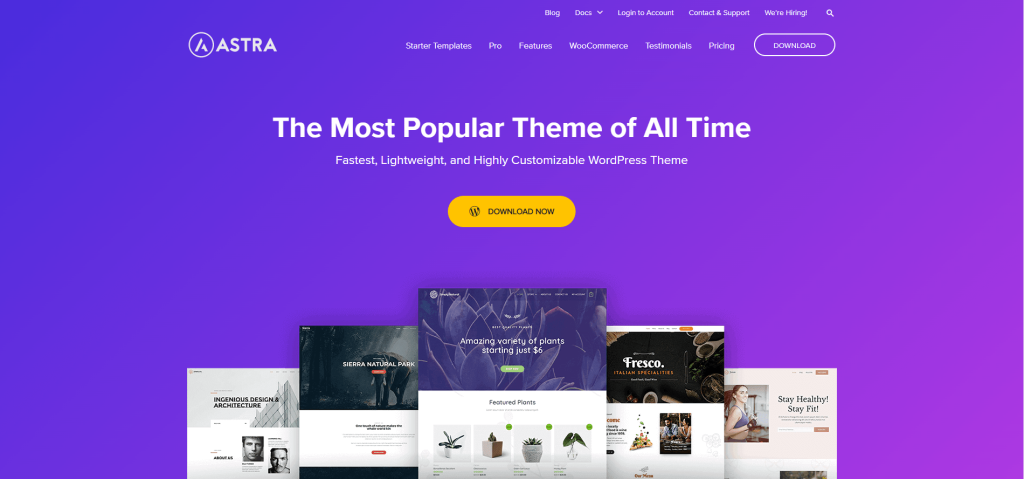 You see, while there is a free version of this theme that pretty much seems to work fine for most websites, the truth is – it's quite limiting. Speaking from personal experience, the free version would do well for you if you're just starting out with having a website. It's WooCommerce ready, SEO optimized, Schema integrated, and whatnot.
But after a point, your needs will definitely outgrow the free version and that's exactly where you have to decide – whether to get the Pro variant or switch to some other theme? Well, I'd rather suggest it better to stick with Astra, and here's why.
The Astra Pro version is by far one of the best premium WordPress themes I've used so far. The Pro theme integrates with some of the best page builder and developer plugins like Elementor and Schema Pro. So if you don't already have a professional page builder plugin, Astra Pro would come in handy for you. It also lets you develop your own brand through White Label. Moreso, you get access to better customer support service throughout.
All in all, if you're not a fan of coding but want a website that feels professional, investing money in Astra Pro is the right investment for you.
How Is Astra Different From Other WordPress Themes?
Astra isn't the only free WordPress theme. Yet, why is it more preferred than the others? Well, here are some of the top reasons that justify that:
1. Beginner-friendly:
Unlike most other WordPress themes, Astra has a pretty simple interface. Moreover, with Astra Starter Template 2.0, you can easily import pre-formatted templates and build your website in a matter of minutes! So, even if you're a beginner, you can count on Astra to make website building a tad bit easier for you.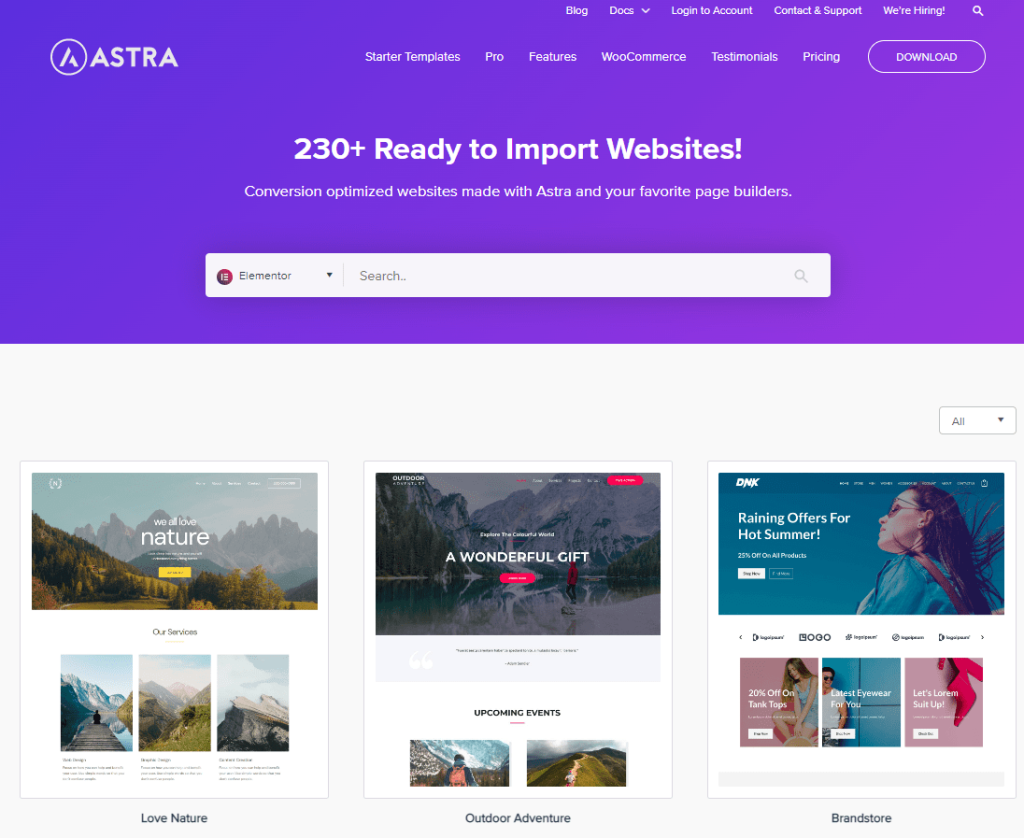 2. Easy customization:
Astra is highly customizable and adaptive to one's unique needs. In fact, the paid version also offers White Label solutions for custom branding. But that's not the catch yet. With Astra, heavy customization is not only possible but also very easy. You don't even need to have basic coding skills – you can customize Astra all you want simply through WordPress customizer.
4. High speed:
For a free variant, Astra is super responsive and lightweight, taking no longer than seconds to load. Not just this, it's also much more intuitive and efficient than the other free themes available on WordPress. With Astra's free version in hand, you can build both WordPress and WooCommerce websites in a snap. Incredible, no?
Astra Theme Features & Pricing – Astra Theme Review
With so much hype surrounding it, is Astra really the best WordPress theme ever? Let's check out its features and pricing to understand that.
Astra Top Features: Astra Theme Review
Here are the top 6 features of Astra:
1. Easy to use and get started:
Thanks to the wide range of ready-to-import, pre-formatted starter templates, and hassle-free customization options, Astra is one of the best themes for anyone without a knack for coding. But that's only one side of the coin. Although built mainly keeping the non-coders in mind, Astra is also equally rewarding for the coders and developers.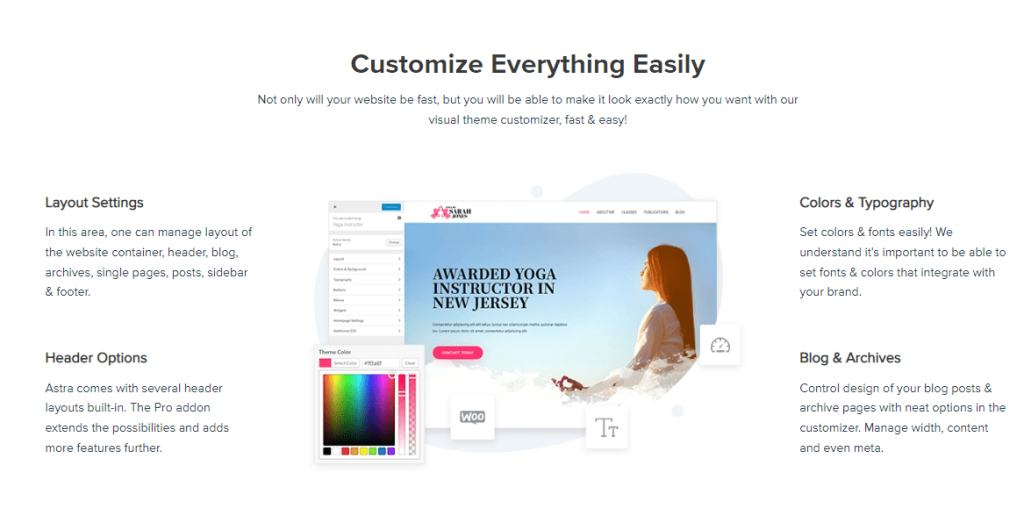 In fact, the pro version also offers access to many advanced developer plugins like Schema Pro. This makes it possible for them to put their knowledge to use and increase website conversions.
2. Fast and lightweight :
With a file size of less than 50 KB, Astra ranks amongst the smallest and the fastest WordPress themes ever. Owing to its small size, the theme doesn't take more than a second to load and respond. In fact, with the recent elimination of jQuery by its developers, Astra has become all the more lightweight and swift. So, if you need to create a website that's fast and responsive, Astra is the best choice for you.
3. Highly customizable:
Astra takes customization seriously. Right from the blog layouts, to the header and footer section, typography, and even metadata – you can adjust each and every element of this theme as per your choice. And, it's not even something arduous to do! With the help of WordPress Customizer, you can make the changes without any coding or technicalities involved. The cherry on the cake? You also get a real-time preview of every change that you make!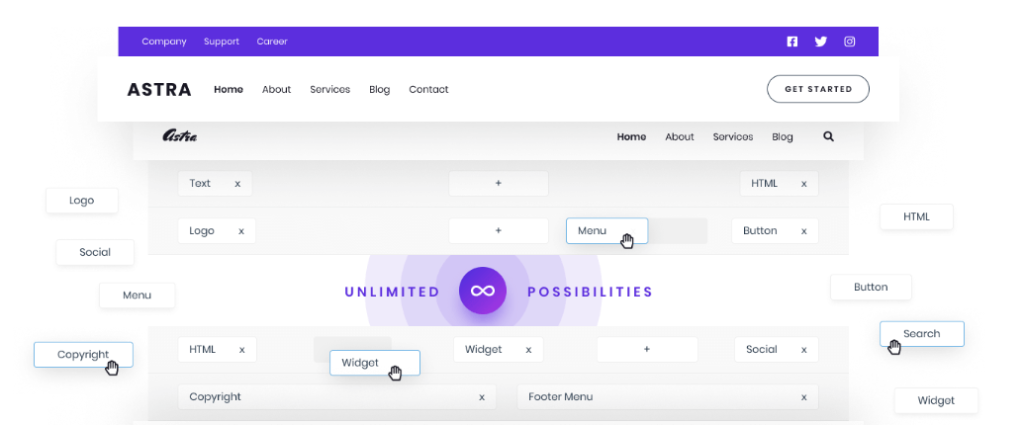 4. Super versatile:
If versatility is your question, Astra is your answer! Practically speaking, one big reason how Astra managed to capture such a wide market is because of its adaptability. You see, Astra is not a niche-specific theme. So whether you are building a website for your online academy, want to start a blog page from scratch, or are looking for a simple theme for your eCommerce store – Astra really is the one-stop solution for every need.
5. Allows multiple integrations:
With Astra, Brainstorm Force took integrations to a whole new level. From some of the top page builder plugins like Elementor and Divi to various other plugins like WooCommerce and LearnDash – Astra integrates with more or less every add-on that you'll ever need in your website.

You can check out all its features here.
6. Astra Customer Support:
The customer support of Astra is considered pretty good, quick and effective. In the free plan, you will be getting the community support & in the Paid plan (Premium Plan) you will be getting the developer's support.
Astra Pricing : Astra Theme Review
For its basic features, Astra charges nothing – it's all free, now and always. However, if you wish to tap into some advanced features like White Label and Mega Menu, the "Pro" plan is available for just $47/month. For accessing Uber cool website templates and other tools to enhance your website, there are two more plans offered by Astra – the "Essential Bundle" plan available for $137/month and the "Growth Bundle" plan for $187/month. We also have an exclusive Astra theme discount to help you save a few bucks.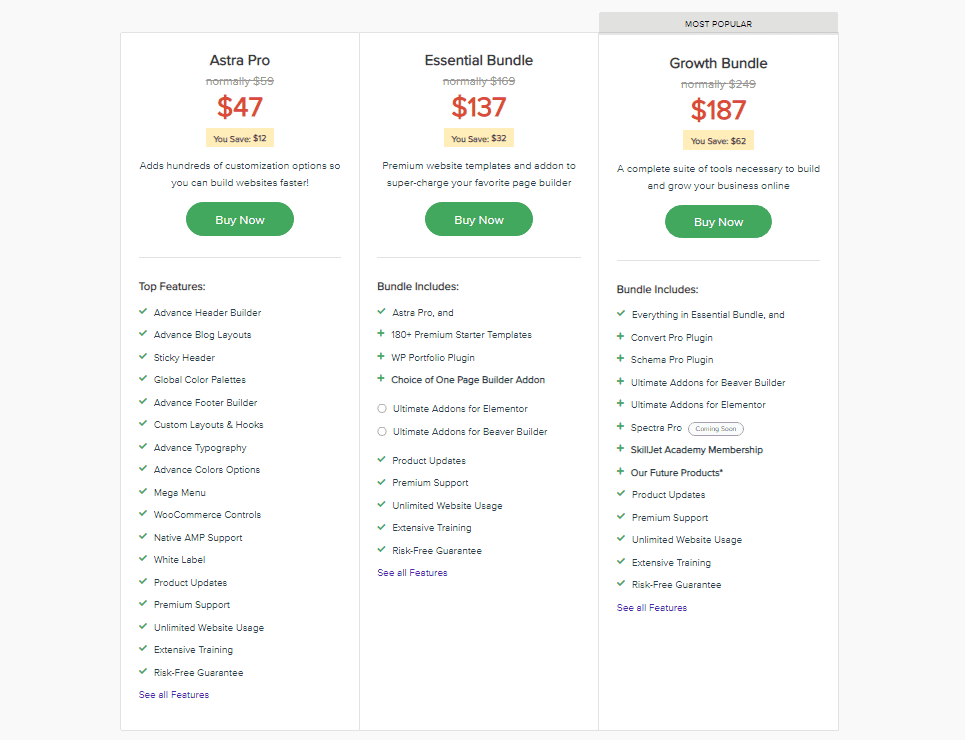 Plan
Price
Features Included
Astra Pro
Annual – $47/year
Lifetime – $227
Advance Header Builder, Advance Blog Layouts, Sticky Header, Mega Menu, WooCommerce Controls, White Label, Custom Layouts & Hooks, Native AMP Support, Product Updates, Premium Support, & more.
Essential Bundle
Annual – $137/year
Lifetime – $677
All features in Astra Pro + WP Portfolio Plugin, 180+ Premium Starter Templates, & Choice of One Page Builder Addon.
Growth Bundle
Annual – $187/year
Lifetime – $937
All features in Essential Bundle + Convert Pro Plugin, Schema Pro Plugin, Ultimate Addons for Beaver Builder, Ultimate Addons for Elementor, SkillJet Academy Membership, & Access to Future Products.
Astra Free vs Astra Pro: Astra Theme Review
Apart from the free version, Astra also offers a paid, "Pro" plan with more developed features and perks. Here's what it has in store:
Astra Pro offers a wide variety of free, ready-to-import site layouts.
It comes with over 800 Google fonts to amp up your typography.
It provides access to developer plugins like WP Portfolio, Schema Pro, and more.
It allows customization of every area of your website, including the Footer section.
Astra Pro also offers Header customization options like sticky, mobile, and transparent.
With Astra Pro, you get to choose the ideal blog layout for your site.
It also lets you create your own brand through its White Label feature.
It integrates with multiple WordPress plugins like WooCommerce, LifterLMS, and LearnDash.
With Astra Pro, you get access to 24/7 email support.
So if you wish to take your website up a notch, Astra Pro is the right plan for you.
Astra Pros And Cons: Astra WordPress Theme Review
Now, let's take a quick look at some of the pros and cons of using the Astra WordPress theme for a website:
Astra Theme Pros:
Let's take a quick view at the Pros of Astra
Astra is lightweight and super responsive, loading in no more than a second.
It requires no coding knowledge and is extremely intuitive.
It's highly customizable and also offers white-label solutions for custom branding.
It integrates with most page builder plugins like Elementor and Gutenberg.
It comes loaded with 200+ starter sites.
It also offers a range of bundled plugins for free.
Astra is one of the best SEO-friendly WordPress themes.
It is updated regularly to enhance the user experience.
Astra offers 24/7 live chat support to its customers.
The Astra Pro version comes at a reasonable price of $49/year.
Astra Theme Cons:
Let's take a quick view at the Cons of Astra
The free version has a very limited number of features to offer.
For regular updates and support, Astra charges an annual fee.
Top 3 Free Astra Alternatives You Should Check Out
Think Astra might not be the one for you? Here are the top 3 Astra alternatives you can try for absolutely free:
1. Neve:
Just as lightweight and swift, Neve is undoubtedly a deserving alternative to Astra. In fact, Neve and Astra have so much in common. Just like Astra, Neve is also super SEO-friendly and uses Vanilla JavaScript for speed optimization. With more than 80 starter templates to choose from and an easy-to-use interface, Neve ranks top on our list of best Astra alternatives.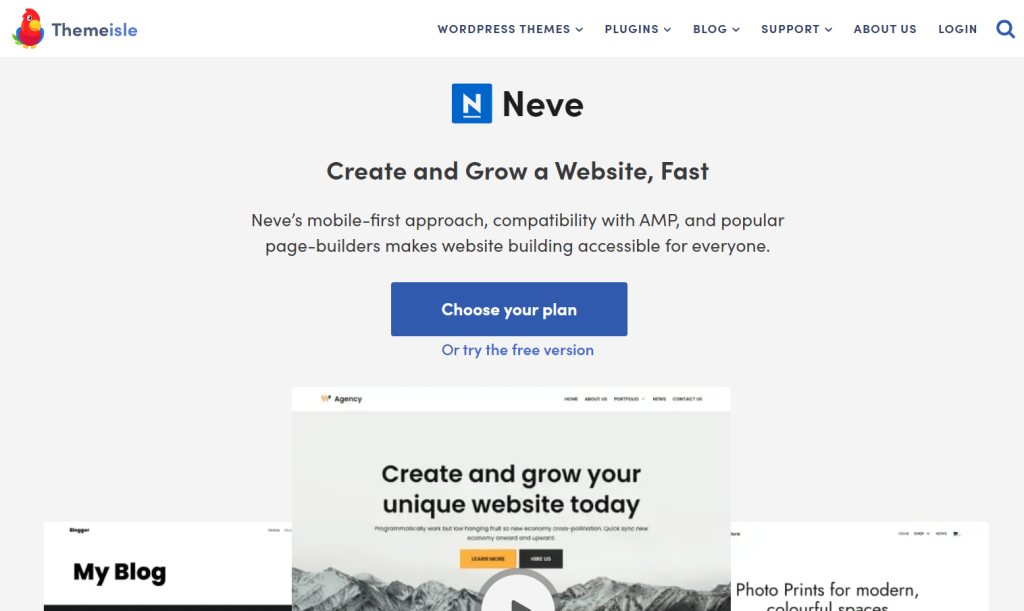 2. Ultra:
Ultra is yet another theme that shares its top USP with Astra – speed! Not just this, Ultra is also an SEO-friendly theme that seamlessly integrates with WooCommerce. Highly customizable, super responsive, and available for just $5/year, what more to ask for?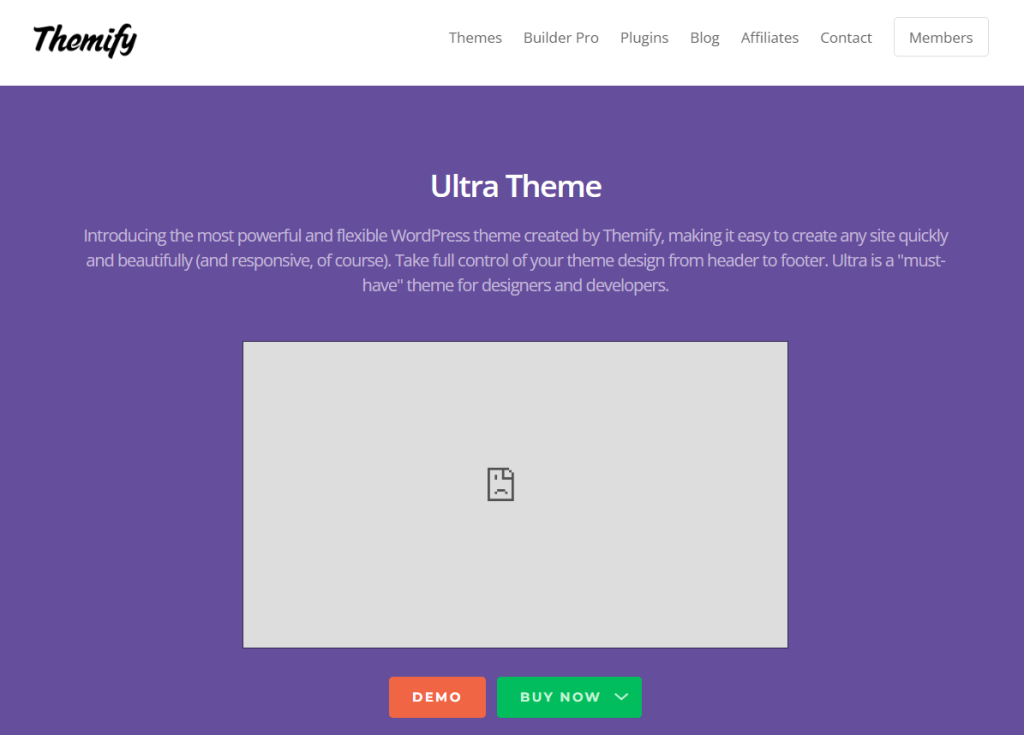 3. Zakra:
An AMP-ready theme to make sure your website works smoothly on mobile devices too, Zakra is also an incredible Astra alternative. Not to mention, it also comes with a handful of demo sites to start off with, is fully SEO-optimized, and integrates with WooCommerce – just like Astra.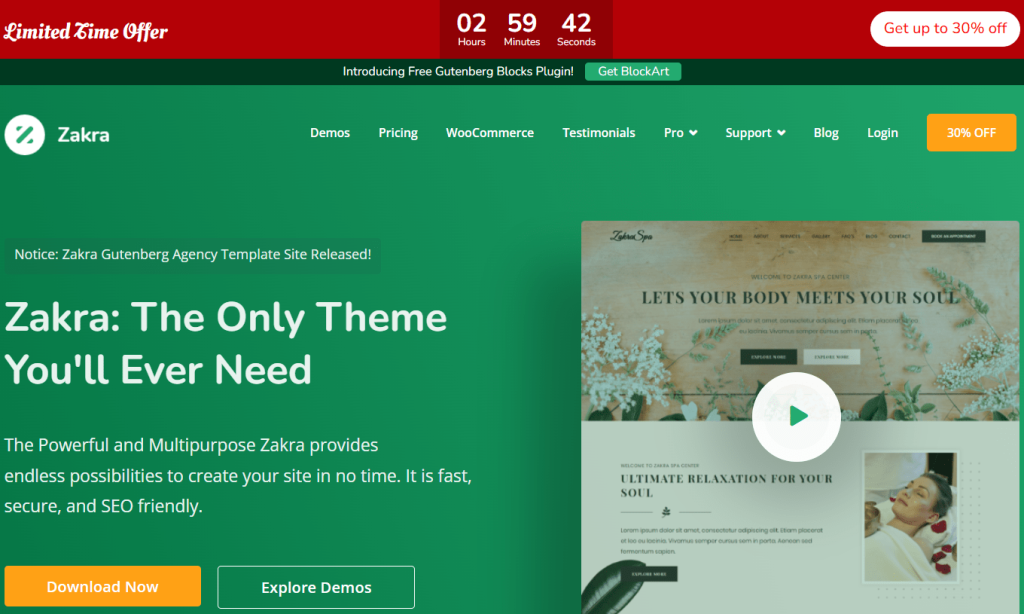 Apart from these three, some more Astra alternatives worth a try include Suffice, Flash, OceanWP, Hestia, and Go.
Related Read:
Conclusion : Astra Theme Review
Now that you've read all about Astra, it's time to decide – is it suitable for you?
Well, it definitely is if,
You want a theme that's lightweight and fast
You are not a pro at coding
You want to build a website in just a few clicks
You have plenty of customization needs
You want multiple plugins on your website
If this is what you're looking to achieve from a theme, then Astra is absolutely the right one for you.