Divi vs Elementor? Which one is the best for you? Lets find out. Elementor and Divi are two of the leading WordPress page builders available in the market right now. Users have praised these two-page builders for being feature-rich and easy to use at the same time, allowing them to design visually stunning web pages with the help of their drag-and-drop editing modules.
If you are looking for a robust page builder for your WordPress blog, then Elementor and Divi are the most dependable option. However, when it comes to choosing between the two, you are bound to get confused as both platforms are almost equally matched.
Why Do You Need A Page Builder?
If you look back at time, Coders were the only ones who would build a website. They had the entire control and power about how a website will look and feel. For someone who's not familiar with coding, building a page would be very complex and difficult for them. That's where this WordPress plugin changed the game. Page Builder helped non-tech-savvy users to build a website without any complications.
So what makes it so special? Using a Page Builder is time consuming, saves a lot of effort, and most importantly helps you build a website without coding. Features like Drag & Drop, Responsive Website, Search Engine Friendly and many more are a delight for non-tech-savvy users.
Now, Let's look at the two Contenders. Divi Builder & Elementor Builder.
Divi Builder
Divi has been made available by Elegant Themes. It offers various free templates and 46 premade modules which will help users to add drag & drop elements. Elements such as images, contact form, sliders and much more.
Divi is offered in two forms, i.e. 1. Backend Builder & 2. Frontend Visual Builder.
Backend Builder : As the name goes, it works on the backend. Replaces the WordPress Editor with Divi Builder.
Frontend Visual Builder: Here you will be able to set the feel of the website or how the website looks. Whatever changes you make, you will be able to view it.
Elementor Page Builder
Elementor is the first WordPress Page Builder. It's also a WordPress drag & drop visual page builder. Elementor stands out with its amazing features, ease of use & responsiveness. With plenty of templates, widgets, drag & drop options it makes life easier for non-tech-savvy users to build a website. Elementor replaces the WordPress Editor at the backend so you can build a website as visually pleasing as you want.
Divi Vs Elementor (2023): Key Differences
Divi and Elementor are the most preferred page builders for WordPress, with countless websites running on them. Both are drag-drop page builders that enable users to create stunning websites without knowing any backend coding. However, while their purpose might be the same but they still are very much different from one another:
Elementor comes with a robust Theme builder (popup builder), whereas Divi doesn't have any.
Divi has an A/B testing module, whereas Elementor doesn't have any.
Now the question is which one offers features that you exactly need. To help find the right answer, we have made a detailed comparison of Divi vs. Elementor. We took various aspects to compare these page builders, such as interface, ease of use, theme & styling option, modules & sections, theme builders, templates libraries, pricing structure, support, etc.
Let's see how these two-page builders match up to one another!
About Elementor
Yes, check my detailed Elementor Pro review to get detailed insights into it.
Elementor is a WordPress page builder that has revolutionized WordPress web design. It has the most comprehensive feature set but is also the easiest to use and master. Elementor is the most comprehensive free page builder. A pro-add-on is also available to add additional developer features.
Elementor distinguishes itself from other page builders with its powerful features, ease of use, and responsiveness. Elementor was designed for all types of users, not just novices, and it also enables professional users to create better websites. While both plugins provide access to the same page builder interface, Elementor Pro includes more templates and modules, as well as a few extra features to help you customize your entire WordPress website, create pop-ups, and integrate with a variety of third-party services. There is also a free Elementor theme that you can use if you haven't yet decided on one for your website.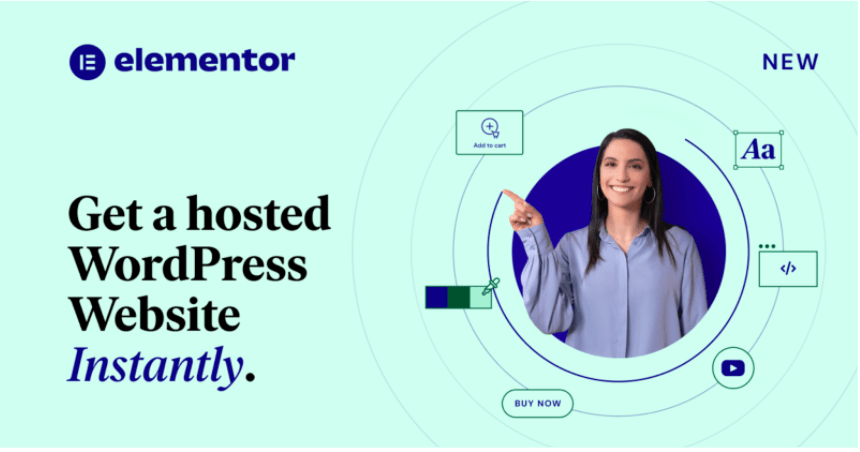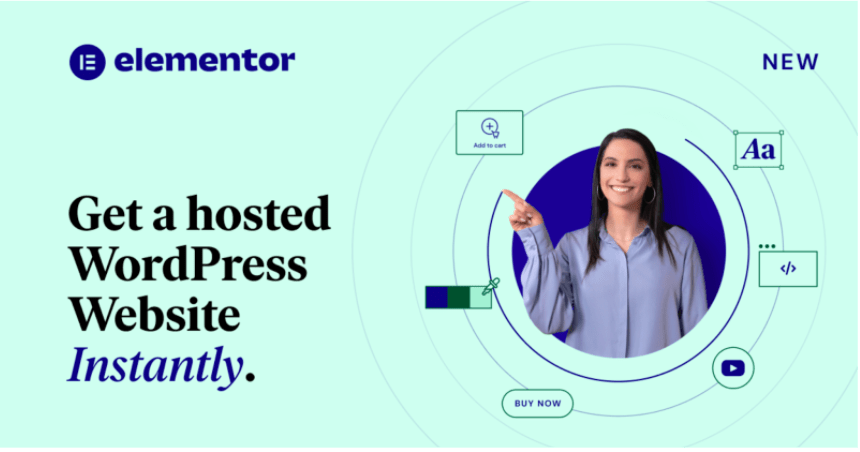 Elementor has launched a hosting plan called Elementor Hosting ( Formerly Elementor Cloud Website ). With this plan, you will get hosting, Elementor Pro features for one website, CDN by Cloudflare, WordPress installation on your website, access to My Elementor dashboard, and so much more. With Elementor Hosting, you don't have to worry about searching for a better hosting solution because they are offering the best cloud hosting service from the Google Cloud Platform with a 30 days money back guarantee.
About Divi
Elegant Themes Divi Builder is a popular WordPress builder plugin that, like any other page builder, is used to create web pages through simple visual editing through drag-drop. It provides 46 premade modules and loads of free layout templates that allow users to add drag-drop elements to their websites, such as contact forms, image sliders, shops, and so on.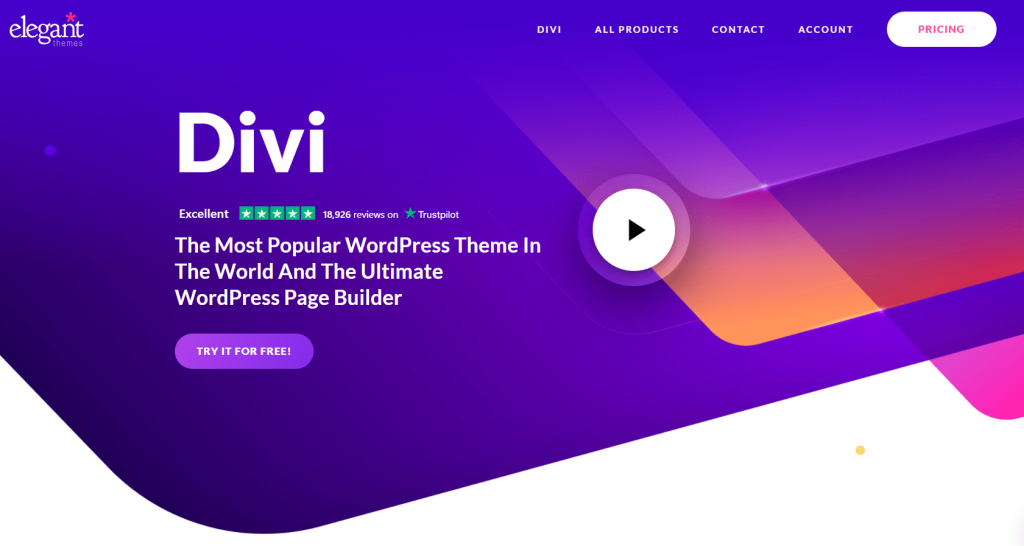 As the name implies, the Divi backend builder replaces the standard WordPress post editor by working on the backend interface. Created for users who are familiar with coding to make immediate changes from within the dashboard. Divi is one of the first WordPress theme and page builder combinations. It has been around for a long time, and as a result, it has a large fan base. It has a number of innovative features that are exclusive to Divi.
While the page builder is now available as a plugin if you haven't yet decided on a theme for your WordPress website and like the sound of Divi Builder, you could kill two birds with one stone by installing the Divi theme to apply a high-quality theme to your WordPress website while also gaining access to the page builder. Divi is one of the best Elementor alternatives available out there.
Elementor Vs Divi (2023): Features Comparison
Because both plugins aim to solve the same problem making it simple to create a custom WordPress website their feature lists are similar. So, to assist you in deciding which one to choose, here is a comparison of their key features.
1. Ease & Usability
The most useful feature of a page builder is its ease of use. Nobody wants to work with perplexing elements that complicate rather than simplify the page-building process. Both Divi & Elementor focus on this aspect and live up to their claims of being simple to use and usable by beginners.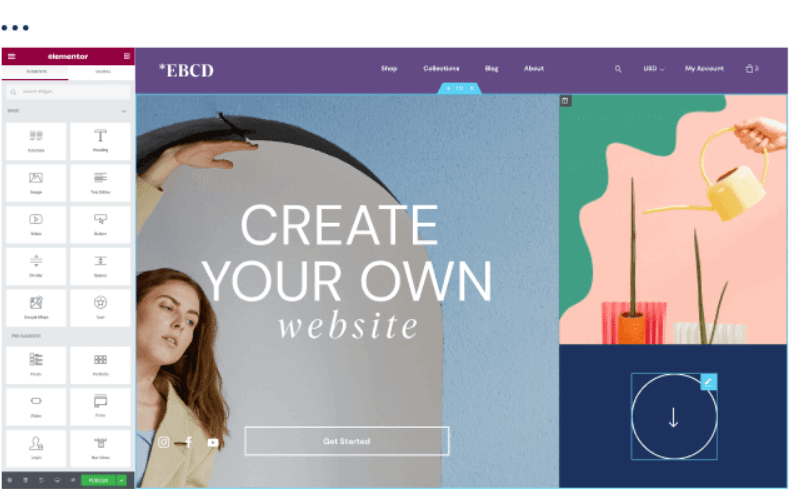 Users adore Divi's drag-drop editing, which is packed with cutting-edge features. Divi, on the other hand, has recently shifted toward a more flamboyant aesthetic while still maintaining some user-friendliness. To use its extensive features smoothly, a user may need to figure out a few things.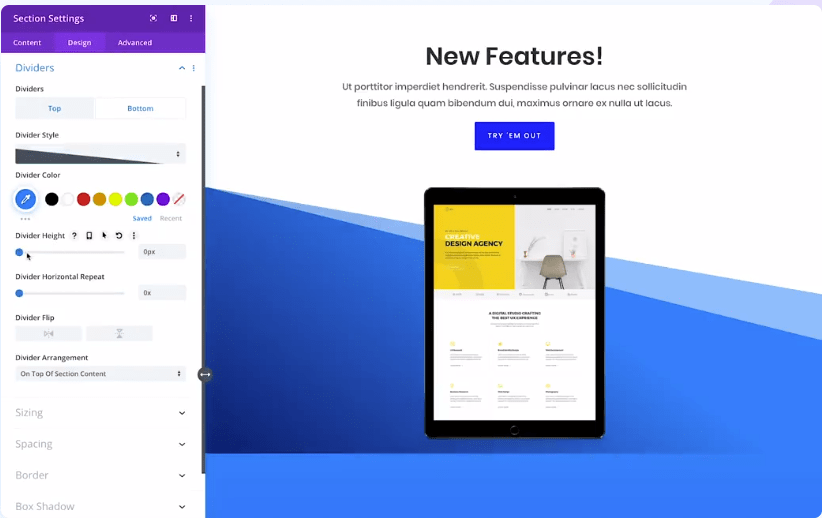 Elementor, like Divi, has a simple and intuitive drag-drop editor and no one needs to be a coder. Despite the fact that Elementor has amazing features, it did not sacrifice its user-friendliness and simplicity. A beginner can use Elementor very easily thanks to its keyboard shortcut functions and simple interface.
2. SEO Friendliness
Along with the other features, your page builder should focus on the SEO aspects of your site. A large number of shortcodes is harmful to your site's SEO, and the more functionalities in a WordPress plugin, you are bound to have more shortcodes on your site.
Elementor understands this issue and focuses on clean code as a result, it is listed among the most efficient and SEO-friendly page builders, adhering to a strict code standard to ensure fast loading speeds. External plugins such as Yoast can help you optimize your pages even further.
Divi isn't very good at restricting shortcodes. The abundance of shortcodes has an impact on your site's SEO. Although Divi has fast loading times, its shortcodes can be a real issue because the annoying codes may remain even after you uninstall Divi and affect your overall website.
3. Frontend Editing
Everyone will find something they like in Divi's builder. If you're a beginner, you'll find the basic elements of this page builder to be very simple and intuitive to use. If you're a seasoned developer, you'll quickly discover all of the advanced features that will allow you to create dynamic web pages for your clients without having to spend countless hours writing the code yourself.

The simplicity of the Elementor page builder is its beauty. When you activate the plugin, you'll notice that the interface is very simple and self-explanatory. Simply drag and drop the elements onto the blank canvas, then fill in the blanks with your content. You can also experiment with the design and animation modules until you achieve the desired look.
4. Ready-to-use Layouts
Divi has over 58 layout packs, and they add two new layouts every week, all of which are available right away. You can create a seemingly infinite number of other layouts from those 58+ and counting premade layouts, all customized to suit your or your client's web page needs. All of them are savable, so you can use them as custom templates of your own.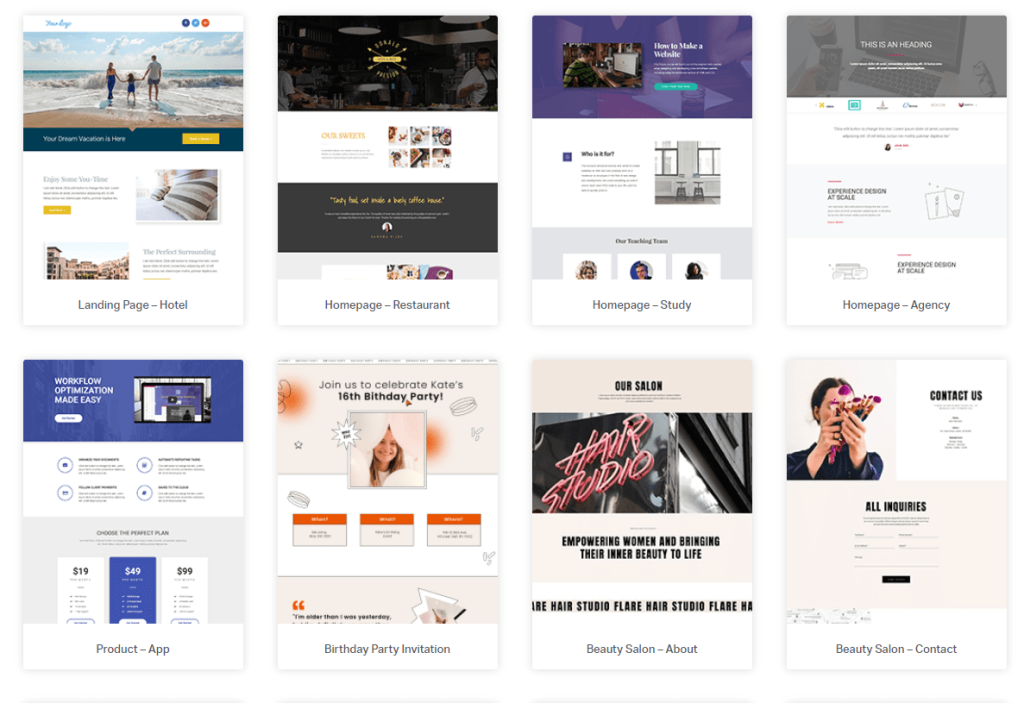 Elementor includes over 100 ready-to-use designs. Furthermore, you can transform those original 100+ pre-made designs into a plethora of other customized-designed layouts. These designs can also be saved.
5. Content Modules
Divi Builder includes 46 content modules. In addition, third-party developers have created a slew of add-ons. The free version of Elementor includes 29 content modules, with an additional 30 available with the pro version. This is in addition to the numerous third-party add-ons available.
6. Add-Ons & Upgrade Options
Because Divi and Elementor are such popular page builders, a slew of third-party add-ons has been developed for them. Some are free add-ons, while others require a fee. If you discover that you can't do something with Divi or Elementor, there's a good chance you'll be able to find an add-on that adds this functionality to the page builders.
Divi vs Elementor: Plans & Pricing Comparison
If a page builder is feature-rich, user-friendly, smooth, and responsive, and possesses all the elements required, but it's too expensive and overshoots your budget, it's useless to you. Everything is determined by the pricing packages as well as your budget. Elementor and Divi are inexpensive page builders that provide great value for the money.
Divi Pricing
It provides its users with two pricing options. The first is a yearly plan priced at $70 per year, and the second is priced at $199 which is a one-time fee, and enjoy Elegant theme's services for the rest of their lives. Both plans give subscribers access to the Divi page builder as well as the rest of the company's products.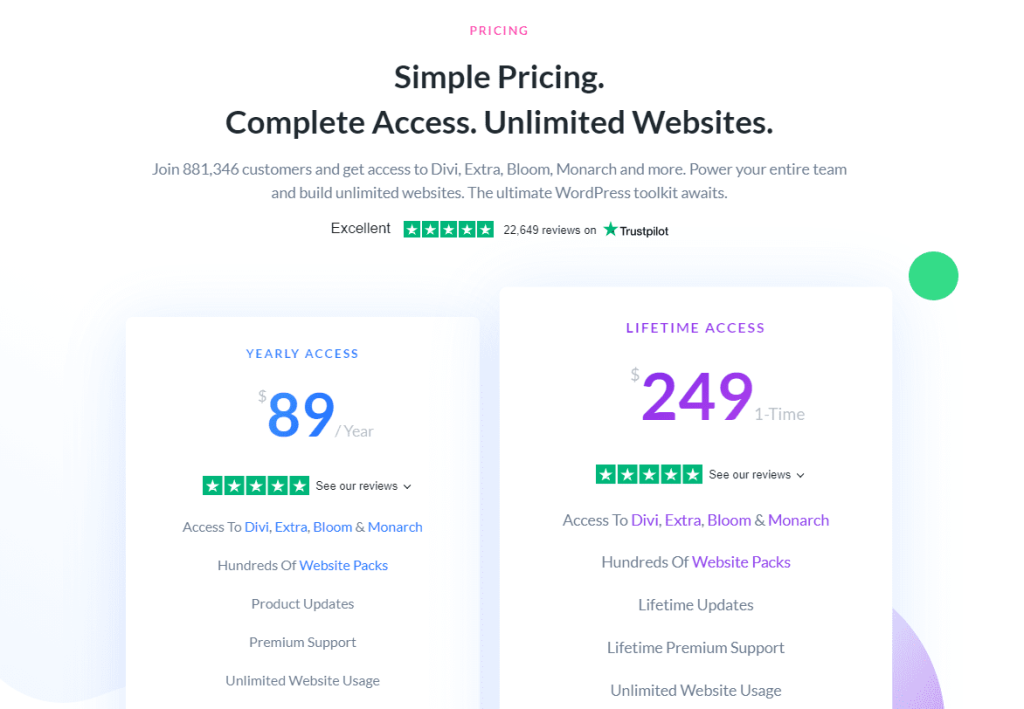 You will also receive a slew of layout packages that you can use to spruce up your websites. You will also have access to all features as well as premium 24/7 support in the event that you require assistance. The best part about Divi's pricing is that you can use the themes and plugins on an unlimited number of websites, giving you flexibility in deployment.
There is no free trial version of Divi Builder. They do, however, offer a 30-day money-back guarantee if you are dissatisfied with their product. Elementor has both a free and a paid pro version. The pro version does not offer a free trial, but it does offer a 30-day money-back guarantee.
Elementor Pricing
Elementor has four regular plans that users can choose from. Additional to those four plans, Elementor also has an additional plan called Elementor Cloud; we will discuss all of them below.
Moreover, if you're looking to save a few extra bucks on your next purchase with Elementor, make sure to check our Elementor Pro discount code here.
On paper, Elementor is priced higher than Divi; however, it attempts to compensate by providing a free plan. The free version has limited options and is designed to entice users to purchase paid plans.
Elementor Hosting Plan
We have talked about Elementor Hosting (Formerly Elementor Cloud) in detail in one of our posts. You can check it out by clicking HERE.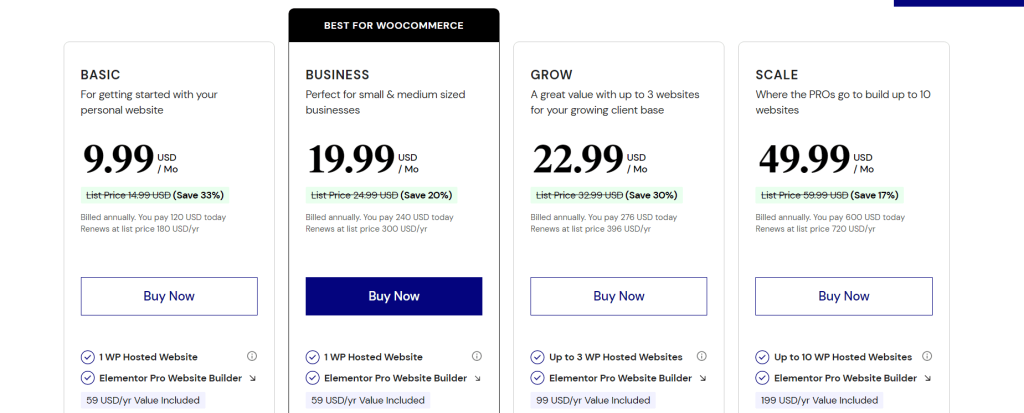 Elementor Hosting Pricing Plans
Basic Plan: $9.9/mo – $49.99/mo
Business Plan: $19.99/mo
Grow Plan: $22.99/mo
Scale Plan: $49.99/mo

Elementor Pro Plugin Plan
Price: $59 per year
Features
Let's take a quick look at the Features of Pro Plugin Plan
Only 1 website
Drag & Drop Live Editor
Responsive Design
100+ Basic & Pro Widgets
300+ Basic & Pro Templates
90+ Pro Website Kits
Theme Builder
Premium Support
Elementor Hosting Expert Plan
Price: $199 Per Year
Features: Up to 25 websites + All Elementor Pro Features
Elementor Hosting Agency Plan
Price: $399 per year
Features: Up to 1000 websites + All Elementor Pro Features
Elementor Strattic Pricing
If you don't want to create your WordPress website from scratch, then you can buy a static WordPress website from Elementor. There are three pricing options available, and they are as follows: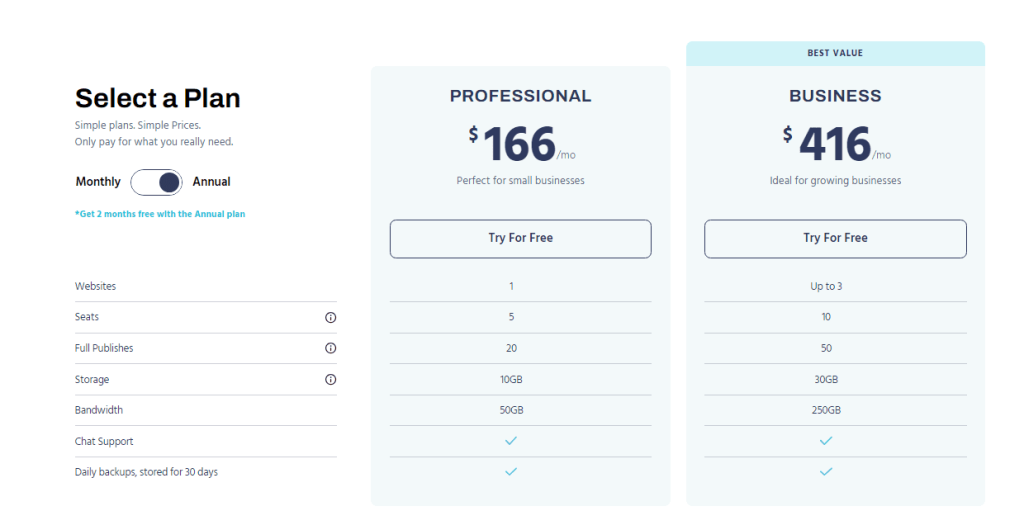 Professional Plan
Price : $199/mo, $166 if paid annually.
1 Website
Up to 5 Seats
10 GB Storage
Daily Backup Stored for 30 Days
50GB Bandwidth
Chat Support
Business Plan
Price: $499/mo, $416 if paid annually
3 Website
Up to 10 Seats
30 GB Storage
Daily Back up stored for 30 Days
250 GB Bandwidth
Chat Support
Divi Vs Elementor: Pros & Cons
Let's take a quick view at Divi Pros, Divi Cons, Elementor Pros & Elementor Cons.
Pros
Cons
Divi
1. Allow you to create responsive websites, which works excellently on all devices.
2. Has a smooth interface
3. Developer Friendly
1. It's going to be very difficult if you are looking to create a website with Gutenberg because it does not integrate.
2. If you are creating website with Divi, you need to know that it uses a lot of short codes which will result in failure of website if you decide to remove Divi later.
Elementor
1. Highly compatible with pretty much all the WordPress themes.
2. Elementor Pro is affordable
3. You can create website with basic tools.
1. No lifetime option available for Elementor as compared to Divi.

Which WordPress Page Builder Plugin Is Best For You? – Divi Vs Elementor
Choosing between Divi and Elementor can be challenging if you don't know what you're looking for. But it doesn't have to be challenging if you closely understand both tools. Both Elementor and Divi push updates regularly, which means when one introduces something new, then the other also comes with new and unique features making it more difficult for users to choose between them. But I have simplified how you can choose one over the other.
Choose Divi If:
Let's take a quick view at why should you go with Divi
Divi is a clear choice if you are running an agency and require an infinite number of websites. With its lifetime plan, you can use the Divi theme and the page builder on as many websites as you want.
Divi is great for beginners, but if you are an experienced designer, then you can do a lot with Divi. However, the learning curve with Divi is steep, but once you understand all of its functions, you can easily design your dream websites.
They offer the best customer support in the industry.
You will need a WordPress theme for your website, and with Divi, you get access to both the page builder and Divi theme.
Choose Elementor If:
Let's take a quick view at why should you go with Elementor
If you don't have any coding experience and want to build a website with amazing design features, then Elementor is the right choice for you.
The Elementor free version is great for those who are on a budget, and it gives them access to all the essential features they will need to design their websites.
Elementor is great for creating complex designs for your website.
If you already have a WordPress theme for your website, then you should definitely choose Elementor.
Elementor Cloud is best for those who want in-built hosting for their website.
Related Read:
Final Thoughts – Divi Vs Elementor
So what are our final thoughts on Divi vs Elementor? Both Divi and Elementor are excellent page builders for WordPress, and you should select one as per your requirements. Both page builders have advantages and disadvantages. While Divi might satisfy some needs, it may not satisfy others, and Elementor is no exception.
Elementor is faster as compared to Divi because of its clean code and well-organized structure. Even Divi is a fast page builder, but it falls a little short of Elementor. Elementor is far simpler to learn than Divi builder. Although the Divi builder interface outperforms the Elementor visual builder in terms of customization options and templates, it isn't as simple and intuitive. Both allow you to add custom headers and footers to your pages, and both support inline editing.
In comparison, Divi is more affordable than Elementor. However, the latter is unrivaled in terms of usability and performance. Both Elementor and Divi have advanced page-building capabilities. Elementor is available for free, with a PRO version available for $49. Divi is available for $89 per year and can be used on an unlimited number of sites.
The most noticeable distinction between Elementor and Divi is the popup builder tool that Elementor provides, but Divi does not. The popup builder in Elementor allows you to use the interface to design popups and display them anywhere on your pages. Although Divi attempts to fill the void with third-party overlays, it falls short of Elementor's popup builder.