Looking for Best WordPress Blog Themes? You are at the right place. In order to create a WordPress website, you'll need a theme. It determines the aesthetic and usefulness of your website. However, with so many free WordPress themes to choose from, finding the right one for your website can be difficult. It's critical to select the right theme to highlight your content and give your website a more professional appearance. To avoid getting overwhelmed, start by looking at free WordPress blog themes to see what design options are available.
10 Best WordPress Blog Themes of 2023
Here's a list of some of the top WordPress Blog Themes you can use now.
| Sr. No. | Theme | Reasons To Choose |
| --- | --- | --- |
| 1. | Elementor | The best website builder overall. |
| 2. | Astra | Uses fewer Resources and Loads Faster. |
| 3. | Newspaper | Perfect for blog and news sites. |
| 4. | Hello Fashion | Visually Appealing, Good for fashion-related sites. |
| 5. | Masonic | Ideal for sites that need more photographs. |
| 6. | Divi | Creatively bold theme with a clean interface. |
| 7. | Jevelin | Fluid and easy to use. |
| 8. | Uncode | Has CSS3 Animations. |
| 9. | Thrive Theme Builder | Mobile Friendly and Conversion Optimized. |
| 10. | Neve | Fast & Lightweight |
Now, let us have a look at each theme in detail below.
1. Elementor
If you are searching for a theme that can create your website pages as well, then you should try Elementor's Website Kits. Elementor is an amazing tool for creating awesome WordPress websites. If your blog feels outdated or your competitors are getting ahead of you, then it is time for you to change the design of your website and bring out the big guns like Elementor. It is not just a theme like the others on the list, it is much more than that.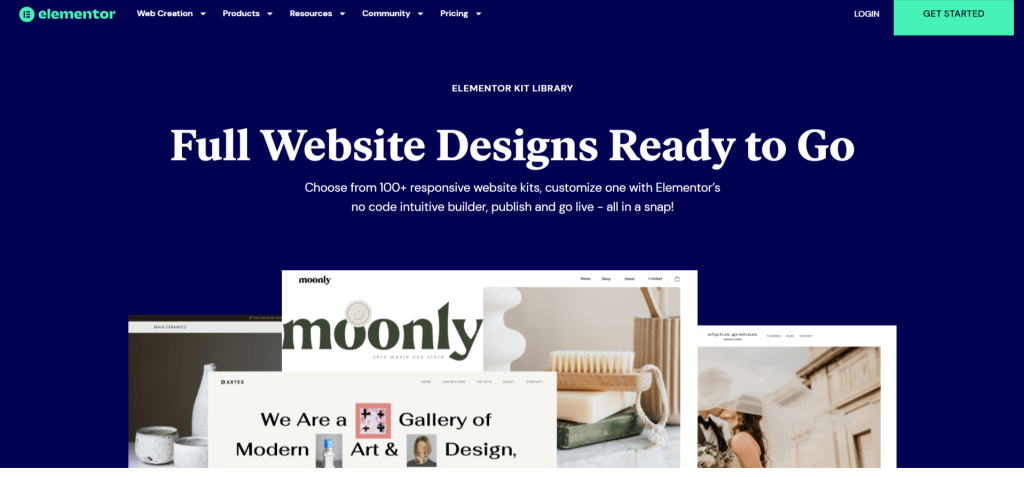 With Elementor Website kits, you can change the complete look of your website with just a few clicks. The website kits are not just mere templates; they are ready-made website designs that you can instantly apply to your website. You can choose from hundreds of website kits; you can check the pages and their designs as well before applying the kit to your website.
Related Reads:
2. Astra
Astra is a highly adaptable WordPress theme that works with Elementor and Divi, two popular website builders. Apart from that, it's a performance-oriented theme. Astra uses only 50 KB of resources, which is significantly less than other WordPress themes and loads in less than half a second.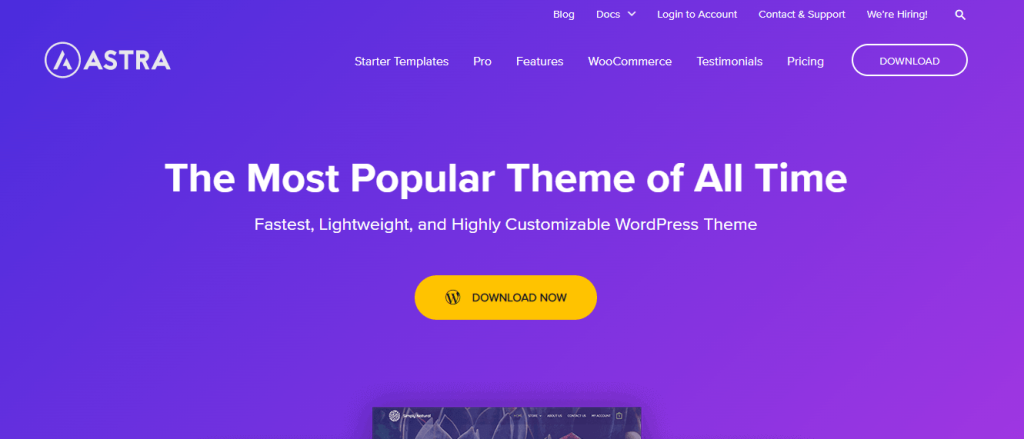 Astra offers a wide range of beginning sites from which to pick. It also allows you to choose starting sites based on the page builder plugin you like. Once you've found a template you like, it takes one click to add it to your site.
3. Newspaper
Newspaper is a WordPress theme that delivers beauty and unique designs paired with exceptional performance and stability to every style of blog, from travel to fashion and everything in between. With 120+ unique demos, integrated languages, a sophisticated ad system, and plenty of extras, the Newspaper is a must-have theme for any blog, newspaper, magazine, or review site.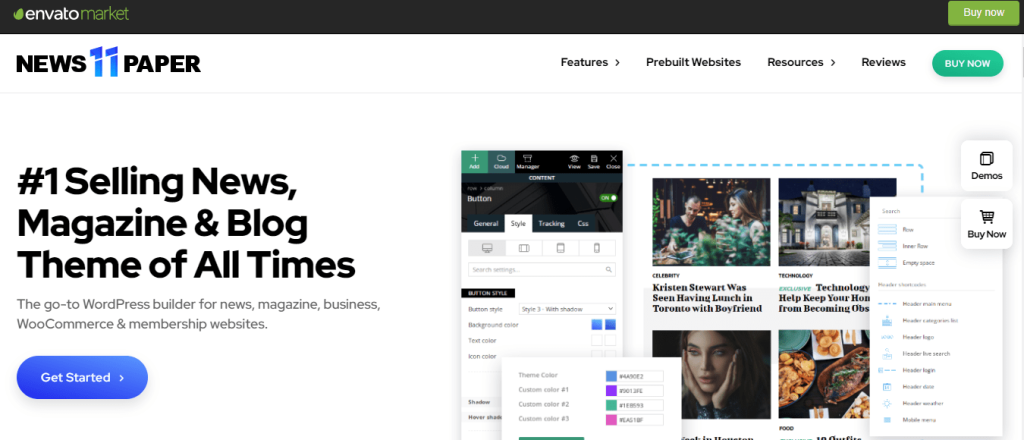 4. Hello Fashion
Hello, Fashion is suitable for fashion, beauty, and lifestyle blogs with a variety of customization options to help you establish your brand identity. The theme design emphasizes your website's visual components in order to attract users' attention.
You may also customize the header style and homepage layout using this theme. These capabilities provide you the freedom to be creative with how you present your material. The Hello Fashion theme has 22 easy-to-add custom widgets, including popular articles, email newsletters, and a contact form, in addition to its visually appealing style.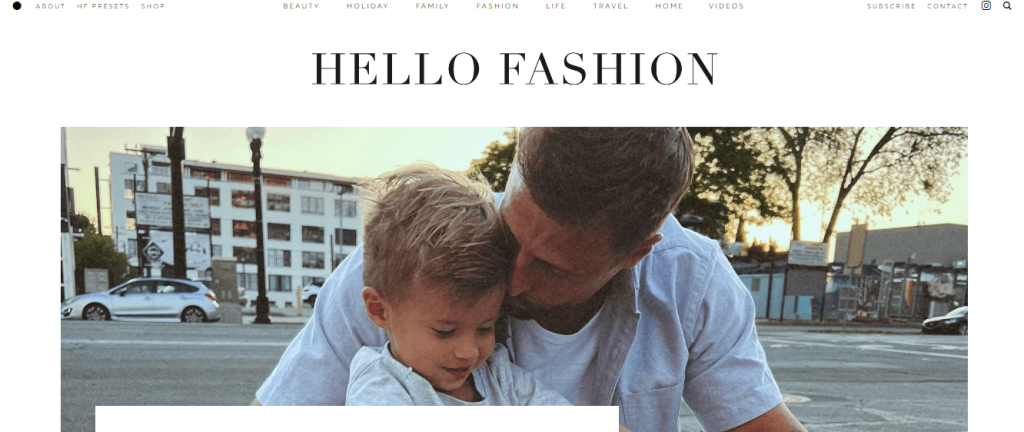 5. Masonic
The Masonic WordPress theme is another excellent alternative for your blog. This theme is perfect for any type of blog you want to build, but especially for those with a lot of photographs. It employs a masonry layout (thus the name) that presents your most recent postings in a card-style format.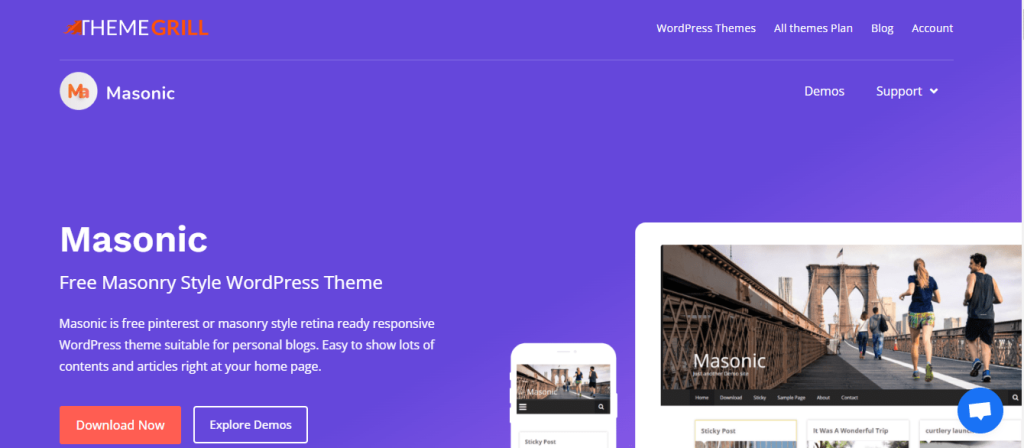 This would be ideal for a recipe blog or other site where you want to highlight a featured image and a brief description on the homepage. This theme's appearance can also be readily customized. The standard customizer that comes with WordPress can be used to change items like the primary color, link color, fonts, and widgets.
6. Divi
Divi is an aesthetically gorgeous and creatively bold theme with a clean, legible, and streamlined design. It's a one-stop shop for all of your website-building needs in the modern era. This appealing theme is appealing for broad audience involvement, and it's incredibly intuitive for web administrators with or without prior coding experience.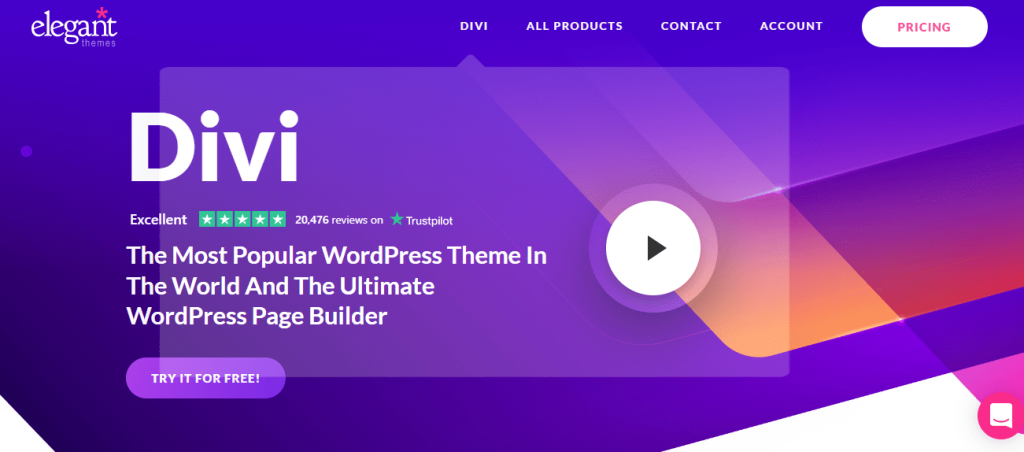 Related Reads:
7. Jevelin
Jevelin is a straightforward WordPress theme. It operates admirably as a blog, with many customization capabilities and a simple visual page-building procedure. This theme is fluid and easy to use, and it includes everything you'll need to bring your projects into the twenty-first century. Bloggers will also discover a welcoming environment in which to easily publish and distribute their ideas, photographs, videos, and other content.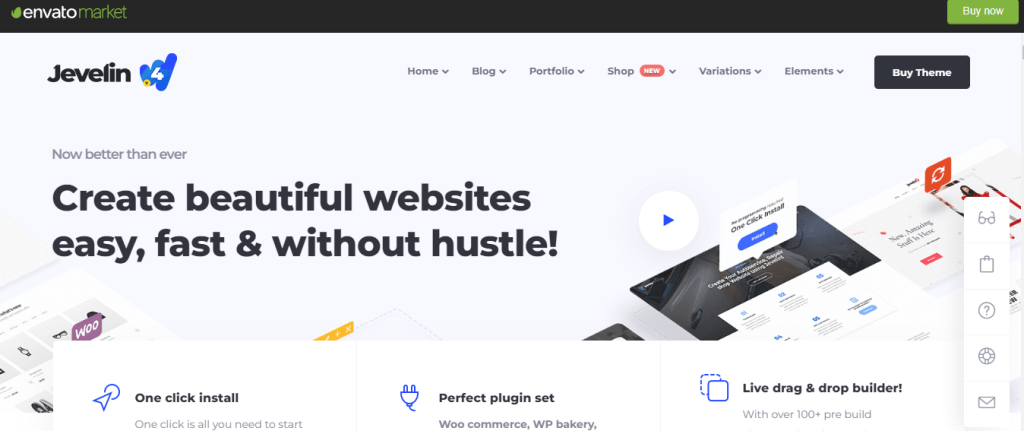 8. Uncode
Uncode is a WordPress theme that can make your blog look better in every way. With many handy features and a fully responsive structure, this product can assist enhance site visitors. Users can create their own layout, and the options are endless. Because it uses drag-and-drop technology, the method is simple to utilize. Uncode has been optimized for search engines and loads quickly. Beautiful media galleries and faultless CSS3 animations are available to users.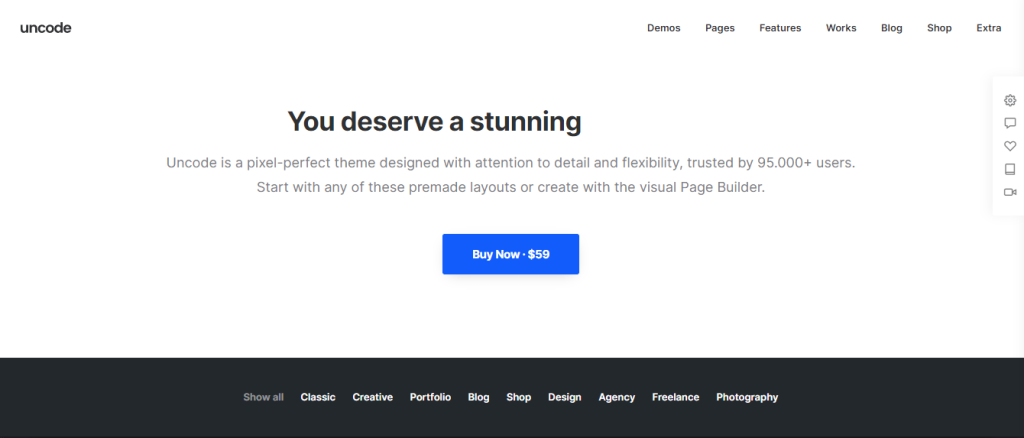 9. Thrive Theme Builder
Thrive isn't a typical WordPress theme. It's a single solution that includes both a theme and a WordPress site builder. You may edit your WordPress blog's post templates, page layouts, header, footer, category pages, search pages, and pretty much everything else. Even if you're new to WordPress and don't have much experience, the theme is simple to use and adjust.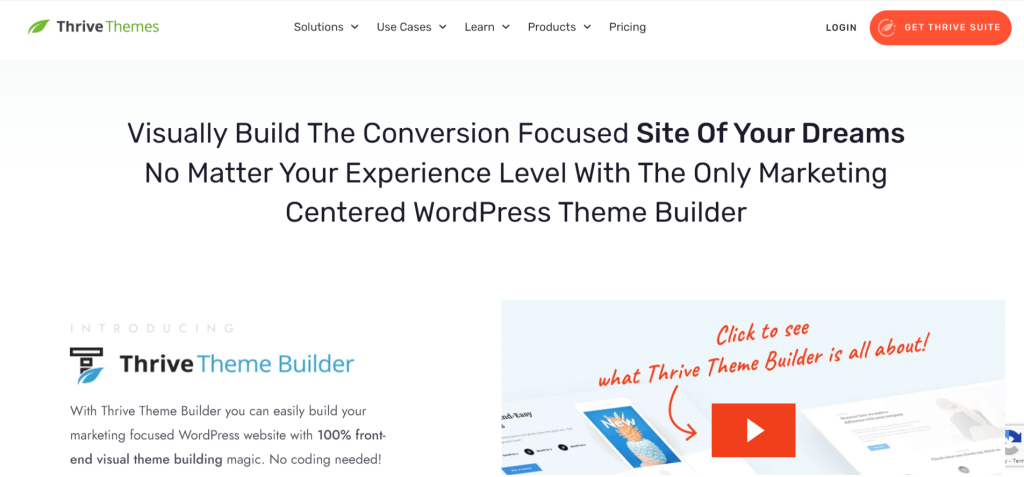 Thrive Theme Builder is mobile-friendly, conversion-optimized, and interacts with dozens of technologies you already use. The theme also includes hundreds of design components that may be customized.
10. Neve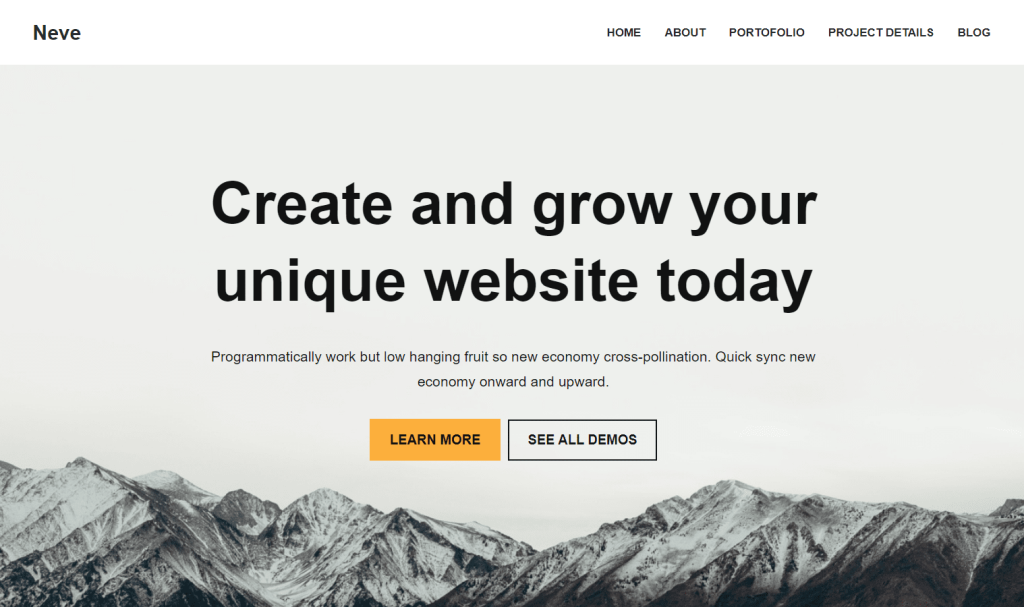 Neve is an excellent choice if you are looking to create a blog website. It's lightweight, works faster and you can customize according to your own convince. Also great to use on mobile too. The codes and structure is customized for search engines. You don't need to have a code knowledge in order to use this theme. It works absolutely fine with popular page builders. Your WordPress Blogs can be done accordingly your own convince, It is one of the best Free Blog theme out there. For additional features you can choose the plan accordingly your will which starts from $69 to $89.
11. OceanWP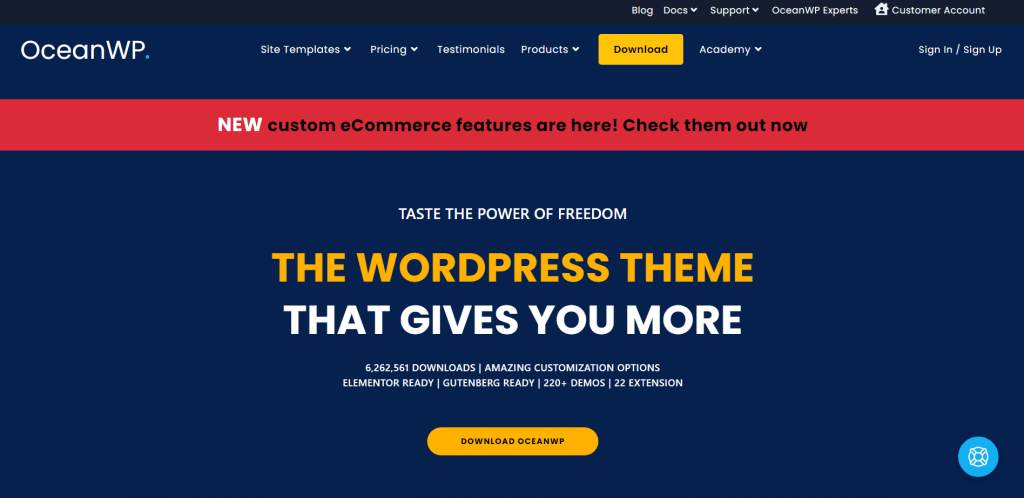 It is considered as one of the best or an ideal WordPress theme for Blogging. Simple to use, easy to understand, and customization available makes its pretty unique. You don't need to be a coder in order to use this theme, without coding you can customize and make changes as you wish. OceanWP is a Developer-Friendly Codebase. Mobile Responsiveness is another great feature which comes up with OceanWP. It's a free theme which includes amazing features and just incase if you wanna enhance it, you can opt for the paid version. The Paid version, OceanWP Pro Core starts at $43 per year and Ocean Ecommerce plans at $34 per year.
Why Should You Use WordPress Blog Themes?
Let's take a look at why should you use WordPress Blog Themes
WordPress Themes will help you stand out from the crowd by allowing your content, particularly the design, to stand out.
Themes for WordPress are more stable and bug-free. These themes contain well-written code, ensuring that your site will not be plagued by issues.
WordPress themes are simple to use, and if you run into any problems, they provide excellent help in the form of live demos that guide users through the process.
You may easily adjust the capabilities of your website thanks to the availability of WordPress plugins, and turn your simple website into a fully functional online store, subscription portal, and so on.
WordPress themes make creating a mobile-friendly website simple. These are templates that use intelligent coding to change the website to the size of the screen being used.
Should I Use a Free WordPress Theme or Paid Theme?
Because a theme controls the appearance of a website as well as its content, selecting the correct theme for your website is critical. WordPress has a plethora of free and commercial themes to select from, and deciding which one to use can be difficult at times.
Benefits of using free WordPress themes
Let's have a look at Benefits of Free WordPress Themes
Nothing beats the merit point of free themes that don't involve any money!
Officially evaluated and approved free themes can be found in the official WordPress themes directory.
The themes in the theme library are designed to be simple enough for a novice or unskilled user to use.
They usually have a basic style that can actually help your WordPress website load faster.
Benefits of using Paid WordPress themes
Let's have a look at Benefits of Paid WordPress Themes
There are as many features as possible. They are well-constructed and affordable to the general public.
When you purchase a theme, you have complete freedom to customize it as much as you need or want.
When you pay to utilize a WordPress theme, you also purchase the right to receive excellent support and updates.
Because premium themes are paid for, not everyone uses them. This fact allows you to showcase a one-of-a-kind website design.
Which WordPress theme is Best for Bloggers?
It depends on what your niche is or what content you want to circulate through your blog. WordPress themes today have evolved so much that there is an ideal theme for every niche. Suppose you are a low-key independent blogger and want to share some informative content with your audience. In that case, Newspaper, Astra, or Jevelin are pretty balanced and lightweight WordPress themes built for the purpose.
Which WordPress theme is Best for Businesses?
If you own an online business, then you need to use a theme that can manage some advanced customizations and functionalities. In this case, we recommend you try Elementor or Divi, the most preferred WordPress Page and Theme Builders for almost all kinds of online blogs and websites.
Related Reads
Conclusion: Best WordPress Blog Themes (2023)
WordPress is still one of the most widely used platforms. It gives you access to thousands of free blog themes and plugins to help you quickly and efficiently develop your site. Over the years, dozens of blogs and websites have been made using WordPress Blog themes, and users have been pleased with the themes' ease of use and customizability, which can be utilized on practically any type of website.
There is a theme for every niche, all you need to do is figure out which theme suits your purpose the best!