Looking for Dark WordPress Themes? You are at the right place. Be it social media platforms or web browsers, the dark mode has emerged as an accessible, attractive, and fresh design style.
While sticking to the default theme for your website may seem like a safe bet, experimenting with dark themes may work well in your favour.
On WordPress, you can browse through a host of dark themes for your website that showcase your brand identity well, are optimised for speed and performance, and exude a sense of luxury and authority, qualities you can leverage while designing your website for customer success and a boost to your brand image.
14 WordPress Dark Themes You Should Check Out Right Now! 
Here are my Top 14 dark WordPress theme recommendations:
| | | |
| --- | --- | --- |
| Rank | Theme Name | Our Rating |
| #1. | Webify | 5/5 |
| #2. | Neve | 4.5/5 |
| #3. | OceanWP | 4.5/5 |
| #4. | Zelle | 4/5 |
| #5. | Dark Press | 4/5 |
| #6. | Valmiki | 3.5/5 |
| #7. | Newp | 3/5 |
| #8. | Auberge | 3/5 |
| #9. | Besty | 3/5 |
| #10. | Fargo | 3.5/5 |
| #11. | Divi | 3.5/5 |
| #12. | Astra | 3.5/5 |
| #13. | TwoFold | 3.8/5 |
| #14. | SeedProd | 4/5 |
Now, let's get to know them in detail:
1. Webify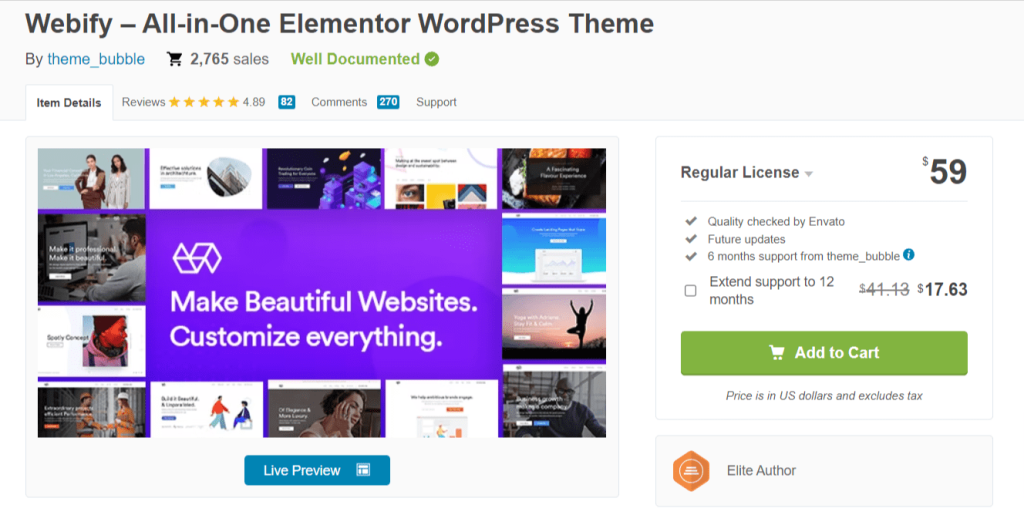 One of the most comprehensive, optimized, and fresh dark WordPress themes, Webify is an award-winning theme you should definitely check out. Webify is the perfect dark theme for you if you wish to go for a non-default layout that attracts customers, showcases your products, and drives engagement through blogs and other marketing efforts, all without compromising on speed and site efficiency.
Webify Key features:
Let's take a quick look at the features of Webify
Flexible, clean, and light WordPress theme
Multi-purpose demo site layouts for a quick start
WPML support makes it translation ready
Page builder tool that shows live changes and customizer options
GDPR compliant
Optimized for Gutenberg
Integrated with WooCommerce
Optimized for SEO
160+ Elements & Modules
Lifetime free updates and hundreds of layout options
2. Neve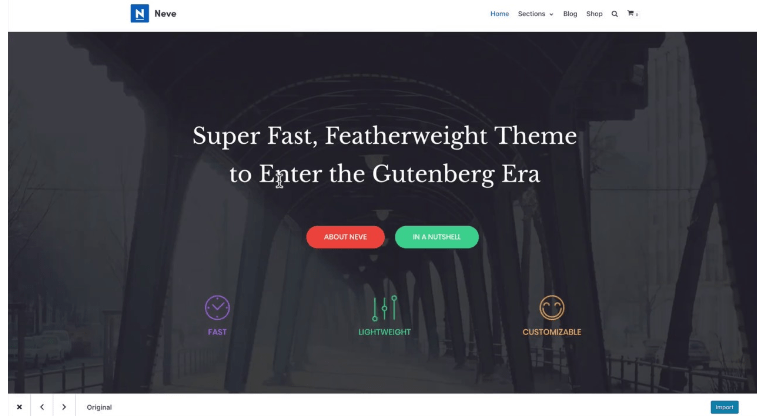 Neve offers the usual site-building features that you and I look for and comes with an added advantage – its dark theme.
With Neve, you can create fast, attractive one-page websites in a matter of hours and explore multiple dark layouts without having to worry about slowing down your site or not finding enough layout options to suit your dark-themed site.
No more running into design blocks or redesigning templates with multiple plages – Neve's easy-to-use one-page template makes it a boon for all small site owners.
Neve Key features: 
Let's take a quick look at the features of Neve
Header and Footer builders
SEO-optimized site structure and code for an organic boost
One-click demo import from a library of over 70 sample layouts
Integrated with WooCommerce
Optimized for mobile and desktop devices
A free core version is available
Not code-heavy and can be used by beginners and pros for all website needs
Responsive design
High customizability
Lightweight and optimized for speed
3. OceanWP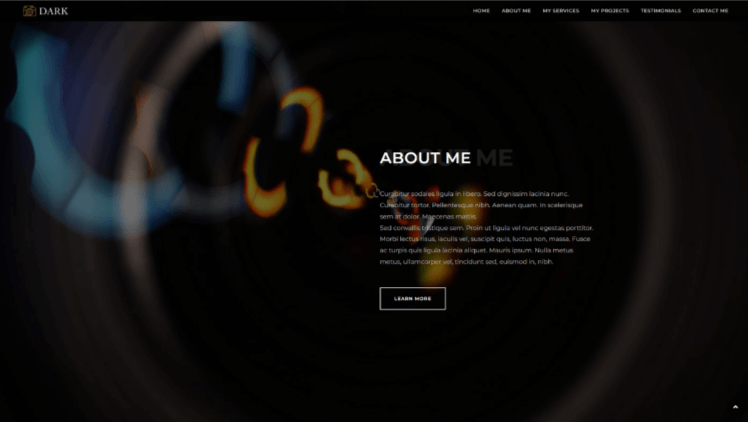 OceanWP – a fast, light theme for all site owners on WordPress, especially e-commerce, is the perfect dark theme WordPress website to start with. It is deeply integrated with Elementor, which makes the overall process of designing a website from scratch as seamless as possible.
It has had over 4,000,000 downloads since its release and is perfect for every site owner looking for a beginner-friendly and site developer-friendly theme with an attractive dark theme.
OceanWP Key features: 
Let's take a quick look at the features of OceanWP
Offers custom page layouts
Multiple font styles for headers, subheaders, and body text
Deep integration with WooCommerce
Optimized for mobile devices, with three mobile layouts
Built-in icons and menu options
Optimized for SEO
Integrated with Elementor
220+ demos and 20+ extensions
Offers pop-up elements, add-to-cart bar, and quick view options
4. Zelle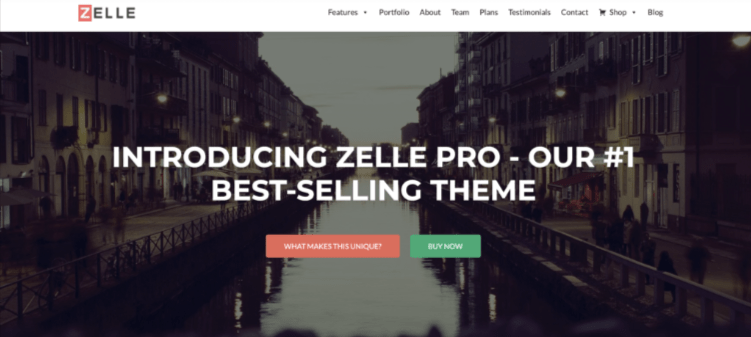 One of the most interactive dark themes on WordPress, Zelle is a theme that offers its users multiple features spread across the layout, colour, typography, integration with WordPress plugins and extensions, and support for RTL language for seamless reach to an international audience.
Zelle Key features:
Let's take a quick look at the features of Zelle
Parallax scrolling, where the image moves at a different speed than the rest of the website background
Multiple typography options
Attractive homepage layout options
Integration with Visual Compose and Elementor
Single-page layouts
Mega menus
Custom color options
5. Dark Press: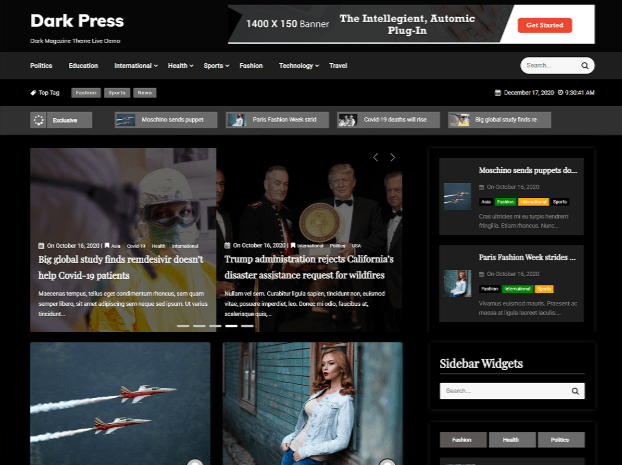 One of my favourite dark WordPress themes, Dark Press is a theme that will not disappoint. It is a magazine-style theme perfect for news portals, fashion, music and media outfits, or blogging sites.
Its biggest advantage is its deep integration with WordPress editor, which lets you create a site that is customized. With advanced customization options for every element on your website, and an easy drag-and-drop site-builder feature for the homepage, Dark Press is a stellar theme.
Dark Press Key features:
Let's take a quick look at the features of Dark Press
Drag and drop feature for easy editing
Multiple widget options (Post Slider Widget, Post Tabbed Widget, Post Thumbnail Widget)
Gutenberg support
Advanced font and styling options
Integrated with WooCommerce
Social Media Integration
Conceal or feature certain sections of your website according to your choice
6. Valmiki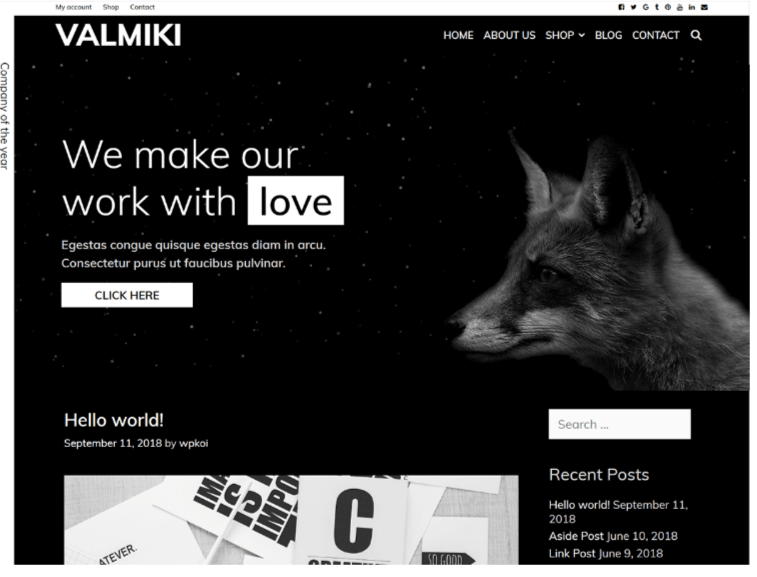 A clean and minimalistic theme, Valmiki is widely preferred by many websites. It is mainly used by business, portfolio, and blog sites, but can be customized for your site requirements.
It is a dark theme that's completely integrated with WordPress, which gives you the flexibility and ease of customization that you need to give your website design a boost.
Valmiki Key features:
Let's take a quick look at the features of Valmiki
Clutter-free theme
A simple and powerful colour palette
Integrated with Elementor
Supports Contact Form 7 plugin
Fast page load, optimized for speed
Multiple pre-made templates
Header and footer options
Mobile responsive
Premium features include extra Elementor features, a sticky header, padding, and margin controls, extra widgets, etc.
7. Newp: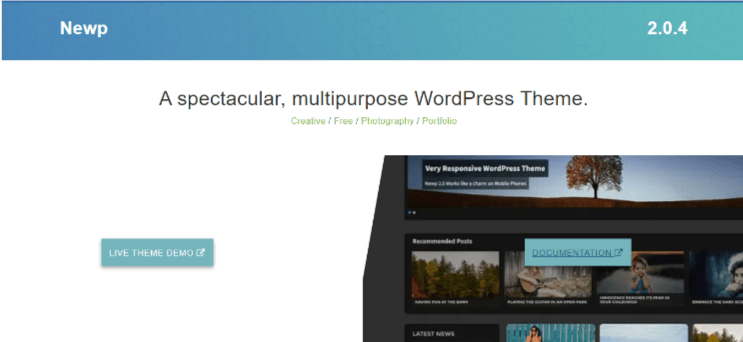 It is a theme that comes with a high-contrast color scheme, one that's perfect to make your dark design stand out without being inaccessible to your audience. Newp is a popular WordPress theme owing to its multiple customization options and a fully functional set of features such as sidebar options, blog pages, built-in widgets, and more.
Newp Key features:
Let's take a quick look at the features of Newp
Ultra-responsive for mobile devices
Optimized for SEO and is built using Bootstrap 3
Social media icons
Translation ready to cater to international audiences
WooCommerce integration
Unlimited color options
Supports custom widgets
Advanced sliders
Featured areas for better product showcasing
8. Auberge: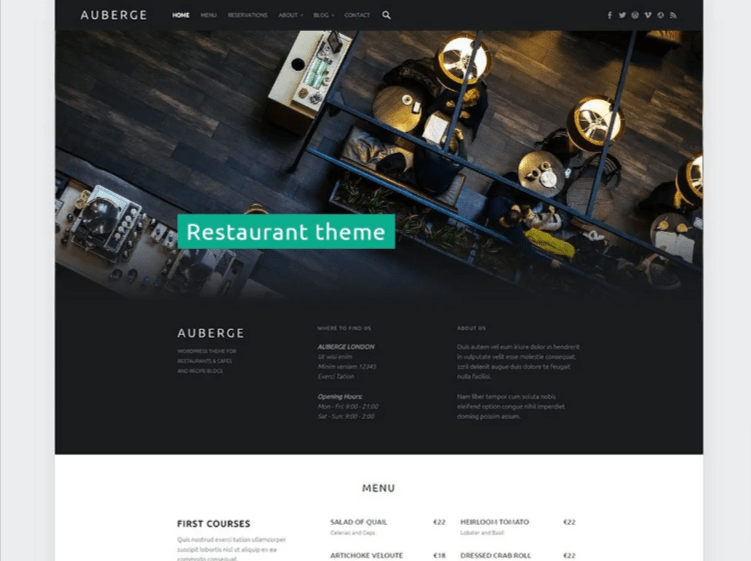 Hands down, the best free dark WordPress theme! One of the main reasons why I included Auberge in this list is because of its extensive dark colour palette that you can easily integrate with your overall site design without worrying about accessibility and performance.
Here are a few of the features that make Auberge an instant favourite –
Auberge Key features:
Let's take a quick look at the features of Auberge
Support for RTL languages
Header slideshow options
Custom colour options
Multiple layout options
Optimized for speed and mobile devices
Multiple typography options
Integrated with the Beaver Builder plugin
9. Besty: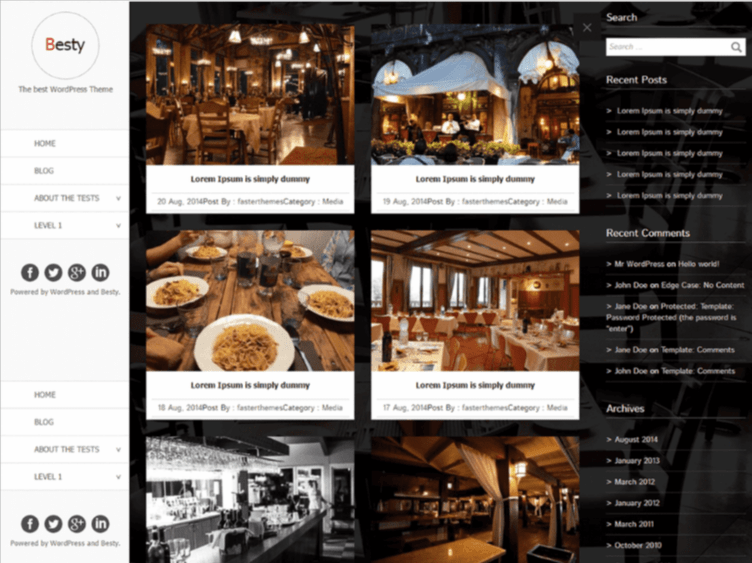 A multipurpose theme designed for sleek, responsive websites with a dark design, Besty is an excellent choice for any site owner looking for a free dark theme to get started with. Besty comes with a three-column layout for a clean utilization of site space and uses the Masonry layout.
Besty Key features:
Let's take a quick look at the features of Besty
SEO optimized
Mobile-friendly
Based on Twitter Bootstrap
Multiple logo customization options
Header and footer options
Social media links
10. Fargo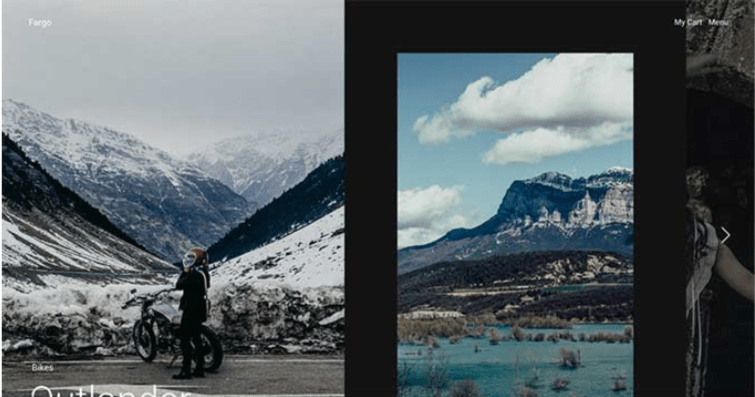 Built especially keeping the wedding photography niche in mind, Fargo is a dark theme perfect for you if you're a wedding photographer, speaker, artist, or even a graphic designer.
Using this theme allows you to showcase your portfolio and feature essential text-based information without making the website look too cluttered.
Fargo Key features: 
Let's take a quick look at the features of Fargo
Fully compatible with WordPress
Optimized for SEO
Mobile-friendly
Gutenberg Support
Multiple page templates
Contacts Page templates
Custom Widget options
Clean, uncompressed code makes it easy for site owners to edit their site
Stellar customer support
Featured posts slider for better product showcase
11. Divi: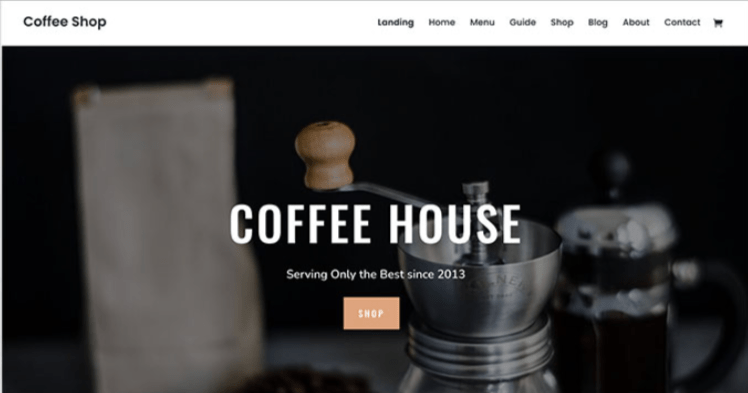 One of the best premium dark WordPress themes out there, Divi makes it ultra easy for you to customise every section of your website, including the header, footer, and relevant landing pages. The Divi theme is a personal favourite due to its efficiency, speed, and beginner-friendliness.
Divi Key features: 
Let's take a quick look at the features of Divi
Customizable landing pages
Optimized for speed and SEO
Over 160 pre-made website packs for a quick and easy design journey
Multiple post formats
Header and footer options
In-built blog page
12. Astra: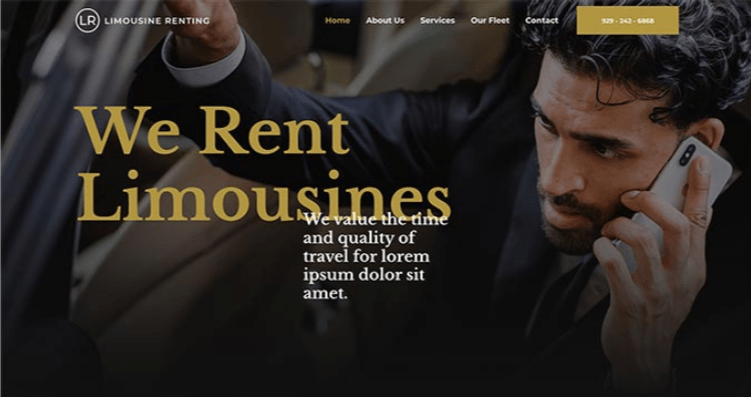 One of the best dark themes available, Astra is a sleek, wonderfully optimised theme for all your site needs. You can choose from 150+ sample site designs and customise the theme for a sleek, dark website design, and import them easily with Elementor.
Astra comes with unique features that are a boon to site owners everywhere – from full-width templates to LifterLMS and LearnDash integrations.
Astra Key features: 
Let's take a quick look at the features of Astra
Uses Vanilla JavaScript and less than 50kb of space
Mega menu
Multiple headers – sticky, transparent, and mobile options
You can set page-specific sidebars
Large colour palette and typography for peak customizability
Infinite scroll, off-canvas sidebar, quick view, and dropdown cart options for E-commerce owners
You can disable and enable elements as per your choice
Live site customisation, view your changes on your site as you make them
Speed and SEO-optimized
13. TwoFold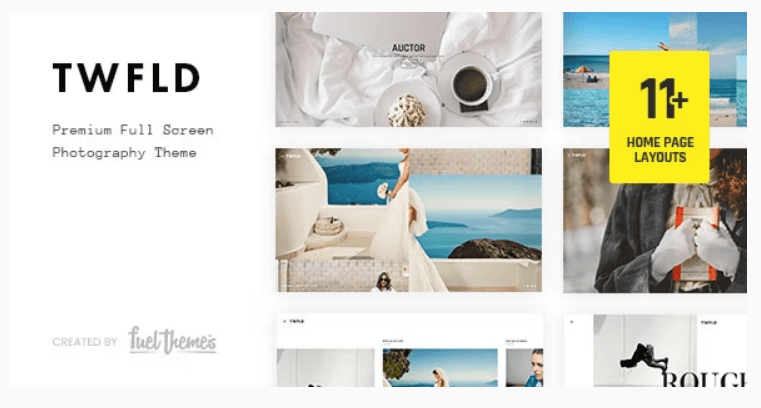 TwoFold is the theme if you are looking for a Photography theme website. With its simplicity, easy to use and attractive for users to view, The UI is very pleasing. With customize page header and footer a user can edit accordingly their wish. The Page layout makes it more better for the viewer to view the gallery and can handle multiple albums. If you want your website to be top notched and with great UI then you should go with TwoFold.
TwoFold Key Features :
Let's take a quick look at the features of TwoFold
Custom Page Header and Footer
Can Handle Multiple Albums
It is Widget Ready and in High Resolution
Easy to Use & Simple to Understand.
14. SeedProd
If you are looking for the best Drag & Drop Theme Builder then SeedProd is your answer. You can create a dark, custom theme from the scratch without any coding. It includes 9 theme kits. Customization is simple and easy, you can customize the theme within clicks. With this you will get image carousels, conversion-focused page blocks, social profiles, email option forms and much more.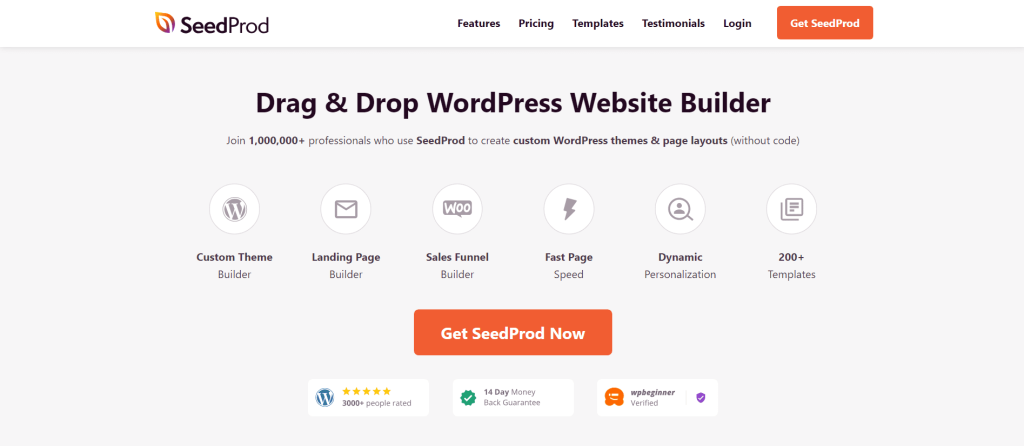 SeedProd Features
Let's take a look at the Features of SeedProd
WooCommerce and email marketing services Integration available.
Wide range of fonts and color schemes available
Drag & Drop
More than 150+ Professional Designed Templates
Slideshows and Background Videos
Related Read:
Final Thoughts on Dark WordPress Themes
Sticking to a light, default theme while making your website may seem like the safer option, but opting for a dark theme is what makes your site stand out amongst a hundred others.
Whether you're into photography, graphic design, fashion, business, or blogging, a dark theme is one aspect of your website you shouldn't skip. In this blog, I listed 13 of my favorite dark themes on WordPress, including Webify, currently #1 on my list.
The theme is packed with customisation options, multiple layouts, pre-made templates, integration with WooCommerce and Gutenberg, as well as optimisation for SEO.
If you're on the hunt for a dark theme that suits all your website needs, Webify is the one for you.
---