Are you looking for Free Shopify Themes? Then, you are at the right place. For every e-commerce store need out there, Shopify has a solution. Used by over 1.75 million businesses around the world, Shopify has cemented itself as one of the best online platforms that help e-commerce owners set up their stores quickly and efficiently. 
Shopify, just like any other online platform that allows for a wide range of customizability while setting up a store site, has hundreds of themes you can choose from.
In this blog, I'll take you through 13 of the best Shopify themes that you can use that are completely free of cost. I'll be rating these themes according to their ease of setup, customizability, as well added features useful for any site owner, especially in the world of e-commerce. 
13+ Free Shopify Themes That Work For All Kinds Of Online Storefronts – Ranked!
A Quick Overview of 13+ Free Shopify Themes.
| | | | |
| --- | --- | --- | --- |
| Rank | Theme Name | What's Good? | Rating |
| #1. | Debut | Beginner-friendly, responsiveness | 4.5/5 |
| #2. | Boundless | Niche templates support visual storytelling well | 3/5 |
| #3. | Minimal Vintage | Minimalistic layout, video showcase option | 3/5 |
| #4. | Fashe | Feature product section allows you to use plain HTML code on other platforms | 3.5/5 |
| #5. | SnowDevil | Widgets that support promotional efforts, easy-to-use | 4/5 |
| #6. | Venture | Supports 500+ products and 5+ collections, attractive layout | 4.5/5 |
| #7. | Sense | Mega menu and quick buy options | 4/5 |
| #8. | Voonex | Integration with social media platforms, product grid options | 4/5 |
| #9. | Layout Hub | Beginner-friendly, compatible with most Shopify apps | 3/5 |
| #10. | Dawn | Quick setup and multiple block options | 3/5 |
| #11. | Crave | Color palette, customization options | 4.5/5 |
| #12. | Thalia | Minimalist design, advanced product filters, and showcase options | 4/5 |
| #13 | Booster | Best for Shopping Experience for Buyers | 4/5 |
1. Debut
If you're an e-commerce owner looking to build a site that's clean, fast, and customizable, Debut is the theme for you.
The best part about Debut is the multiple pre-made templates that you can customize according to your needs without having to spend too much time building a website from scratch.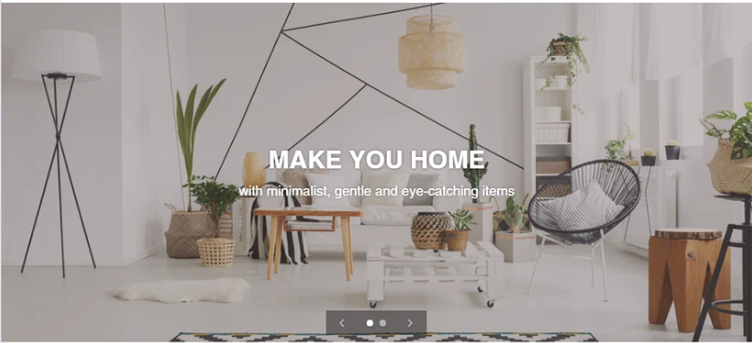 It has received glowing reviews from most of its customers for its responsive layout options, such as Default and Lite, which allow for even greater flexibility when designing.
Key Features
Beginner-friendly Shopify theme
Light, responsive layout
Optimized for multiple devices, such as mobile, tablets, and phones
Built-in blog section that you can use to drive organic traffic and add value to your target audience's customer journey
Efficient search option to help your audience find what they're looking for fast.
Who is it for?
Perfect for all e-commerce owners who are creating an online store for the first time or redesigning their old one with beginner-level experience.
2. Boundless
One of the best free Shopify themes out there, Boundless comes with a large number of design options, making it perfect for site owners looking for a theme with max customizability.
Boundless supports more than 50,000+ websites presently and is favored for the high support it offers to niche sectors in the e-commerce market without limiting owners to a one-size-fits-all theme.
Key features
Supports and optimizes high-quality images, perfect for sites that are looking for a more visuall-dominant showcase for their products
Optimized for mobile devices
Customisability in terms of color palette, image layout style, and display options
Slideshow and carousel options
Single-product gallery
Support for full-width images
Who is it for?
Perfect for e-commerce owners looking to display their unique aesthetic via their products and site design
Brands that are more image-oriented in terms of a product showcase
Stores that are centered around art, pottery, jewelry, etc.
3. Minimal Vintage
If you're looking for a simple, clean theme that showcases your products well, is attractive, and is customizable, Minimal Vintage is the theme for you. Its customers love it for its minimalistic look, which ensures your products are the center of your user's website experience and that too much text does not clutter the site, especially the homepage.
An interesting statistic about Minimal Vintage is that about 60% of the theme is dedicated to image sliders – a perfect image-to-text ratio for an e-commerce website.
Key features
Product image zoom for a more detailed product showcase for your audience
Multiple slideshow layouts and carousel formats
Support for video showcase on your home page
You can choose to include the "Filter" option on your site, letting users view products based on their preferences such as price range, product type, etc.
Product recommendation features help boost other products
Support for SEO
Wide variety of colour palettes
Who is it for?
E-commerce owners looking for a responsive, clean, and minimalistic website that showcases their products well and is high-converting.
4. Fashe
One of the first free themes created on Shopify by Colorlib, it is an excellent theme for any e-commerce owner looking to create a successful Shopify store.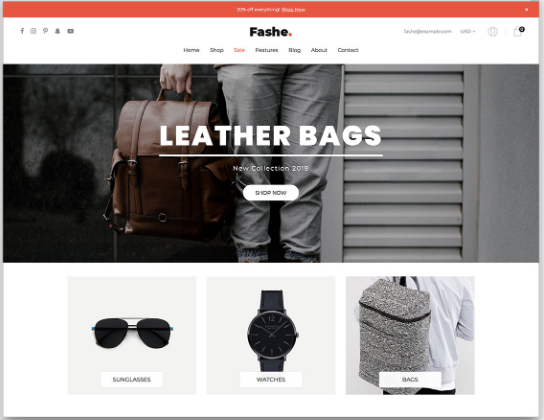 It is a very responsive theme and allows for a wide range of customization options. An added feature is that it also allows e-commerce owners to use its plain HTML code that you can use on other platforms.
Key features
Completely editable homepage
Built-in blog section to feature some of your best products in the form of reviews and shopping tips, as well as a comprehensive FAQ section,
Customizable 'About Us' and 'Contact Us page
Featured Product section for a complete showcase of your products
Mobile-optimized
Who is it for?
The theme comes with many features, making the learning curve quite steep. If you're a business owner or a web dev looking to make a responsive, clean, product-centric site in the fashion, jewelry, or similar niche, Fashe is the theme for you.
5. SnowDevil
Venturing into the world of extremely niche Shopify themes, we have SnowDevil as one of the best themes for any e-commerce store selling winter sports goods and equipment, such as fleece jackets, skis, skateboards, and ice skates, to name a few.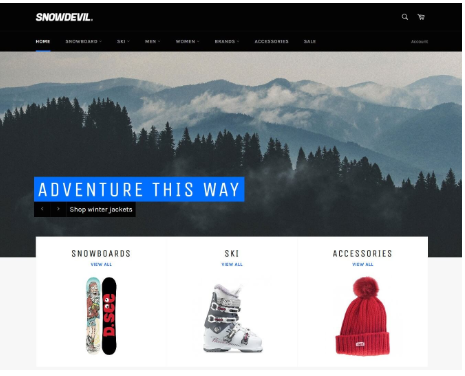 This theme is extremely attractive and customizable and targets a particular section of the e-commerce market on both the buying and selling side of things.
Key features
Slideshow options
Multiple layout options
Optimized for mobile devices
Multi-column support
Widgets that support promotional efforts
Multiple typographies and color palette options
Who is it for?
Any e-commerce owner in the winter-themed sporting goods/equipment niche
6. Venture
For all e-commerce stores dealing with outdoor equipment and goods, such as hiking stores and adventure sports stores, Venture is the best theme for their website.
The reason why I love this theme is because of how light and attractive the theme is and just how easy it is to customize the theme.
Key features
Showcase for 50+ products
Support for 5+ collections
Large menus for better visibility and accessibility
Slideshow options
Built-in newsletter feature
Multiple footer options
'Checkout' feature
Built-in Social Media icons to support interaction with your brand's online presence
Who is it for?
If your site has more than five collections and 50 products that cater to outdoor adventure niches, Venture is the theme for you.
7. Sense
If you're looking for a theme that is focused on product detailing, an attractive layout, and unique aesthetics, Sense is the perfect theme for you. It is relatively newer than the rest of the themes so far but is quickly becoming a popular choice because of the visually centered theme layout it follows.
Key features
Advanced customization options
Fresh, clean layout
Light and attractive color palettes
Efficient visual layout options for solid storytelling
Support for multiple marketing-based features such as Blogs, cross-selling, FAQ section, review section, quick view of products, banners, and recommendations
Mega menu and filtering options
Quick buy options
Who is it perfect for?
E-commerce store looking for a detailed product showcase, a clean and minimalist site design, and a theme that is easy to customize
8. Voonex
Targeted for conference and event-centered e-commerce websites, Voonex is a theme that comes with features such as event information and sections in the site layout for details such as venue, speaker(s), sponsors, event schedules, etc.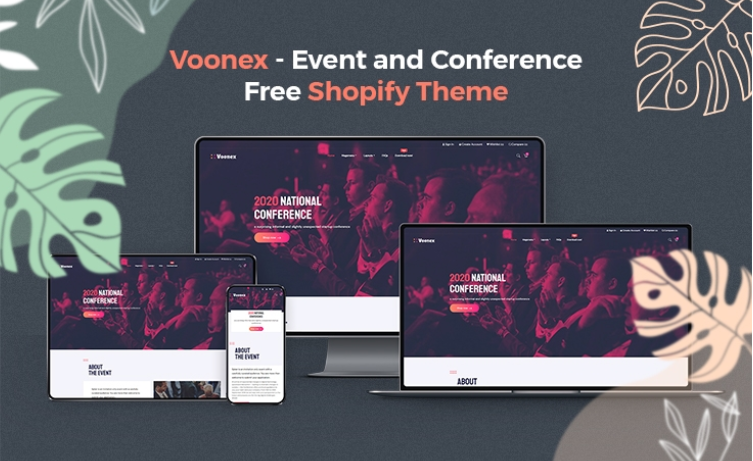 If you're looking to build a site around a conference, meeting, annual summit, expo, or concert, you should check Voonex out.
Key features
Optimized for SEO
Ultra-responsive design optimized for mobile devices
Easy customization options
In-built blog page
Multiple headers and footer options
Product filter and grid option
Integration with social media platforms
Who is it perfect for?
Any company looking to expand upon their events through a well-designed, optimized website on Shopify
9. Layout Hub
Used by over 8000 websites currently, Layout Hub is one theme I'd recommend if you're just starting with a website for your e-commerce store. Amongst its other features, LayoutHub comes with multiple pre-made templates that can be used for diverse e-commerce niches such as fitness equipment, beauty, etc.
Key features
Extremely beginner-friendly layout and web design options
Dedicated and efficient customer support that's available 24/7
Compatible with multiple Shopify apps
Optimized for speed and mobile devices
Multiple footer options
Who is it perfect for?
Any e-commerce owner looking for a theme that's customizable, easy to edit, and optimized for speed
10. Dawn
Used by more than 640,000 websites on Shopify, Dawn is a very popular theme – and for a good reason. The best part about Dawn is the speed at which it helps you set up your site.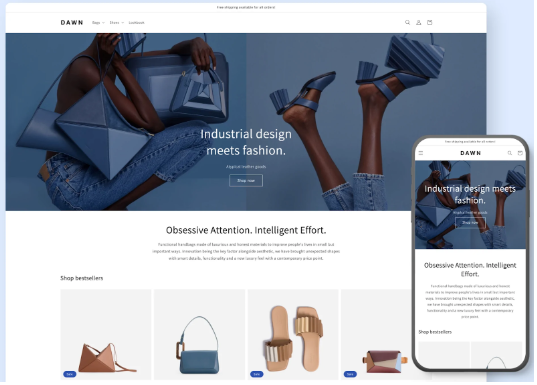 Most themes take relatively more time to set up, especially if you need to change up multiple elements from the template/blank slate you have started with to make the website align well with your brand identity.
Key features
Well-designed block options
Quick setup
Minimalist design
Media-centered product page
Multiple customization options
Multiple marketing features, such as an in-built blog section, FAQs, product reviews, promotional banners, etc.
Product zoom, product finder, navigation bar, and enhanced search option
Who is it for?
With a bold, clean, and attractive layout design, Dawn is the perfect theme for all minimal and high-performance websites on Shopify.
11. Crave
One of my favorite Shopify themes, Crave, should be your go-to theme while designing an eye-catching website that is engaging, customer-centric, and showcases your product without compromising on-site efficiency.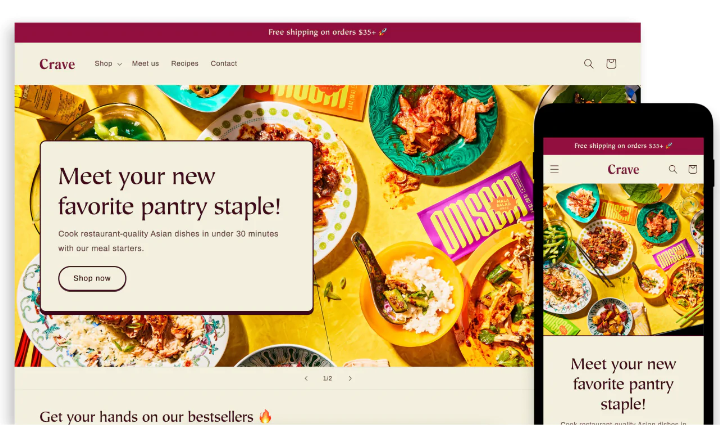 Crave comes with multiple customization options, a quick and clean checkout process, and multiple design layouts for a site that speaks to your customers.
Key features
Mega menu option
Bright, peppy color palette options
Visual storytelling options
Merchandising options such as product recommendations, promotional banners, featured products, FAQ page, etc.
Quick buy option
Cart notes
Who is it for?
E-commerce brands that have bright, vibrant personalities are looking to create a customer-centric website.
12. Thalia
A theme perfect for any minimalist website on Shopify, Thalia is a popular choice for e-commerce owners looking for a theme that isn't too design-heavy but flexible enough for an attractive product showcase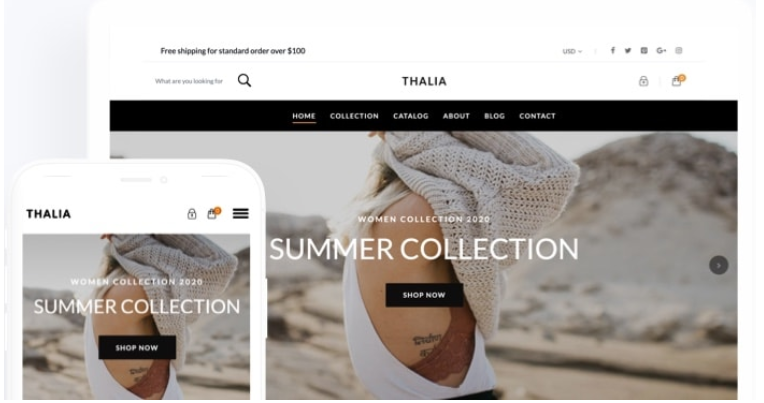 Key features
Responsive slideshow option
Slide-out cart to let customers add items to their cart and visit another page on your site without losing progress
Advanced collection filters (such as price, color, fit, etc.)
Product swatches to display colors according to their color collections/variants
About Us, FAQ, and Contact Us pages
Who is it perfect for?
Fashion outlets are looking for a theme that is clean, and fast, and showcases their products well without compromising on efficiency and UX.
13. Booster
One of the best theme if not the best. It's fast, it's functionality works perfectly fine. Ideal for creating the best experience for shopping for users. Designed by Clean Canvas, the support system is very responsive and solves complex problems immediately. To use Booster or to make the website more pleasing to viewers, you need to be familiar with coding. This theme isn't for free. There is Yearly and Lifetime Plans which you can opt according to your need. $249 is for Yearly Plan & $399 for Lifetime. You can try all the customization, colors and everything but until you don't pay you wont be able to publish.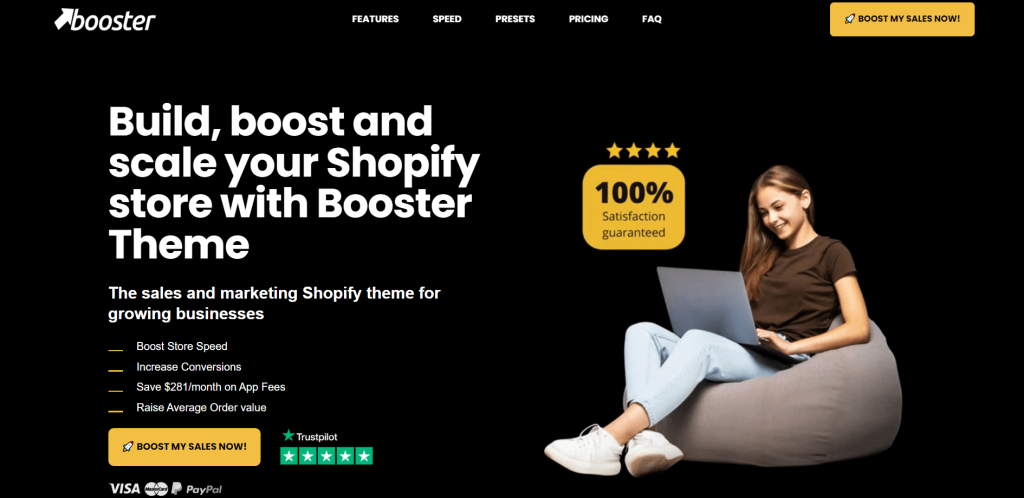 Key Features :
Responsive Theme
Currency Convertor
Support System Quick with Solving Complex Problems
Who is it Perfect for?
Best Theme for Shopping Experience with a little experience in coding. It is Fast and its Functionality works perfectly fine.
Related Read:
Final Thoughts: Free Shopify Themes (2023)
Shopify is a goldmine for themes that can majorly contribute to your site's success, especially if you're just starting out. Choosing a theme that is in line with your business goals, brand identity, and optimal customer journey is what you should keep in mind while designing a website.
I've covered 13 of the best free themes on Shopify that you should check out while designing your site, but one of them emerges as a clear winner – Crave. 
With its simple, minimalistic, yet impactful design options, Crave helps you play around with color palettes, layout options, and typography styles, as well as features that help you with your marketing and merchandising efforts.
---