Building a website for your e-commerce store? Here are a certain things you must keep in mind while working on a stellar website – accessibility, optimisation, audience engagement, as well as overall attractiveness. While designing a website from scratch can be a time-consuming process, there are a host of tools available to help you out.
One of the most essential tools that almost every e-commerce owner should know about is a page builder. If you're using a service like WordPress or WooCommerce to launch and/or design your website, chances are, opting for the right page builder can ease your workload by a large margin.
Here are a few features that you should keep in mind while opting for a page-builder for your WooCommerce website – the builder should allow you to customise your website to the "t", include multiple integrations, and support plugins to help you boost your marketing efforts, and have a clean, user-friendly, engaging interface.
In this blog, I've compiled a list of the 11 best WooCommerce page builder plugins that you can use to make your website a speedy, high-functioning, UX-friendly one without having to worry about hours and hours of grunt work in the website-making process.
Best WooCommerce Page Builder Plugins: In A Nutshell (2023)
Here are my Top 10 WooCommerce Page Builder Plugins suggestions for you;
| | | |
| --- | --- | --- |
| Rank | Plugin Name | My Rating |
| #1. | Elementor | 5/5 |
| #2. | Beaver Builder | 5/5 |
| #3. | Divi Builder | 4.5/5 |
| #4. | Visual Composer | 4.5/5 |
| #5. | WPBakery Page Builder | 4/5 |
| #6. | Themify | 4/5 |
| #7. | Oxygen | 4/5 |
| #8. | Thrive Architect | 3.5/5 |
| #9. | SiteOrigin Page Builder | 3.5/5 |
| #10. | JetWooBuilder Plugin | 3.5/5 |
Top WooCommerce Page Builder Plugin
We have listed the Top WooCommerce Page Builder Plugin in detail.
1. Elementor:
An excellent option for e-commerce owners looking for a plugin that offers features in its free and paid version, Elementor is a must-have. WooCommerce Page Builder for Elementor is used by thousands of websites and is praised for its deep integration, speed, as well as user-friendliness. While you gain access to more and more features once you pay for a premium Elementor license, I think opting for a popular, well-performing page builder is nothing short of a worthwhile investment.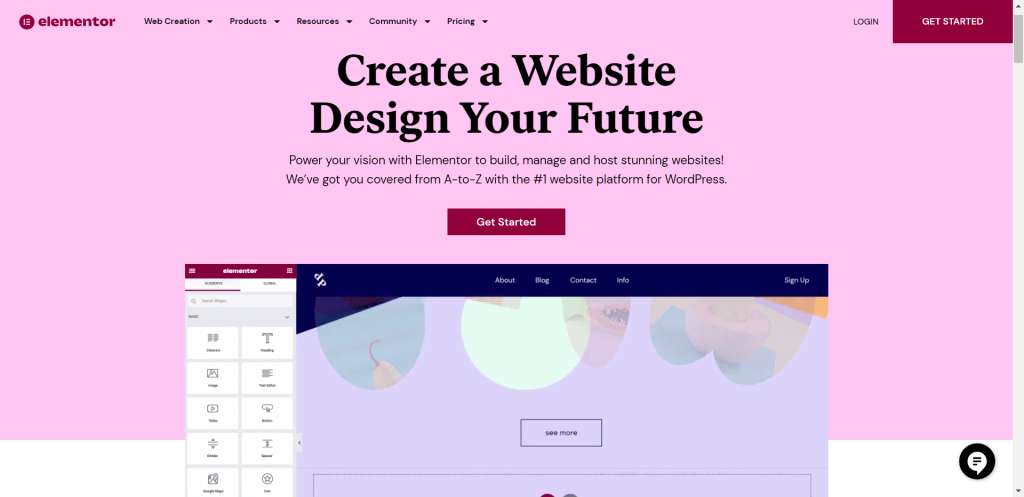 The best part about Elementor is that it offers the option to view your website content from the front without having to manipulate hundreds of lines of code. This feature lets you see your website just as your audience will, making your overall website design experience much more customer-centric.
Elementor Key features:
Here are the Key Features of Elementor given below:
Responsive Editing
40+ widgets
25+ templates that you can use for an easy start
Drag-and-drop feature for website design
Multiple menus, tables, and price lists for better integration with WooCommerce and overall marketing strategy
Multiple header and footer options
Galleries for easy product showcase
Elementor Pricing:
Yearly plans start at $59/website
2. Beaver Builder:
It is currently used by over 100,000+ sites on WordPress, including thousands of sites on WooCommerce. Beaver Builder is an extremely popular page builder thanks to its ultra-simple interface, clutter-free layout, and multiple integration and plugin options. Trusted by some of the top brands in the WordPress space, some of them being GoDaddy and WPEngine.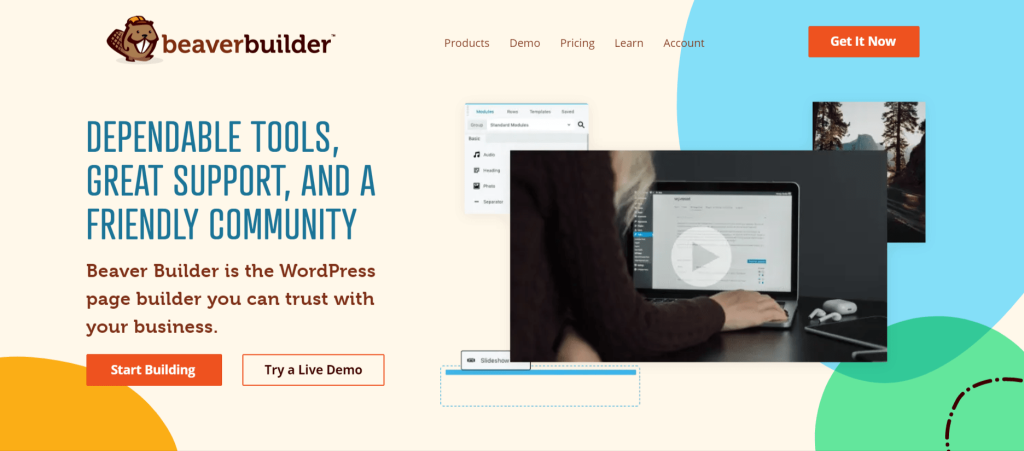 Beaver Builder also allows you to edit and build an unlimited number of websites, an excellent option for e-commerce users looking for a budget-friendly page-builder plugin. It's community is also an excellent space for you to interact and learn from and has hundreds of designers, developers, and marketers sharing their ideas and answering queries.
Beaver Builder Key features:
Here are the Key Features of Beaver Builder given below:
Drag and drop page building
A large variety of templates and modules
Multiple typographies, colours, and text options for peak customisation
Multilingual support
Optimized for mobile devices
Optimized for SEO
Deep integration with top WordPress plugins such as Gravity Forms, WPForms, and Yoast SEO
Beaver Builder Pricing:
Plans start from $99 per year up to $399 per year for Agencies
3. Divi Builder:
Since its launch in 2013, Divi has successfully powered more than 3,643,351 websites and is a favourite amongst e-commerce owners for its the peak customisation options it offers to its users. If you're looking to create a responsive, attractive website with a page builder that is budget-friendly, Divi is the page builder for you. Divi, offered by Elegant Themes, is offered as a theme as well as a page builder extension.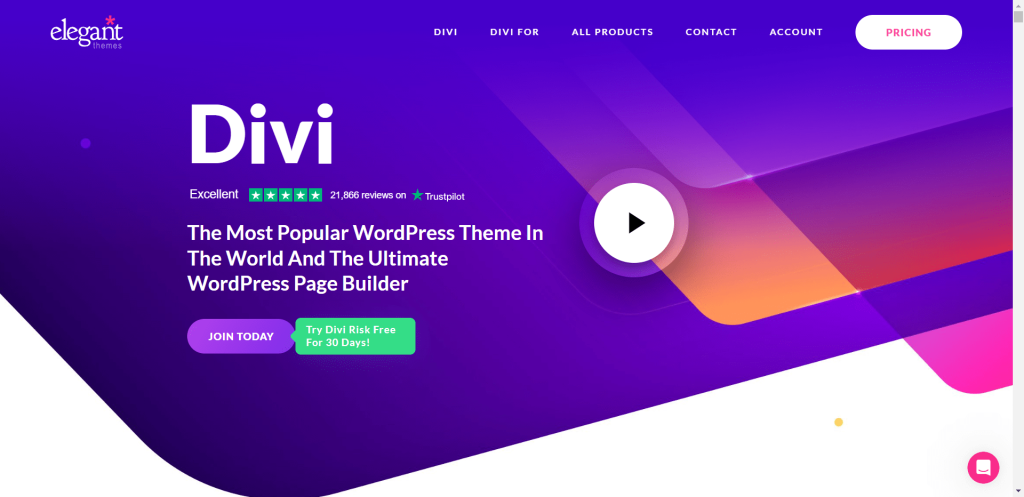 With the help of Divi, you can easily drag and drop content, images, and other aspects of your website onto a new canvas, all in a matter of a few hours. Divi is based on the WYSIWYG model, or the What You See Is What You Get model, which enables you to build a website and view it just as your audience would. This ensures that there is no gap between your intended UX and your audience's impression and experience of your brand, assisted by your website.
Divi Key features:
Here are the Key Features of Divi Builder given below:
200+ content element options
2,000+ layout options
WYSIWYG-based editing
Helps promote your site, thanks to its deep integration with WooCommerce
Multiple pre-designed eCommerce shop templates
Built-in marketing tools
Deep integrations with MemberPress, Mailchimp, Instagram, Facebook, Amazon, PayPal, and more!
Divi Pricing:
Two payment plans are offered – an $89/year plan for just Divi, or a lump sum plan of $249 for Divi, Extra, Bloom, and Monarch.
4. Visual Composer:
Visual Composer was initially just a WordPress page builder, but after a few improvements and additions, you can now use Visual Composer to create an entire site in a matter of hours, using its seamless drag-and-drop page-building option. While Visual Composer isn't mentioned as frequently as, say, Beaver Builder or Elementor, it is still a powerful, feature-packed page builder you should consider.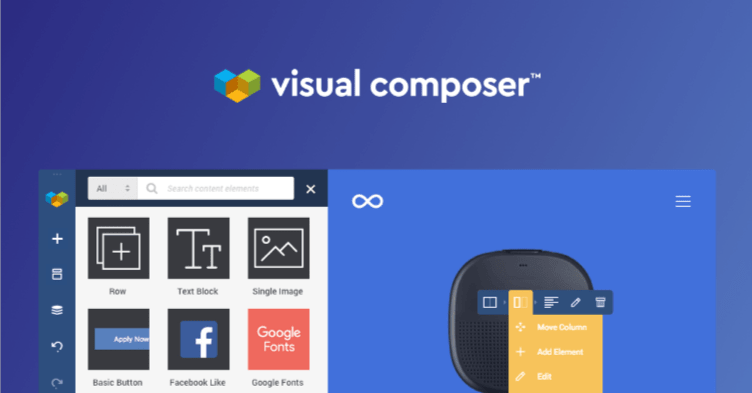 You can view your website while designing it from the front end to control for any glitches or lags in UX after you publish your website.
Visual Composer Key features:
Here are the Key Features of Visual Composer given below:
90+ content element options
100+ page layouts
Option to use docked/floating interface option
No-code, extremely beginner-friendly
Multiple header and footer options
Option to hide/unhide elements
All Visual Composer users receive free access to its cloud marketplace (Visual Composer Hub)
Multiple extensions supported
Visual Composer Pricing:
Pricing plans start from $49/year for a single website
5. WPBakery Page Builder:
Another incredibly popular drag-and-drop builder, trusted by 4,300,000+ users, WPBakery has been around for quite some time now. It offers a stellar range of features, perfect for an e-commerce store that requires no programming knowledge to build. This beginner-friendliness makes it an incredibly popular option amongst emerging e-commerce stores.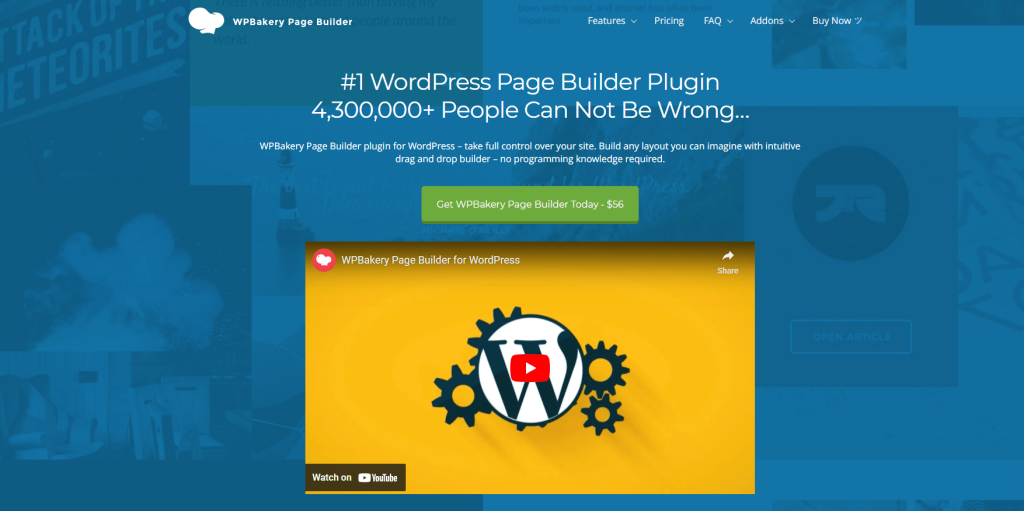 Thanks to its frontend and backend page building option, you can work on both ends of your website without an exhaustive, code-heavy process, and plug any leaks in your overall website UX before publishing your site. Additionally, it is compatible with any WordPress theme!
WPBakery Page Builder Key features:
Here are the Key Features of WPBakery Page Builder given below:
Customisable colour scheme, suited to your brand identity
40+ predefined styles
Custom grid builder
Mobile-optimized
Multilingual Support
Multiple Element Presets
Free updates for a lifetime
Parallax effect
Compatible with YoastSEO
Multiple content layout options
WPBakery Page Builder Pricing:
Pricing plans start at $56 for a single site
6. Themify:
An excellent site builder plugin that's completely free of cost, Themify is used by over 110,000 users since its release in 2010. It has received glowing reviews for its compatibility with WooCommerce themes, as well as the flexibility it offers its users.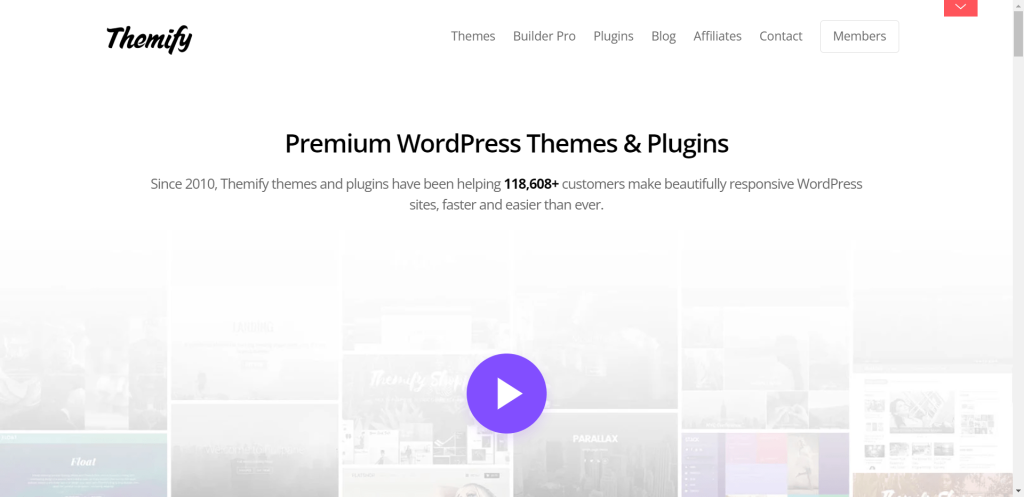 You can customize your website, work on overall site UX, and align aspects of your website with your brand identity for a solid, leak-proof website for your e-commerce website.
Themify Key features:
Here are the Key Features of Themify Composer given below:
35+ templates for quick design
Multiple options for columns, rows, and grid layouts
Layout Parts option
55+ animation effects supported
Undo/redo option
Supports Parallax scrolling
Supports Google Fonts
Translation-ready
SEO-friendly
Themify Pricing:
Plans start at $59/year for a single site
7. Oxygen:
An excellent standalone plugin, Oxygen can be used to create attractive, engaging websites on any WooCommerce theme, as well as allow for as much customization as your brand needs. Oxygen is praised for its built-in analytics feature, which allows you to track site metrics using the site builder theme. If you're looking to set up a minimal, well-performing e-commerce site and track basic metrics regularly using just one tool, Oxygen is a great choice.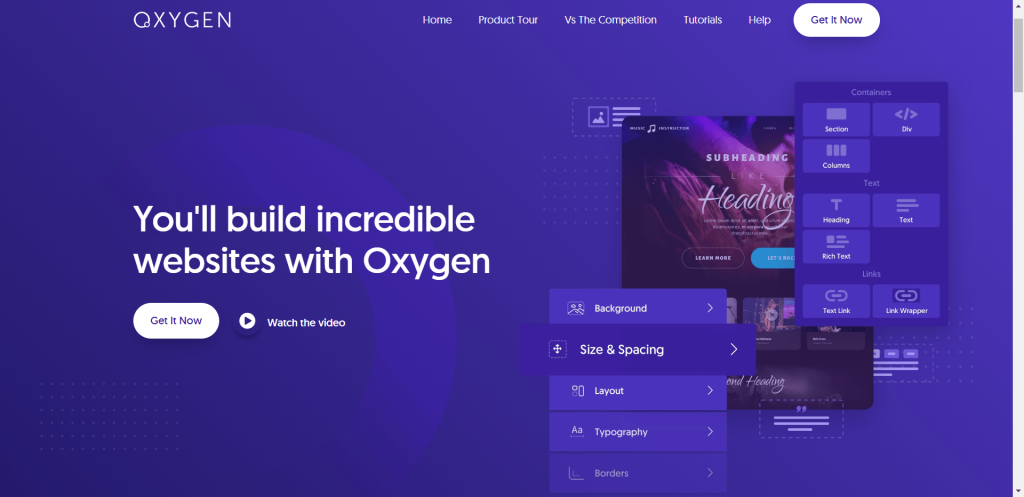 Oxygen's design is extremely intuitive and user-friendly, allowing you to create a site that both you and your customers approve of. It is a great choice for people who are familiar with code, as well as not familiar with using code to build websites.
Oxygen Key features:
Here are the Key Features of Oxygen given below:
Developer friendly supports PHP and JavaScript
Multiple templates
Various theme and layout options
Customizable headers
Dynamic data feature
Supports Global Colors
Oxygen Pricing:
The basic plan that is integrated with WooCommerce starts at $149 per site and provides lifetime unlimited access
8. Thrive Architect:
Another great drag-and-drop page builder, Thrive Architect offers more than just site building and customization options – you can also integrate multiple marketing efforts with your website such as A/B split testing, and also supports built-in analytics. Thrive Architect is a site builder that is focused on building websites that "convert", a feature you should keep in mind while opting for a WooCommerce-integrated site builder plugin.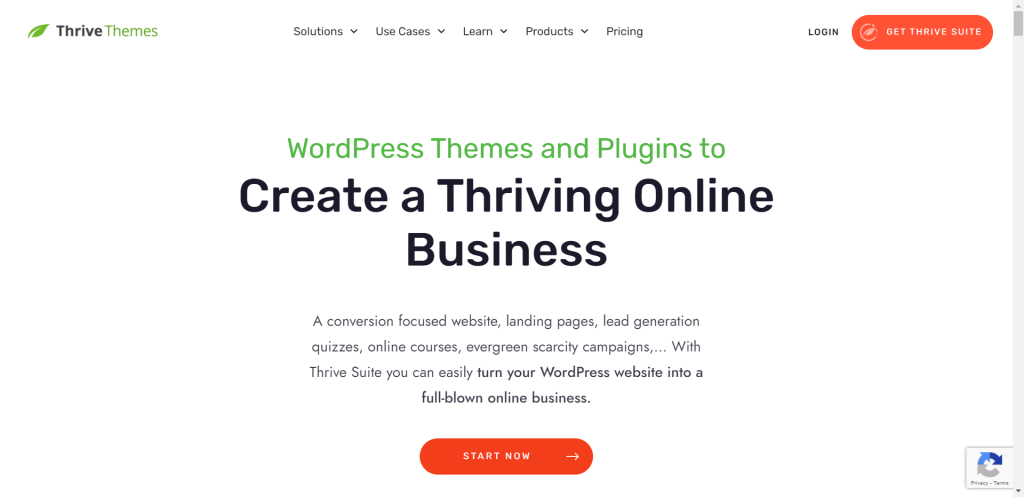 The builder requires no previous coding knowledge and supports loads of customisation features. You can also customise multiple pages focused around your sales and landing pages for marketing campaigns, as well as integrate your email marketing efforts with the help of Thrive Architect. Here are a few key features you can avail of once you opt for the builder on WooCommerce –
Thrive Architect Key features:
Here are the Key Features of Thrive Architect given below:
Mobile-optimized
SEO-friendly
Click-to-edit features let you instantly see changes on your website after you make edits on the backend
Pre-built conversion elements such as buttons, testimonials, countdown timers, and lead-generation forms
Built-in blog post section
Thrive Architect Pricing:
Yearly plans start at $599, but first-time users get 50% off
9. SiteOrigin Page Builder:
Completely free of cost, the SiteOrigin Page Builder is a favorite amongst site owners thanks to its customizability as well as responsiveness.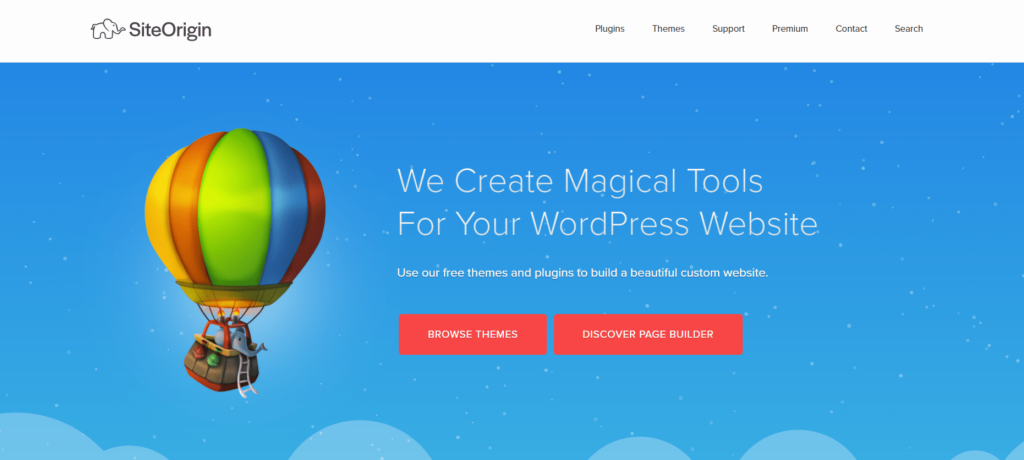 Deeply integrated with WooCommerce, the builder is completely code-free, making it perfect for beginners and pros alike. While it isn't as visually engaging as the other site builders on this list, I personally like SiteOrigin because of how well it gets the job done within a short time frame and on a tight budget.
SiteOrigin Page Builder Key features:
Here are the Key Features of SiteOrigin Page Builder given below:
Live editing feature
Compatible with most WordPress themes
Supports most WordPress widgets as well
Multiple row and widget styles
Lighter to process than other popular grid systems
SiteOrigin Page Builder Pricing:
Completely free of cost, premium add-ons start at $29
10. Live Composer:
Trusted by over 40,000 users, Live Composer makes a place for itself on this list due to its responsiveness, enabling you to make and edit your website in a matter of an hour or two, if not minutes. Live Composer offers a live editing option, which lets you see your edits in real-time, as well as identify any UX issues your website might invite, all before publishing it for your audience!

It is completely free of cost, with a few paid features based on your needs and budget. Overall, it is a very design-oriented site builder, perfect for any WooCommerce site owner looking to make an attractive, fast, responsive website.
Live Composer Key features:
Here are the Key Features of Live Composer given below:
30+ design modules offered
Multiple layouts offered
40+ content modules
SEO-optimized
WYSIWYG editing feature
Multiple customisation options for typography, colour scheme, etc.
Live Composer Pricing:
Completely free of cost, premium features start at $69/year
11. JetWooBuilder Plugin
It is a Premium Elementor Plugin that helps you customize parts of your WooCommerce – based store. For this plug in to work you need to have Elementor installed on your website. You can build your own custom template. Customizing custom check out pages, layout switchers, and can also create specific shop pages. All of this can be done easily and simple to use, you don't need to code anything of it. Just make sure before designing a custom single product page, make sure you to add before you begin customizing and styling.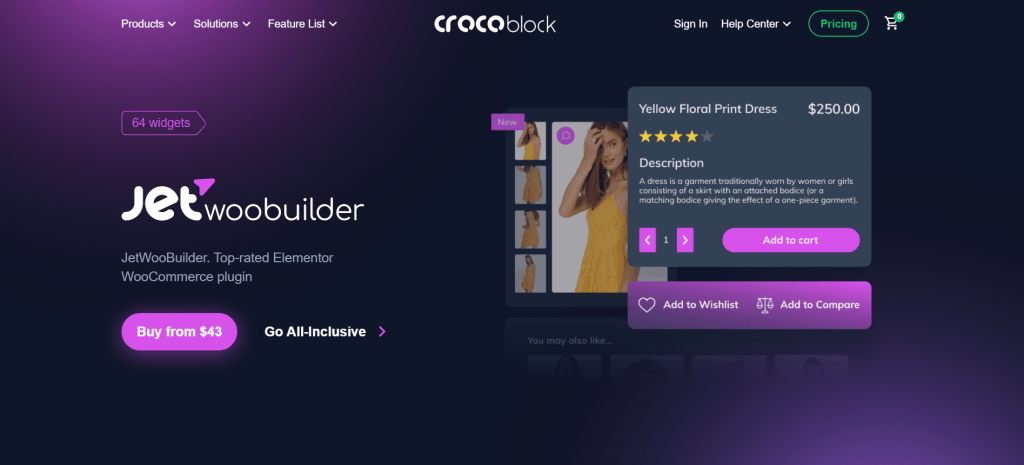 JetWooBuilder Plugin Key features :
Here are the Key Features of JetWooBuilder Plugin given below:
Customizing pages ( default pages too)
Style and Content can be customized
Engagement with your users
No Coding Knowledge required
JetWooBuilder Plugin Pricing :
The pricing of JetWooBuilder Plugin is $43 a year with full support.
12. GeneratePress With GenerateBlocks
Last in our list of WooCommerce Page Builder is GeneratePress. It is a free WordPress Theme. Simple to use & easy to understand. It can be considered as one of the best option for people who are looking for a website who wants to create a landing page or a blogging page. It is a lightweight theme, which makes it load faster. GeneratePress Plugin is a free plugin and can used to make any website. Opting for GenerateBlocks you will get many features which are for free, just incase if you need anymore you can always go for the Pro version. GenerateBlocks will help you add a block and design it the way you want. You can add content, links, images and much more. It has the drag and drop feature which makes it easier for the user to create a page.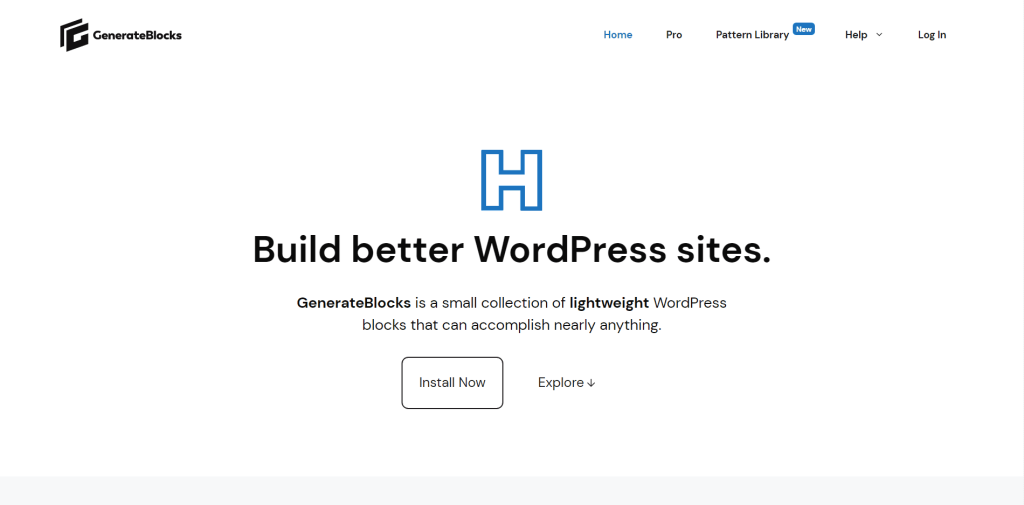 GenerateBlocks Key Features
Key Features of GenerateBlocks are as follow:
Drag & Drop option available
Can Customise the way you require
Lightweight plugin
Simple and Easy to Use
GenerateBlocks Pricing
This plugin is for Free and comes up with great features.
Related Read:
Final Thoughts: Best WooCommerce Page Builder Plugins
I've covered 12 of Best WooCommerce Page Builder Plugins – be it Divi's responsiveness or SiteOrigin's minimalism, there are loads of options to choose from.
For me, Elementor secures the top spot, thanks to its stellar customer support, deep integration with WooCommerce, and Mail Chimp, as well as intuitive and responsive design. Elementor definitely bags the prize for a seamless site builder tool that is simple to use, all thanks to its drag-and-drop feature! Before opting for Elementor or any other site builder on the list, make sure to list down all your site goals and weaknesses, as well as your overall marketing strategy, to find a builder that helps you with the same!