Whether you want to create unique layouts for your content or find the perfect WordPress theme, a drag-and-drop page builder plugin can make your website design easier. Will give you a quick Thrive Architect Review.
Choosing a page builder plugin can be confusing, especially when so many options are available.
One of the most popular options is Thrive Architect. The drag-and-drop interface will allow you to customize your content after you enable it on your site.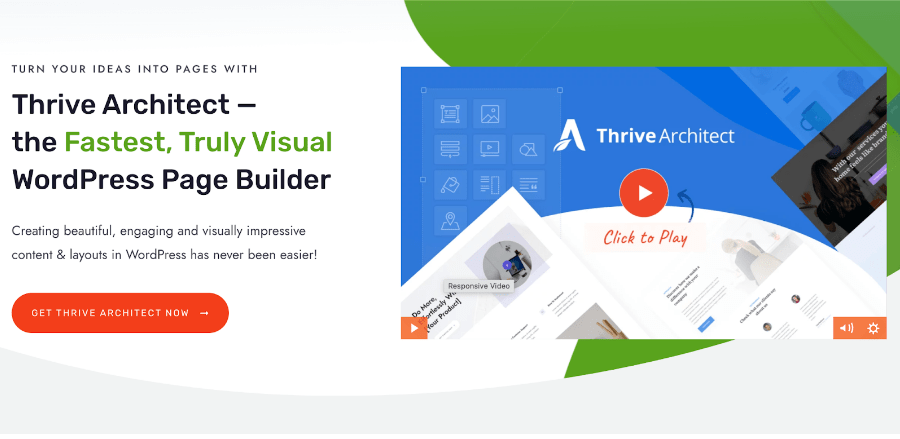 Several templates are also available to assist you with getting started.
This review aims to help you decide whether Thrive Architect is the right page builder plugin for your website. We examine its most valuable features, evaluate its usability, and summarize its pros and cons.
Key Features – Thrive Architect Review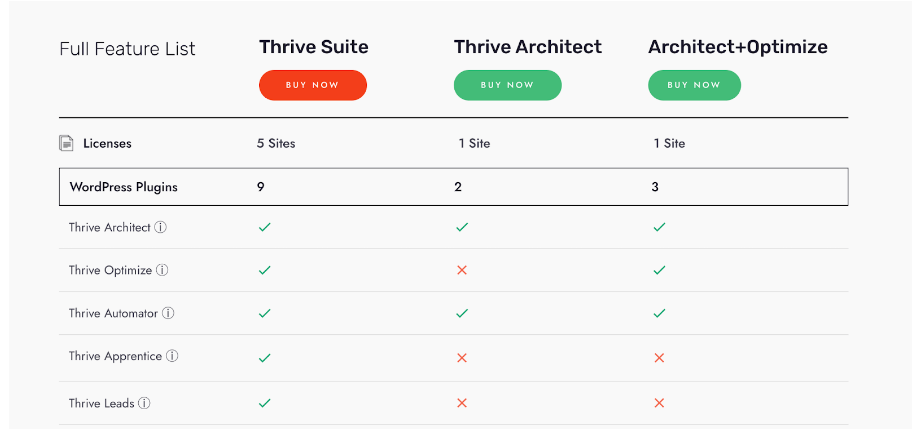 The Thrive Architect drag-and-drop page builder plugin for WordPress is an excellent example of a modern drag-and-drop editor.
Let's take a quick look at what this tool can do before we get to the core of this review:
Compatible with any WordPress theme- The Thrive Architect is compatible with any WordPress theme, although a theme is included with the Thrive Suite.
Hundreds of editable templates – Here is a collection that can speed up your design process – including landing pages designed to generate sales.
Drag-and-drop interface –You can see the exact design of your page while you edit it using the WYSIWYG editor interface.
Element-rich conversion-focused pages – You can add many elements to your posts and pages, including many that help generates leads and increase conversions.
With Thrive Architect, you can start from scratch or import a template. Its content editor allows you to move elements around and use more customization features to make your pages look how you want them to.
As Thrive Architect focuses on conversions, many of its elements, templates, and other features have been created to help you generate more leads from your WordPress website today, regardless of your goals.
Here's a Closer Look at This Layout and Templates.
Thrive Architect Pros
Let's take a quick look at the Pros of Thrive Architect
There is an easy learning curve.
Feature-rich and full of elements.
Get access to hundreds of beautiful templates for landing pages.
Create content that is EPIC instead of boring.
A bit on the pricey side. Nevertheless, the price is still very reasonable.
Your page can be edited in any way you like.
Thrive Architect Cons
Let's take a quick look at the Cons of Thrive Architect
Lag/slowness can sometimes be experienced with the visual builder.
It does not automatically save your content. However, it reminds you every 10 minutes or so.
The shopping cart does not work.
User Experience
For WordPress, there are numerous page builder plugins. It is essential to consider the user experience when choosing one.
Thanks to its user-friendly interface, Thrive Architect is easy to use. With this plugin installed, you have another content editor besides the default WordPress editor once activated. With Thrive Architect, you can launch the page builder while editing a post or page.
Thrive Architect is still a significant upgrade in what you can do, even though the default WordPress editor has been updated significantly over the last few years.
Start by deciding whether you intend to use one of the pre-built templates or start from scratch when designing a custom homepage, landing page, or article with Thrive Architect.
Layouts
Your custom page layout can be created using rows and columns once you design it.
These layouts can then be populated with a wide variety of elements. It's important to remember that many options are available to help your website generate sales and leads, and various elements are available, including contact forms.
Inline Editing
Inline text editing is one of the highlights of the Thrive Architect interface. By clicking on the text area, you can begin editing the text directly on the page design when editing your page's text.
It's unnecessary to add text in a separate window and then wait until the interface has been updated to see how it looks.
Page builder plugins do not all offer inline text editing, but it is becoming more popular. Despite its limitations, it is helpful because of its time-saving properties.
Context-Sensitive Controls
Along with the ease of editing the text, the entire interface of Thrive Architect is designed to be as simple as possible. Whenever you click on an element on the page, you will immediately have access to its controls as soon as you click on that element on the page.
You can immediately access the customization controls, and settings for an icon added to a page in the sidebar.
The visual controls allow you to modify that element and make changes to the component instantly. By not having to spend time looking for settings and options, you will be able to accomplish more in less time.
The interface is clutter-free
If you think that interface is getting messy, you have the option to hide the sidebar panel with a click of a button.
While using Thrive Builder, you can focus on your actions since Thrive Builder takes over the entire WordPress dashboard. Your WordPress website administration tasks will be less likely to distract you.
Style Editor
The Style Editor is another impressive feature of Thrive Architect. If you choose a style, the Style Editor will immediately adjust all the colours on your page according to your preferred style.
The predefined options allow you to easily change your page's style and brand.
Undo and Redo Revisions
Undoing and redoing your edits is possible using the undo and redo features.
Additionally, you can go back in time with Thrive Architect's Revision Manager to change your design to a previous version.
Responsive Designs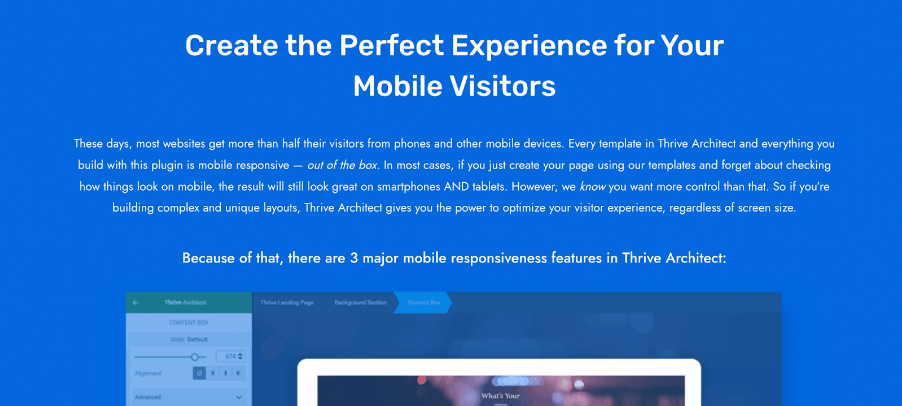 Thrive Architect creates mobile-friendly pages, which is good since so many people browse the internet with their smartphones.
But Thrive Architect isn't just about creating mobile-friendly pages.
Aside from that, Thrive Architect allows you to change the visibility of elements according to the device used to access the page. You can hide elements that might be distracting to mobile users or unsuitable for their devices.
The alternatives can also be displayed only to people using smartphones or tablets.
This impressive mobile-friendliness will ensure your content looks great on every device that accesses it.
Elements – Thrive Architect Review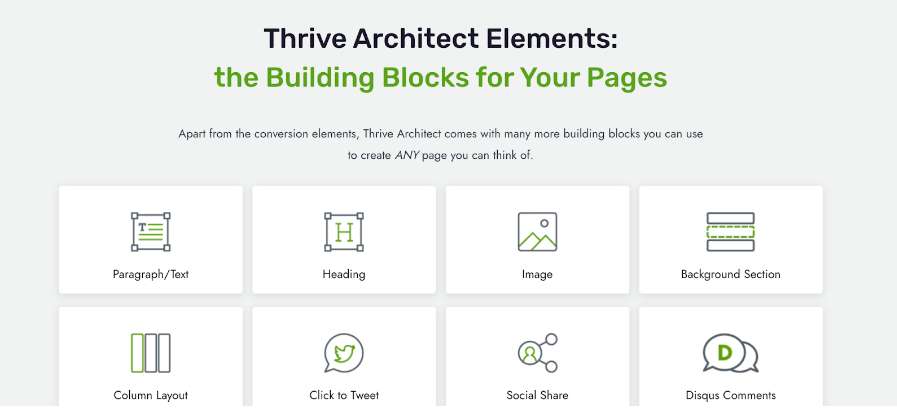 The elements in Thrive Architect are another feature that sets it apart from other page builders.
With Thrive Architect, elements are, in a nutshell, features or modules that can be added to your pages so that you can customize them to your liking. The Thrive Architect tool allows you to create feature-rich content that looks great, helps you meet your goals, and acts as a marketing tool for your business.
There are numerous elements in Thrive Architect, including image displays, context boxes, lead generation forms, and background sections. On top of that, you can enjoy additional conversion-centric elements at your disposal with Thrive Architect, including text boxes, graphic displays, and backgrounds. All these elements are the road to success in generating great leads from your website.
Many elements influence lead generation, which include:
Use of countdown timers to promote time-sensitive offers
Information collected via opt-in forms, such as email addresses
An action-oriented call-to-action button
Social proof can be demonstrated using the testimonials of customers or clients
Use bullet lists and custom icons to highlight key features and benefits
A table that compares the prices of different products or options for purchase
Boxes that provide a money-back guarantee
Landing Page Templates – Thrive Architect Review
When creating new content for your site, Thrive Architect now offers over 300 editable page templates.
Most of these templates strongly focus on driving conversions, as Thrive Architect was designed to help you generate more leads and sales from your WordPress website.
Additionally, you will find templates for your website's homepage, about, contact, and portfolio sections, in addition to the lead generation templates.
You can use a few under-construction and coming-soon templates during private work on your site.
Many templates encourage your visitors to accomplish a particular action, whether joining your email list, signing up for something, or moving along your sales funnel in another way.
Thrive Architect, and its templates will help you generate more leads and close more sales on your website.
The Thrive Architect interface allows you to customize all of these templates fully. Furthermore, you can combine them to create the perfect website design.
With all these features, Thrive Architect is ideal for both users who already have content layout ideas and those looking for inspiration.
It's great to have access to 300+ templates. Divi Builder, for instance, includes even more features than other page builder plugins. They also cover various websites and content types compared to different templates.
However, you should use Thrive Architect if you're interested in generating leads from your site.
Conversion Rate Optimization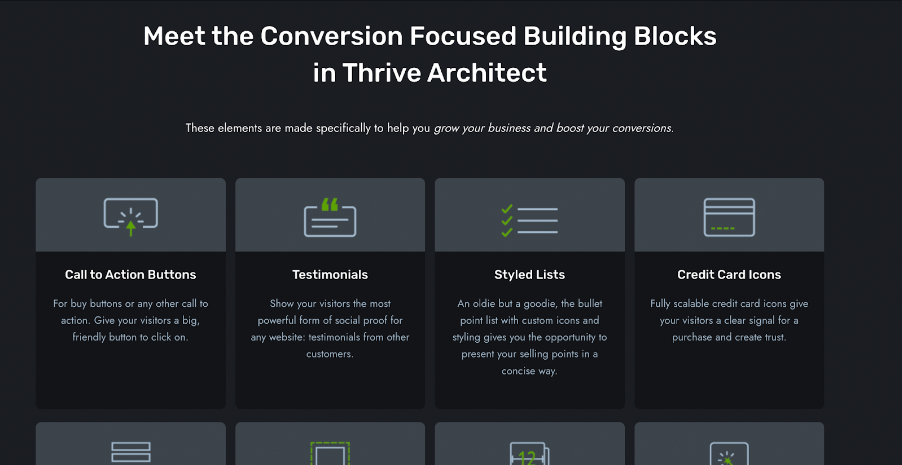 The Thrive Architect plugin isn't the only thing you get when you purchase it. Thrive Themes' flagship theme is also included as well as all of its plugins (more on pricing below).
You can run experiments on your website to optimize your content using Thrive Optimize, one of those plugins.
Your audience will be able to respond quickly to multiple versions of your pages with Thrive Optimize's inclusion.
You can experiment by creating several versions of a page, each with its own CTA.
The different versions will be shown to equal portions of your audience until a clear winner is determined.
The most prevalent version can be displayed to visitors after completing the experiment.
Thrive Suite Pricing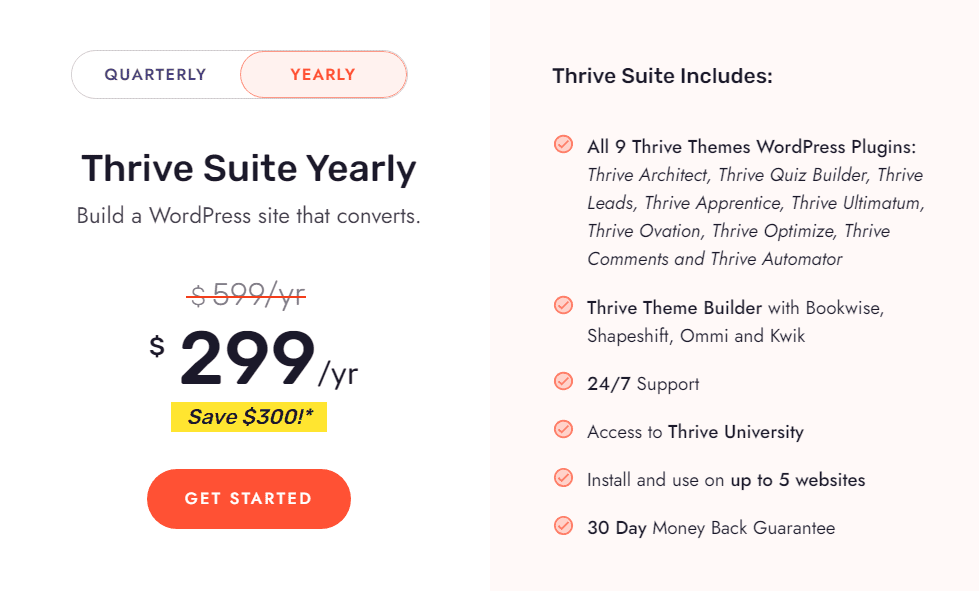 Themes are no longer sold individually by Thrive Themes, and the Thrive Suite package would be a better choice.
The most significant benefit of this product is that you get access to Thrive Architect and other sales-focused products that you can't find elsewhere
The only downside to the package is that it costs $299 for a one-year license, which equals $24.91/per month. A second option is to pay quarterly, which will cost you $99/per quarter.
When the period you've paid for ends, you'll need to renew your license to keep receiving updates, support from Thrive Themes, and access to the premium templates. It is important to remember that if you don't renew, you can use the products without support. There will be no changes to the functionality of anything you have created with them.
It might seem like a lot of money to pay $299/year or $99/ quarter. If you plan to use at least a few of these tools, these prices are more reasonable.
Several WordPress plugins utilize the functionality of Thrive Architect that you might have considered buying anyway, such as powerful contact forms, social sharing, and appointment scheduling software.
A noteworthy consideration is the affordability of powerful lead generation resources such as Thrive Leads, which makes the package appear more competitive.
The 30-day money-back guarantee also ensures that you're not risking your investment.
Thrive Suite Coupon Code / Discount
Currently there is no Thrive Suite discount or coupon code available on the website. One thing about Thrive suite is they don't offer any discount or coupon code, not even on days like black Friday nor Christmas sale.
Related Reads
Conclusion: Thrive Architect Review
With Thrive Architect, WordPress website designers have access to a robust collection of tools for creating custom content for their websites.
A website has no place if it is not optimized for sales; this is where Thrive Architect comes in. As a way to increase your conversion rate, include elements that are focused on conversion, such as sign-up forms.