Looking for a lead generation tool to build your mailing list? Stop – have you heard of Thrive Leads?
Thrive Leads is regarded as one of the top Word Press plugins for lead generation. Not me saying this – this fact is backed by a total of 114,117 WordPress website owners who've used and loved the plugin for all its features.
But today, let's give you an insider's view of this highly revered tool for lead generation.
As someone who's used Thrive Leads in the past, today in this blog, I'll take you through all its features, pricing, and pros and cons to help you understand – should you go for it. Let's start!
Thrive Leads Review 2023: In a Nutshell
Based on my experience with Thrive Leads, here's what I feel about the plugin:
| Features | 4.9/5 |
| --- | --- |
| Customization Options | 4.8/5 |
| Ease of Use | 4.9/5 |
| Pricing | 4.7/5 |
| Customer Support | 4.5/5 |
| Overall | 4.8/5 |
Overall, Thrive Leads is a superb WordPress plugin for lead generation. It's no fluff – it delivers results through its set of fantastic features.
For the customization part, Thrive Leads comes with a simple drag-and-drop editor to let you easily customize all its email opt-in form templates. So, yes, it's highly intuitive and easy to use.
For me, the pricing is the ultimate cherry on the cake. For the number of incredible features that it offers, the pricing is absolutely fair and just, if not inexpensive. And Thrive Themes' customer support is a no-brainer – perhaps one of the biggest reasons why its products are so coveted.
Thrive Leads Review – Overview
Offered by Thrive Themes, Thrive Leads is a leading WordPress lead generation plugin that specializes in email marketing. With this plugin in hand, you can easily create a range of beautiful opt-in forms to build your email list from scratch. In fact, it came in really handy for me when I was planning an email campaign for my client.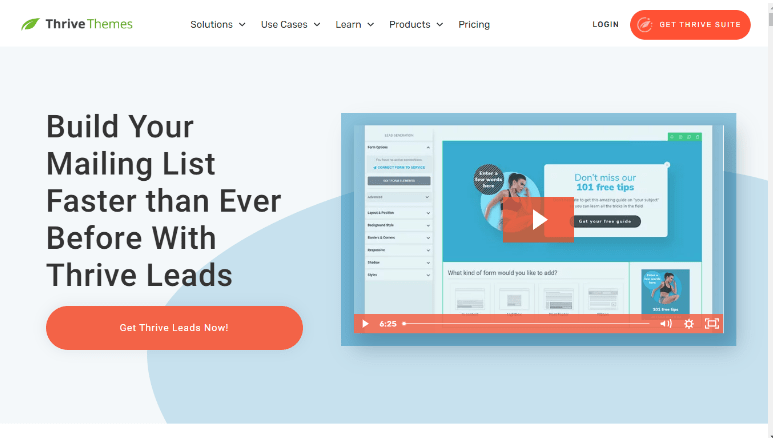 It requires no designing knack and comes with a multitude of coding-free, easy-to-customize form templates for every kind of email marketing campaign ever. But that's just what the tool does on the surface.
For me, Thrive Leads worked as a brilliant conversion expert that went far beyond creating opt-in forms for a WordPress website. What I mean is, it uses cutting-edge technology to make conversions possible. For instance, there's advanced targeting, A/B split testing, and so much more.
However, that doesn't mean this plugin is for everyone. So today, I'm going to review Thrive Leads based on my experience with the plugin to help you understand – is this "the lead gen" plugin for you?
First off, let's take a look at its features.
Features & Integrations
Thrive Leads offers the following features: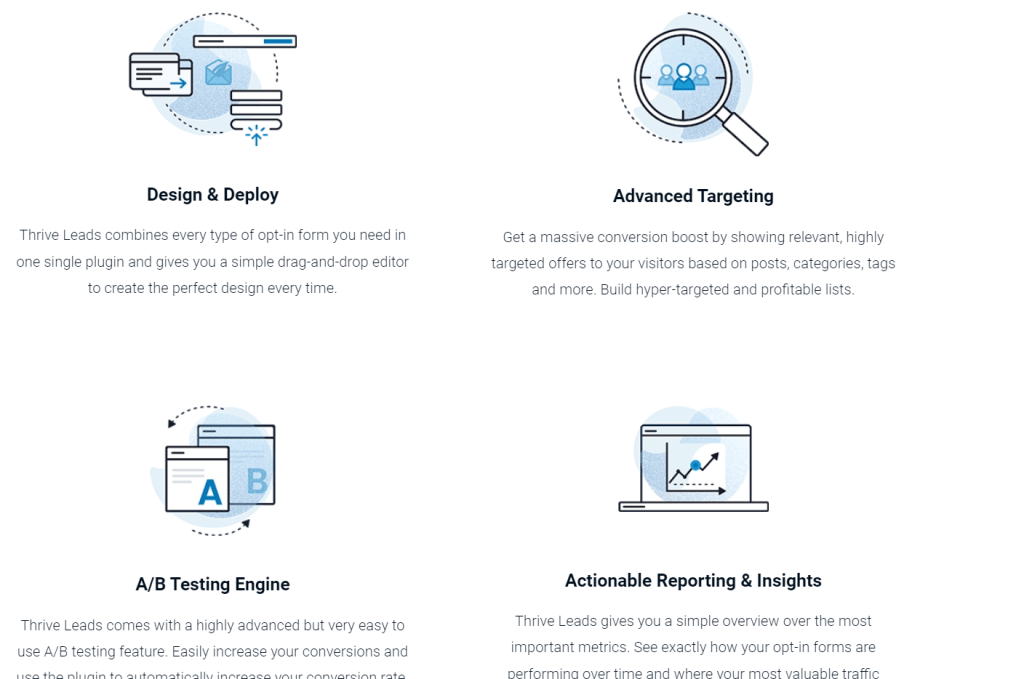 1. Variety of opt-in form types
This is a feature that I personally love for how exhaustive it is.
While other lead generation tools only offer a few basic opt-in form types, Thrive Leads offers 10! So whether you want something subtle or something attention-grabbing – the collection won't disappoint you. Its opt-in form types include In-line Forms, Sticky Ribbon, Slide-In, Opt-In Widget, PopUp Lightbox, Screen Filler Overlay, Content Lock, Yes/No Multiple Choice Forms, 2-Step Opt-in Form, and Scroll Mat. In a nutshell, a full thumbs up!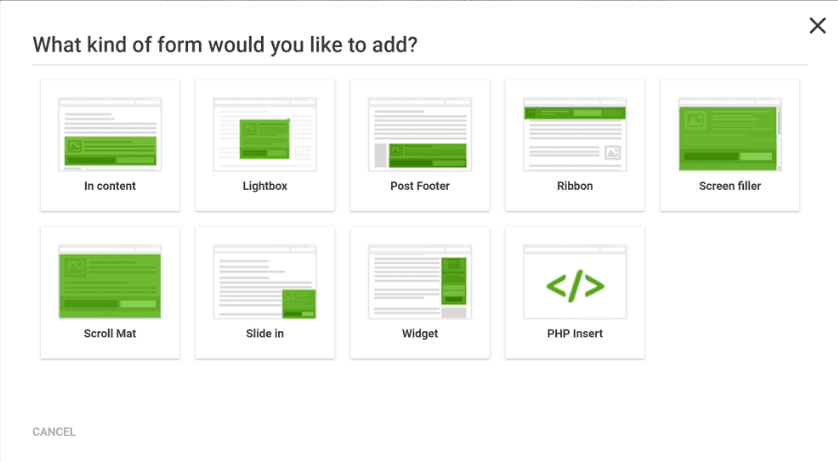 2. Pre-designed templates
I'm no coding pro. So, I'm always on the hunt for tools and plugins that take away this load from my shoulders. And for list building, Thrive Leads and its beautiful templates did just that.
With over 100s of professionally designed opt-in form templates, Thrive Leads makes building opt-in forms a breeze. It comes with a drag-and-drop editor that gives you a front-end view of all the edits that you make. Needless to mention, the customization process is "coding free" and so, very, very simple and flexible.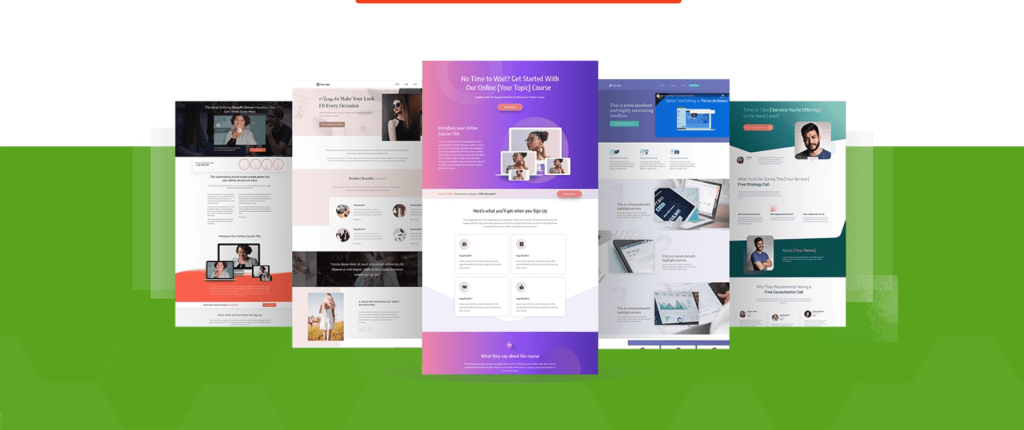 3. Advanced Targeting
Now, here is a feature that I found to be uniquely effective in Thrive Leads.
Suppose you're running multiple offers at the same time. How can you make sure the right one appears to the right viewer? What if a regular customer of your site is shown an opt-in form that seeks their email for a "20% off on first purchase"? Sounds horrible, no? Well, the Advanced Targeting feature will take care of that for you. You just have to choose what page you want a particular form to appear on and that's about it. Likewise, you can also filter down the post types, page templates, categories, and more to ensure you hit the bull's eye, always.
4. Intuitive Triggers
Thrive Leads' triggers are yet another incredible aspect of the plugin.
The thing about email opt-in forms is simple. You don't just need your forms to be hyper-targeted, but you must also ensure they appear at the right moment. Triggers help do that. You get to choose just when you want your opt-in form to pop up on the screen – at exactly which "prompt". For instance, you can set it to appear immediately as the viewer enters your website or when they scroll down to a particular piece of content. In total, there are 7 such inclusive trigger options that make sure you don't just hyper-target your visitors, but also at the right time.
5. A/B Testing
When I was new to the world of opt-in forms and email marketing, this A/B testing feature saved me a lot of hit-and-miss.
While creating the opt-in form, if you've multiple ideas brimming in your head and aren't quite sure which one will work the best, the A/B testing feature will save you the dilemma. It lets you optimize your opt-in form and choose the best one against other versions. In fact, not just forms. The A/B testing feature also tests different triggers to ensure which one is capable of reaping maximum subscribers. This feature is so in-depth, there's hardly a chance you can ever go wrong with an opt-in form ever.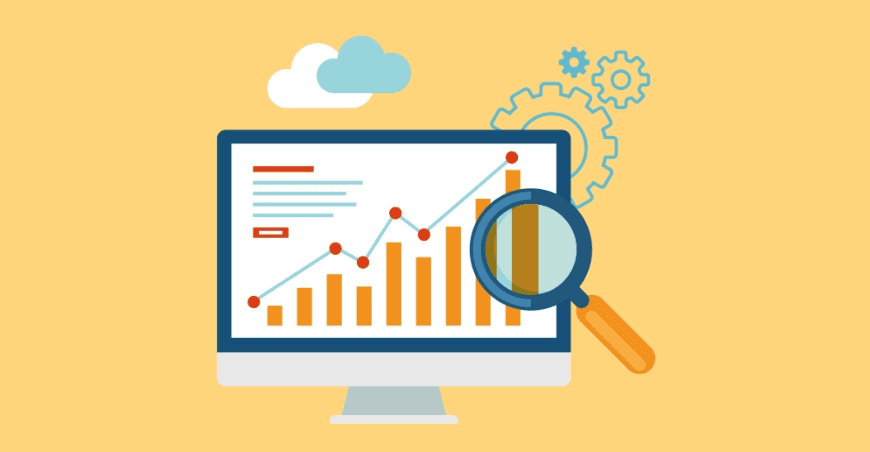 6. Smart Links
To make sure you do not end up showing redundant email pop-ups to your subscribers, this Smart Links feature by Thrive Leads helps a lot.
This feature is easy to configure and lets you define what you want to show to whom. So you can filter down your content to suit the needs of both – new visitors to your website and those who've already subscribed. Personally, I believe it's one of the best Advanced features in the entire Thrive Leads feature list because it actually does what team Thrive promises – makes conversion seamlessly possible.
7. Integrations
Thrive Leads integrates with a variety of top email marketing services to amplify your lead generation process. To name a few, there is ActiveCampaign, Amazon SES, AWeber, Drip, ConvertKit, GetResponse, HubSpot, Mailchimp, MadMimi, and many other email marketing and API integrations.
Again, these tools power up your email marketing efforts and I personally found them immensely useful.
Thrive Leads Review – Pricing
Now, let's come to the important part – pricing.
Earlier, Thrive Leads wasn't available as a standalone plugin for WordPress. This means, to access and use this tool, one had to pay and purchase the entire Thrive Suite. But not anymore.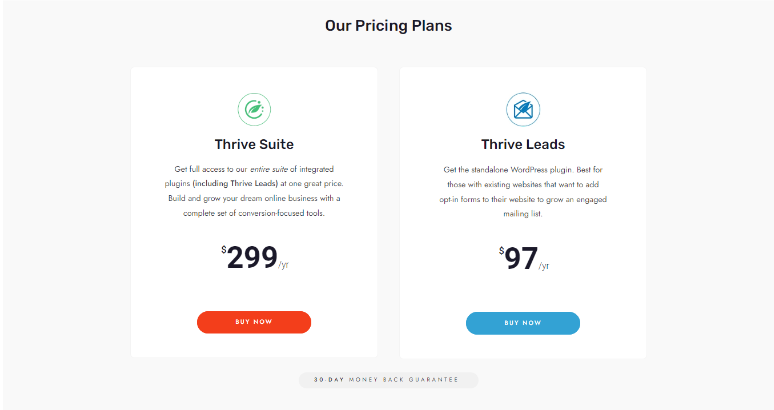 While the Thrive Leads plugin is still included in the $299/year Thrive Suite plan.
Important note – This plans come with a 30-day money-back guarantee.
Thrive Leads Review – Pros & Cons
Thrive Leads is an excellent plugin. But it does have its own set of benefits and shortcomings. Upon using it myself, here are some aspects where I feel Thrive Leads hit and somewhere it missed:
Thrive Leads Pros :
Lets have a quick look at the Pros of Thrive Leads.
Easy to use and get started with.
Contains a wide variety of opt-in form types for every purpose. 
Requires zero coding knowledge and comes with a drag-and-drop editor.
Comes with a library of pre-designed form templates that are versatile and highly customizable.
Integrates with lots of other email marketing services such as Active Campaign, ConvertKit, and Mailchimp.
Offers a smart A/B testing feature to assess the quality of forms.
Content targeting rules are very specific and detailed.
Provides analytics and reports of your lead generation campaign. 
100% optimized for mobile devices.
Thrive Leads Cons:
Now, let's have a quick look at Thrive Leads Cons.
Available only in the form of a WordPress plugin. So, it's unsuitable for people running multiple other websites.
Some form templates look shabby and outdated.
The reporting feature is not efficient. Takes time to load.
Lacks a scheduling feature that's available in other alternatives like OptinMonster.
Related Links
Bottom Line – Thrive Leads Review
Thrive Leads is an awesome lead generation plugin for WordPress websites. Despite all its cons, I'll highly vouch for it. The reason? Well, it's quite simple.
It homes a holistic, all-encompassing range of features that leave no aspect of the lead generation behind and functions as a helping hand to get you the conversions you seek.
It's really easy to use and highly customizable. For a task as tough as lead generation, you'll be shocked to see how interactive and easygoing the interface of the tool is.
It's brilliantly priced to fit the pocket of all kinds of users – those who want to build a website and their email list from scratch and those who already have a website and are simply looking for something to help them with email marketing.
So coming back to the question – should you go for Thrive Leads or not? Personally, given the features and the pricing, I think you should run for it!!
---