If you were to ask me about WordPress Podcast Plugins, I'd say that it's been around forever. The open-source, free-of-cost content management system has changed how we work our way around web hosting, and for a good reason!
In this blog, we'll be taking a deep dive into podcasting on WordPress and the 13 Best WordPress Podcast Plugins you can use to boost your engagement, iron out any wrinkles in your WordPress Podcasting journey, and have fun while doing it!
And the best part?
Podcasting plugins on WordPress involve zero code, which means someone like me, a complete beginner when it comes to code, can easily navigate my way around the software.
Apart from talking about podcasting plugins, I'll also be giving you an overview of their features, their pros, cons, and, most importantly, pricing. Lets get started with WordPress Podcast Plugins.
Top 13 WordPress Podcast Plugins For Every Podcaster In The Making
| | | | |
| --- | --- | --- | --- |
| Rank | Tool Name | Pricing ($) | Our Rating |
| #1. | PowerPress by Blubrry | $10/month | 5/5 |
| #2. | Buzzsprout Podcasting | $12/month | 4.8/5 |
| #3. | Seriously Simple Podcasting | $19/month | 4.8/5 |
| #4. | Fusebox | $7.50/month | 4.7/5 |
| #5. | Simple Podcast Press | $67/month | 4.6/5 |
| #6. | Libsyn Podcasting | $5/month | 4.5/5 |
| #7. | RafflePress | $49/month | 4.5/5 |
| #8. | Podlove Podcast Publisher | Free | 4.3/5 |
| #9. | Sermon Manager | Free | 4.0/5 |
| #10. | MonsterInsights | $199/month | 4.0/5 |
| #11. | AWS for WordPress | Free | 3.9/5 |
| #12. | WPForms | $79 | 3.8/5 |
| #13. | AWS for WordPress | Free | 4/5 |
1. Powerpress by Blubrry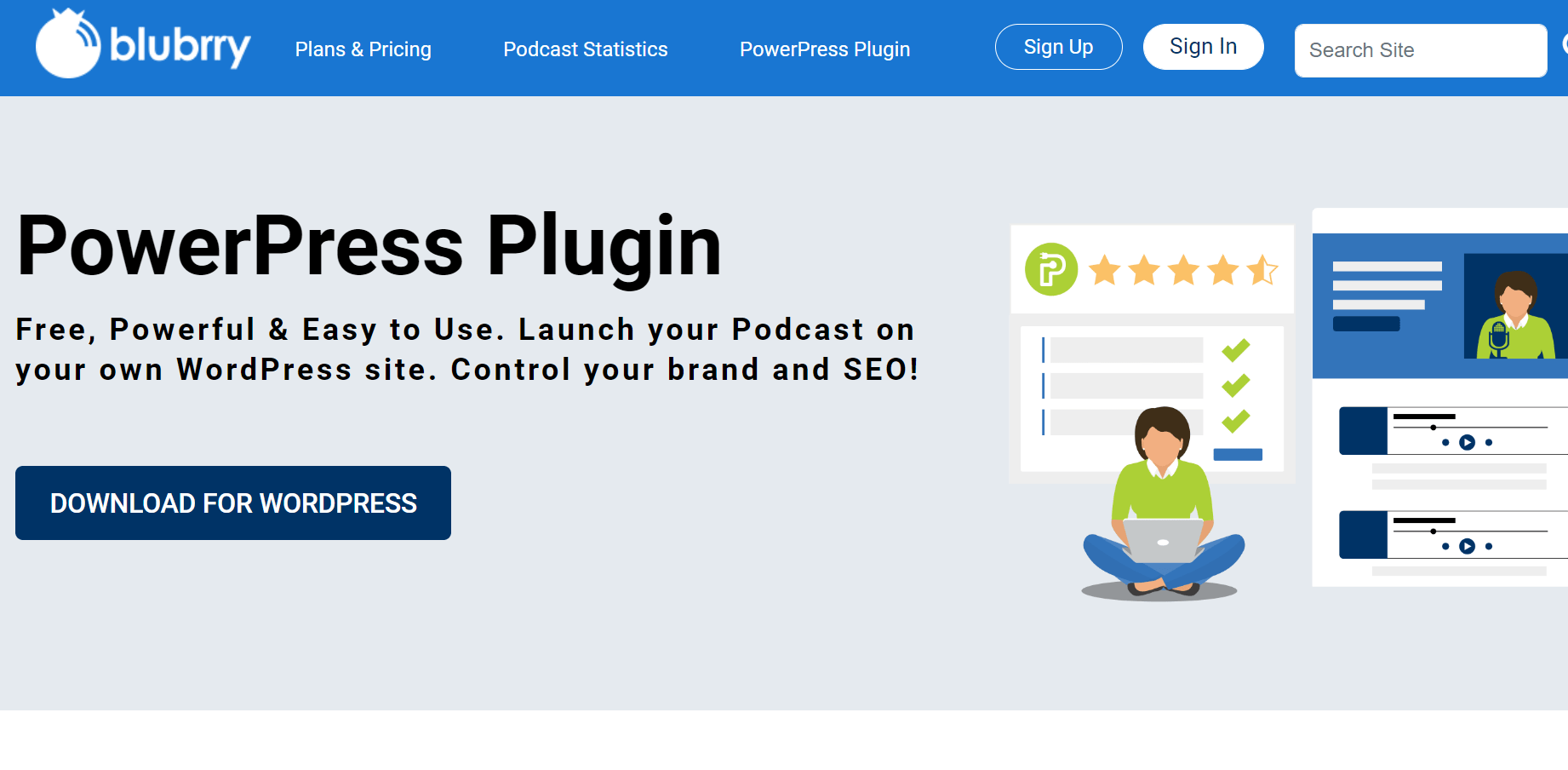 One of the most popular podcasting plugins on WordPress for beginners and experienced podcasters, Powerpress comes with services that help you streamline your podcasting process more effectively and simply.
Key features:
Powerpress comes with two modes, one built for beginners and another named "Advanced Mode".
Helps you with SEO for your podcast.
Helps with basic subtitling for your episodes.
Integrates with platforms such as Youtube, Spotify, iHeart, Apple Music, etc.
Supports podcasters in languages such as Spanish, German, and Italian.
Pricing:
I started out with the free-of-cost Lite version of Powerpress, but you can opt for the $10/month version!
2. Buzzsprout Podcasting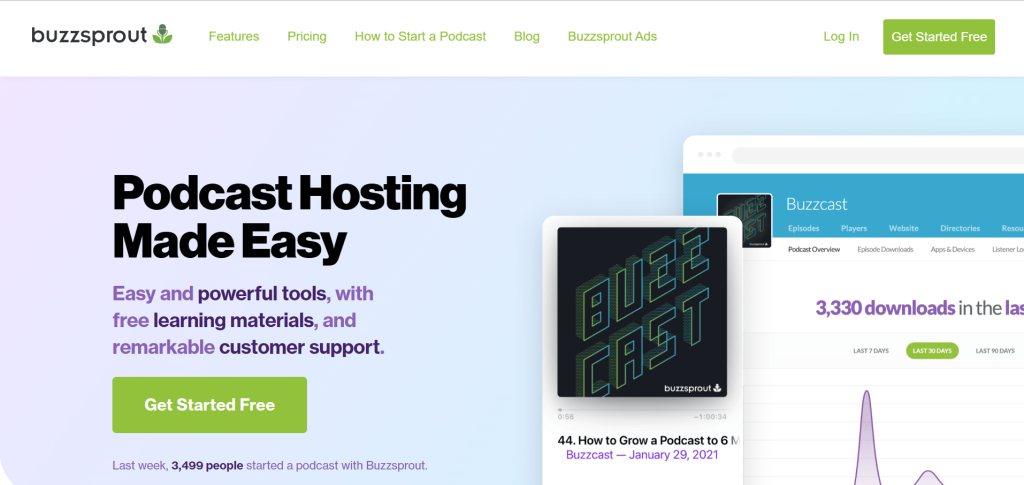 You've recorded a podcast, spent hours editing it, and finally came up with a stellar, informative, hour-long episode.
Now what?
Buzzsprout helps with everything you'd need to publish it successfully.
Key features:
You can embed your podcast in any webpage or section of your WordPress website. This comes in handy while designing a website that would help move your audiences to a specific stage in the funnel (such as following your podcast after viewing your homepage).
You need not worry about optimizing your podcast episode(s) for your website and manually publishing it – Buzzsprout does it for you!
You can also use Buzzsprout to track audience analytics to boost your marketing efforts from time to time.
Pricing:
Buzzsprout's Lite version is completely free of cost; however, I'd recommend signing up for their paid subscription, that costs $12/month for complete access to all the plugin's features.
3. Seriously Simple Podcasting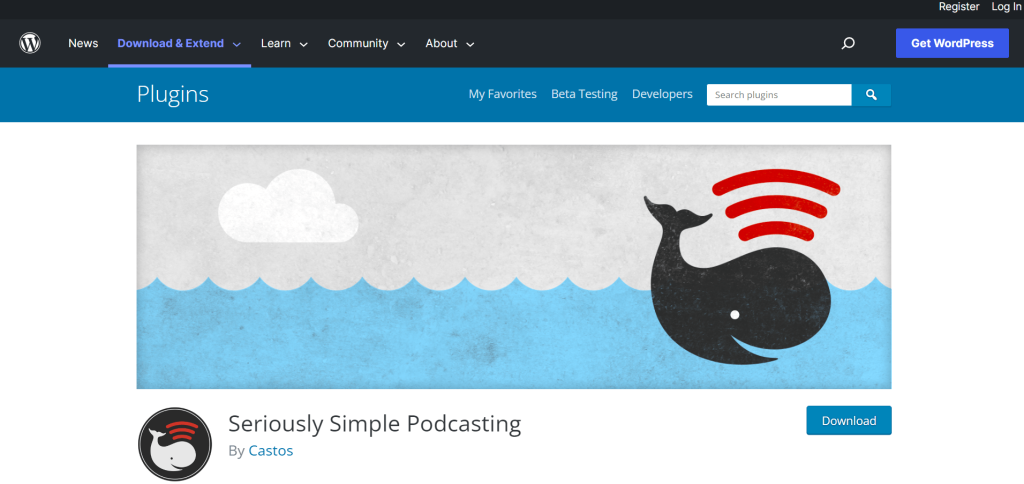 This plugin stays true to its name, with its seriously simple interface, and is widely loved by podcasters all over the globe, with a solid 5-star ranking. I've tested out multiple podcasting plugins on WordPress, and Seriously Simple Podcasting's user-friendliness matches no other.
Key features:
Helps embed your podcast on your website.
Helps in collecting relevant statistics on listener activity and podcast reach.
Allows easy sorting of your podcast using its Series and Podcast system.
It supports both audio and video podcasts, helping you diversify on different platforms such as Spotify and Youtube.
Pricing:
It's priced at $19/month, but you can also try out its Lite feature for free.
4. Fusebox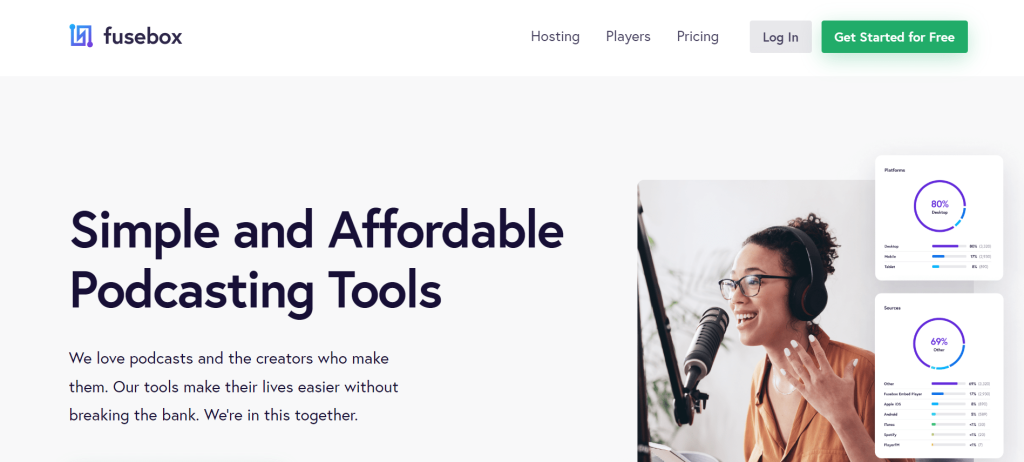 I've covered a few podcast plugins that are perfect for beginners. Once you've established your podcast well, it's time to scale up. A lot of podcasts, despite delivering excellent value, fail to make it big after a point due to a lack of scaling.
Fusebox, formerly Smart Podcast Player, is the best plugin you can opt for if you're looking for the following features to scale your podcast.
Key features:
Comes loaded with customization options.
You can design your podcast the way you want to without having to stick to generic templates. What's more, you can customize your podcast to make it look like a truly integrated part of your website.
Fusebox also allows you to create a transcript for your podcast, boosts accessibility and organic reach.
Helps you add customer CTAs and easy email support.
Pricing:
If you choose the Starter version, you pay $7.50 every month. Alternatively, you can also opt for the Pro version by paying $15.83 monthly.
5. Simple Podcast Press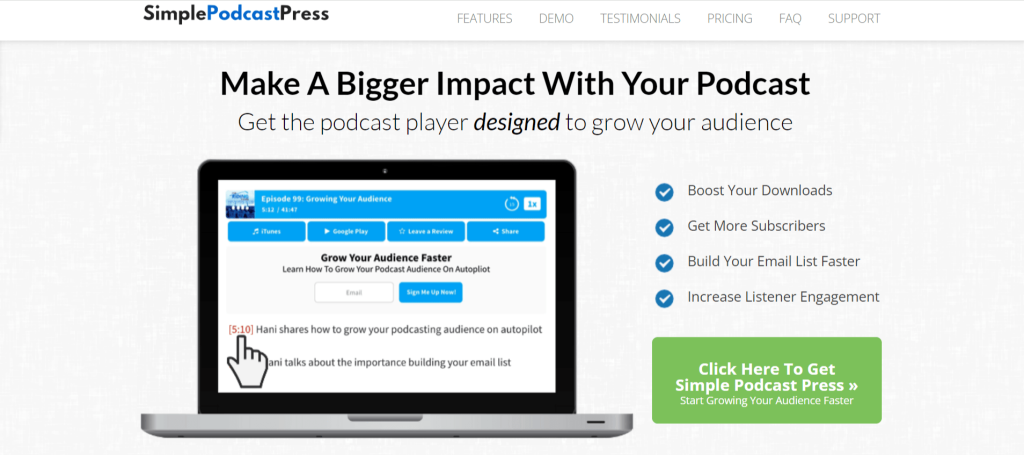 Another uber-simple podcasting plugin thrown into the mix, Simple Podcast Press is one of the simplest plugins to set up and operate for your podcast needs. While its interface may be deceptively simple, it does a lot more than make your podcasting experience easier and more impactful.
Key features:
Helps set up a page-by-page view for all your podcast episodes and creates a mobile-friendly player for each of them.
If you've added a podcast description or image, SPP automatically updates that on your WordPress site as well, saving you and me the trouble of manually updating and uploading podcasts and supporting information from its source to our website.
Supports clickable timestamps so that your listeners can move from one section of the podcast to the other.
Pricing:
For a single WordPress site, it charges you $67, with Professional and Multi-site plans priced at $97 and $147 respectively.
6. Libsyn Podcasting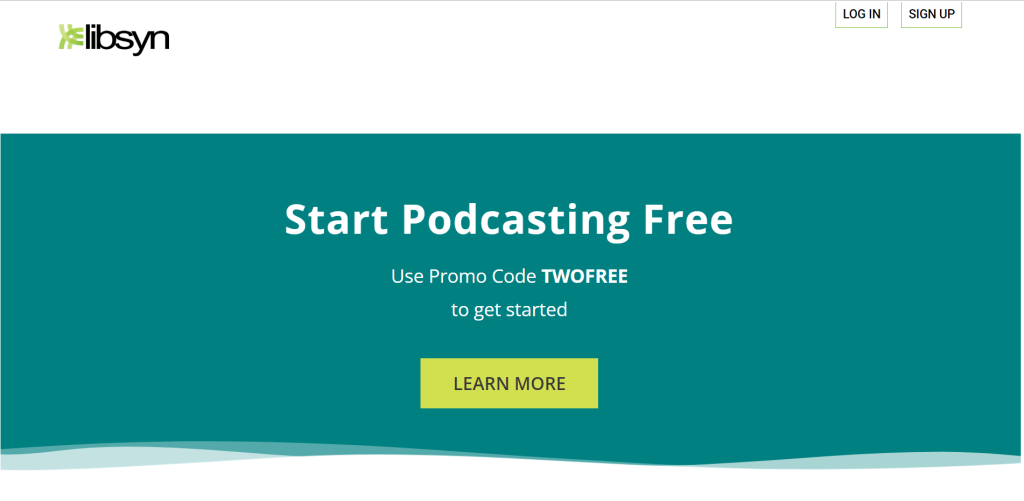 When I'm using a podcast plugin, my goal is simple – make the process of integration with my site simple, seamless, and effortless.
And Libsyn helps me do exactly that.
Key features:
With Libsyn, you can store all your podcasts on Libsyn itself and never worry about data loss.
You can create drafts and unreleased episodes on Libsyn and schedule an upload to your published website when you're ready to do so, giving podcasters incredible flexibility and freedom with their posting schedules.
It offers added marketing and monetization opportunities for its members, which can greatly help boost your podcast among your target audience, a great feature for those looking to scale their podcast.
Also includes a compatible media player that can be accessed across multiple mobile and desktop devices.
Pricing:
The only drawback of Libsyn is that you cannot use all of these features unless you're a Libsyn member, a basic program that costs $5/month for 3 hours of podcasts and 162MB of storage.
7. RafflePress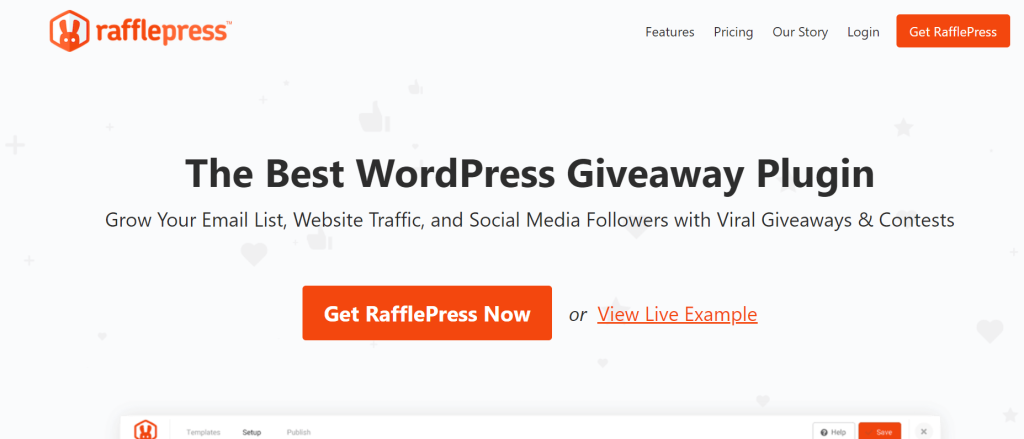 If you need a plugin to boost your marketing efforts and giveaway efforts, look no further. RafflePress is one of the best plugins in terms of versatility, impactfulness, and actionable insights.
Key features:
With RafflePress, you can integrate giveaways from your WordPress site without building an external site to host giveaways.
RafflePress is perfect for a streamlined funnel that directs your listeners and followers from your podcast to a virtual giveaway, incentivizing them to refer giveaways and growing your audience in the process.
You can utilize RafflePress's giveaway templates for integrations with your marketing and CRM efforts and social media platforms.
Offers a highly responsive version for mobile devices to boost accessibility.
RafflePress has received glowing reviews for its customizability, high level of integration, effective giveaway referral model, and impactful landing page designs.
Pricing:
You can purchase the premium, all-features-included version of RafflePress starting at $49 every year or opt for a free version with basic features.
8. Podlove Podcast Publisher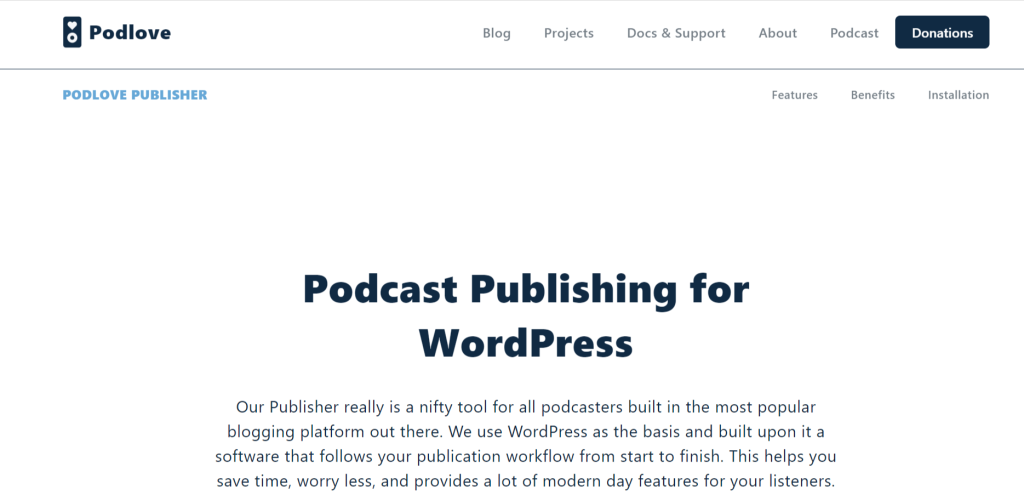 One of the best free tools out there for publishing podcasts, Podlove Podcast Publisher is a must-have. Apart from the usual features offered by a podcast plugin on WordPress, it offers a few others, that for me, are absolute winners for anyone looking to make a solid, impactful podcast.
Key features:
Podlove offers HTML5 support when it comes to audio and video podcast formats, an ultra-customizable player, and my personal favourite – a built-in feature for subscription and options for podcast downloads.
Blogs on Podlove's website highlight the features of its latest versions, which is a great tool for anyone looking to understand the plugin better.
You can also study your podcast's performance and audience engagement using Podlove's analytics.
Pricing:
As for Podlove's pricing, it's completely free of cost!
9. Sermon Manager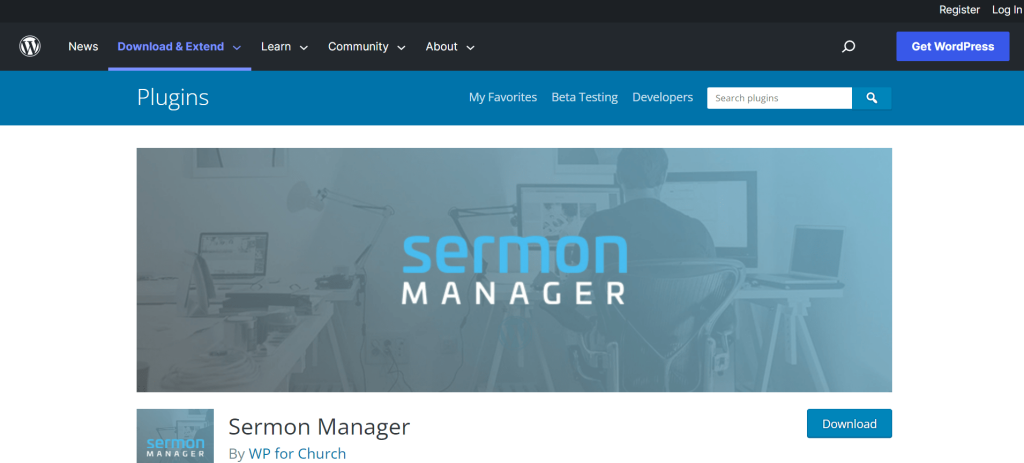 Before I take you through Sermon Manager and all of its features, here's a quick note – Sermon Manager is a pretty niche podcast plugin, built specifically for sermon uploads on your WordPress website.
Key features:
You can feature external podcasts from other directories, and feature snippets or entire episodes on your site.
Integrate your uploads with Bib.ly references to further sort and reference your sermon uploads.
It comes packed with features built specifically for sermons, and its easy-to-use interface is seamless, helping the publisher and website owner easily manage all of their sermons in one place.
Sermon Manager also supports other 3rd party plugins such as Yoast SEO, Jetpack, and more.
Supplement your sermons with PDFs, documents, PowerPoint presentations, images, and videos, for a more holistic listening experience.
Overall, Sermon Manager is a must-have tool, despite serving a very small and targeted niche.
Pricing:
It's completely free of cost, and can easily be downloaded from WordPress's plugin library.
10. MonsterInsights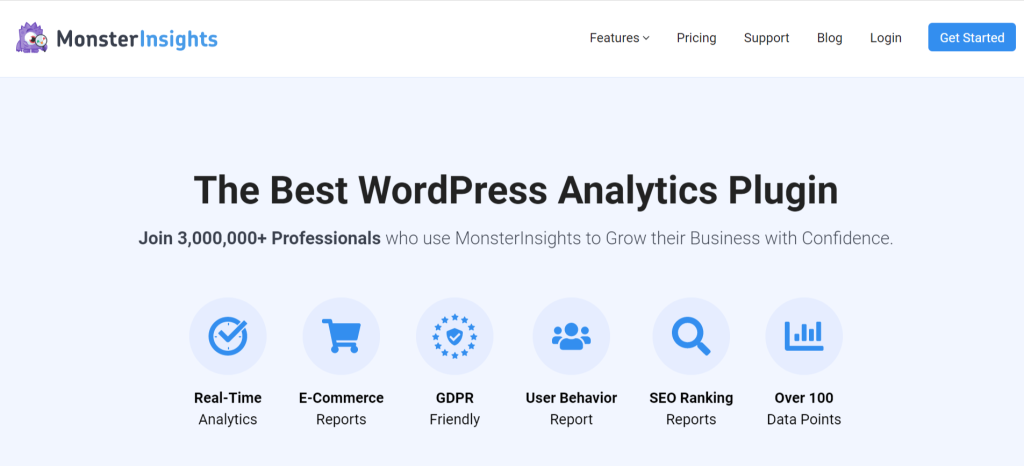 With over 300,000 users, MonsterInsights is the best analytics plugin for WordPress, Podcasts in particular.
With MonsterInsights, you can integrate Google Analytics with your WordPress site, gain actionable insights, formulate data-driven marketing models, as well as understand your audience and its needs better to deliver cutting-edge, informative, and valuable data in the form of podcasts.
Key features:
Can be easily added as a plugin for any WordPress site in a matter of minutes, and the entire process is fairly simple.
You can also add third-party plugins such as YoastSEO and AdSense.
Offers real-time stats on your site, making user-tracking a quick, live process.
You can also choose to link affiliate or referral-based features and create a solid set of data that you can refer to while optimizing your podcast efforts.
Pricing:
MonsterInsights is priced much higher than the other plugins I've covered, at $199 a year, but the insights it provides are well worth the cost.
11. AWS for WordPress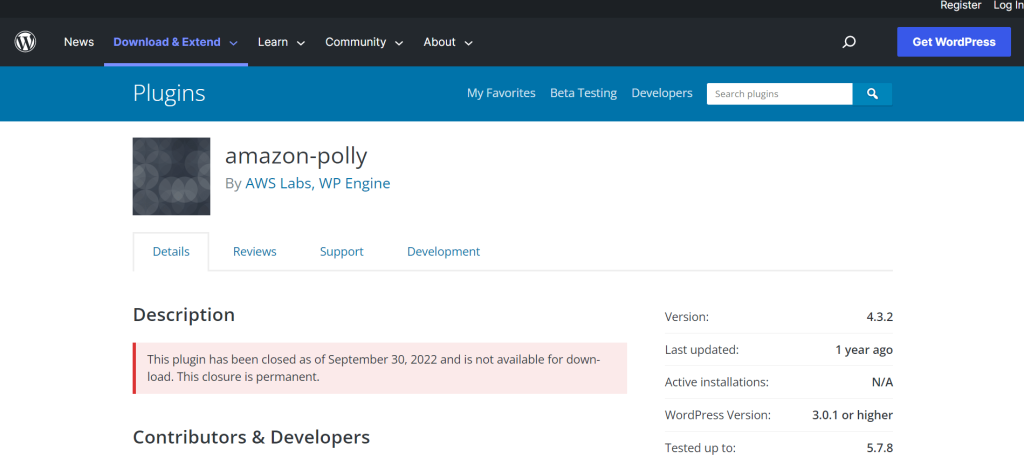 While creating podcasts, it's essential to keep accessibility in mind. While most WordPress plugins help with the transcription and captioning of your podcast episodes, AWS for WordPress is a plugin built especially for text-to-speech conversion, and all of your other transcription needs.
Key features:
AWS helps generate detailed transcripts for all your podcasts (which comes in handy while repurposing your podcast content into blogs or social media posts).
Integrates your podcast with iTunes for easy hosting
Offers multilingual translations of your transcript for a diverse audience base.
Pricing:
Although it is not a complete plugin for podcasting (only useful for transcriptions and captioning), it is widely used by podcasters. Plus, it's free of cost!
12. WPForms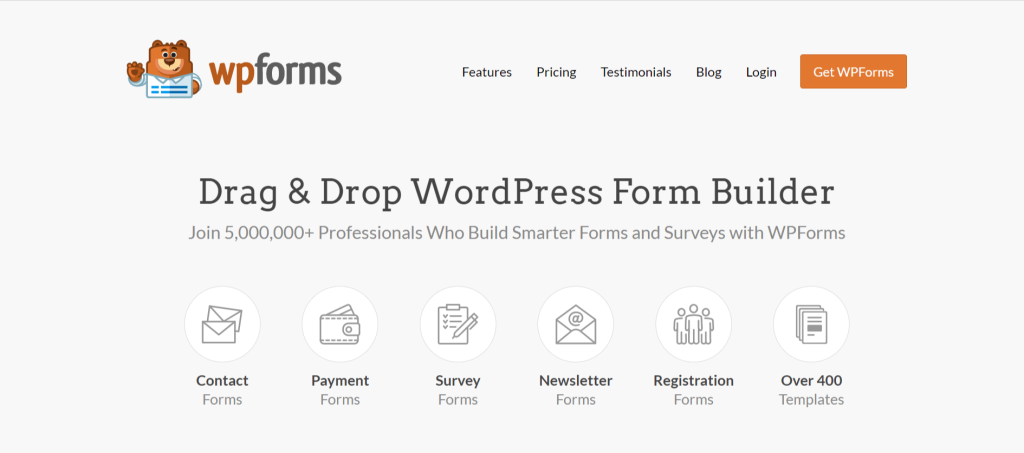 With WPForms, you can create interactive, user-friendly survey forms that can help capture your audience's opinions, feedback, and requests.
Key features:
Embedded surveys and polls on your website help capture a quick audience rating of your latest podcast episode, ask them to sign up for your monthly discussion sessions, or even encourage them to sign up for any other deliverables your site may offer (such as newsletters, FAQs, etc.)
Your listeners have a space to go to after they engage with your podcast. You can direct them to your contact details in case they wish to reach out to you, invite collaborations, topic ideas for your next podcasts, and more!
Pricing:
While the pricing for the complete version of WPForms starts at $79, you can opt for the free version with limited features at first.
13. AWS for WordPress
Last but not the least in our list of WordPress Podcast Plugins is AWS for WordPress. It is a very unique and an effective WordPress plugin. Amazon Polly service is been used in this plugin. It is used to perform text-to-speech translation. Your written content will be translated to audio that can be used in podcast. It provides more value to your podcasts. This plugin is solely use to translate written content into audio in various other languages. The audio can also be given to iTunes or can also be featured on your website.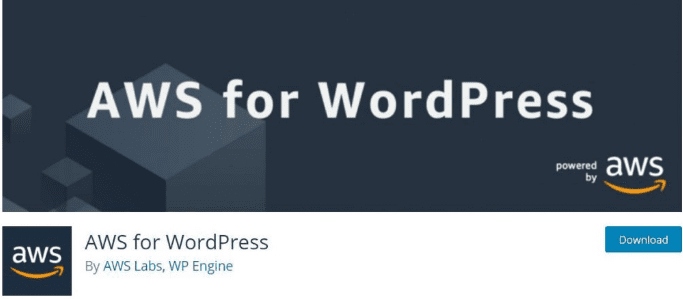 Key Features :
Can transform your written data into audio/speech.
Easy and Effective to use.
It can be uploaded on your website or iTunes.
Pricing :
It is a free plugin which can be considered very valuable.
Related Links
Final Thoughts – WordPress Podcast Plugins
We've taken a look at plugins that will help you with every single stage of your podcasting journey, be it just starting out, looking for data analytics solutions, or simply wishing to create a solid player design.
For me, Powerpress clinches the crown for the best, most versatile, affordable, and customizable podcast plugin you could ever need on WordPress. Its ease of integration with popular platforms such as Youtube, beginner-friendliness when it comes to setup, as well as SEO-base assistance, and multilingual support make it bag the top spot on my list of the best WordPress plugins for any podcaster.