Want to know the best WordPress Maintenance Services? You are at the right place. Managing a website requires a lot of effort. The site must be kept secure, everything must run correctly, and loading times must be kept to a minimum.
Interested in having someone help you with the maintenance of your WordPress site so that you can rest assured and focus on other crucial parts of your business?
This is where WordPress maintenance services come into play. Paying for a WordPress maintenance service is an excellent idea to keep your site running smoothly.
In this way, your website remains operational without requiring you to take an active part in its maintenance. Among them are spam, errors, hacks, security checks, backups, theme updates, and everything else you might need for your website to run smoothly.
In this article, we cover the best WordPress maintenance services to use in 2023. Read on to know more.
Our Recommended Picks For WordPress Maintenance Services
| | | | |
| --- | --- | --- | --- |
| Sr. No. | Website | Best For | Rating |
| 1. | GoWP | Best for Agencies needing a team to handle their clients' sites' updates, security, and backups. | 4.4/5 |
| 2. | ManageWP | For Site owners on a tight budget. | 4.9/5 |
| 3. | WP Engine | Best for those who wish to get a hosting and maintenance service. | 4.7/5 |
| 4. | WP Buffs | Those who wish to delegate maintenance tasks to someone else so they can focus on other things. | 4.4/5 |
| 5. | Maintainn | Ideal for routine website check | 4.5/5 |
Besides our topic-recommended picks. We have described other website maintenance services that you may find useful.
1. GoWP
Best for Agencies needing a team to handle their clients' sites' updates, security, and backups.
GoWP WordPress maintenance plan is designed for agencies who want to hand off their maintenance responsibility to a team of experts.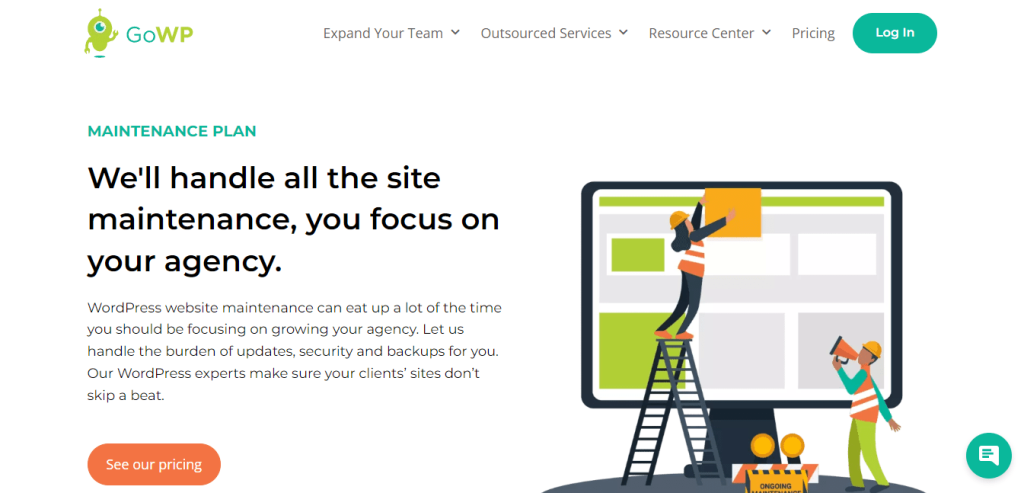 Daily backups of the site, security monitoring, malware removal, and updates are handled by GoWP.
GoWP's Visual Validator ensures that plugins and core updates won't affect the site negatively before making them.
Maintenance Services
Security monitoring
Malware cleanup
Reliable backups
Plugin updates with Visual Validator
Pros
Agency-friendly features
Developer dedicated to your project
Cons
Individual users may not find it helpful.
Pricing
For $29/month, you get basic maintenance, while for $79/month, you get unlimited content, CSS, and design edits.
During one-time tasks, if you have a complex task that takes over 30 minutes, you will need to pay for a one-time task.
The company also offers a $1799 per month dedicated developer service.
2. Newt Labs
Newt Labs is among the most significant additions to the website maintenance service, allowing users to take advantage of site fixes. The clients have the option to email their support requests.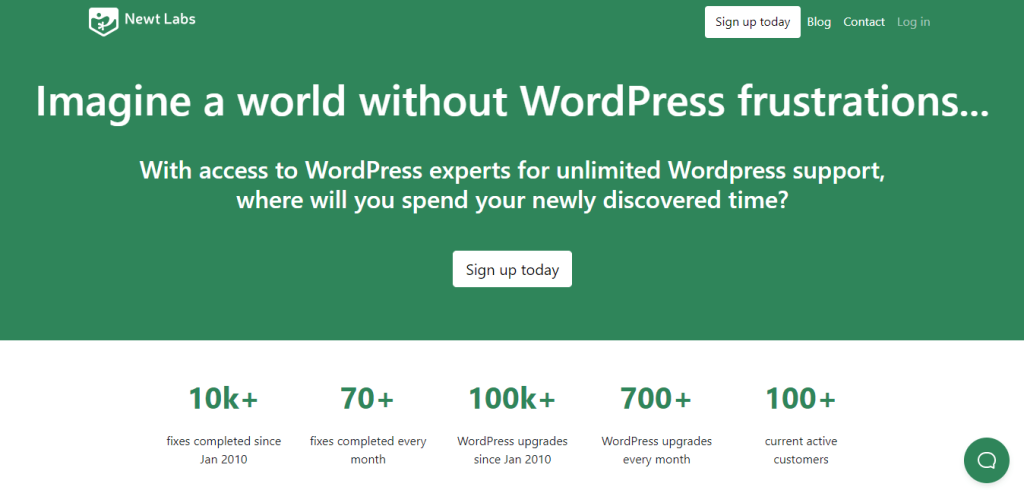 The thing that does this maintenance service is its support team which provides a timely solution.
You can take NewtLabs' services to keep your site updated, have a backup, and constantly monitor it to eliminate any bugs or security issues.
Maintainance Services
WordPress updates
Support and backups
Security monitoring
Hacked website cleanups
Pros
Customer service via live chat
Plans with CDN
Videos on WordPress
Cons
Only business hours are available for support
Customers outside the UK are not suitable for these timings
Pricing
The pricing package starts at $72 per month
3. ManageWP
Best For Site owners on a tight budget.
With ManageWP, you can automate all the tasks you need to perform to maintain your WordPress website. Plugin updates, themes, and core files can be done in bulk, free monthly backups can be made, Sucuri security checks can be performed, and performance tests can be performed.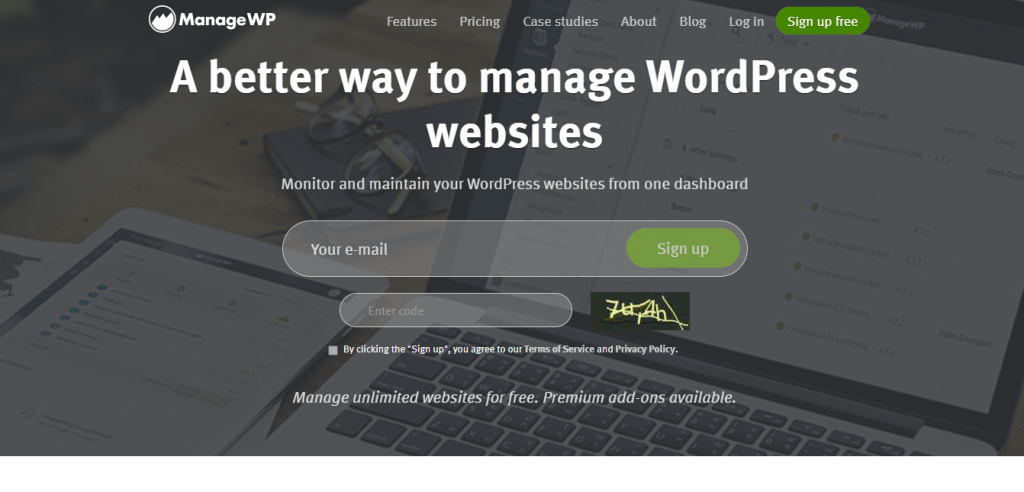 Maintenance Services
Monthly Cloud Backups
Uptime Monitoring
Link Monitoring
Automated Security Check
Pros
Having such free features as free backups and security scans is good.
It is possible to have a high-maintenance WordPress website.
Cons
You may not receive recent notifications sometimes.
Paid plans even include uptime notifications for a single site.
Pricing
Though you can enjoy using this WordPress maintenance service for Free, you can even upgrade to premium for advanced features that range between $1-2 per month per site.
4. FixRunner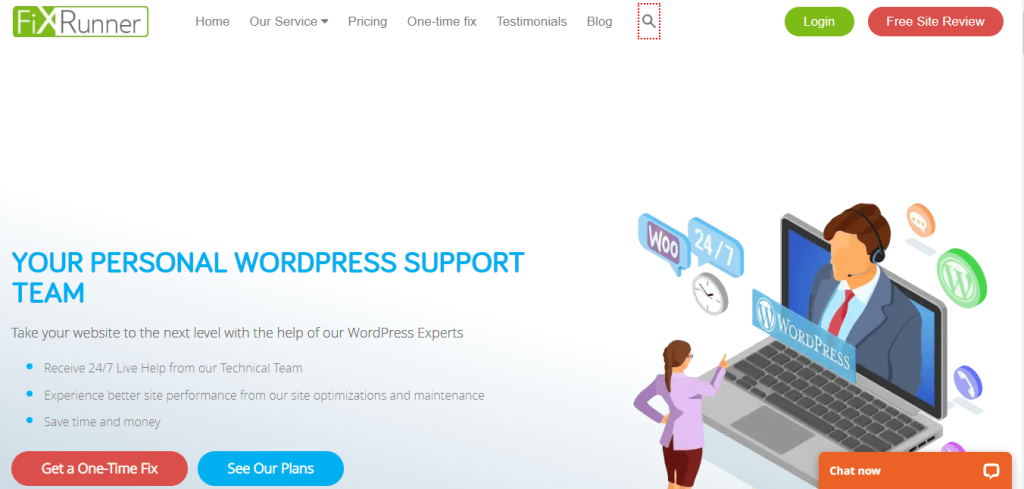 Best For Small businesses that don't have an in-house maintenance team.
When it comes to outsourcing maintenance tasks, FixRunner is an affordable option. Besides providing daily backups, FixRunner also monitors and optimizes your site's uptime and security. As an option, you can pay for a one-time fix or sign up for a maintenance service plan to have ongoing support.
Maintenance Services
WordPress Updates
Uptime Monitoring
Cloud Backups
Security Check
Pros
For $49, you can get a one-time fix (no recurring charges).
Their money-back guarantee lasts for 30 days.
Agencies and freelancers will appreciate the white-label option.
Cons
A $149/mo plan includes phone support but is unavailable 24/7.
There is a one-time charge for malware removal and speed optimization.
Pricing
FixRunner comes with three major pricing plans that start with $69/month for premium, $99/month for the rocket plans and Advance plans for $179/month.
5. SiteCare
Best known for WordPress speed optimization.
With SiteCare, you'll never have to worry about maintenance. You can count on it to update your theme files and plugins daily or every hour, audit your plugins and perform daily or hourly backups of your site.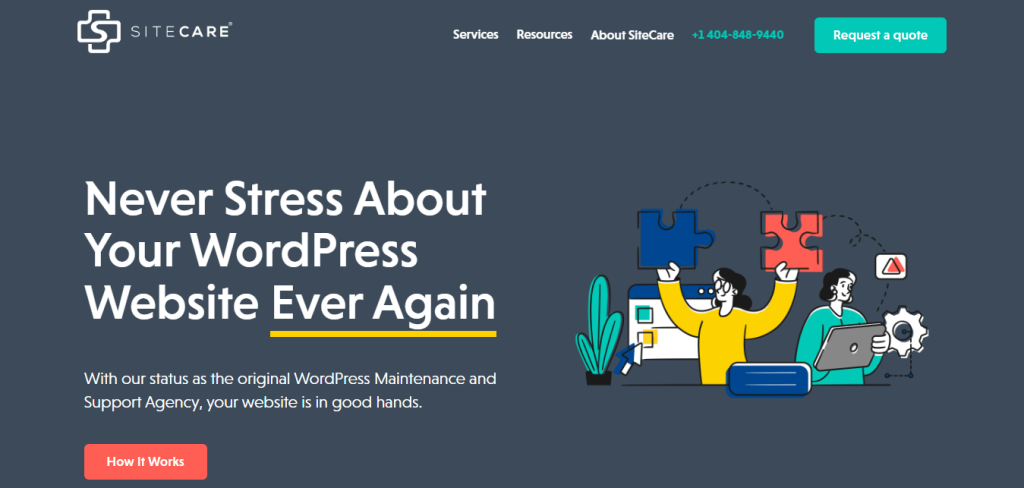 As well as malware scanning and anti-spam software, it provides brute force protection and brute force security. Besides speed optimization and SEO, SiteCare also helps with accessibility.
Maintenance Services
The testing of quality assurance
Assistance with rapid resolution
Restoration of the site
Optimizing performance and speed
Managing accounts
Pros
Security monitoring is provided 24×7 by Site Care to ensure the safety of your website.
Optimizing your website's performance and speeding up its loading speed will improve your website's user experience.
They immediately remove malware and resolve problems with their lowest plan (billed annually).
Cons
Pricing plans over $200 include speed optimization.
There is no 24/7 support available.
Pricing Plans
The following are the monthly and annual plans offered by SiteCare:
With SiteCare Standard, you'll pay $990 per year
For $299/month or $2990/year, you can get SiteCare Plus
With SiteCare Pro, you can pay $499/month or $4990/year
The SiteCare Premier plan is available for $1200 a month or $12000 a year
6. WPMU DEV
Best For Site owners who want to perform and manage all maintenance tasks in one dashboard.
The WPMU DEV Hub allows you to monitor, optimize, and update an unlimited amount of sites from a single dashboard, making it much easier for you. You can automatically or manually update all of your sites, plugins, and themes in this one location. Additionally, you can test the speed of your website, check its response time, and get insights into where you need to make improvements.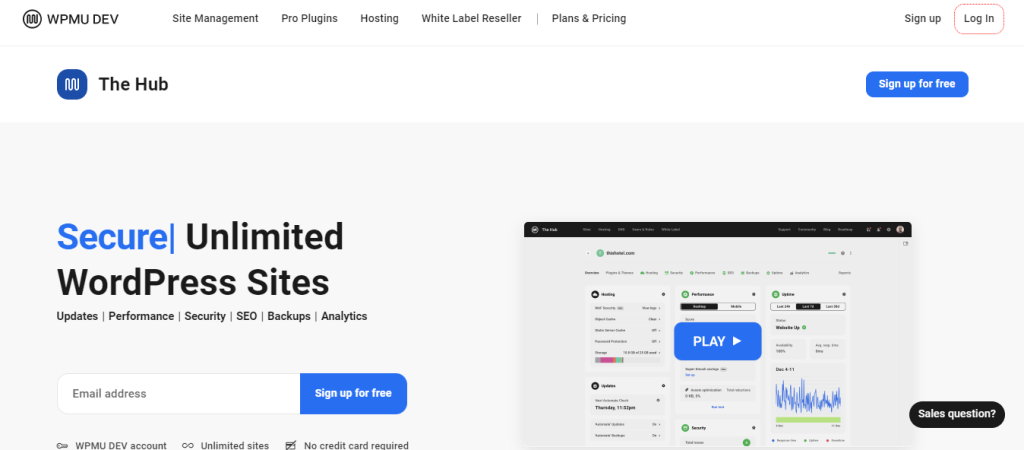 As well as running or scheduling security scans, getting an overview of security issues, and receiving alerts via email, you can also run or schedule security scans. Last but not least, backups can be managed and scheduled as well as restored at any time.
Maintenance Services
Website Backup
WordPress Updates
WordPress Security
Performance Optimization
Pros
Great customer support
Helping hand to eliminate the errors in WordPress.
Cons
Pricing
When it comes to pricing for WPMU DEV, you can expect some popular pricing plans that go from free plan, Personal and basic plan ($7.50/month), Personal and standard plan ($12.50/month), Business plan ($82.50/month).
7. WP Engine
Best for those who wish to get a hosting and maintenance service.
Among the above solutions, WP Engine stands out as a unique alternative. WP Engine provides a managed hosting service that allows you to enroll in this service instead of paying for maintenance separately.
With WP Engine, your site is not just hosted – it is also maintained.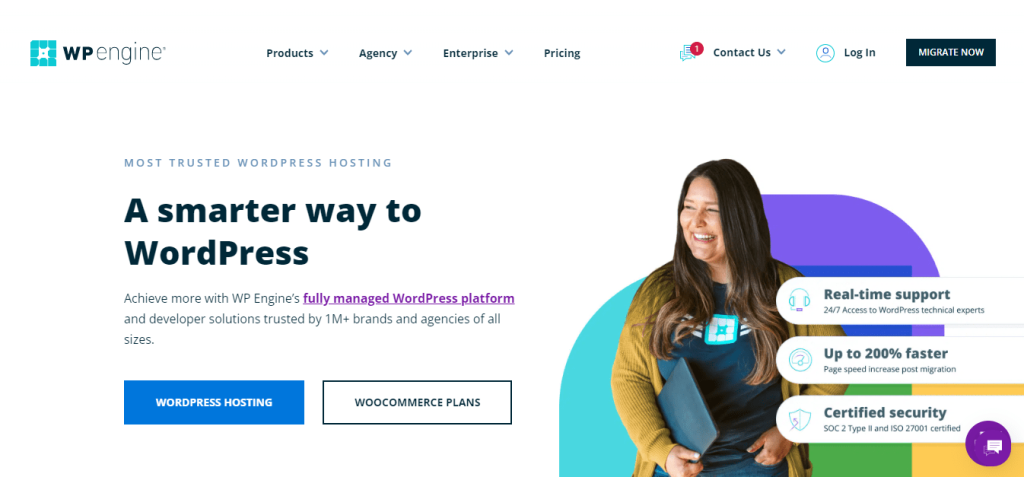 Upon installation, the plugins, theme, and installation of WordPress are all updated automatically. With this method, you can test your changes before they are uploaded to your site by using a staging environment.
Maintenance Services
Daily Backups
Automated WordPress Updates
Website Monitoring
WordPress Security
Pros
Great choice in keeping your website errors free.
Affordable pricing
Cons
Pricing plans
In this WordPress maintenance service, you will find different plans you can choose depending on your requirements.
The startup plans: It comes at a price range of $20/month.
The professional plan: You can start enjoying its features just at $39/month.
The Growth Plan: You can take advantage of this plan and keep your website maintained and upto date with this plan starting from $193/month.
Scale plan: This is mainly for large enterprises with a high budget and comes with advanced features that won't let your website down. You can start enjoying this service for $600/month.
8. WP Buffs
Best for Site owners who want to hand off maintenance tasks to focus on their other responsibilities.
WordPress buffs are an excellent option if you want a team of experts to handle all or most of your site's maintenance.
Plugins, themes, core files, and backups of your website are all updated weekly.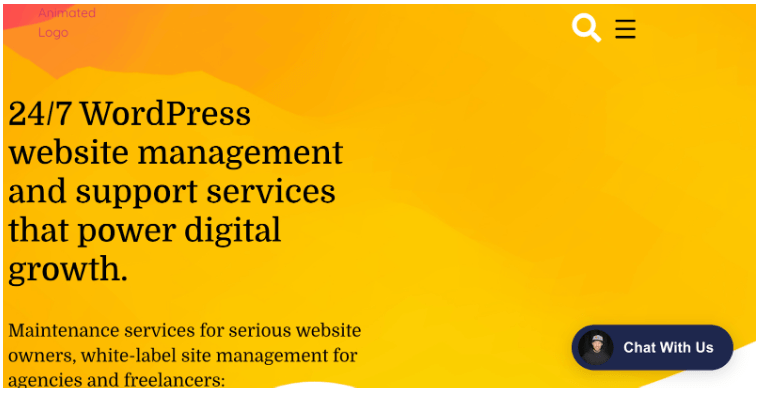 It comes with a Security Pro premium plugin for advanced security and speed optimization services. These additions make this website maintenance platform worth closing a deal with.
Maintenance Services
Weekly WordPress Updates
Uptime Monitoring
Cloud Backups
Emergency Support
Pros
The remote team at WP Buffs is available 24/7 to assist and support you.
A website check occurs 1440 times daily, and the team will intervene within 60 seconds if a problem occurs.
Cons
There is no daily backup, or emergency support, only weekly updates in the minimal plan.
Pricing
Different pricing plans are available for WP Buffs based on your specific needs. There are several differences between these, such that you should check the pricing page for specific details. However, some fundamental differences exist:
Maintain – $67 per month—basic maintenance services such as updating, monitoring, and backing up (1x daily).
Protect – $147 per month. iThemes Security Pro is included with every Maintain package.
Perform – $197 per month. The pluses include everything in Protect, performance optimization, mobile optimization, prioritized support, and 4x daily backups.
Custom plans – These plans are tailored to specific uses.
If you pay annually, you will receive two months for free.
9. Maintainn
Ideal for routine website check
Maintainn, which provides WordPress maintenance services without the frills, will complete this list in 2023. Aside from routine support and maintenance services, this platform also offers the option of purchasing credits to be redeemed for custom development work in case of larger projects.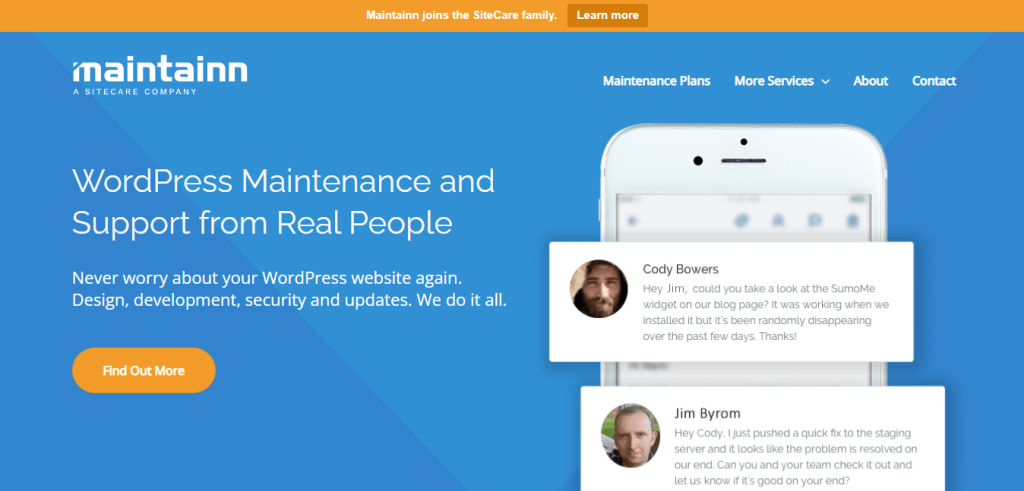 With this, you do not have to worry about keeping their WordPress websites updated or getting the support you need when they need it with Maintain. No matter what level of support you choose, Maintain promises only to provide you with support from genuine people.
Maintenance services
Recent updates to WordPress
Migrating a website
Backups on a schedule
Scan and cleanup malware
Providing emergency assistance
Pros
Email and live chat support are included in all plans.
Each week, you'll receive a report.
Cons
There is no live chat available on weekends. In addition, there is no phone support.
Pricing
There are currently three main packages of WordPress maintenance available through Maintainn, such as
Standard: The monthly fee is $49. A weekly update, security patching. Other features include timely service reports, regular backups, production updates, and live chat support.
Professional: Each month costs $149. Updates are provided weekly, 24/7 security monitoring, fee-free hacked website repairs are offered, and frequent offsite backups are maintained.
Enterprise: It costs $249 a month. Weekly updates, 24 hours day, seven days a week security monitoring, free website repair, secure offsite backups every 6 hours, monitoring uptime, performance checks, support for e-commerce, support for multi-sites, and other advanced features are included.
Whether you use WordPress personally or commercially, Maintainn is the go-to solution for an affordable and all-inclusive WordPress maintenance service.
10. TemplateMonster
TemplateMonster can be one of the best for instant WordPress Maintenance Services solutions. Top Skilled Professionals will provide great quality starting at just $199 a month. TemplateMonster makes sure all the requirements are met.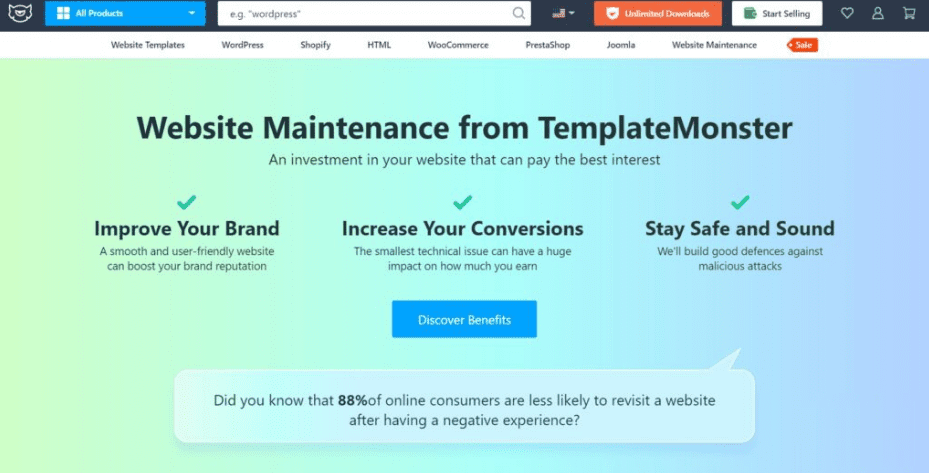 Maintenance services :
Gets rid of 404 error
Hosting Renew
Website Back up every week
Pros
Maintenance services solutions from skilled professionals.
All the requirements are met.
Cons
$199 a month can be a little expensive.
Pricing
Monthly it costs you $199
Yearly plan costs you $899
Related Reads:
Conclusion: WordPress Maintenance Services
Maintaining a website and providing support are not the most exciting parts; they are both essential for maintaining a healthy website.
Maintaining and managing WordPress takes crucial tasks off your shoulders. So you no more need to be stressed about backend site maintenance. You can concentrate only on the content and customers of your website.
FixRunner can be the ideal choice for website maintenance if you are a freelancer. On the contrary, GoWP is an ideal choice for agencies maintaining WordPress in the best way possible.