Want to know everything about GeneratePress? Let me give you an honest GeneratePress Review. I still remember what developing my first WordPress site was like until I learned about GeneratePress. Back in the day, no creative templates, basic designs, fewer tools, excessive usage of CSS, and a lot required for customization. As you know, when it comes to website development, we indeed have to make the right decision for choosing a theme.
GeneratePress has become my favorite WordPress theme due to its exceptional features. If you're someone who wants to build his own WordPress site but has no interest in coding, then yes, you can customize it the way you want.
Whether you're a freelance blogger, organization, or doing it as a hobby, you can upgrade your website with a GeneratePress theme and make your site looks like a pro!
In this article, I will cover all the information from top modules, features, pricing & plans, support, and any question which is coming to your mind right now
Let's start with learning a bit about GeneratePress & the idea behind starting it so you can also have a perspective about this WordPress theme as I give you an insight GeneratePress Review.
GeneratePress Overview:
GeneratePress is a free & lightweight theme for WordPress that can fit into any type of customization. Tom Usborne, the founder, ensured the entry of GeneratePress six years back. According to him, the vision was to build the best-supported WordPress themes which don't compromise on speed and focuses on a friendly user experience, and guess what? he succeeded.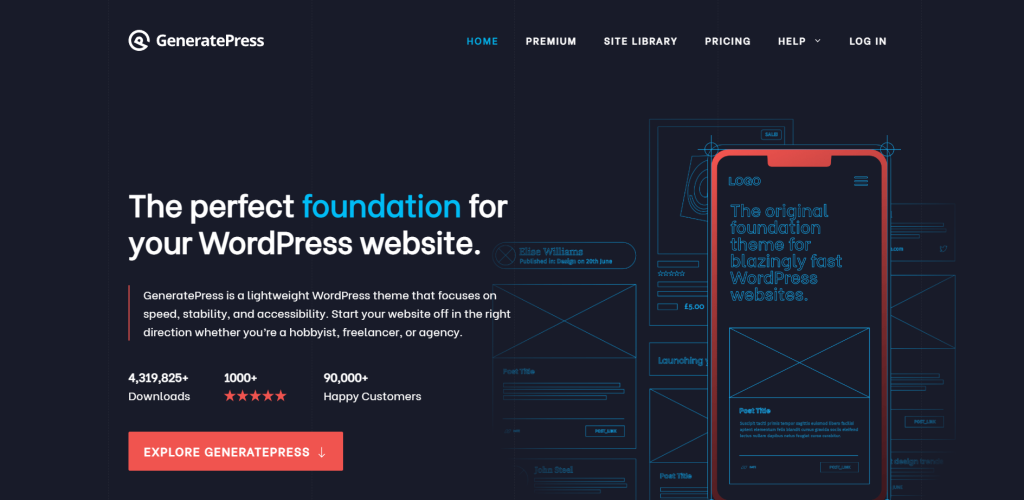 GeneratePress is super fast and comes with a multipurpose outlook and amazing templates to improve the overall look of your website. It has gained popularity among website developers & bloggers. It gives optimal performance to the visitors by fulfilling the page-speed score to 100%. Now, in 2023 GeneratePress has over 4.1 million downloads and more than thousands of 5 stars reviews. I think it is no less than to prove it is working extremely well in the digital world.
I will discuss the top functionality of GeneratePress, which makes it stand out from other themes.
Key Features of GeneratePress:
Lets have a Look at Key Features of GeneratePress
1. Multipurpose WordPress Theme
Hundred-plus customizable themes for business, e-commerce & blogs. With block-based theme building and professionally designed pre-layouts, you can use the themes on up to 500 websites.
2. 100% Page Speed Score
Get the exclusive page speed score by installing a 7.5kb page size, 2 HTTP requests, and almost zero dependencies.
3. Compatibility at its best
GP gives access to use any plugin or page builder. The highest coding standards allow you to pair it with any top-rated plugin.
4. Support LTR & RTL
It follows WCAG 2.0 and gives access to over 20 other languages that support LTR & RTL, covering the global community.
5. Lifetime updates & support
Get a lifetime subscription to GeneratePress at just $249 (one-time payment) and get complete access to plugin updates, license key & customer support.
As you can see above, GeneratePress offers refined & useful features. It has already impressed people across the globe, and now it's your turn to know the transparency. Read the full GeneratePress Review to dive deeper into its other features.
Speed & Performance of GeneratePress:
The performance of GeneratePress is excessively great when compared with other options. It provides a 100% page speed score means when your visitors check your website, they don't have to wait for loading times.
When using GeneratePress themes, the page size takes up to 7.5kbps, 2HTTP requests, and without any dependency, it gives you the complete satisfaction of a lightweight theme.
When I compared it with Astra & OceanWP, the results of the speed test were as follows:
| | | | |
| --- | --- | --- | --- |
| | Performance | Structure | Web Vitals |
| GeneratePress | 77% | 99% | 2.0s |
| Astra | 80% | 97% | 1.9s |
| OceanWP | 67% | 97% | 2.5s |
As you can see, the page experience is no doubt the best. The overall winner is GeneratePress. To boost your WordPress website, you can use the fastest & lightweight theme, GeneratePress.
What are the Pros & Cons of GeneratePress?
It has gained popularity because it has many great advanced tools, but there are a few drawbacks that I found, and you should know as well. Read the complete GeneratePress Review to get the complete information:
GeneratePress Pros:
Let's take a look at the Pros of GeneratePress
It is a lightweight, multipurpose & powerful customizable theme.
It gives a 100% page speed score means your site will load faster.
Accessible for all types of businesses, e-commerce, and bloggers with LTR & RTL standards.
Use GeneratePress on more than 500 websites.
The premium features have a 'site library' where you will get professionally designed starter sites.
The paid version of GeneratePress has advanced tools for styling headers, colours, typography, building customized blocks, hook system, support & many benefits.
You can use GenerateBlocks (plugin) to design your website without any page builders.
The lifetime version of GeneratePress gives you an auto-renewal key with all the features, updates & support for a complete lifetime.
GeneratePress Cons:
Let's take a look at the Cons of GeneratePress
Lacks drag & drop development. If you're from a non-tech background then you might find it difficult..
Unable to get integration with most of the third-party like other plugins.
GeneratePress does not allow you to do blog layout editing and reordering post meta structure.
If you want to add any extra features then you have to be familiar with CSS/PHP.
Ease of use:
GeneratePress is easy to install and the user interface is also smooth. You can install and activate GeneratePress on your website. For the activation of the GeneratePress theme, go to Appearance then Themes, and then click Activate GeneratePress. You get access to all its features under the Appearance section of GeneratePress.
The scattered features of WooCommerce are a thing to point out. As some of the features are available under the WooCommerce section and some under the layout section. Keeping features under two tabs is something I really didn't like because it restricts easy access. However, it has provided some quick links on the dashboard to access the other settings.
GeneratePress Review : Top Features & Modules:
As you already know from the above, GeneratePress has optimal features in its premium version. I found GeneratePress a huge competitor in the market due to the premium modules it offers. For beginners, GeneratePress Free Version has enough features to check the creativity score. After getting well-versed in designing & building WordPress websites, you can jump to the premium version for advanced tools.
Free Modules of GeneratePress:
GeneratePress offers GenerateBlocks, which is a lightweight WordPress plugin. If you're planning to use a native blog editor, then you can use GenerateBlocks for free (or paid) with any theme.
1. Site Identity
It includes the site title, site logo, and site tagline. GeneratePress premium tools provide you with more complexity in the Site Module without compromising the performance of the website.
You can customize the header section in multiple ways- Mobile Header, Sticky navigation, and Primary navigation to give an amazing look to your website.
2. Layout
You can find the header, footer, sidebar, blog, and primary navigation in the layout section. Not each option provides a detailed tool for customization. You can get more advanced features after purchasing a yearly plan.
3. Colours
The colour tab has limited options available in terms of background, text, link, and blog post tile colour and you can unlock more variations in the premium plan. Well, they provide presets in the free version, which can be beneficial for beginners.
4. Typography
You get access to a collection of styling fonts & typography to give a stylish & creative look to your website. It has more than 70 fonts, including popular fonts like Google. GeneratePress has a wide range if we compare it with WP.
These options have deep customization, you can choose font family, font weight, text transformation, font size, line height, and paragraph margin to give your website a more user-friendly & identity.
5. Menus
This section lets you reorganize and gives the option to add new menu options. You can edit menu locations, the footer menu, and the main menu in the header of your website.
GP also allows you to integrate with Thrive (thrive apprentice menu in menu location) and you can easily customize your theme and site for faster performance.
6. Widgets
The general way to modify the top bar, sidebar, header, and footer. The individual footer widgets attract viewers to your platform, and you can customize links to legal docs, policies, internal links, and links to social media platforms. You can add lots of options like archive, meta-data, calendar, and both thrive architect elements.
7. Homepage Settings
Like other traditional themes, this option lets you modify your home screen. For beginners, it has limited tools to run your website. However, you need to add tools if you want to upgrade the overall look of your home screen.
8. Additional CSS
The additional CSS expects you to be familiar with coding. If you are an expert in CSS, then you can add your own code here to customize the appearance and layout of your site and make it look more organized.
9. Lightweight Themes
You can easily build custom pages and add them to your website- About, contact us, 404, and more without losing the loading time.
10. Smartphone Experience
GeneratePress helps your website to give a user-friendly experience to your viewers on their smartphones. The page speed scores help it run smoothly and effectively.
11. Easy to Read Articles
You can check out the published articles on the official website to have an idea about hosting, plugin installs, and adding PHP & CSS.
12. SEO Friendly
Search Engine Optimization helps you to rank your website on google ranking. GP allows you to make your website SEO-friendly.


Premium Modules of GeneratePress:
The premium version of GeneratePress unlocks advanced features with more styling tools, and an advanced layout & hook system to give a professional design to your website. Also, after purchasing a lifetime subscription, you no longer have to renew your license key every year and get full-time access to plugin updates and premium support.
GeneratePress offers a block editor which introduces a modular approach. After installing the plugin on your WordPress.org website you get access to Gutenberg editor which provides the full styling of various blocks (header, footer, layouts & hooks) to improve the 100% performance of your website so you can take it to the next level.
Before purchasing the premium plan of GneratePress, you must know about all the features it provides. I know you must be having doubts about the freemium, yearly, and lifetime versions but do not worry, keep your eyes intact on this GeneratePress Review to get the full clarification.
Site Library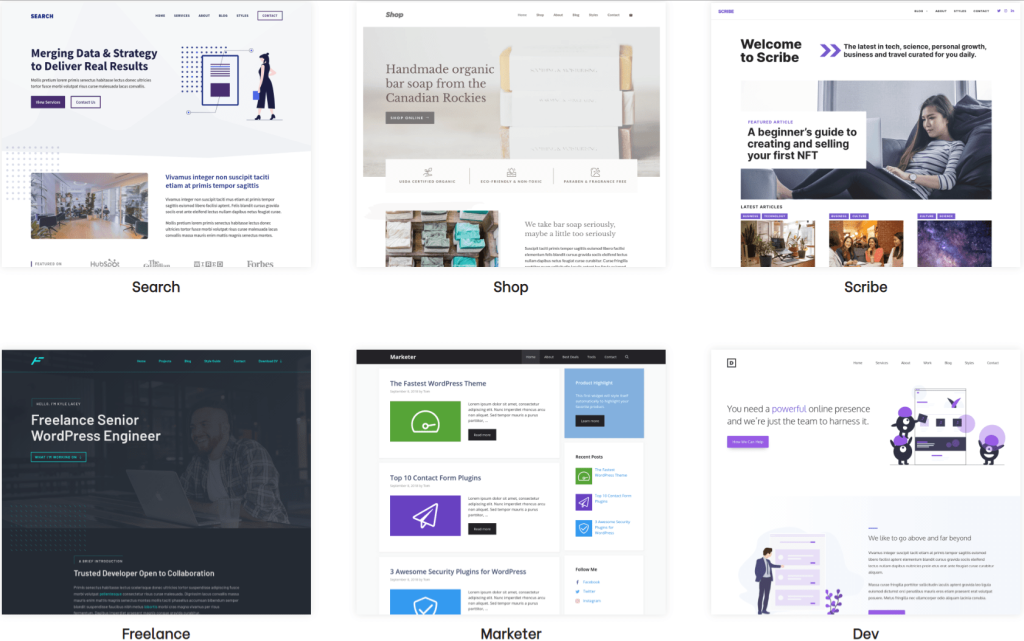 I am impressed by pre-designed templates. It provides presets of different layouts of websites and uses of Site Library in the GP prime version. The site library serves you two great features at the same time. You can pick any themes from the library and use these templates on your own website to make them look good. Whereas, on the other hand, you can customize site library features to edit the header, title, tags, logo, and more according to your way.
Hook System
The main aim of the hook system is to serve extra customization and you can integrate dynamic elements on the page. You can use it by creating a new element by choosing the element type as the hook.
Also, You can give a boost to your affiliate marketing website. You can create your WooCommerce hook system. It means you can individually create CTA's for your products and paste the code in your articles whenever you publish a new article on your website.
GeneratePress Review Pricing & Plans: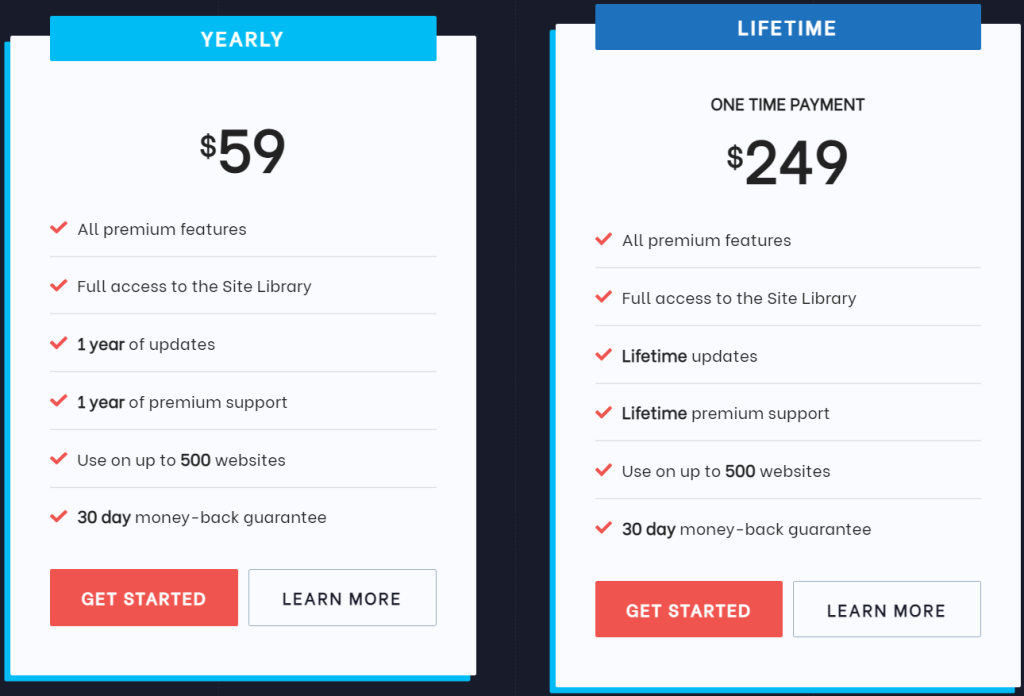 Yearly Plan of GeneratePress starts at $59 and gives you all the features and full access to the library.
Lifetime Plan of GeneratePress asks for a one-time payment of $249 and lifetime updates & premium support.
GeneratePress Review : Competitors & Alternatives
It has proven to be the best lightweight website and provides multipurpose functions. But before buying, the best is to compare your purchase with other available options. The users mostly look for a comparison with Astra & OceanWP themes. Let us compare GeneratePress with the below alternatives:
1. Astra Themes: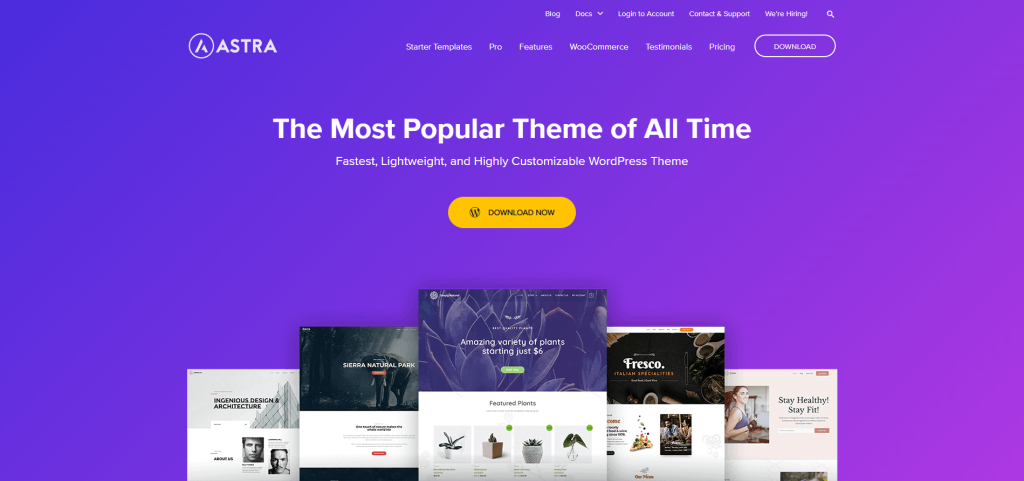 Astra offers free themes for beginners which you can download from their official website. The pricing plan of Astra starts at $49 per year called Astra Pro. The benefit of switching from Astra to Astra Pro is that you can use the themes on unlimited websites. The lifetime plan is similar to GeneratePress and costs you $249 with lifetime features & updates. To get more detail about Astra, check out our in-depth Astra Theme Review here.
If you are looking to go forward with Astra you can look into the Astra Theme Discount.
2. Divi: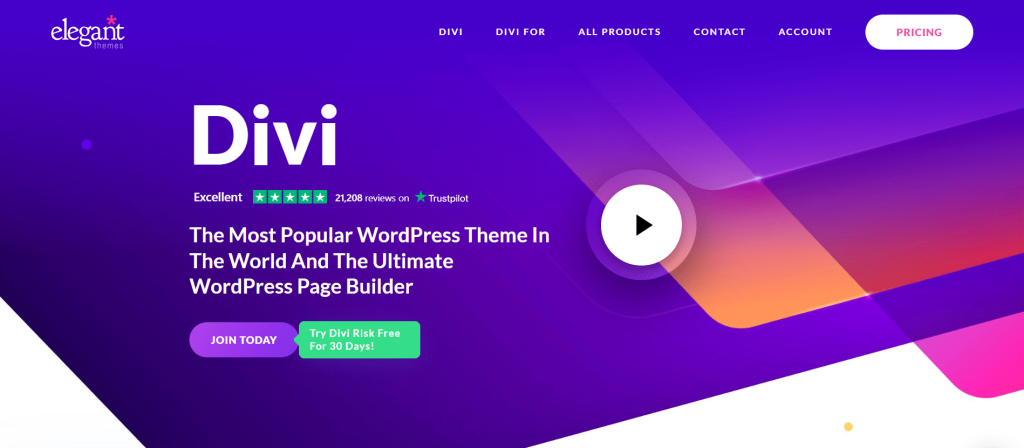 Divi is a competitive option when it comes to the WordPress themes category. It provides a drag-and-drop editor tool with the highest conversion rates optimization tool. With the selection of high-quality professionally designed templates, it comes exactly at similar prices to GeneratePress & Astra. The yearly plan at $89 and the lifetime plan at $249.
Want to get more details insight on Divi Theme, then check out our Divi Theme Review here.
Liked Divi more? Guess what? We got a Divi Discount Coupon Code for you.
Related Read:
Final Verdict: GeneratePress Review
As far as you have generalized that GeneratePress is a performance booster and an amazing theme for WordPress users. If we talk about a free version, it provides a great number of tools for beginners and you can install it directly from the official website.
The premium version has more advanced tools that give you complete access to build and customize your website pages in your own way. GeneratePress can be used on up to 500 websites, so if you're into business or running any agency then it is a great deal for you.
However, it provides restrictions on some parts for non-technical people to build the additional pages.
According to me, GeneratePress is giving powerful page speed and wonderful theme layouts. It will give your visitor a fresh experience. So anyone who is planning to build a WordPress website should definitely give this a try to this wonderful theme.
Frequently Asked Questions : GeneratePress Review
What is the GeneratePress?
GeneratePress is a multipurpose WordPress theme that focuses on the performance, stability, and security of the website.
Do GeneratePress is available for free?
Yes, GeneratePress is available free and you can install it directly from the official website. 
What includes in the lifetime plan?
Their lifetime plan has full-time updates & premium support available. And after purchasing the lifetime plan you don't have to renew your license key every year.
Can beginners use GeneratePress?
Yes, beginners can use GP as it provides lots of basic features which can help you in your website development.