Remote teams and workplaces are moving to cloud-based platforms for communication. Owing to this, tools such as Slack and Discord are the top choices for their efficiency, speed, as well as user-friendliness.
Knowing which of these two tools is the best for you is absolutely necessary if you're a business owner.
In this blog, I'll be talking about both of these apps – Slack and Discord, and their main features. With the help of this information, you can then take a comprehensive look at their pricing, integration options, as well as overall usability and customer support.
Here's a quick tabular overview of my ratings for each of the components that I'm going to be covering in the blog.

Let's start!
At A Glance – Which Is Better?
| | | |
| --- | --- | --- |
| | Slack | Discord |
| Features | 5 | 4 |
| UI/Ease-of-Use | 5 | 4.5 |
| Voice and Video Calls | 4.5 | 4 |
| Channels and Groups | 5 | 3.5 |
| Integrations | 5 | 3.5 |
| Customer Support | 5 | 4.5 |
| Pricing | 4.5 | 4.5 |
| Overall | 5 | 4 |
Slack – An Overview
Slack is a cloud-based communication platform that can help you communicate with teammates from all over the world and share and upload files.
It is extremely user-friendly and can be used by anyone, regardless of their familiarity with cloud-communications apps.
I find Slack an incredibly useful app and have found its multiple integrations smooth and fast, saving me heaps of time and effort while sharing documents, scheduling meetings, and communicating with multiple workspaces on the same app.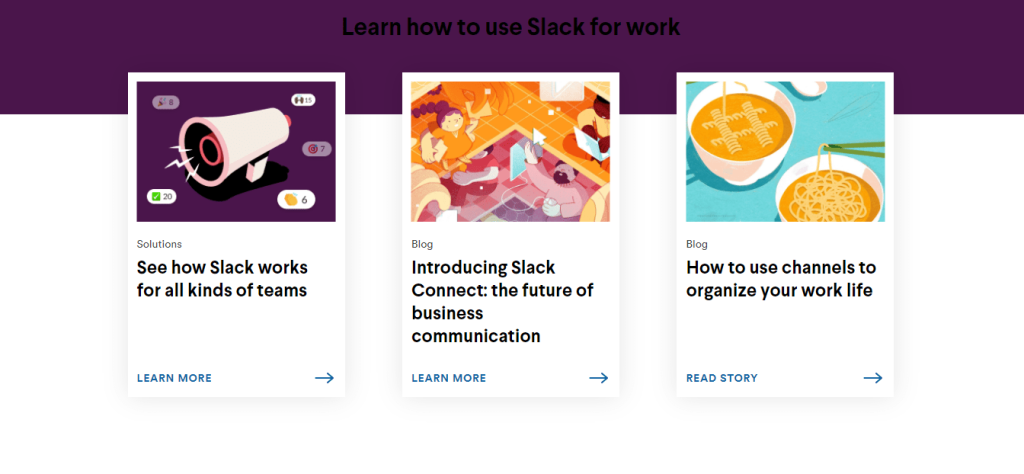 Slack has also been praised for its regular updates, which makes it a glitch-free and non-laggy app to use, minimizing the number of apps crashes you may face otherwise to almost none.
You can use Slack for single (or multiple) workspaces, and divide these workspaces into team-specific channels, general channels, as well as bot channels, the specifics of which we'll get into later in the blog.
Now that we've taken a quick look at what Slack is all about, let me take you through a brief overview of Discord.
Discord – An Overview
The app is incredibly popular amongst younger audiences, who regularly use the app to communicate with their friends or larger communities made up of like-minded people.
Discord is a sleek app with multiple integrations making it easy to carry out certain functions from the Discord app itself without having to switch multiple tabs frequently.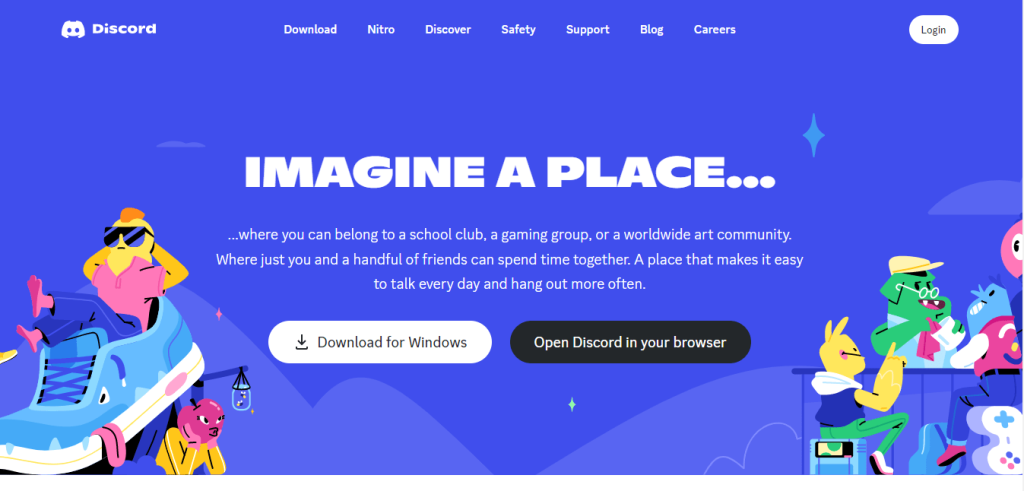 With Discord, you can join servers or communities using an invite link from the owner/moderator or create your personal server and invite your friends or colleagues.
Discord also allows you to share content such as movies and songs through screen sharing and voice charing on voice/sound channels.
Discord also has a wide range of communication features that can be personalized for each server, such as emojis and GIFs. Discord is a great tool for community-building efforts and has been used by multiple content creators to interact and engage regularly with their community.
Below is a quick list of the main features of Slack and Discord.
Features
I'll now give a quick comparison of Slack and Discord's basic features, most of which are completely free of cost.
Slack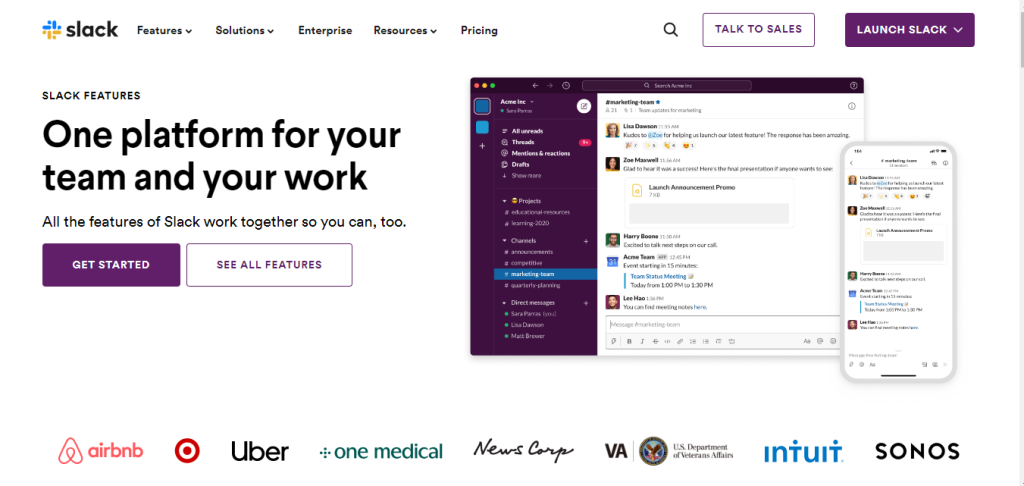 Multiple channels for teams, projects, and interactions with external teams.
Threaded conversations for a clutter-free channel, as well as segmented conversations for faster communication and discussions.
Voice and video call features that require only a stable internet connection.
Integrations with 15+ third-party apps and services such as Google Drive, Trello, Zoom, and Atlassian.
Slackbot feature for quick and easy updates and automated texts and reminders.
Sharing options that are compatible with documents, images, links, as well as videos, and GIFs.
Quick reaction options assist you with a clean and sleek inbox without redundant reactions over text that may clutter your channel feed in the long run.
Shared/open channels to help you collaborate and communicate with team members from external organizations.
API access for custom integration and automation.
Slack Connect to message team members/organizations present on Slack without having to add members to teams/channels.
Pros:
Advanced search functionality for finding past conversations.
High level of customization options for notifications and alerts.
Robust security and compliance features, including two-factor authentication.
Excellent mobile app for on-the-go communication.
Cons:
Higher pricing compared to other communication tools.
Limited video call capacity compared to Discord Nitro.
Can be overwhelming for new users due to its many features and options.
Not ideal for small, friendly groups due to its professional focus.
Discord
Supports voice and video calls of up to 25 people at one time.
Text and voice chat rooms for real-time communication.
Supports screen sharing and audio sharing options.
Has over 200,000 bot integrations.
Customizable and standard emojis and GIFs for quick reactions and responses.
Multiple theme options for maximum customizability of channels.
Direct messaging options for private communication.
Multiple server templates for a quick and easy setup.
Server analytics options for server moderators to gauge server engagement and participation of members.
Integrations with multiple apps for music, gaming, and social media accounts for a user.
Pros:
Free to use with most features available for all users.
Unique Discord ID for each user.
Two-factor authentication.
"Friends" feature for chatting and video-calling.
Large community of users and developers for support and add-ons.
Cons:
Limited integrations compared to Slack.
Lack of threaded conversations can lead to cluttered chat rooms.
Less emphasis on professional use cases.
The mobile app can be buggy and lacking in features.
No live customer support option.
Slack vs Discord – A Comparison 
Here is a detailed comparison between Slack and Discord.
1. Purpose and Target Audience 
Slack and Discord, while sharing many features such as channels, integrations with various apps, as well as overall privacy and safety, are quite different in terms of purpose and target audience.
Slack was created keeping in mind professional workspaces and remote communication for work.
Discord was created for informal communication with like-minded people in communities, with a bigger emphasis on streaming and live chat.
This makes it a popular platform for content creators, gamers, and celebrities to establish themselves in. Slack, on the other hand, is primarily used by organizations and company teams, with over 9162 companies currently using Slack as part of their tech stack.
My verdict is that Slack is designed and developed for remote teams, organizations, and professional communication channels and is a better app for communication, while Discord is used most frequently by gamers and content creators.
2. UI/Ease-of-use
In terms of user-friendliness and overall user interface, both apps are quite strong competitors to each other. They both boast an accessible interface with a clutter-free text channel layout.
For me, the winner here is Slack due to its threaded conversation feature.
If you're using Slack and wish to reply to a text/file in a way that does not clutter the center channel's inbox, it is by replying to the file in a thread format.
Other members can look at your messages and consecutive replies by expanding and then collapsing the thread.
3. Voice and Video Calls 
With Slack, you have the option of scheduling meetings through Google Calendar or Zoom, which is a seamless process thanks to Slack's deep integration with online meeting apps.
You can also hop on a Slack Huddle, another name for an in-app call, that offers both video and audio options. You can also screen share your content through Slack Huddles, but the quality is quite low compared to an app built for streaming. Discord, on the other hand, is quite exceptional when it comes to voice and video chats, as well as streaming without the Discord Paid (Nitro) plan.
Discord offers high quality and low latency (or lag) on its streaming services, as well as its voice and video chats, which makes it a preferred option for streamers and gamers.
Slack is a clear winner for me, as to stream content in a higher quality for Discord, you have to pay, while Slack offers this service for no extra cost.
4. Channels and Groups 
Both Slack and Discord have a pretty solid system in place for channels and groups, with lots of customization features in place.
For Slack, you can create channels for specific teams or projects, but Discord is a lot better for more general channels or servers or more informal channel conversations.
Slack and Discord both allow you to join public communities according to interests, industries, etc. Slack offers more formal and professional channel options, while Discord is more informal, which makes it a better app for me as a professional.
5. Integration
Slack and Discord are both incredibly efficient and accessible in terms of integrations, with Discord supporting thousands of bots and integrations with apps such as Spotify and Twitch, while Slack has integrations with Google Drive, Outlook, Zoom, OneDrive, Salesforce, as well as GitHub.
Slack's app stack is completely unified and free of cost with your Slack Plan.
Slack integrations have received great reviews from users and offer a complete, well-rounded set of apps for productivity, cloud storage, scheduling, and workflow optimization.
Discord, on the other hand, is integrated with tools that aren't as strictly professional as the ones integrated with Slack. A few examples of apps that are supported by Discord include Spotify, Twitch, and a user's social media handles.
You can also include multiple bots while creating your own server, such as a music bot, a bot that sends customized messages to new joiners on a server, as well as bits for fun and games, as well as general moderation for a server's content.
SlackBot is a useful tool for reminders, task-setting, as well as miscellaneous functions such as reminding the channel/workplace of a coworker's birthday.
My final verdict is that Slack is a better app in terms of safe, seamless integrations.
Pricing
The pricing plans for Slack and Discord are as follows;
Slack Pricing Plan
Here's a quick tabular view to help you understand how much Slack costs and the benefits that each plan offers;
The free plan is the best one to start with if you're a small business or freelancer, as you can avail most of Slack's features for absolutely no cost.
Once you're comfortable with the platform and need a bigger workspace communication channel, you canopy for the Pro Plan for $218/month. It includes audio and video calls, complete message history, unlimited integrations, and collaborations with other organizations.
Business Plus (for $375.20/month) is the most affordable plan for large organizations with complex communication needs, such as compliance and security requirements. You can get features like SSO, 24/7 support, advanced security, etc.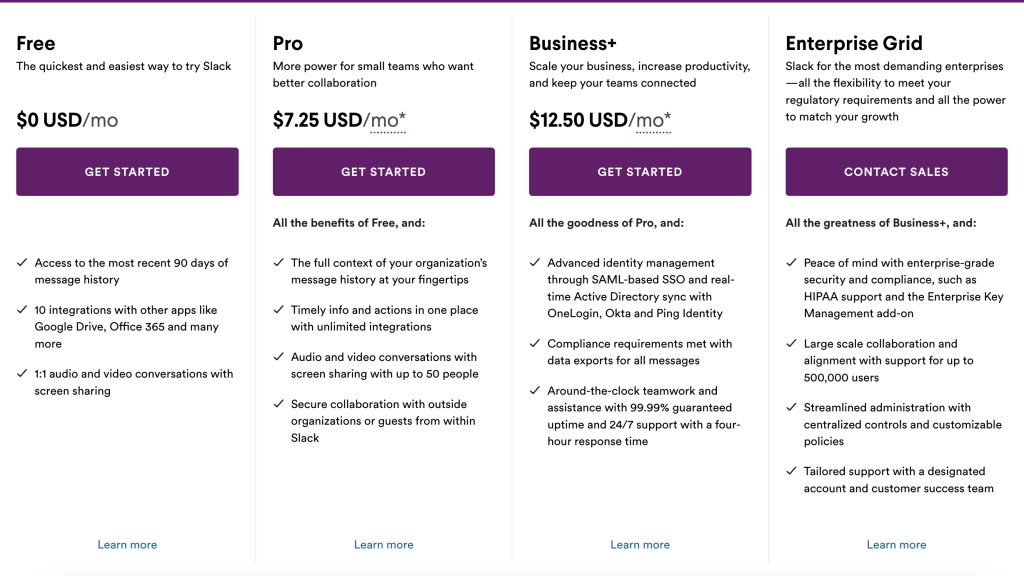 Finally, most large organizations opt for the Custom Enterprise Plan for their complex and distributed communication needs. Some features you can avail of are Enterprise Mobility Management and Workflow Builder.
If you're a small business, the Free/Pro plan is the best plan for you, which you can pick depending on your specific needs. It may be wise to consider the other two plans for a larger, more complex organization with hundreds of employees.
Discord Pricing Plan
The Basic Plan is completely free of cost, while the two Nitro Plans offered are priced as follows;
If you're a streamer/content creator, you can pick the Nitro Plan, as it offers higher file sizes for uploads (500MB), as well as HD video streaming. You could pick the Nitro Basic plan, but it is a bit limiting in terms of features and upload quality.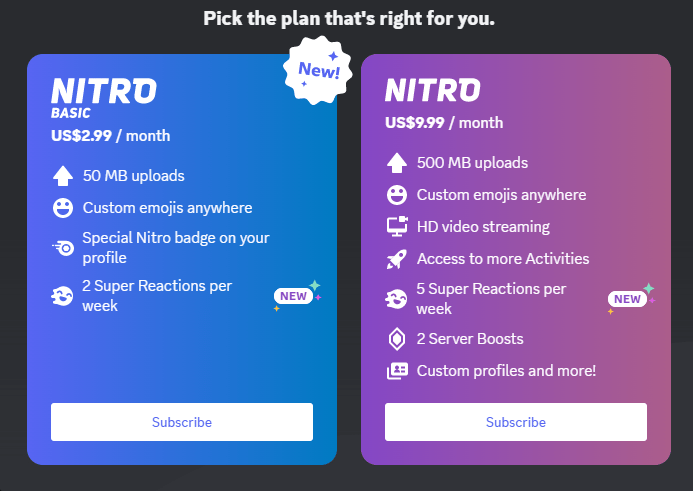 If you're an individual looking to simply interact and contribute to small servers, the free basic plan is your best bet.
7. Customer Support 
Slack offers speedy customer support through multiple channels, a few of them being email support, a help centre on the website that contains informative articles that help with primary troubleshooting, as well as a vibrant community chat that asks and answers questions.
Users that pay for their Slack plan are also entitled to a 24×7 chat-based helpline. If you purchase an Enterprise Grid or a Business Plan, you are provided with personal and customized support on a priority basis.
Discord too, offers customer support and service, however not through call or chat-based channels. You can look at Discord's comprehensive list of FAQs or go through their tutorials if you run into any issues while using the platform. It also has a Twitter account that you can reach out to for any specific/unanswered issues. For Developers, Discord has a separate stack of resources to help troubleshoot.
Related read;
Wrapping Up! Slack vs Discord (2023) 
After my analysis of both these tools, I think that both Discord and Slack are exceptional apps for different communities and audiences, but one of them is a clear favorite for my needs.
Slack works best for remote teams and workplaces, which is why it emerges as a winner for me. This is because of its deep integration with professional and work-relevant apps, as well as the way its channels and workspaces are organized.
Discord, on the other hand, is great for creating a fun community with your friends, engaging with a streamer or gamer, or even a content creator. Discord's customer service is mainly resource-based instead of a helpline, unlike Slack, which provides call/email/chat-based support.
As for pricing, Discord offers the most for the best price, and most of the features you may require for a community/channel are completely free of cost.
Consider the features of each of these tools, and compare them with your personal/professional needs to make a choice that will serve as an excellent investment for the future!
---