Looking for an unbiased WPBakery Vs Elementor? Here we go. WordPress is popular because it is simple to use and provides numerous customization options. It only takes a few mouse clicks to make changes to your website. Thanks to page builders like Elementor and WPBakery, this has become more popular and easier. As a result, in this post, I will contrast Elementor and WPBakery.
WPBakery Vs Elementor Comparison (2023)
On the one hand, Elementor is a leading and most popular WordPress.org plugin being used by more than 5 million active users worldwide. With an easy-to-use user interface and a set of advanced options, one can quickly create any web page. Thus, many WordPress developers prefer building their WordPress websites entirely using Elementor.
WPBakery is another popular Page Builder, which is one of the best-selling WordPress plugins on CodeCanyon. Because of its popularity, this page builder is included with most of the premium WordPress themes available on Themeforest.
As a result of this comparison, you will have a better understanding of these page builders and will be able to select the best one for your website. Here is our comprehensive comparison between the two WordPress page builders!
Elementor vs WPBakery: Key Differences
Want to know what are the main differences between Elementor and WPBakery? Read below:
WPBakery's editor allows you to do editing on the backend of your website, which offers you great flexibility, whereas Elementor' s editor works on the front end, allowing you to see all the changes you are making live.
Elementor has a cluttered user interface where you can see the elements on the left sidebar of your website, whereas on WPBakery, you will see the elements only when you click on the add option making its interface more user-friendly.
You can find readymade page templates on both page builder plugins. But only Elementor offers more than 100 website kits, allowing you to create a completely new website with just one click.
When you disable the Elementor plugin on your website, your website will lose its styling, and nothing else will be affected, whereas WPBakery leaves broken short codes all over your website once you deactivate, which can be really hard to get rid of.
What is Elementor?
Note: Wanna get detailed insights into Elementor Pro? We have already done a detailed Elementor Pro Review here.
Elementor is a website builder developed for WordPress websites, through which users can design and edit their websites using a drag-and-drop feature in a responsive manner. It is a software company that specializes in website development. The platform is available in over 50 languages and is ranked as the sixth most popular plugin globally, with over 5 million installations. Elementor is an open-source platform that provides services to the top 1 million websites in the world.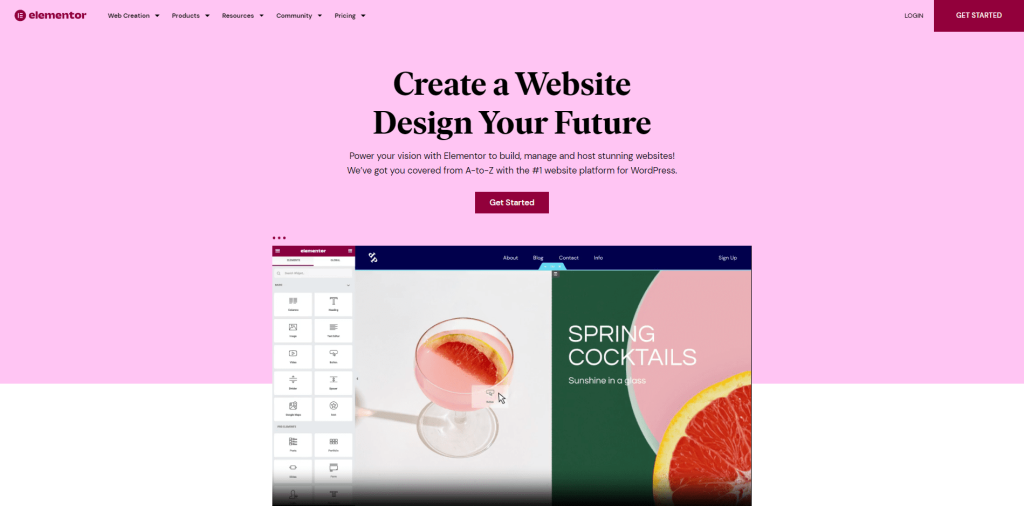 Elementor is now more than just a page builder plugin all because of their latest addition called Elementor Cloud Website. This is a one-stop solution for all digital marketers. With Elementor Cloud Website, you get top-notch hosting of Google Cloud Platform for your website along with all the Elementor Pro features for one website. What's more! They also offer a free subdomain and free custom domain connection. You can also manage everything from the My Elementor dashboard.
What is WPBakery?
WPBakery is the most popular WordPress page builder; this plugin includes front-end and back-end editors, which are considered to be its distinguishing features. You can control your website and design the layout using the drag-and-drop technique with the help of this page builder. This page builder is simple to use and access, and it does not require any technical or programming knowledge.

WPBakery Vs Elementor: Quick Overview
Lets have a quick overview of WPBakery & Elementor
Elementor
It is a WordPress page builder that is available for free. It has a free version that has over 5 million active users. The plugin is jam-packed with features that allow you to create stunning web pages without touching a single line of code. It includes over 100+ pre-built page templates from which to select the best layout for your brand.
Elementor Key Features:
Key Features of Elementor are as follow :
Real-Time Designing and Customization
More than 100 Full-Width WordPress Themes
Over 300 Pre-Configured Element Blocks
Mobile Responsive Themes
In-built Maintenance Mode
Coming Soon Page
Role Manager
Translation Ready
Multilingual and RTL Supported
WPBakery
Key Features of WPBakery are as follow :
A leading and popular WordPress page builder that is used by more than 2 million users across the world. The WPBakery plugin includes over 50 built-in elements to choose from for creating stunning professional web pages effortlessly. Furthermore, the plugin supports more than 500 add-ons and extensions, enhancing the plugin's overall functionality.
WPBakery Key Features:
Key Features of WPBakery are as follow :
More than 50 content elements
Intuitive Drag & Drop Interface
Supports both Frontend and backend editing
Over 60 Premade Page Layouts
User Role Management
Supports Multiple Locations
Video Background Parallax
Translation Compatible
Let's Compare the Interface: WPBakery Vs Elementor
Most site owners will devote a lot of time and effort to their page builder. As a website owner, you would always prefer a page builder that is easy to use with an intuitive user interface.
Elementor Interface
Elementor has a frontend editor that is extremely user-friendly for building any kind of web page in real-time. The editor has a drag and drop interface which you can use to fill in your fields, increase spacing, set layouts, and more. The interface will let you have complete control over all of the elements that appear on your website.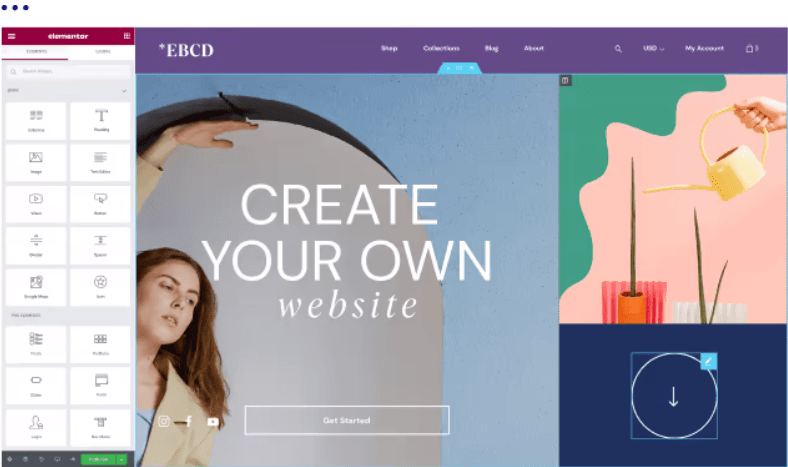 The editor and elements options can be found in a sliding sidebar in Elementor, which can also be resized. To add elements to your website, simply drag the elements on the page, or by clicking the "+" symbol in the work area.
When you log into the editor, you will notice have all the elements are neatly arranged along the sidebar to the left of your screen. Now you can simply drag and drop the elements you wish to use into the preview panel and see how it looks.
WPBakery Interface
WPBakery also allows you to have complete control over the elements of your website. You will be able to use any type of layout and experiment with loads of customization options. You also have the option to use a backend editor for building your website or simply switch to real-time frontend editing.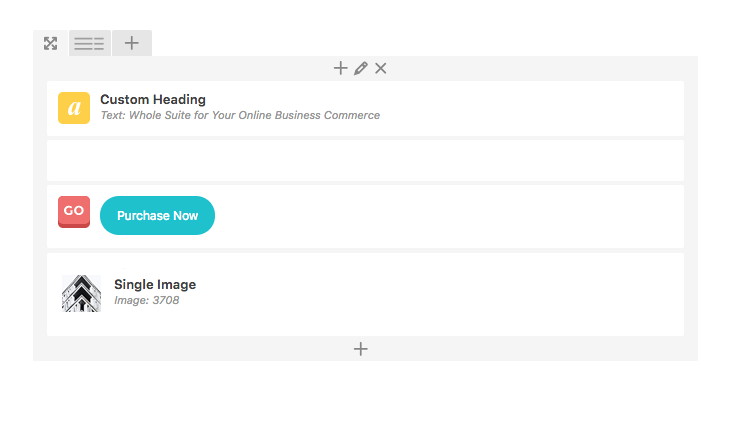 WPBakery' s frontend interface is slightly cleaner and organized. When you make a new page in its editor, three buttons appear: Add Text Block, Add Element, and Add Template. When you click one of the options, a popup window appears with all the input fields and functions.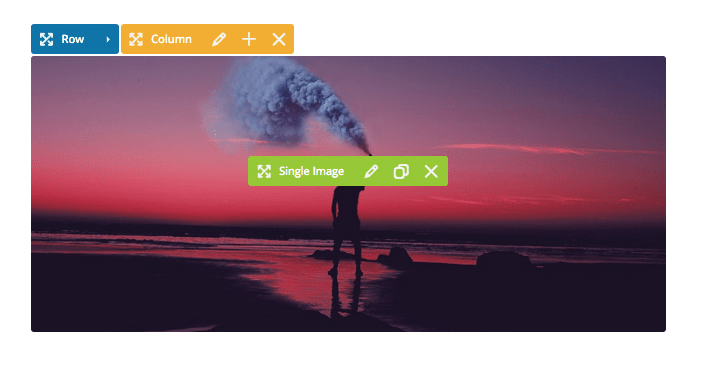 After you've added the first element, you may proceed to add and then edit further by clicking on the "+" button below the element you just now added (similar to Elementor) and selecting the one you need from the popup.
Bottom-line
Another difference between these two tools is their inline editing functionality. Editing elements in Elementor can be done by enabling the inline editing feature allowing you to instantly make changes. The edits in WPBakery are done in the form of a pop-up. It all comes down to what you prefer. Choose Elementor if you enjoy frontend editing. Choose WPBakery Page Builder if you prefer a backend editor.
Let's Compare the Design Options
Custom styling can help to distinguish your website. The more design options you have, the better your chances of creating a stunning and appealing website. Let's compare the Design and Styling options of these two-page builders.
Elementor Design Options
The styling options in Elementor have been divided into Style tabs and Advanced tabs. These allow you to change the color, alignment, and other fundamental settings. You can simply adjust the animations, margins, z-index settings, and padding to make advanced design changes. You can even incorporate custom CSS if you want to, into particular elements.
WPBakery Design Options
WPBakery Page Builder offers slightly more complex style and design options than Elementor. You can add custom backgrounds, borders, and padding to elements you want to edit. You gain access to more styling options when you choose to edit a row or column.

Bottom-line
Elementor seems to provide styling options that we consider are better because:
They have better intuition.
You do not have to deal with pop-up notifications. All the elements you need for designing your web page are conveniently located in a sidebar.
Columns, rows, and elements all have the same styling options in Elementor. WPBakery offers a variety of styling options for each category.
Elementor elements can have custom CSS applied to them. WPBakery only supports the integration of custom CSS classes. You must still include the actual CSS in some other place.
Let's compare the Template Library
If you want to build a good website, then it should definitely have some attractive templates. Having a library full of really attractive and customizable templates helps save a lot of time while designing a website. These templates will ensure that you can use an already existing design and then modify it as per your needs and creativity.
Both plugins include a nice selection of pre-made templates. Let's see how the two stack up.
Elementor Template Library
Elementor Page Builder includes over 120 built-in page templates from which to choose. You can also use your own template design if you want.
WPBakery Template Library
WPBakery includes over 85 templates. It has a one-of-a-kind template repository with pre-designed layouts. You can find a wide range of templates and download any that you want to use on your site in seconds. There are layout templates as well as more than 100 Pro predefined templates.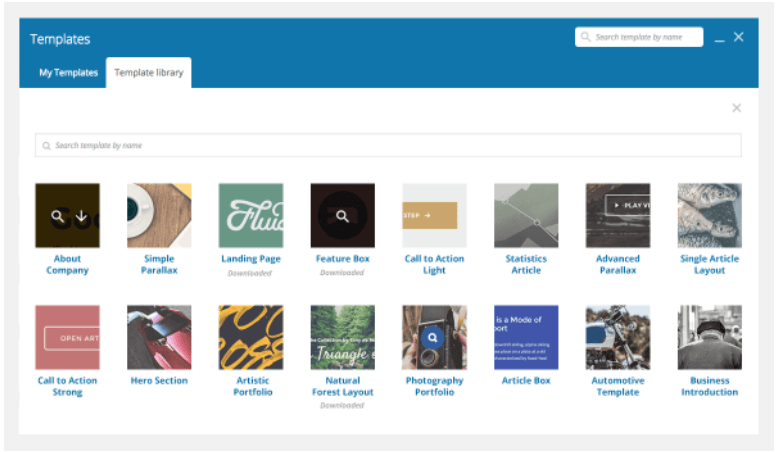 Bottom-line
Elementor offers more variety of templates. I believe the templates they offer are designed better than the ones offered by WPBakery. If you want, you can also re-use your custom template design with Elementor.
Let's Compare the Theme Builder – WPBakery Vs Elementor
Choosing the right page builder plugin is necessary as it will let you edit the post and page contents more smoothly.
Elementor Theme Builder
The recent Elementor updates have brought in a brand-new Theme Builder that allows you to change the footers and headers on your website. You can either design them from ground zero or use some of the pre-made templates. The footers and headers can then be assigned to the complete site or to specific sections of the site.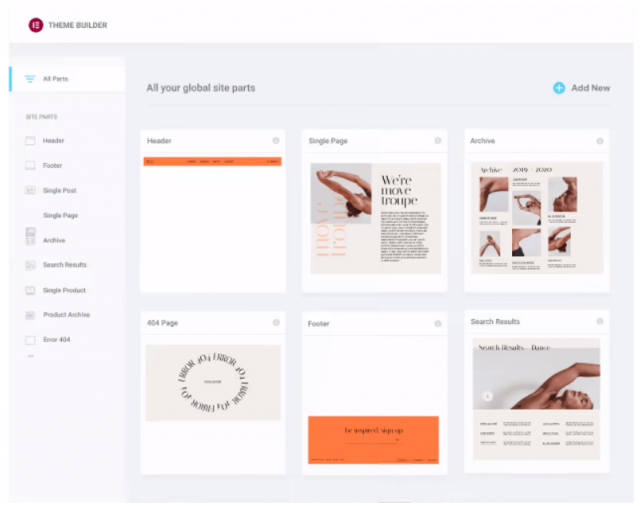 The interface of Elementor's page builder enables you to create customizable header sections. No matter whichever theme you choose, you will have full control over how your headers will look and feel. This same interface can be used to create menus for site logos and other unique content.
WPBakery Theme Builder
WPBakery currently does not offer an in-built theme editor. The feature can be enabled by installing and activating a third-party plugin. For this, you may try the "brother" plugin developed by Visual Composer Website Builder.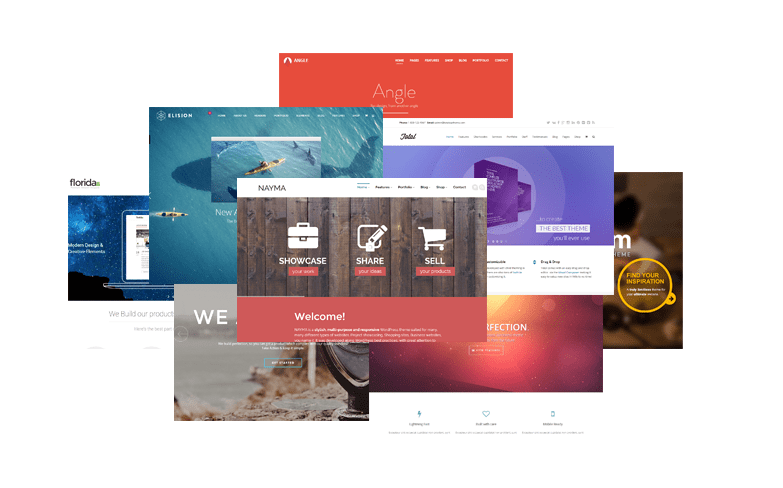 Bottom-line
Elementor is the clear winner in this aspect, as WPBakery does not offer an in-built Theme Builder option.
Let's Compare the Elements – WPBakery Vs Elementor
Elements are used to create page builder pages. The right page builder should include all of the elements required to create effective, appealing pages. Both provide a bewildering library of elements that provide a virtually limitless number of styling options for your site. First, there are the basic core ones that you will always use, such as text, rows, columns, tables, bullet lists, and so on. There are also more specialized ones that you will use less frequently (if at all), such as animated headings, sharing buttons, and so on.
Elementor Elements
The Pro version of Elementor includes 50+ elements that can be used to design websites. You can also use Elementor add-ons to increase the number of elements from which to choose.
WPBakery Elements
WPBakery gives you access to more than 50 core elements. Over 200 additional elements are available in the Page Builder add-on community. This is far more than Elementor' s add-on community can offer. You can even use a specific plugin to create one-of-a-kind elements for your site.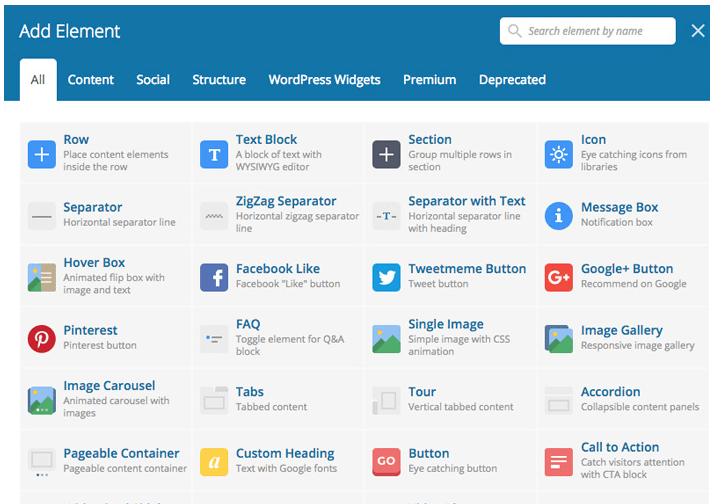 Bottom-line
Both plugins have roughly the same number of pre-existing elements. WPBakery takes the edge here in terms of the number of additional add-ons available via third-party plugins.
Customer Support: WPBakery Vs Elementor
A happy customer ensures a fruitful business. Your users might face some issues while using your service, and if they can't reach out to you easily or don't get their problems resolved at the earliest, it certainly tarnishes your brand image.
Elementor Support
A help center, video tutorials, knowledgebase, and FAQ page are all available for Elementor. Professional support is available 24 hours a day, seven days a week, as are developer resources for using the API. There are also Facebook and GitHub communities where like-minded individuals can get answers, design inspiration, and code references.
WPBakery Support
WPBakery provides free lifetime updates, premium online support, a knowledge base, and video tutorials. It also has a FAQ section, a video academy, a blog, a newsletter, and an online community with extensive documentation and tutorials. You can also contact us by submitting an online ticket.
Pricing Comparison: WPBakery Vs Elementor
Let's see how these two platforms match up on the pricing front!
Elementor Pricing
Elementor Pro comes in three different pricing. The cheapest among them is priced at $59 per year, allowing you to work with one domain. They offer loads of functions, making them ideal for individuals as well as businesses who want to build their websites.

The other plans are priced at $199 (for 25 domains), followed by $399 (for 1000 domains) per year. As you keep moving up the tiers, the plans offer more website kits and also an 'Expert Network Profile,' which allows creators to show their skills. Rather than individuals, these plans are more suited for developers and agencies who create websites for others.
All of the Elementor Pro plans offer a 30-day money-back guarantee.
Elementor Hosting Website Pricing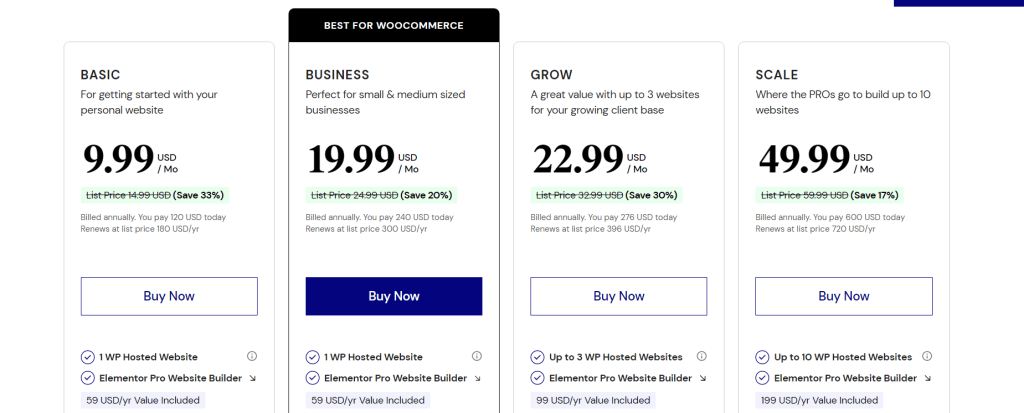 There is one more plan available on Elementor for the website builder and hosting, and it is called Elementor Hosting. It starts from $9.99/mo and gives you the best hosting from Google Cloud Platform & all Elementor Pro features. This plan also comes with a My Elementor Dashboard, CMS Tools, and more exciting features. This plan gives you the freedom to create your website from scratch without worrying about a hosting solution for your website.
WPBakery Pricing
WPBakery' s pricing structure is far simpler than Elementor, offering three plans, namely 'Regular', which is priced at $59 (1 domain), the 5 sites plan which costs $256 and the third plan 10 Sites for $499. You can just it once and use it for lifetime.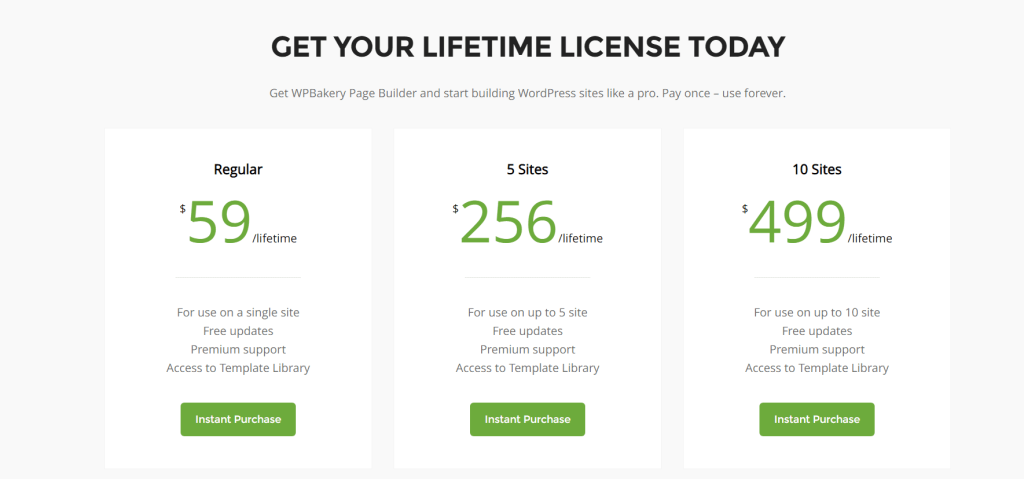 WPBakery currently doesn't offer a free version, and no refund policy either. I'm guessing the developer expects customers to try the free demo site before making a purchase.
Bottom-line
WPBakery does indeed have a simpler pricing structure than Elementor, but Elementor scores a big plus mark over WPBakery because it offers a free plan. This gives users the advantage of at least trying out some basic features of Elementor without paying a single penny!
The Pros & Cons: WPBakery Vs Elementor
Let us now jump into the advantages and disadvantages of both these power-packed page builders.
Elementor
It is a website builder that offers high-quality designs for your web pages as well as preliminary capabilities.
Elementor PROS:
Let's have a look at Elementor Pros.
The interface is simple to learn and understand.
Elementor has a large library of blocks and templates.
The live mode enables you to see changes as they are made.
The free version is packed with useful features.
There are no short codes that could result in a lock-in.
There are numerous features and settings to choose from.
Elementor CONS:
Let's have a look at Elementor Cons.
There is no white-label option.
The choices for header customization are somewhat limited.
WPBakery
WPBakery includes a slew of other useful features that make it simple for newcomers to use. So, if you are unfamiliar with web design, this page builder will be of great assistance to you.
WPBakery PROS:
Let's have a look at WPBakery PROS.
There are numerous templates available.
Many people prefer this plugin because of the numerous customization options available.
Even without installing third-party extensions, there is a large selection of elements available.
WPBakery CONS:
Let's have a look at WPBakery CONS.
It may appear that you have an excessive number of customization options at times.
If you deactivate or stop using the plugin, you will be left with a jumble of short codes.
There is no free version of WPBakery.
It is not the quickest page builder to use.
Elementor Pro Alternatives 2023
We have given the list below for Elementor Alternatives:
| Sr. No. | Elementor Alternatives | Features | Ratings |
| --- | --- | --- | --- |
| 1. | Divi | Drag & Drop Option | 4.7/5 |
| 2. | Beaver Builder | Can Customise CSS classes & IDs | 4.5/5 |
| 3. | Oxygen | 27 Different types of animation available | 4.4/5 |
| 4. | Brizy | Global Styling | 4.4/5 |
| 5. | WP Page Builder | 30+ Addons | 4.5/5 |
WPBakery Alternatives 2023
We have given the list below for WPBakery Alternatives:
| Sr. No. | WPBakery Alternatives | Features | Ratings |
| --- | --- | --- | --- |
| 1. | WordPress | Beautiful Themes | 4.8/5 |
| 2. | Fusion Builder | Drag & Drop | 4.4/5 |
| 3. | Visual Composer | Customise Widget Support | 4.6/5 |
| 4. | Divi | No Coding required | 4.7/5 |
| 5. | Avada | Live Visual Editor | 4.5/5 |
Related Read:
Final Thoughts: Which Is Better Elementor Or WPBakery?
It was not always easy to make changes to your WordPress website. Previously, you required knowledge and skills to tailor the site to your specific requirements. WordPress widgets and tools are available for use in customizing WordPress sites. New customization strategies have emerged since the introduction of page builders to the market.
Elementor has become very popular courtesy of the variety of features it offers and its simplicity. The PRO version allows you to quickly create and design high-quality, professional websites. The plugin includes a live mode that allows you to see edits in real-time. It includes a history of all changes you've made to your site's pages, as well as unique elements and a large library of ready-made templates.
WPBakery was one of the first page builders for WordPress. The Visual Composer trademark is now used for Visual Composer Website Builder (Visual Composer free vs premium differences), a completely separate and distinct plugin. The original WPBakery page builder is available for purchase on CodeCanyon.
FAQs: WPBakery Vs Elementor
Which one is more affordable: Elementor or WPBakery?
Both Elementor' s and WPBakery' s one-site plan costs are almost similar. But if you want to a page builder plugin for multiple websites, then Elementor is the most affordable option compared to WPBakery.
Which one offers better cloud hosting offer?
Elementor offers cloud hosting of Google Cloud in their Elementor Cloud Website plan, which costs $99/year. WPBakery offers cloud hosting from Indystack in their page builder + hosting plan, which costs $12.99/mo. Elementor Cloud website is much better and more affordable than WPBakery' s page builder + hosting offer.
Can I use WPBakery and Elementor together?
Yes, you can use WPBakery and Elementor together, but we don't recommend that because it will make your website slower, and your website will have plenty of issues that may be above your head.
Do WPBakery and Elementor offer discounts?
Yes, Elementor offers discount offers on Black Friday, New Year, and its Birthday anniversary. You can get a discount on WPBakery if you buy more than 20 licenses at once.
Do Elementor and WPBakery offer refunds?
Elementor has a 30-day refund policy on its plugin and Elementor Cloud website plans. WPBakery offers a 15-day money-back guarantee on the plugin plan and a 30-day money-back guarantee on its Page Builder + Hosting plan.